© 2013 Frank P. Schneidewind
The destinations for most Cambodia bound travelers are spread all across this country. From the capital city of Phnom Penh there are countless buses by larger corporations plus a number of smaller ones. The ones we tested ourselves and have used in the past are GST, Neak Krorhorm, Virak Buntham and Soriya Bus Company. We never took a Rith Mony bus, because their ticket vendors are crooks at every location we did encounter them. The company itself seems not to care about its reputation and let Mafiosi style hawkers feed them the passengers.

Phnom Penh Soriya operates air-conditioned buses to a variety of destinations, their terminal is near the southwestern corner of Psar Thmai (Central Market). Buses were always reasonably well cleaned and never broke down on us. Here is their original timetable and destination chart as was pictured in September of 2013 by us: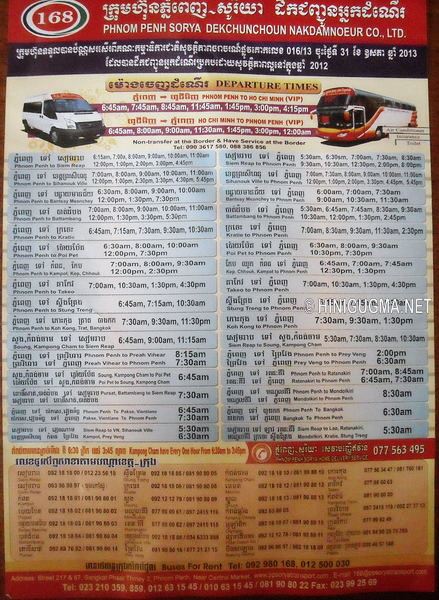 Prices are quoted in Riels, the counter sells tickets in advance and accepts US-$ at 4.000 Riels per Dollar. No point anywhere outside Cambodia can be reached without a change of vehicle. It is recommended to purchase tickets only up to the border as you save a lot by not buying so called joint tickets and have much more flexibility in choice of ongoing transport.
The so called "Giant Ibis" buses charge fantasy prices for luxury nighttime travel on certain routes. Prepare to be disappointed when your luxury bus is a really ordinary looking one and you just got taken by some transport service running in the night, when no person in its clear state of mind would use any Cambodian road! Fly domestic, if you're in a hurry, but never ever consider a night bus for at least another few years.
GST operates from their small terminal, which is somewhere hidden from plain view, only steps behind the huge Phnom Penh Soriya terminal. They are a good choice for Sihanoukville bound travelers and ply a few other routes too. Pricing is very reasonable on this line, but get your tickets at their office and depart from there.

Virak Buntham Buses seem to be the best choice for Thailand bound travelers. Below picture shows their main ticket office counter near the riverside from Street 106 opposite of the Night Market. This company doesn't drop you where all others do (e.g. Koh Kong Bus Terminal 10 km from the border), they drop you right at the border. Their prices also include your pickup at any hotel or guesthouse within the city! The pickup may be organized via a hired TukTuk, but all charges are included already. This if you purchase your tickets from their office and pre-book your pickup the day ahead. The price for a ride is 9 $ (Koh Kong border), hotels charge you always a commission on top of that!

The friendly sales lady at Virak Buntham is English speaking, you pay here upon reserving a seat on a trip. If you go in the evening time, their office is a bit obscured by Night Market traffic, the entrance to that attraction is on the other side of the road. Buy your ticket to the border here, the joint tickets to Koh Chang, Pattaya or Bangkok are inflated.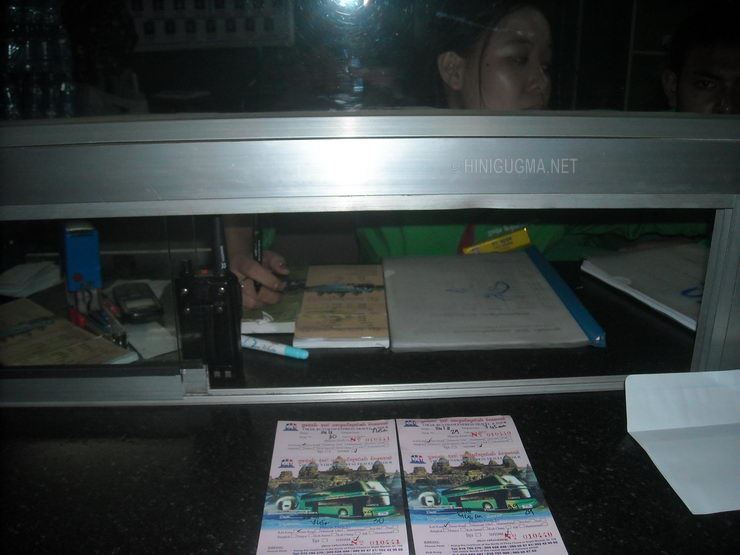 Tickets have specific seat numbers and correspond with reclining seats on the bus. We recommend their early departure as that one leaves you the time to clear the borders and check out ongoing transport best.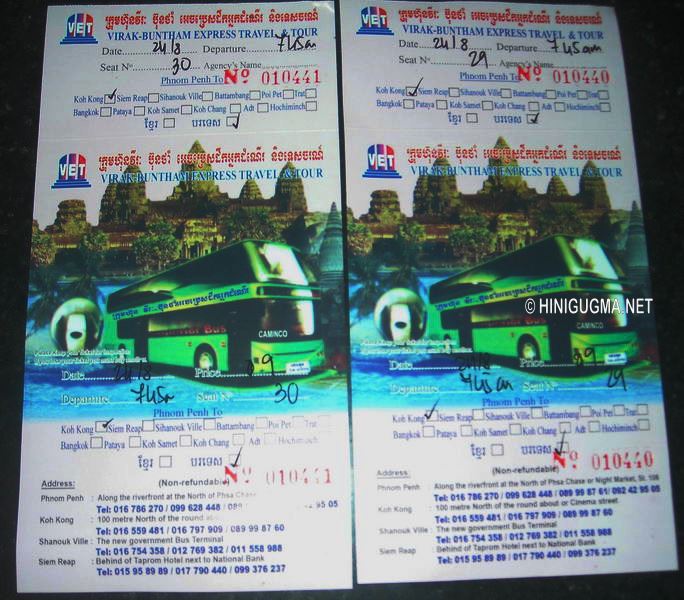 Their first stop on the way out of Phnom Penh is on the way to the Highway Number 4, just before the airport Pochentong. Here is a great place to shop for your breakfast items and munchies/drinks for the ride. The bakery is exceptionally well assorted and the quality very good. Upcoming pit stops lack a minimum quality and selection, there is a planned stop for 20-30 minutes in Sre Ambel on the highway side with pre-historic simple toilets and a small selection of Khmer foods.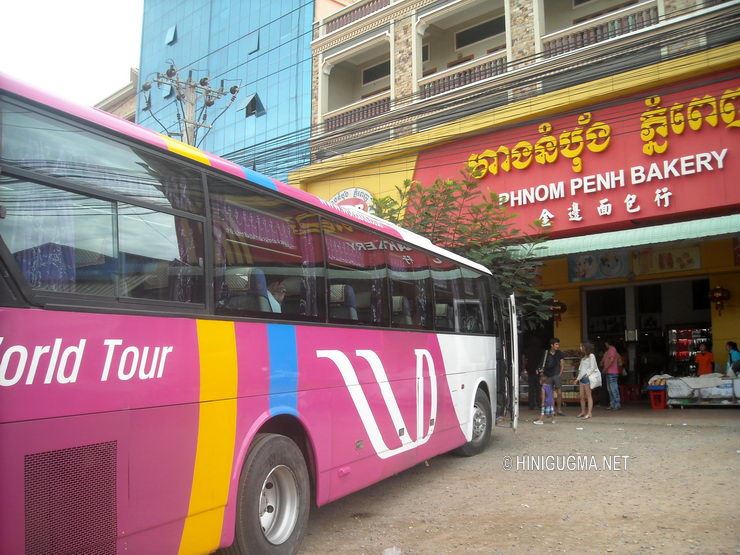 The buses all follow the tollway to Sihanoukville (Road 4), the one with Koh Kong as a destination veers off when Highway 48 meets that junction. Sre Ambel, the old weapon dealers and smugglers village will be reached in about 20 km after the road forks. Here is your scheduled pit-stop. Grab your camera as you will never have seen places like this before and do not forget to bring your own toilet paper in case any needs arise!
Since the completion of Road 48 to Koh Kong, the road conditions do change with the seasons. Two mountain ranges (the Cardamom-Range and the Elephant Mountains) will be crossed and four road bridges have replaced the ferries. To those travelers with an interest in the past – here is our report with videos from earlier years, when we drove this road with our car and used ferries to cross the rivers.
Koh Kong's bus terminal is the end of the journey for all bus lines, except the one of Virak Buntham. You are about 2 km from the city and at least 10 km plus a toll-bridge away from the Thai border. This toll-bridge connects Koh Kong with Cham Yeam, the Cambodian side of the border with Thailand. A few more remarks on the touts and the tourist scams here:
Be aware that every passenger is being viewed as a potential victim. The muddy field is a shadeless march of several hours with your luggage away from the border. Knowing this, everyone needs ongoing transport from here. The motodups (local name for motorcycle-taxis) and TukTuks here are regular dudes, but they all obey to the Mafia honchos that control this place. A ride on a TukTuk with up to 4 passengers will be charged anything those folks can grab from you. The usual fee for that distance would never exceed 5$ or 150 THB for a TukTuk and 3$ or 90 THB for a motodup. Negotiating skills won't help you here, as the chauffeurs are having their balls squeezed by the Mafia dudes, just to offer their services on site. As soon as the bus swings its door open, the chauffeurs and touts completely jam the opening. You more or less may have to elbow your way out in order to claim your luggage from the buses underbelly compartment. The local Head-Mafiosis control the pack from the back meanwhile. Pickpockets use this opportunity and the mayhem to swipe wallets, phones or cameras from you, be warned! Koh Kong is only a close second to Poipet, when it comes to the nastiest touts in Cambodia. Avoid this scam by choosing the only bus-line that has one more stop at the border to follow (Virak Buntham).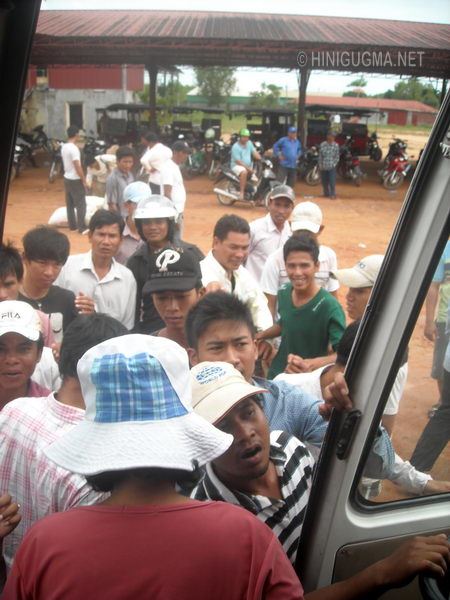 We exited the bus here for a few minutes to shoot these pictures for you and to make sure that our luggage remains inside the luggage compartment. We arrived on a sunny and dry day, normally this terminal is covered with ankle deep mud after or during rains.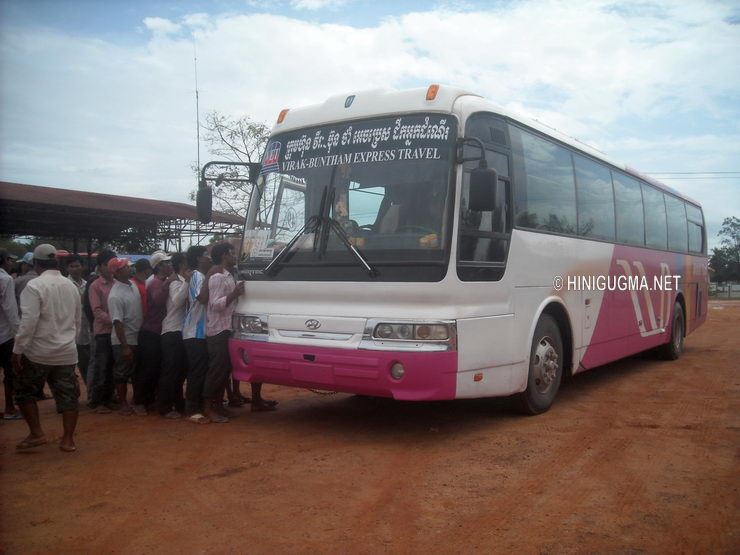 The final stop for us was at the border with 50 m left to get the exit stamps in Cambodia and leave our fingerprints again on their scanner. We hired a push cart service for 1$ for our heavy luggage and our youngster enjoyed the ride too. These push carts are very cheap and practical, especially if you have to carry a load of luggage. We shopped quite a lot in Phnom Penh and were happy they are around. Between the Cambodian and the Thai border posts, you have to walk across the No-Man's-Land for about 400 m, uphill on a badly surfaced road.
The push cart service covers all distances and drops your cargo at the ongoing transport vehicle. Minibuses to Trat have their ticket office now under an umbrella on the Thai side, about 50 m past the stamping office to your left. A ride costs 120 Baht per person, they drop you in Trat at the main bus terminal with ongoing bus connections to Bangkok (at regular fees) or another shuttle to the Koh Chang ferry piers (50 THB).