© Frank P. Schneidewind
Stefan and I made a side-trip to the secretive Pailin district (no officials or military allowed) on rented 250cc dirt bikes. I dropped my digicam later in a half dry creek bed, that we were negotiating there in order to find the old ruby-community, I happened to know from previous trips here.
The batteries flew out their compartment because of the impact in the flat water at the spot, it was totally dysfunctional until hours later (discharged quick). So no pics of us for hours, sorry!

Emeralds and Rubies originate in the hills of Pailin, the former Khmer Rouge controlled and lawless zone. The people here still use ancient and hand-driven tools to cut raw gems and polish them nowadays. Electricity is fed from 12 Volt car or truck batteries, which power some fluorescent bulbs or other light sources. Refrigeration is unheard of here, but ice in huge blocks are being delivered from Pursat or Battambang on occasion, and sold in chunks. Cold refreshments are a real rarity, we must have gulped down 3 to 4 Cokes each to avoid dehydrating in this hot weather then, because we did find one dealer. He kept the Coke, Fanta and Sprite in a barrel with ice, so the bottles were cold and uncontaminated.
It is not advisable to drink anything here, unless sold to you in the original container.
Trust me, a full blown "Montezuma's revenge" compares to a real regular Cambodian diarrhea like a weak fart in the wind!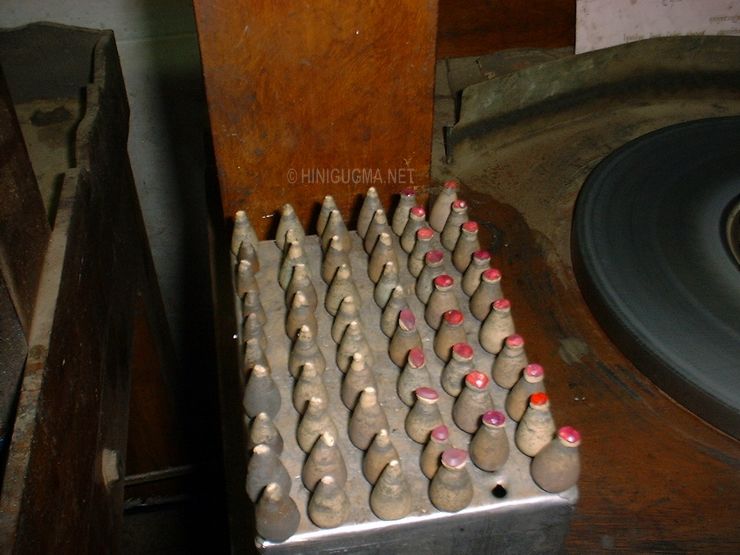 The gem stones were all neatly prepared on tools to hold them for further polishing. If you look at Melona's engagement ring, I gave her that ring earlier this year
– it proudly displays a nice ruby from right here! This trip itself was for "men only" for a lot of reasons, security was an essential one, but there were other issues too.

This Pailin area holds special memories for me. I was born again here, so to speak, when a landmine blew up years ago on a geographical surveillance trip, and injured my right leg badly. It injured a few more of us, but killed the unlucky dude, which stepped on the mine. A young Cambodian man with a good sized family at home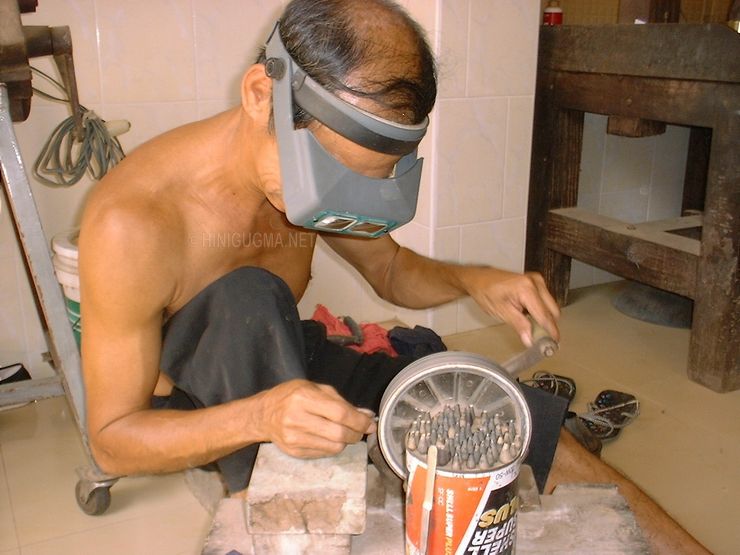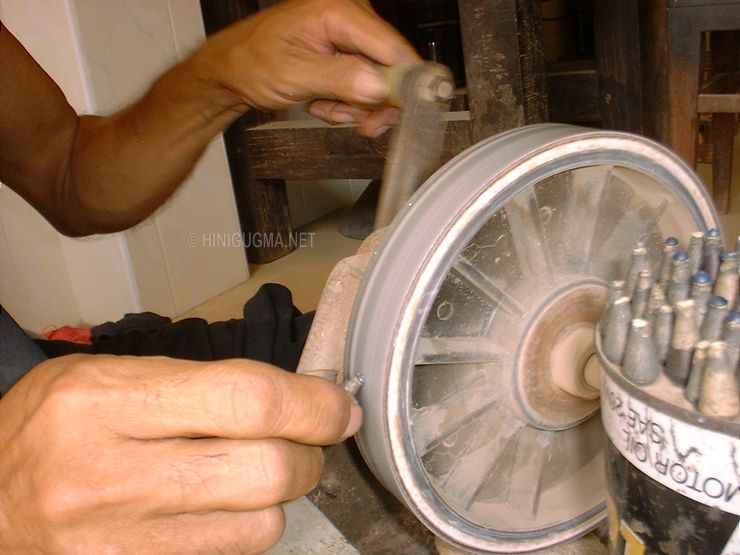 The gem cutter's huts were well protected by others outside, wielding AK 47's and with pretty grim looks on their faces, they brightened up, when we gave them a dollar bill each to protect our bikes during our exploration of the huts. Unbelievable, but in the poorest and most war-torn area of Cambodia, the finest gems were handled.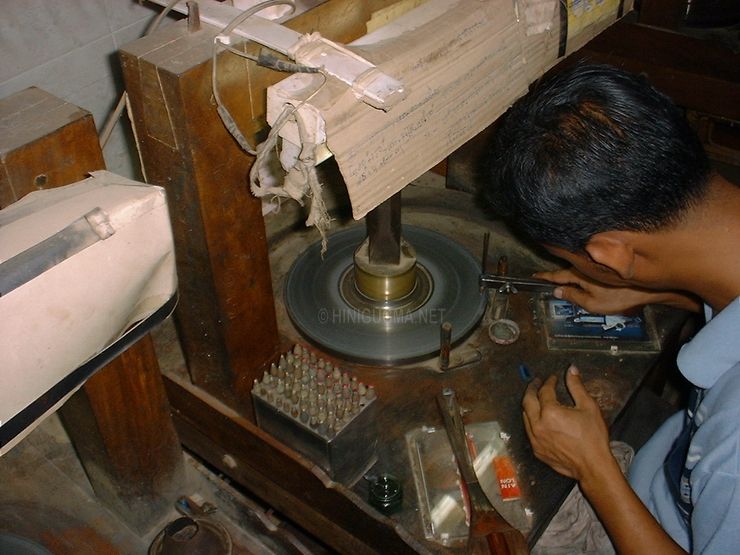 Needless to say, we bought a few. A man never knows, if he needs one someday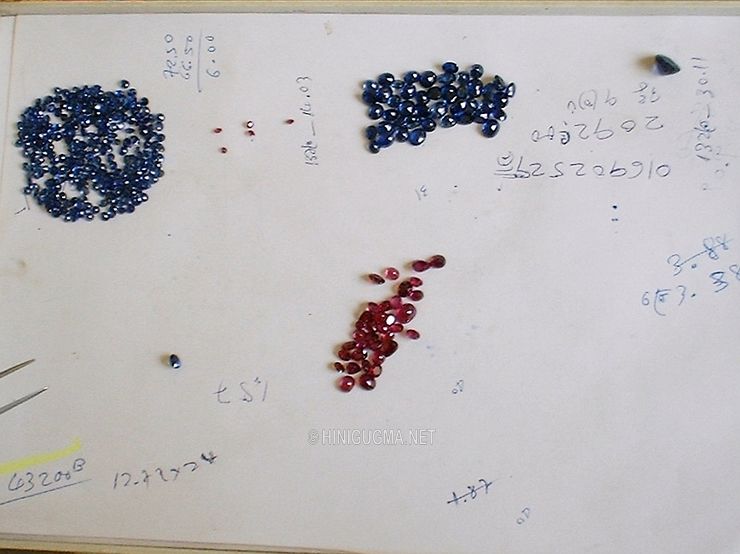 The price was very right and the digicam's batteries were neglecting any more pictures again! But we were happy, that they gave us a handful of snapshots after the dive in the creek. Rechargables don't take a beating like quality Energizers or Panasonic Hi-power conventional AA's. In Cambodia's back country, you may search very long for a plug to stick the recharger in.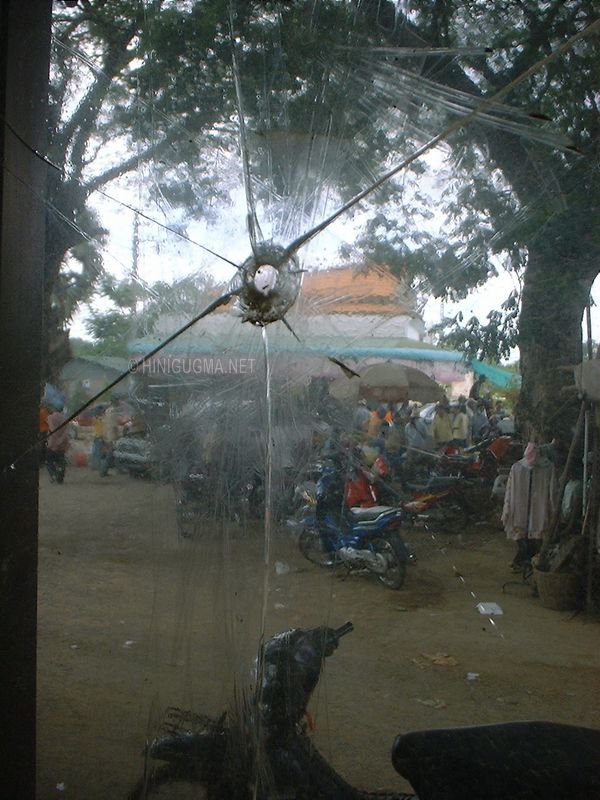 This bus was supposed to haul us to the Capital of Phnom Phen, it really looked like a decent vehicle until we got closer to inspect details. 3 $ was the fare, which equals 12.000 Riels. Gunshot holes are nothing to worry about, we wondered how the brakes were doing. You always hope, any shooter aims high enough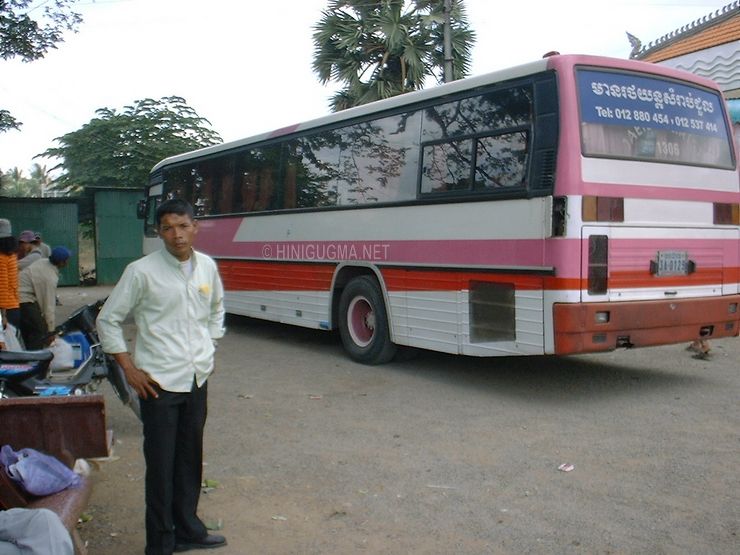 The tires had indeed some rubber left, but a German TÜV or American DOT would have pulled the operating license for this piece of equipment in a heartbeat. Exhaust was noise-tuned, so potential passengers along the roads it traveled, could hear him coming for at least half a mile. Seats were old ones, newly upholstered with a vinyl (chicken poop and vomit resistant), but we weren't in the market for sweaty butts and sat on our towels.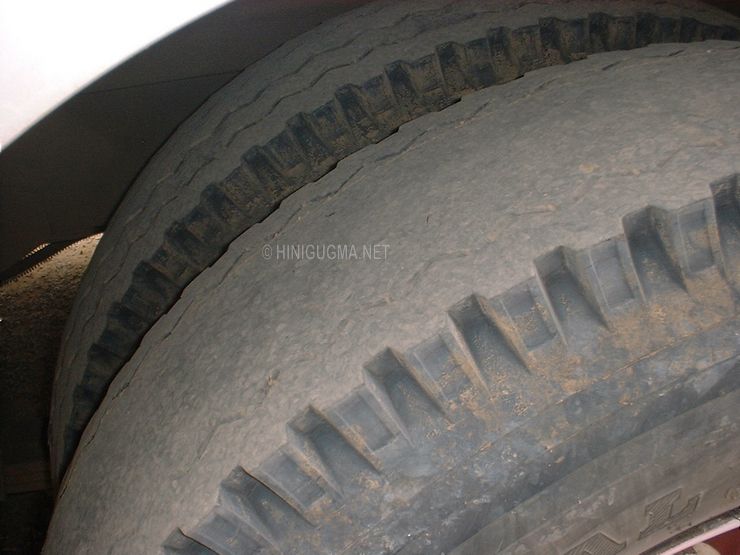 That was really a comfy transport, considering other options like rooftops of pick-up trucks or clinging to the outside of vans in the back with no foothold for humans. All these folks headed for the big city on the Tonle Sap River, where it meets the Mekong. Quite a distance, but standards in Cambodia are even lower than in Thailand. Things improve gradually as I can testify, having traveled on anything here from worn out, unserviced military aircraft to oxcarts before.

Military is a lot less present or visible nowadays. In older days, that was quite a difference.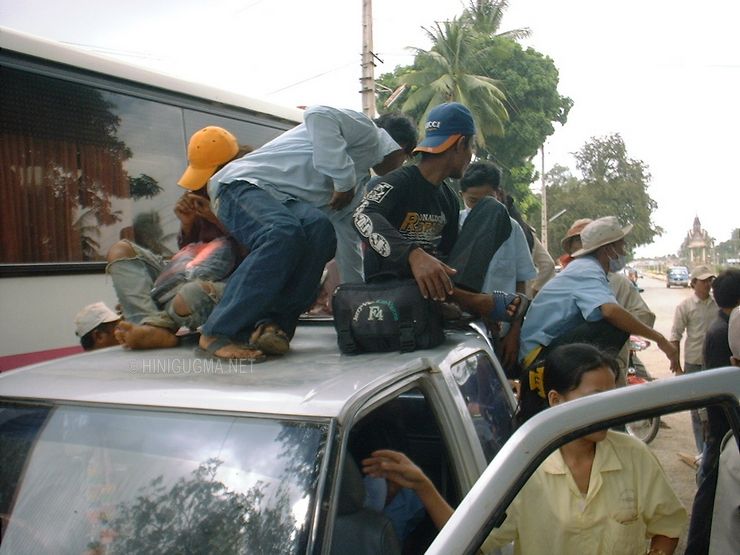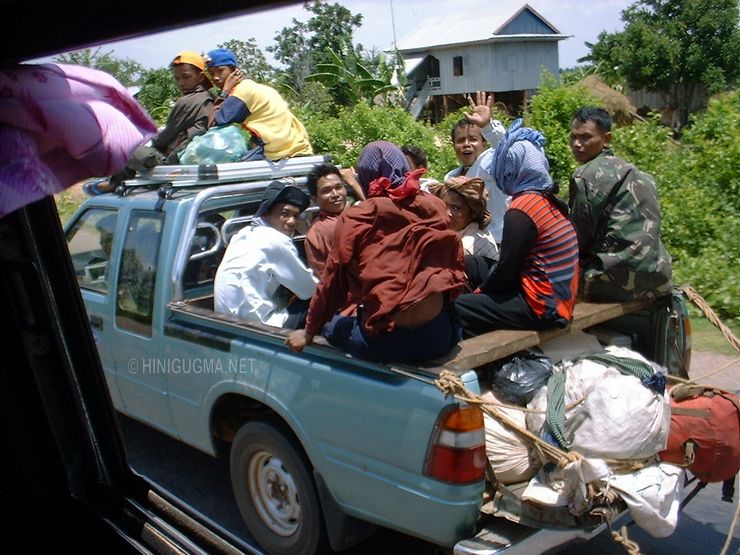 Any transport here is maxed out, the tailgates are always used in the down position to extend the bed, sometimes stretched even further with a couple of wooden doors or something suitable. Dangling kids legs in the windshield signal little hold for them, don't think any further – be happy you're in a bus with wheels and seats. $ 3 is their monthly income, so traveling "rich people style" aboard a bus is not a valid option for them. Kids usually go free with paying parents, but no right to a spot on the wooden boards crossing the beds of the pickups for more cargo, human cargo in that case.

Suddenly we whizzed by other funny vehicles. Roofless buses? No – mopeds of a mere 100 cc engine pulling busloads of passengers on open makeshift trailers. This spot of road was not dusty and blacktopped, so I tried to take a snapshot backwards out of the little ventilation windows: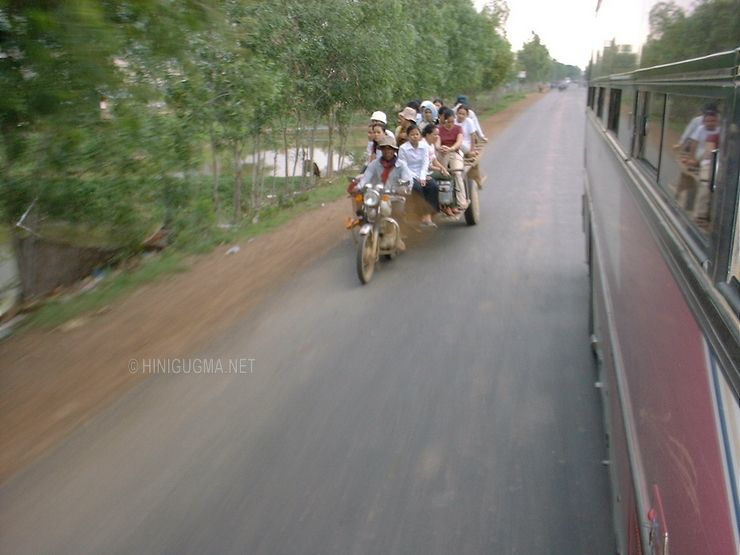 The moped buses were more popular, the closer we got to Phnom Penh, their capacity must have been several dozen of passengers. Gas tank was a plastic canister attached to the side! Snail paced, some rolled in front of our bus, but the loud horns of the bus and his very aggressive driving style forced them one after the other into the dust of the roadside, brutal methods here, but "business as usual"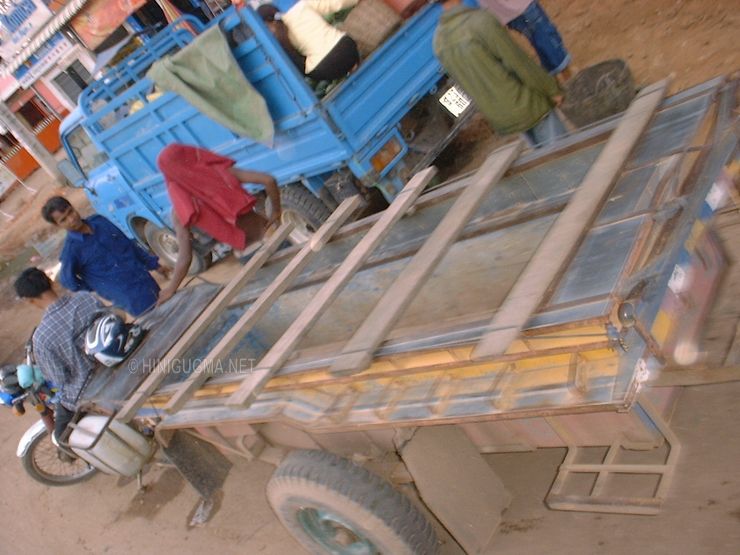 They were really common in the outskirts of Phnom Penh, as you can see: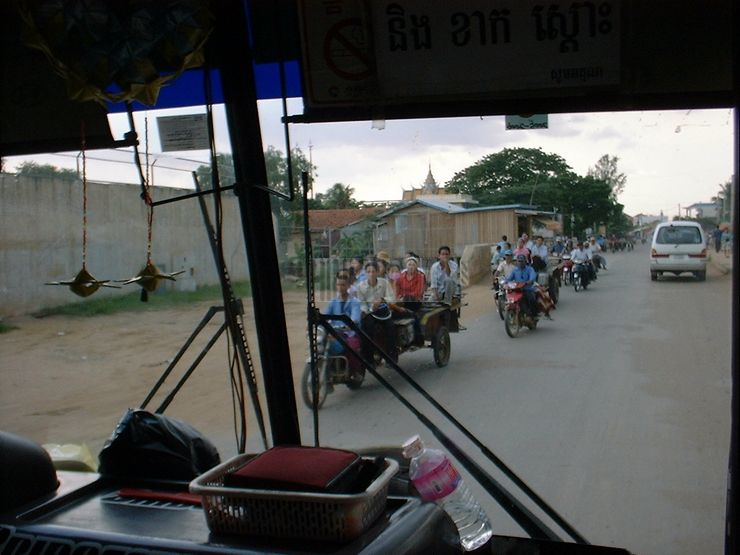 We arrived a short time later in Phnom Penh, checked a 1 $ motorcycle taxi ride later into my beloved Angkor Hotel and took an extended shower to cool down and get rid of the fine dust, that had clogged every pore of exposed skin. Soap alone doesn't do a proper job, you need to rub eyebrows, mustache and your skin fairly hard!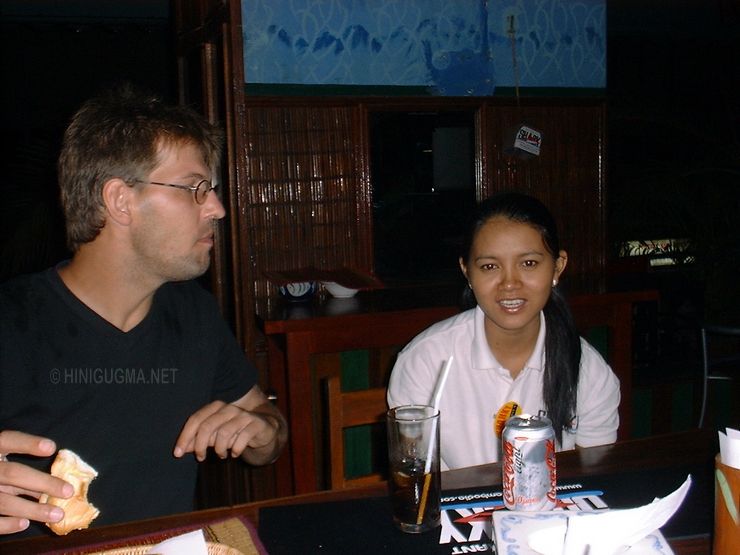 Later we ate at the famed "Sharky's", a bar and restaurant only 3 blocks from the hotel. My friend quickly was beflirted by this attractive lady, but we were here not on a dating trip. A posed snapshot made this waitress happy indeed, emails were exchanged to send her the photo.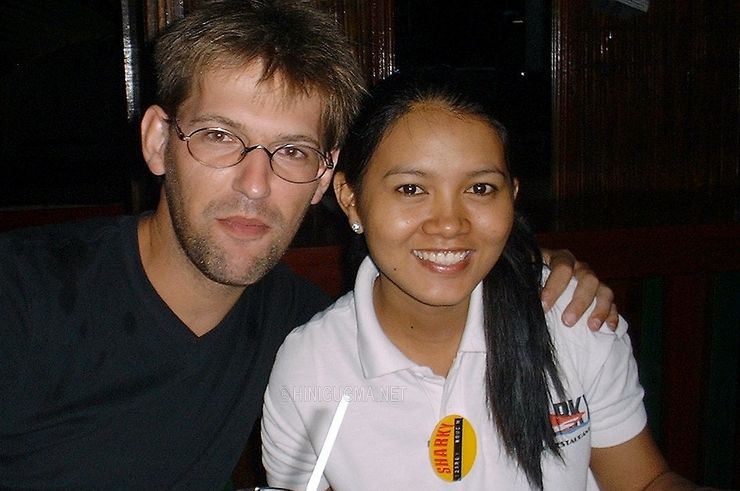 Later Stefan's eyes focused on something very dark. This lady with black hair, a black dress and pitch black eyes was having dinner at the neighboring table. Stefan couldn't keep his eyes straight and he asked kindly to trade chairs with me (I didn't appear staring and was naturally facing her).
Her name was Sophea, as we found out after her dinner in another establishment near the Central Market (Psar Thmei). Once done with her dish, she accepted Stefan's invite for a drink and told us about her job as Apsara-dancer in a famous hotel on the Sisowath Quay. I love Apsara Dancing and am quite familiar with the grace and beauty on display during those classical performances. Apsaras were the handpicked dancers of the Angkorian god-kings a 1000 years ago! Later, she came across with the information that she also has a second dance job near Wat Phnom. Not so Apsara style, but better paid.
I knew Wat Phnom well and we had planned to visit anyhow, so we promised to look her up at the place near the important temple on the following day. That night's sleep was long and good after the long trip here. Stefan nailed me with questions about Apsaras that night
He proved to be one of the most compatible people I ever traveled with! Quick witted and with a sunnyboy smile But a task oriented energy, if things don't run so smooth!