© 2010 Frank P. Schneidewind
Kata Viewpoint is a prime photo spot and lookout on Phuket Island in Thailand. It is a frequent stop for the hordes of bus tourists from Singapore and China, the platform gets really busy at times, when they flock in. They're usually gone after their 5 minute stop, there are a few dozen more click-happy photo stops for these folks.

Many foreigners rent Jeeps, mopeds or scooters – a lot of them have a break here, after their hill climb on the narrow and dangerous coastal road. The view is fantastic, Kata beach can be seen, Karon and Patong in the far.

Opportunity lingers here, with plenty of holidaygoers coming by, there is a refreshment stand, a souvenir stand with overpriced gimmicks and T-Shirts and the Eagle-man, famous since the January 2010 knife stabbing of a German expat near Chalong. One of Eagle-man's sons was arrested here on-site by local police and now faces trial in court.
UPDATE: Here´s a link to a Phuket Gazette article with the newest infos to the murder case
UPDATE 2011: The Phuket Sea Eagle Man has been sentenced to 13 Years in Prison – for more info see the article in Phuket Wan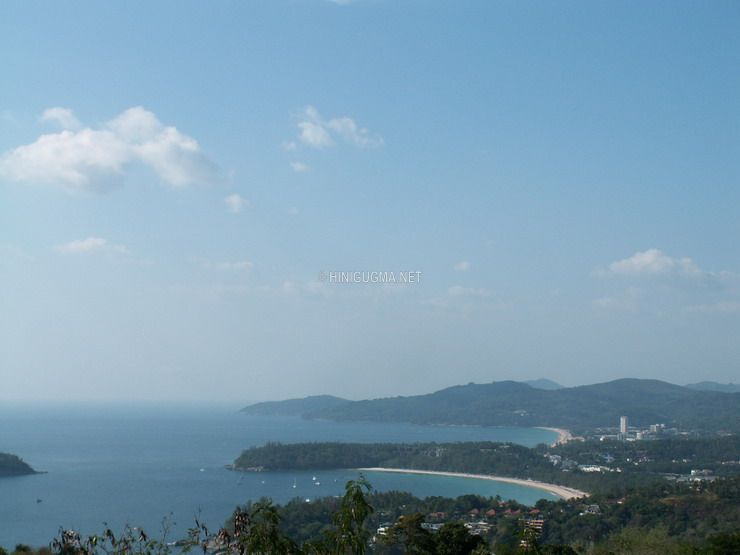 Pictured here is a son of the Eagleman in 2008, he may or may not be the accused knife murderer. I am familiar with the Eagle-man since right after the Millennium, these photos date from a variety of trips. Phuket before the chronical Taxi- and Tuktuk-mafia's scamming was a destination several times per year on my agendas!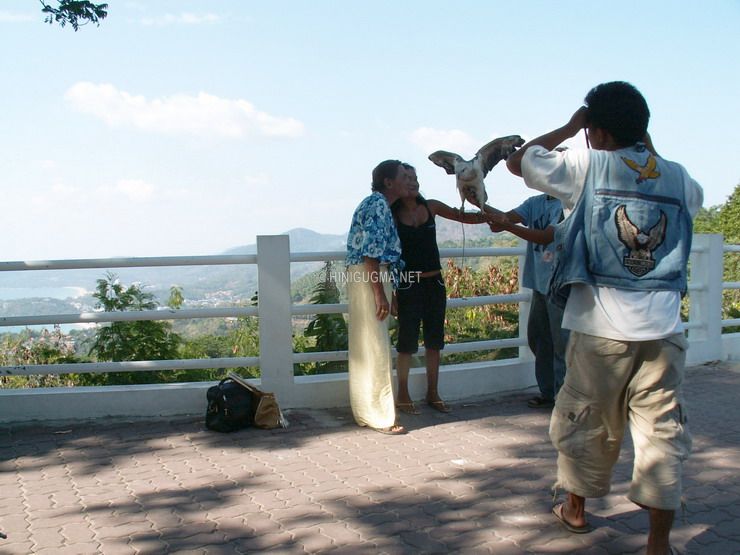 The man in the right of this photo below, is the Eagle-man himself, doing his questionable businesss and exploits the rare birds for a hefty fee per click!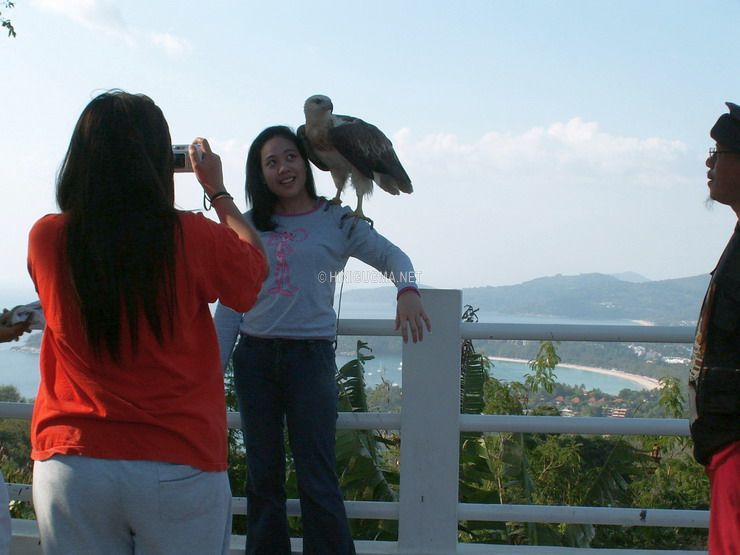 The birds aren't  really tame, their ability to strike is not hampered – which countless tourists found out painfully!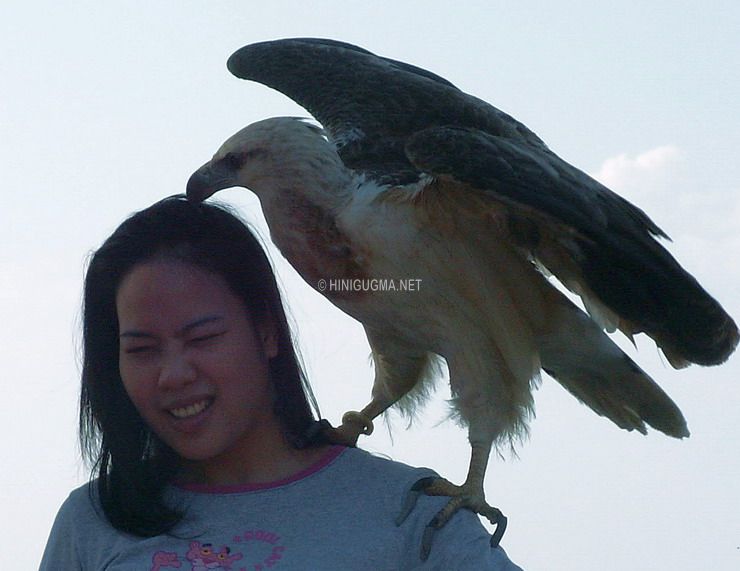 They are tied to their post most of the time. I questioned the Eagle-man myself over the years and his story about eagle babies, raised as orphans, still rings in my ears. He claims that locals from Phang Nga and Phuket brought him those animals when they, were unable to fend for themselves.

Phuket media kicked up the exploit for a short while, but crime-ridden Phuket has a constant flow of stories to tell. Deadly tourist drownings, boat accidents and numerous unexplored deaths by foreigners, barfights scramble for attention as front-page issues. Traffis accidents, gun wielding Jet-ski scamsters and busted foreigners (for a medication they carried), are always in combat with ladyboy-stories and openings of yet the next money-magnet to the foreigner-crowds.
The Eagle-man and his public exploit of protected animals on public grounds prevailed!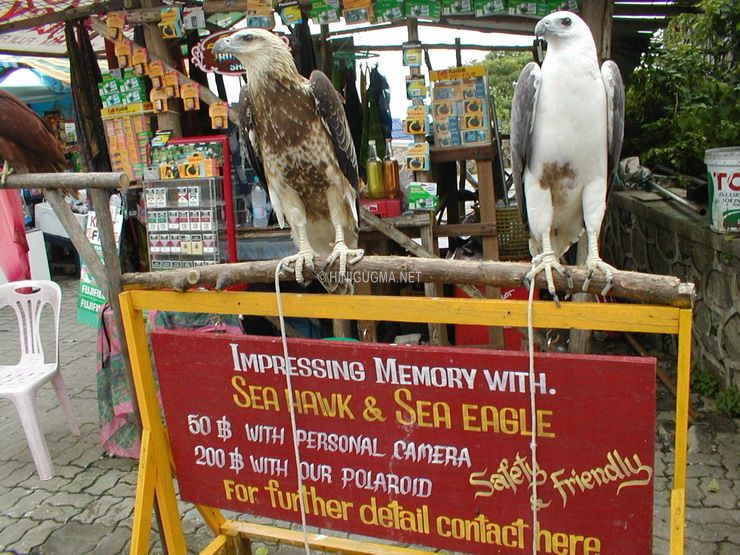 Polaroid photos for 200 Baht were hefty in 2003, 50 Baht before the dawn of digital cameras in cellular phones and click-happy busloads of discount-airline tourists netted Eagle-man nice profits daily. He long has upgraded his tricycle to a decked-out black pickup-truck to transport his feathered prisoners to and from home nearby (towards Chalong). The charges for Polaroids remained stable for years, but the "permit" to take a picture with own equipment was already doubled by 2007.
Cool idea, to have a business without the need to pay rent or tax – but to exploit endangered species for that?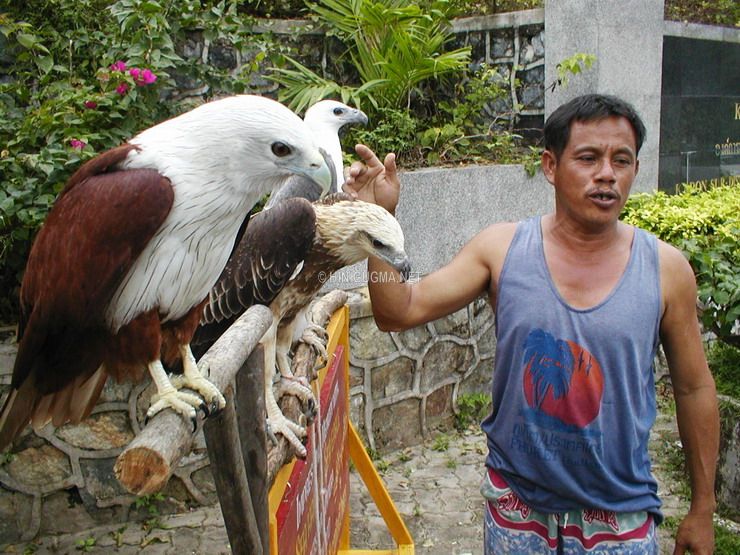 Surely, Phukets local law enforcement and government would have to answer questions elsewhere But where money is being generated, TAT and all officials may close their eyes over years of cash-flow for Eagle-man.

WWF would have a ball, but where are they? Where are Animal's Right's Activists?
Elephants, apebabies, snakes and reptiles are exploited nationwide in Thailand, the smaller ones are being carried into Beerbars and eateries, touted to the walking ATM's on two legs from overseas. This here was entirely different, one Eagle-man, one location, many years. Are there investigative journalists on Phuket worth their money? Are they producing so frequently, that a few birds don't count?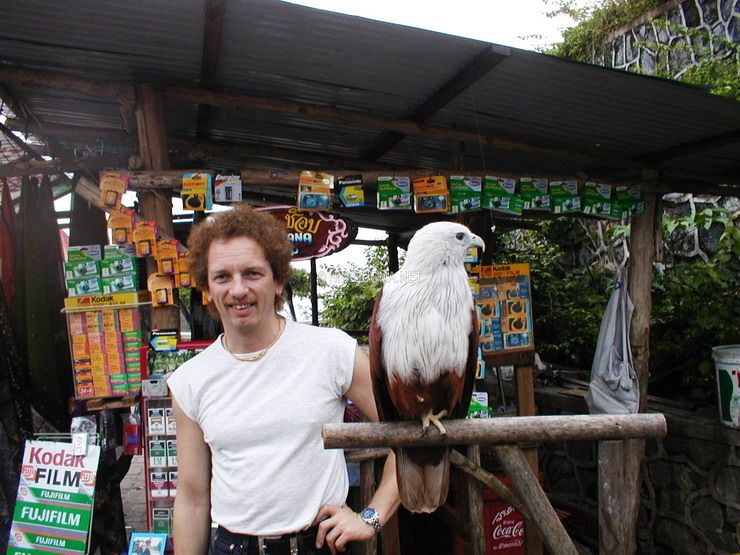 In the picture below, one son ties the birs up for transport on a pickup-truck around the middle of the decade, probably just a year prior to the big tsunami in the Indian Ocean, which left so many dead on Phuket, Khao Lak and other places.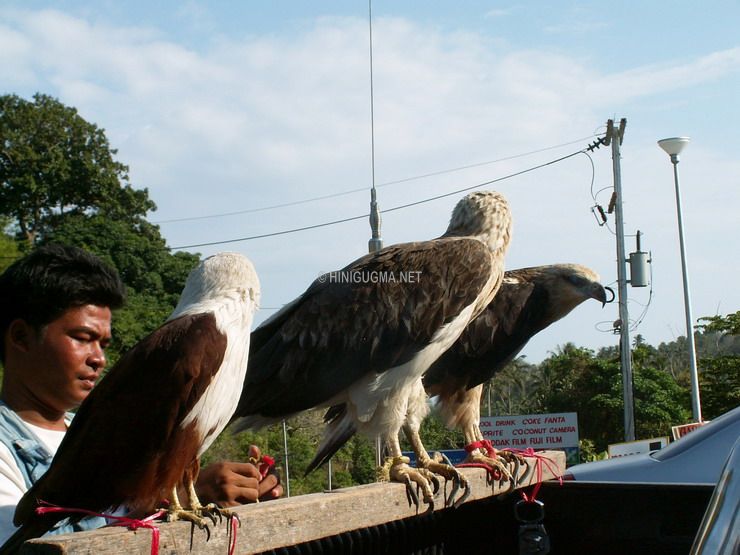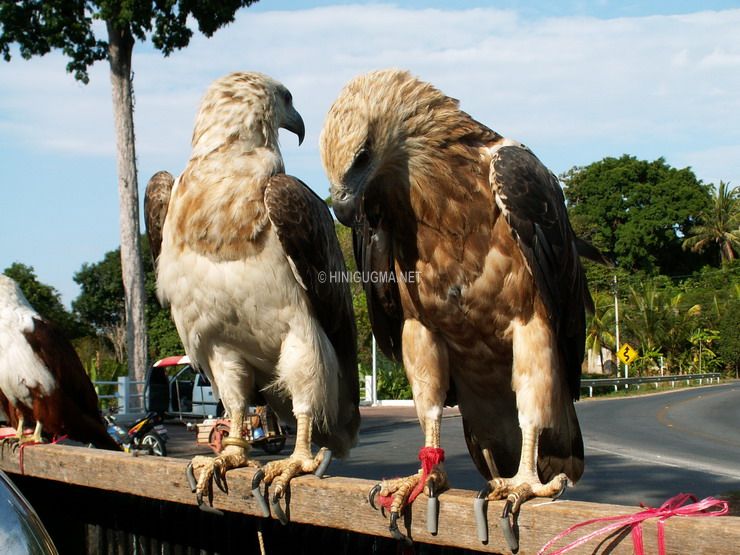 Tied to a wooden bar, the transport itself won"t allow an opportunity to fly. Speeds driven during the transport downhill from Kata viewpoint were mindboggling. I risked it a bit and tried to hang on with a small scooter, but to no avail!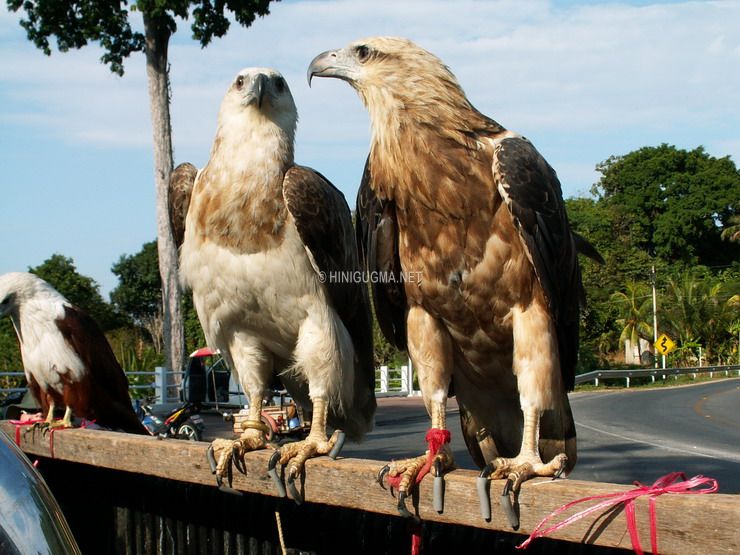 The sharp claws of these birds of prey were in part covered with silicone rubber, which reduced skin damage for the tourists maybe, but it surely also made it difficult to hang on to the pickup truck for them!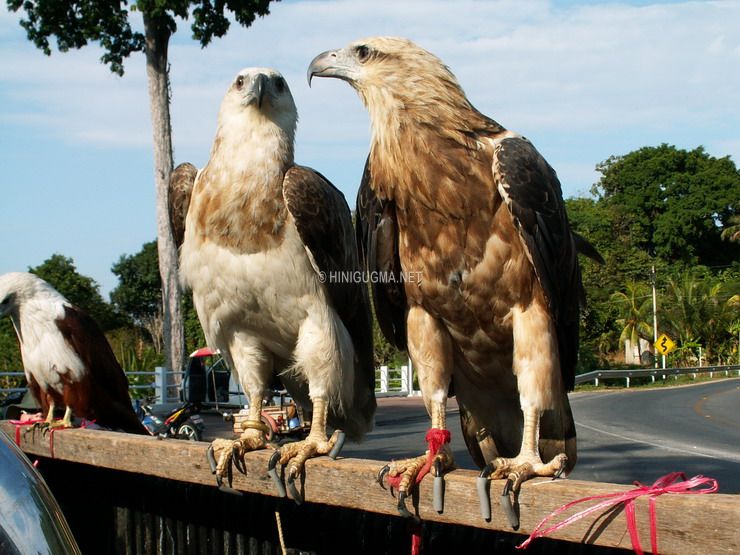 The

eagles

and hawks situation here leaves many unanswered questions. I didn't study biology or ornithology, so I can't really tell what these birds need. I feel sorry for them, being a freedom-loving person myself. Melona and I spend countless hours in Ream Nat'l Park, over in

Cambodia

or on

Pulau Langkawi

in

Malaysia.

There I didn't witness any exploitation of them, but we loved to watch the majestic birds from our canoe in the mangroves. Here they can be seen close-up for sheer profits of the Eagle-man.