© 2010 Frank P. Schneidewind
Hat Yai or Haad Yai is the biggest City in Southern Thailand. Undisputed rail-hub of the southern region. Enroute to and from Malaysia, if you travel by train, bus or car. It is a rather sleepy city, if you compare it to Bangkok. Train rides cost you anywhere from under 300 Baht for a 3rd class seat or 1.500 Baht for a 1st class bed.

See our low-down on SRT's services to make your choice. Siampedia contains features, covering each individual option of rail travel! Grab your direct link here: (3rd class, 2nd class seat, 2nd class sleeper A/C, 1st class cabin)
Backpackers are no outcasts here, the local travel industry is amongst the friendliest in the nation. Many shops sell tickets to Pak Bara, Pak Meng, the Perhentians, Krabi, Langkawi, Koh Samui, Tioman, Tarutao and any other destination that pops into your mind. They are a bit pricy close to the rail station and charge gradually less, if you shop around an venture a bit into downtown Hat Yai. Comparing services avoids getting ripped off! Avoid so called "Joint Tickets" and decide at piers or transportation hubs which next step of the planned journey to book.  100 Thai Baht equal, as a role of thumb 2 Euros or 3 US-$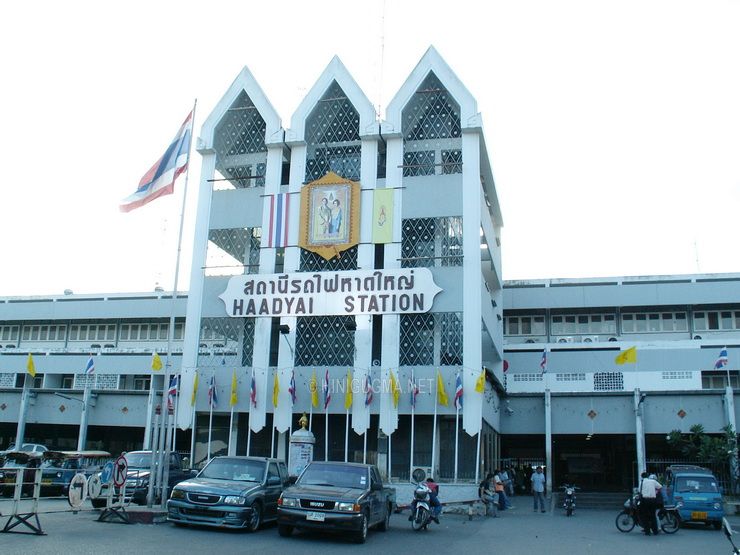 Here, all clocks seem to have a somewhat slower pace, and visitors to the real South of Thailand will be surprised by the low fares and prices in the City, and the entire province of Songkhla.

Just to give you some examples: Basic Thai food at the plenty of stalls will run you 20 to 35 Baht per dish; selections are here in abundance to find. Tuktuks charge a flat rate of 20 Baht per person citywide. This is negotiable downwards, if you are traveling with a family or group. A street stall style hot coffee for 10 Baht in Hat Yai doesn't really taste less good, than the 50 Baht coffees on Koh Samui or in Phuket! But then again, we are here in the true South, with heightened security levels and armed military or guards being present everywhere. You will see uniformed military with assault rifles everywhere! At the airport, the station or the bus terminal. No need to be afraid, the Muslim insurgency targets primarily South of here (Narathiwat, Yala and Pattani). Well armed troops board all trains heading to Sungai Kolok here, there were several bloody incidents, calling for this measure in the past. Avoid to don fatigues, army surplus luggage and olive drab or black colored garments, when you go to Hat Yai or pass on to places in Thailand South of here!
Hotels and guesthouses are here in great variety. We opt since long for a nice place with A/C rooms, Breakfast and WiFi in the 500 Baht bracket, there is no need to fork over large sums here for a good room to stay in! The Hat Yai Garden Home is located not too far from the railway station, and downtown plus the markets are within walking distance. The rooms are decent, but there are so many alternatives on almost every road here – just walk in and check their rates. Even the nicest places in town hardly charge more than a 1.000 Baht per night!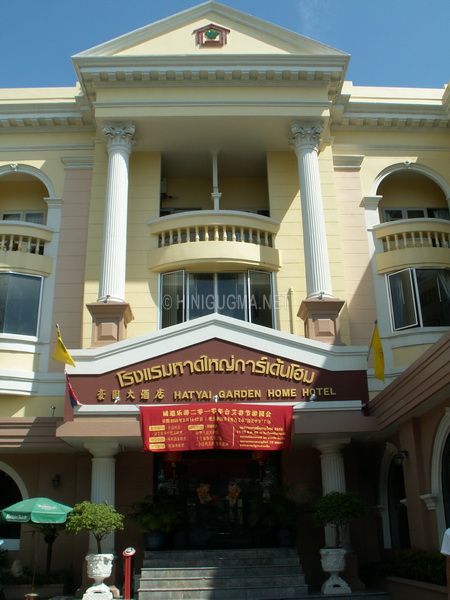 The city is well developed and the bus-tourists on their weekend trips from Kuala Lumpur or other places in Malaysia fill up a good percentage of hotel rooms on weekends. Bustrips to K.L. cost about 500 Baht with a luxury coach, Penang by minivan is 300 Baht – all prices are one-way. Malaysians mainly come here to shop or be entertained.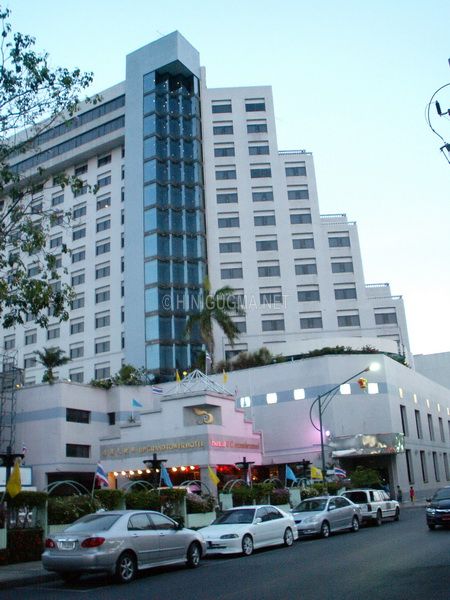 Hat Yai offers hundreds of stores, several malls and shopping centers plus a few hundred coyote-style dance bars and massage parlors. KTV or Karaoke entertainment venues sprinkle not only downtown, but the whole city at night. Most hotels also have such clubs included, make sure to book a higher floor, if late night noise bothers you.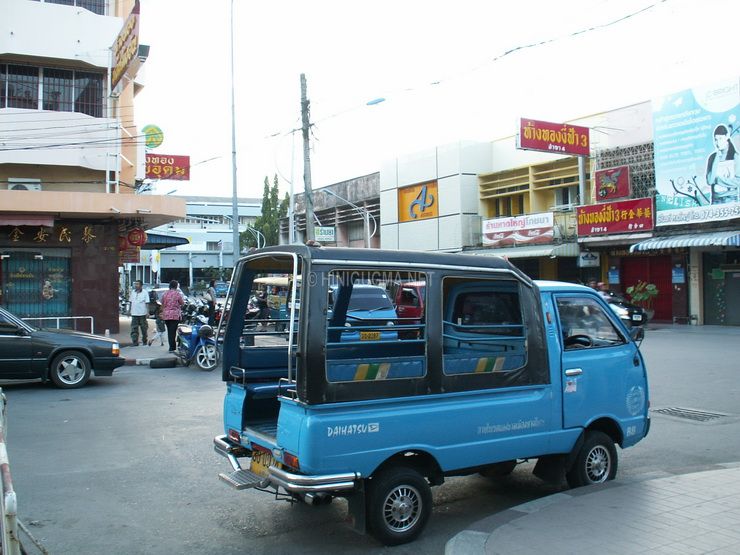 Garments and kitchen ware, food, gold jewelry and toys are the big sellers here – and all stores are full. Chocolates and candy on the sidewalk is nicely packaged, but contains cheap Chinese or locally made product. Just the packaging resembles the better known imported brands.
Save your money and buy it as an original product at the large ZON duty-free outlet between the Thai and Malaysian checkpoints in Sadao, if you head into Malaysia that way!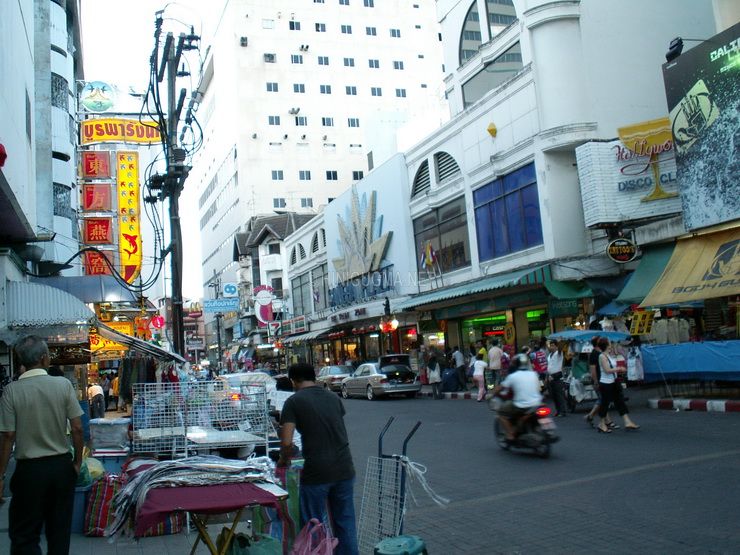 It is a sheer paradise for Thaifood lovers here! Prices are low and quality/cleanliness above Thai provincial standards. Bartering is unnecessary for these products, the prices are affordable for any budget.

Western food can be found in a variety of restaurants too. There is a Sizzlers, Pizza joints and McDonalds concentrated in and around the Lee Garden Plaza (biggest hotel in town, landmark character high-rise!)
We made it a habit, to escape the hordes of shoppers on good weather days. A 20 Baht bus or 30 Baht minivan connects Hat Yai's main district with Songkhla town, the seaside resort. Ride the minivan from the clocktower, if you want to be taken to Tan Kuan Hill (monkey playground, hill tram, viewpoint) or have fun by the sea. Hat Samila is our most favored urban beach in Thailand, playing facilities for youngsters are amongst the best in the nation!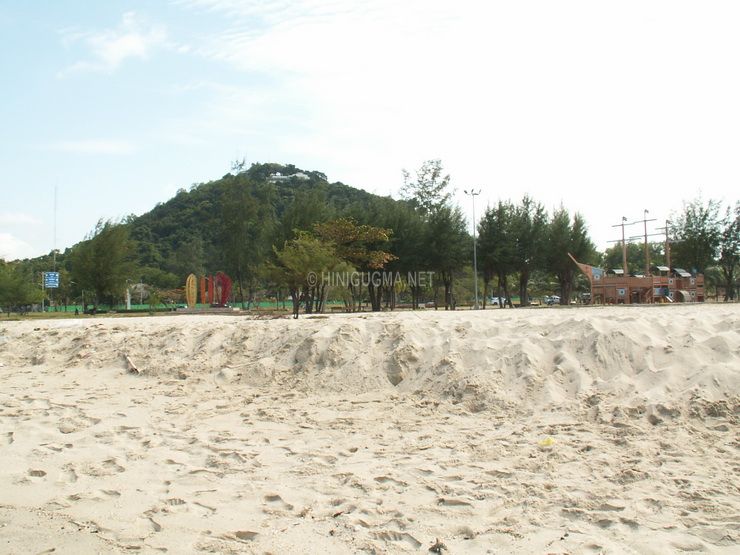 Above picture shows, how near the hill is to the beach, the building on top hosts an ice cream parlor and a snackeria. The playground (Made in Finland) in the foreground, right side is pictured below in detail. The solid constructed "Santa Maria" is free to use, and a perfect destination for our niece (3 1/2 yrs.) to spend an entire day.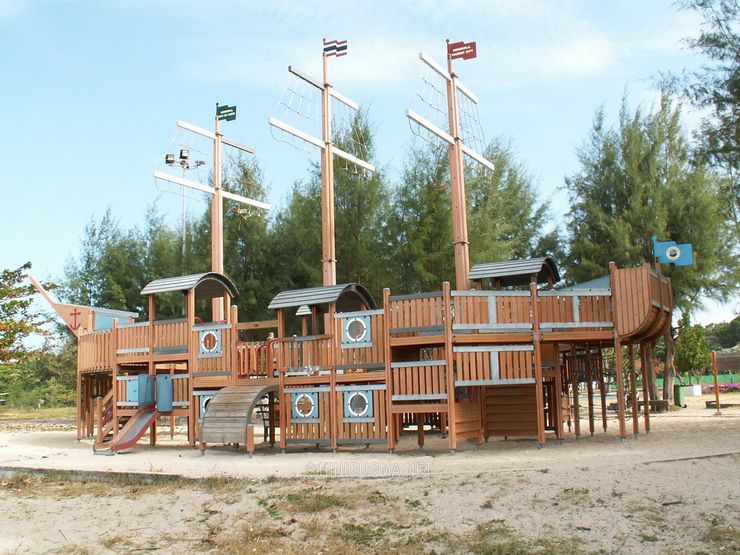 She takes occasional breaks from all the climbing, swinging and sliding in the warm waters of the Gulf of Thailand here. The beach is maintained by the City of Songkhla, so trash is fairly limited. Please also read our older report with many more photos of Songkhla. Hotels are also available here nearby, but we rather commute the 30 Minutes from Hat Yai by minivan and are more flexible that way.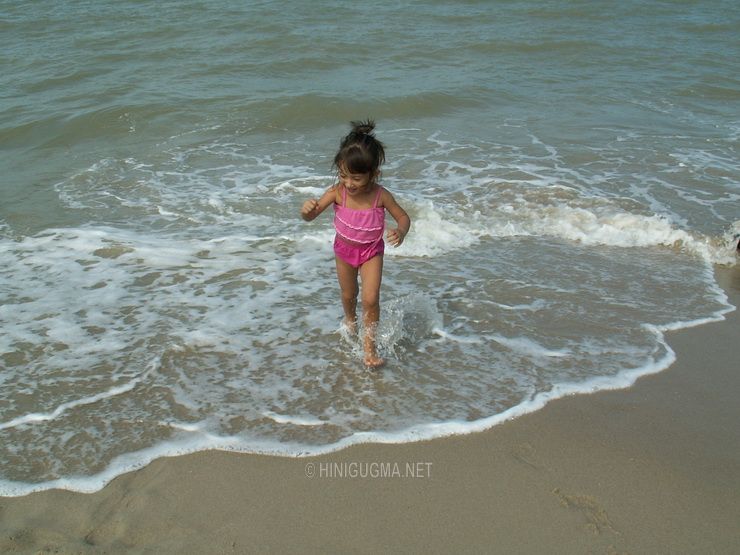 Helicopters at low altitude fly overhead every hour, they service the off-shore gas-rigs of PTT out in the gulf during daylight hours. To us, they are no real disturbance – they offer our beloved niece something to watch, just like the freighters and warships cruising in the distance.

The breeze really freshens up dependably after 16:00 hours. This is the time when the kite flyers show up and the sky displays a variety of kites of all shapes and sizes within half an hour. Soon it will be time for us to get back to Hat Yai, the last minivan leaves from downtown Songkhla (1.500 m) at 18:00 or 18:30 hours.