© 2010 Frank P. Schneidewind
A lot of rubber is burned on the asphalt, when the great hordes of Thai bikers converge on Ayutthaya once a year for the Cowboy and Indian party. No TAT (Tourist Authority of Thailand) in sight, to promote such an event – it isn't geared as a show-off to tourists in bulk and also not a profit generator for anybody, just for the bikers and their fans. Wheelies are performed here by the boys and girls on their steel horses, clad in black leather or other outfits. The fun begins at sundown and involves a quarter of the city near the bus station, that is usually dedicated to Karaoke-bars and Massage-parlors.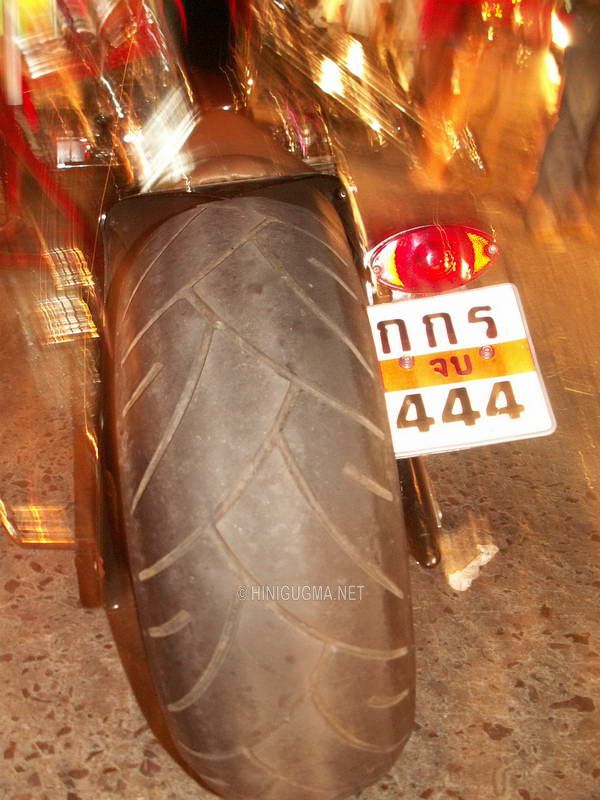 Riders came from near and far, big customized bikes are their trademark. Every new arrival is beeing greeted with cheers and kisses from the Squaws and Cowgirls.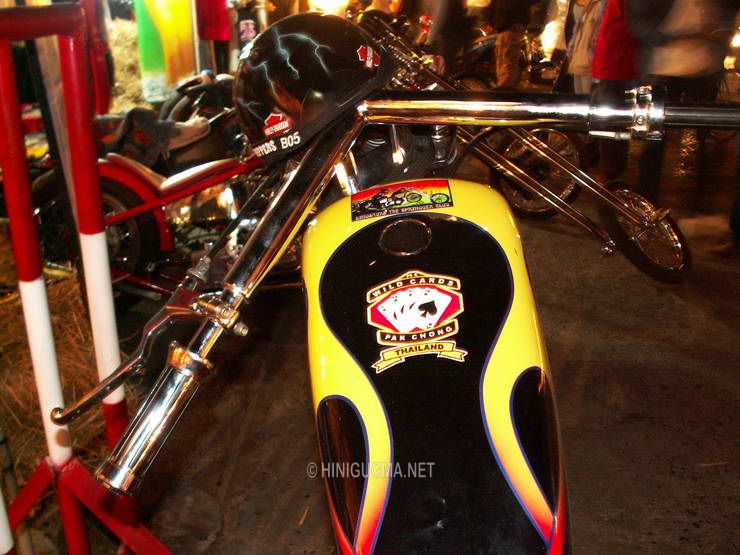 The prices to participate are unbelievably low, they really lure big bikers from a large radius on the roadmaps to Ayutthaya for this event. The 300 Baht (under 10 US-$) inlude all night food and drinks. Alcoholic beverages (firewater) are not excluded!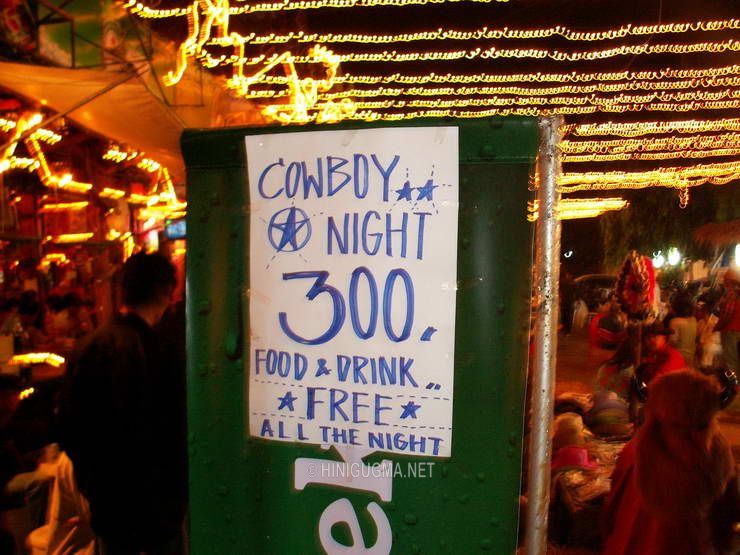 Besides a great buffet, there are several BBQs on-site and live music from local bands. Country music goes well with the crowd and the mood is great.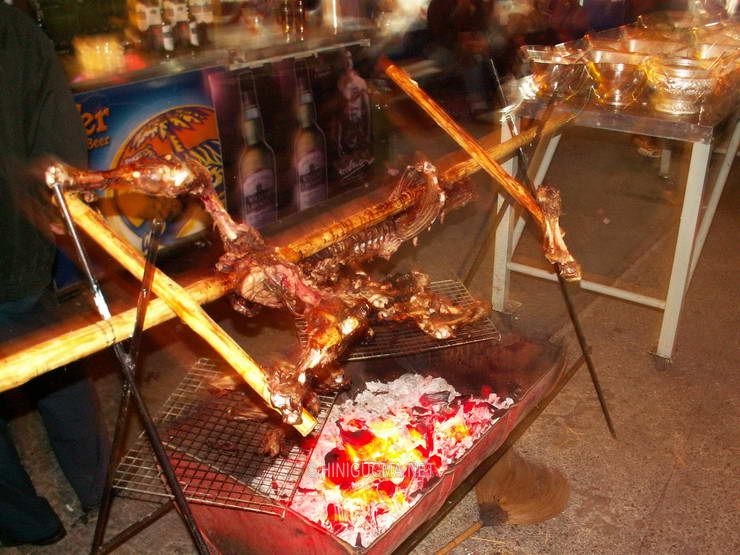 Some Indians showed up with their chief dress-ups, others in warrior garb. About 100 followed the call to the ancient capital of Thailand. For the price of a single drink in Bangkok's clubs, you can eat all you want here, get drunk (some did, they camped out for the night later) and play games or dance. I call this fun-maximizing and skip the expensive Bangkok clubs again anytime for this.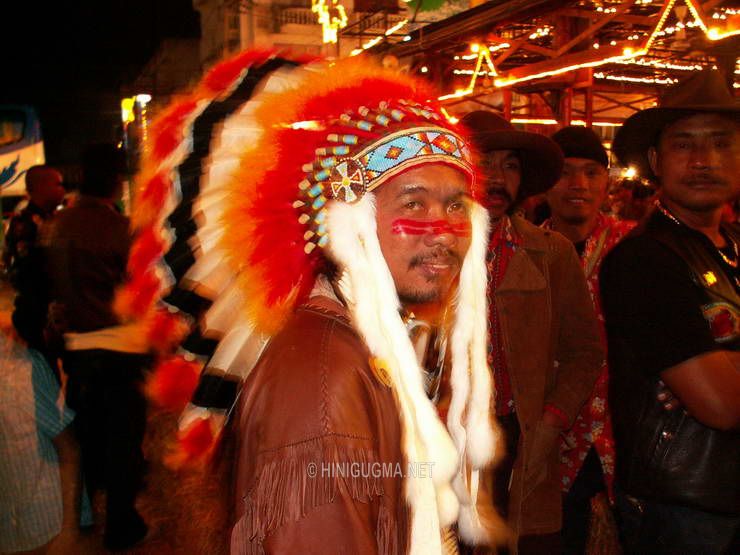 Some of the squaws were hard to resist
, but my number one squaw was naturally coming along and she demonstrated later in the tomahawk-toss, that axes and tomahawks were nothing new to her (she trailed the later winner of the ladycup throughout the whole contest, only by very small margins).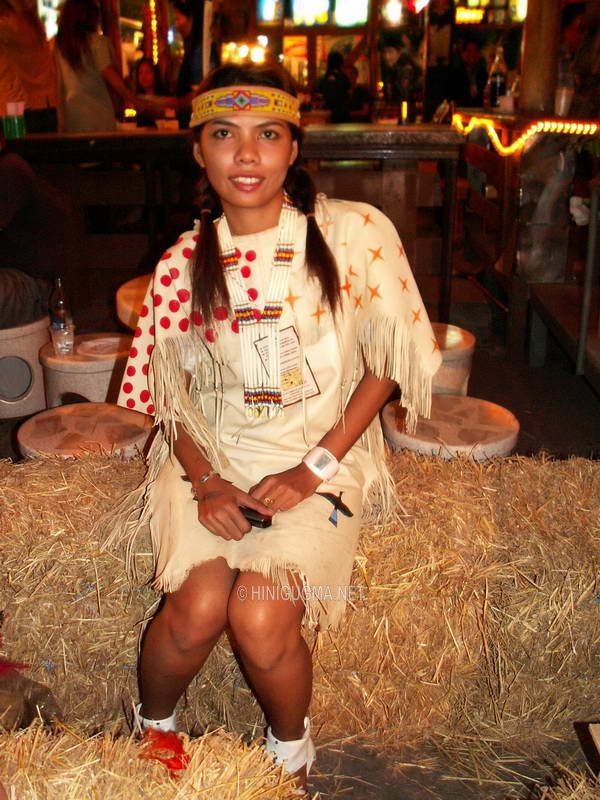 Their Northamerican brothers would have been proud of their Thai tribesmen, the firewater did flow freely all night. Except for the long gun shooting, the Indians sacked the Cowboys badly in every type of contest.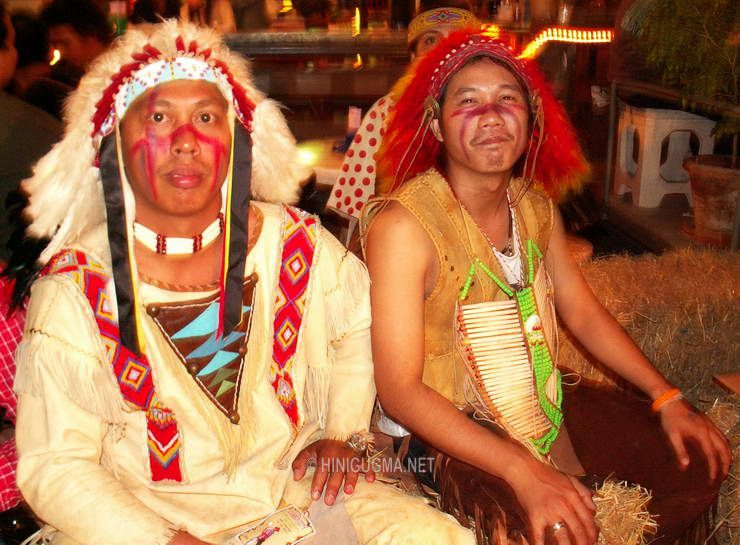 All of the Karaoke girls were then invited to join and quit their job for the day, most followed much to the dismay of their pimps and customers, we all had a great time.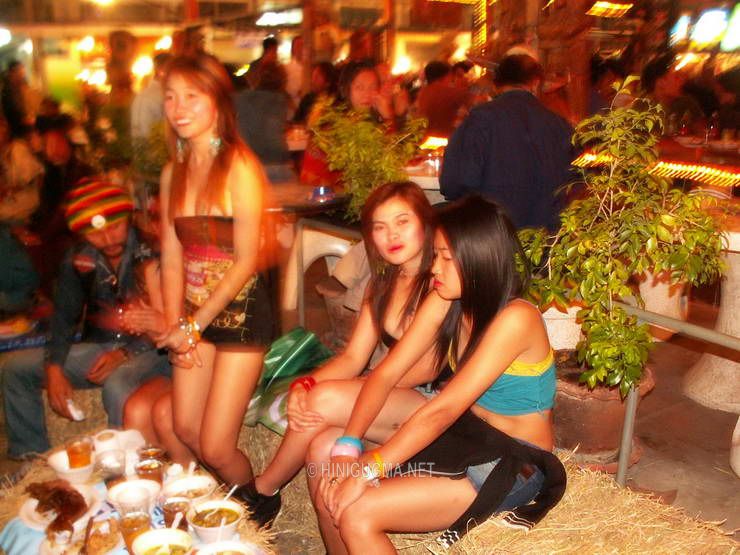 The long gun contest was dominated by a female cowgirl, who was celebrated wildly by the crowd. This great looking gal would have made every western show in the states a hit, as she had a great aim and wonderful party spirit. She shot 3 times a burning candle on top of a bottle in 50 m distance in a way, that the candle tumbled into the small amount of gasoline inside the Kratingdaeng (Red Bull, original formula) bottle and lit it up in a fireball. Calamity Jane couldn't have done that better. She used a 30-30 lever action Winchester for that with no scope! She also took a victorious first place in the shotgun contest on paper silhouettes.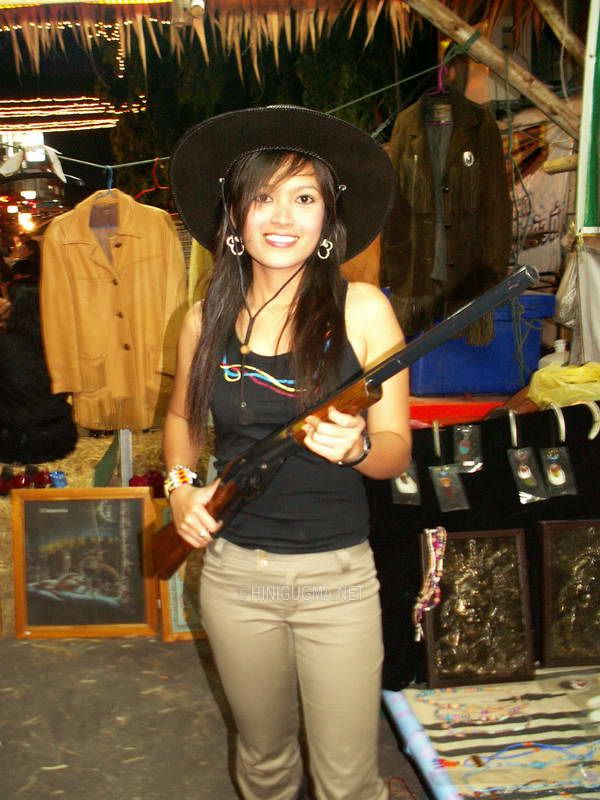 A lot of beauty was to be seen here and everyone had so much fun, many trophies were awarded later. The event organizers scored big with the guests, as almost no one ended up empty handed.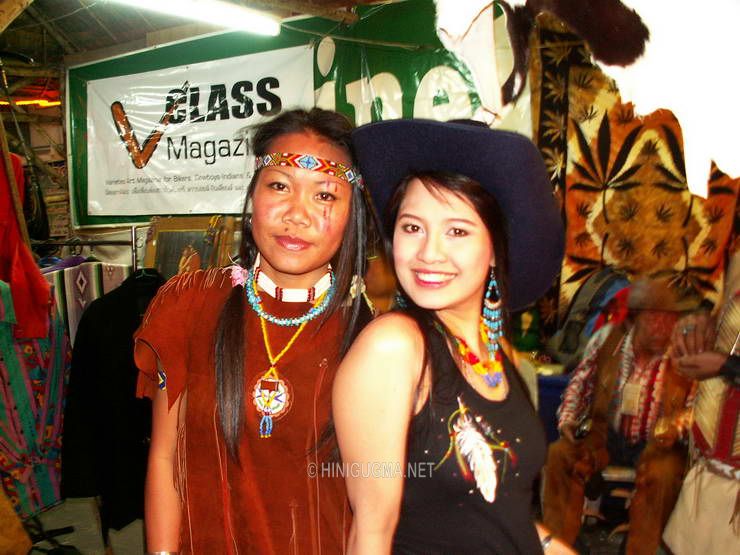 Cherokee, Navahos, Apache and Chippewah, many known Indian tribes and nations were present, at least their traditional costumes, all hand made and great looking.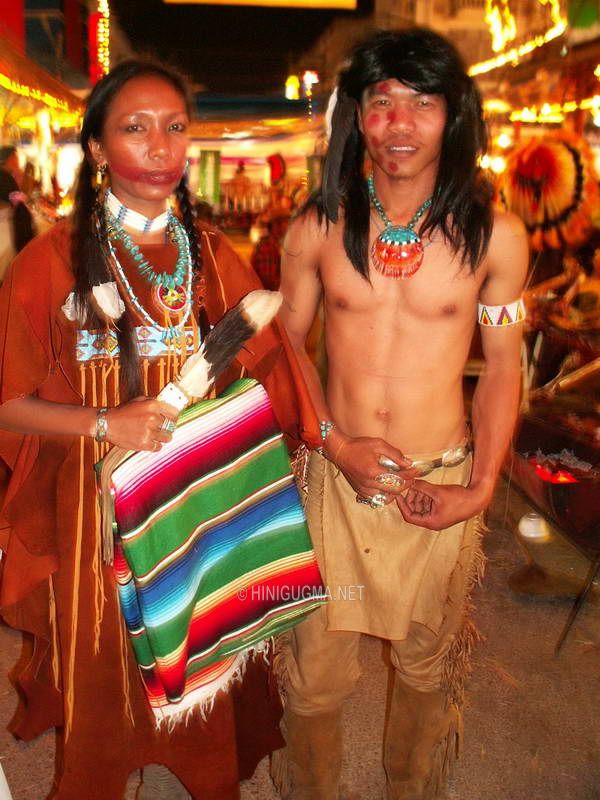 This Iroquois warrior was the champ in lasso and cow wrestling contests, he also won the practical joker pedestal, when he lost his hip-cloth accidently and walked naked through the camp to get a replacement dress.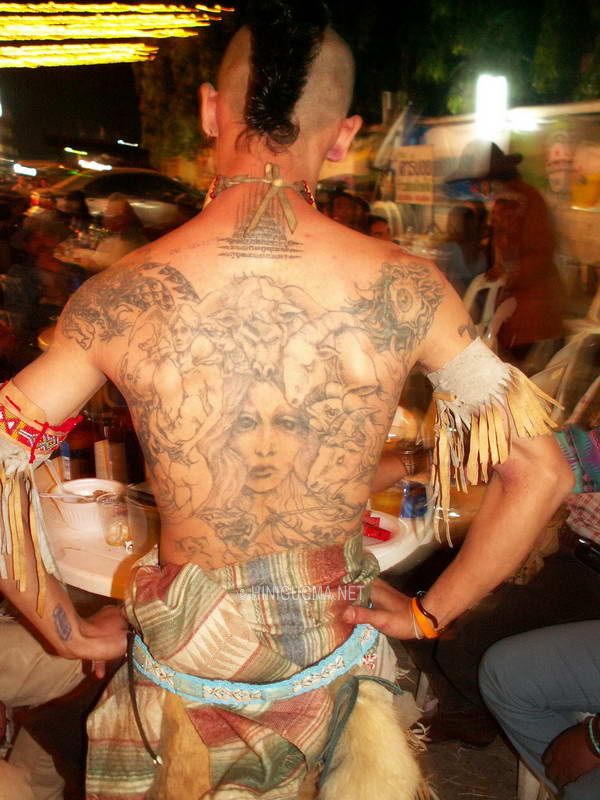 I was definitively underdressed here, but a welcomed guest at the event. They told me, that they never had a foreigner traveling here with his steel horse before. This happened quite a few times before, that I was greeted as the first long nosed pale-face at a regular happening, festival or event. It pays for me to not go with the tourist and expat hordes and hang around with my local buddies occasionally, I get to see and witness so much more.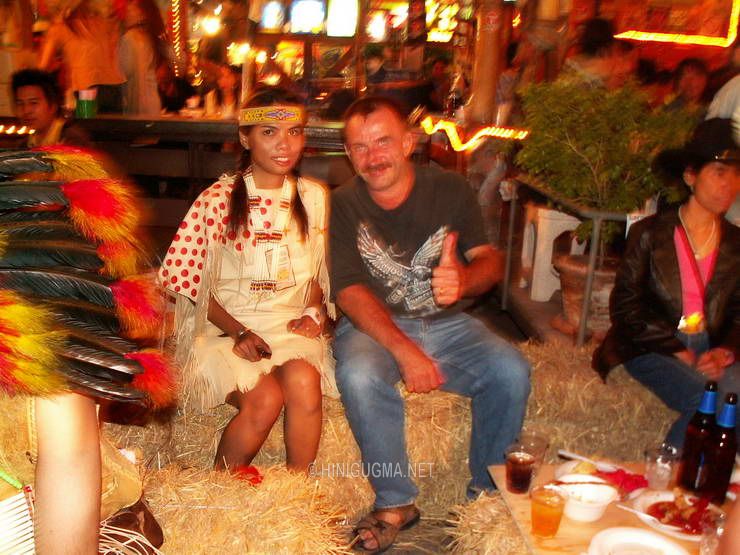 We will sure be back here in Ayutthaya to smoke a peace-pipe and have a ton of fun, but then I will dig out my Stetson and the boots and will surely book a local teepee for the night, so I can participate in the firewater fun.