© Frank P. Schneidewind
Pattaya today is a magnet for all kinds of people. Unfortunately, not all of them are wanted by all groups. The nightlife here is without any comparison elsewhere in Asia, but the red-light presence, accounts for a majority of the tourists here and that is very visible. We do not want to report on the thousands of sex workers in town, on the GoGo-bars, sleaze-shows or perversions of the sex trade, as media already has an overflow of that. We want to give you a detailed report on the situation here, regarding the tropical beaches. After all, Pattaya isn't being marketed as a huge whore house, but as a beach community with some holiday destination character. So we looked deeper into this matter and visited all the major shores in 2011:

Part 1: Wong Amat, North Pattaya or Naklua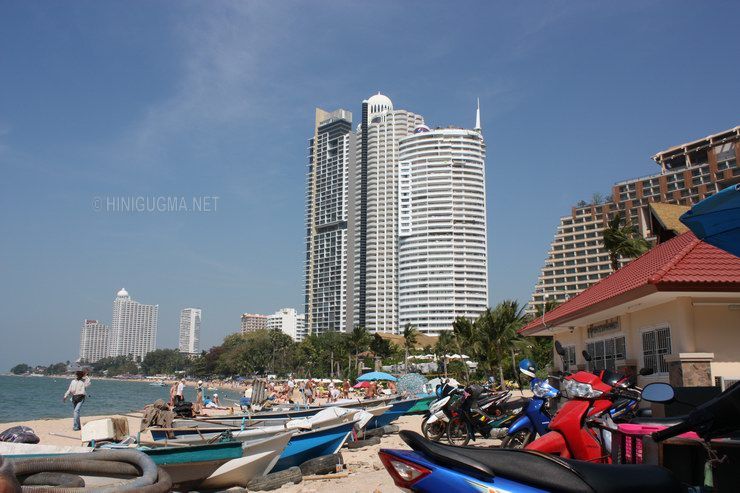 The seaside resort of Pattaya attracts a lot of visitors, tourists and holiday guests from many nations on this planet. The beaches were untouched and almost free of people, when the US soldiers came here in the 60's and 70's on a break (R&R) from the nearby fighting zones in Vietnam and Cambodia. The birth of Pattaya as a touristic destination fell into this time frame. Coconut trees, sand and shallow shores provided everything, the early soldiers and few backpackers needed.
From small straw-huts to two floor-hotels to mega-towers for thousands at a time, the transition period was relatively short. Today's Pattaya hotels have every thinkable option of accommodation for you, offerings to suit every taste and budget are present.

The three major beaches are Wong Amat, Pattaya and Jomtien beach. Wong Amat in the North has just witnessed some huge developments, predominantly for their visiting Russian clientele. Russian holiday seekers do now control the northern part of Pattaya, also known as Naklua. This used to be a holiday ghetto for German and Austrian tourists, but their numbers continue to dwindle further. Some signage on older buildings remind onlookers of those times, when Deutsche Marks and Austrian Shillings were the currencies of choice here. Marks have vanished and along came the Euro, of which the Russian tourists bring big bundles. Nobody there likes their own, worthless Communist currency, so they bring stacks of € and US-$. The Russians do score big with any vendor here and gladly pay any inflated prices asked. Most signage visible these days, is in Russian or Thai, even the former German or other European food temples, now feature Cyrillic (Russian) signboards.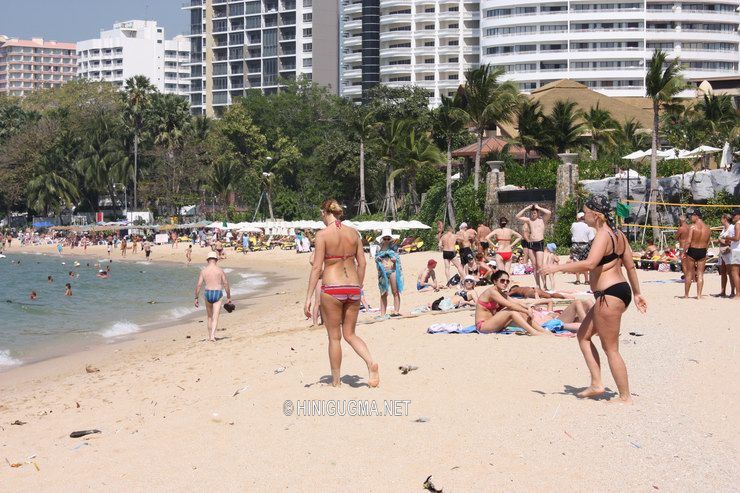 Every square meter of beach is used to generate money, expect hawker goods to be labeled in Cyrillic fonts (Russian) here. Vendors roam the sun loungers and restaurant tables on the beach, selling copied software or cracked Hollywood movies on DVD and sun-screen and ice-cream to the folks. Touts for tours and time-share condos walk their rounds too, peeking for potential prey.

It was peak season here, but many tables remained empty. Not everyone fancies a menu in Russian, Thai or Chinese language and/or sky high prices. A 100 Baht daily rental fee for a sun lounger has to be forked over here, these prices seem to be charged citywide though. Cheaper beach chairs still run 30 Baht a piece per day.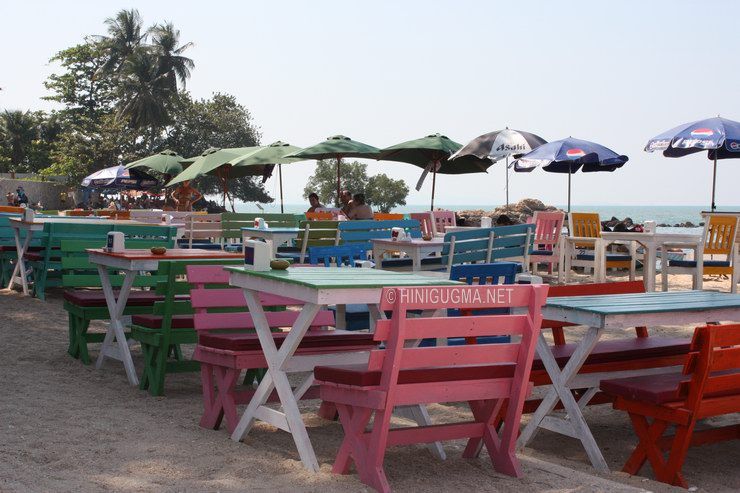 Part 2: Pattaya City Beachfront

Pattaya does have a large beachfront, which is fully developed and commercialized. The so called Beach Road, stretches along the Pattaya Beach and the bumper-to-bumper traffic here, is a sheer nightmare to cross.
Seventeen pedestrian traffic lights along the main roads, are supposed to reduce the fatalities and accidents in Pattaya. But although located on zebra-striped crossings, their sheer existence is wildly being ignored and the law enforcement does absolutely nothing about that. Red light isn't a signal to stop for a Thai driver, it is merely a colorful dot of light that is to be ignored. We observed even police pickups and motorcycles, running a clear red light. They make great model citizens to others!
Once pedestrians make the dash across Beach Road in on piece, they face a concrete path, flanking the road on the beach side, before the forests of umbrellas on the beach itself. The beach is making headlines as a crime scene weekly and is noted to disappear further. Ocean currents take their toll and flush away massive amounts of sand daily.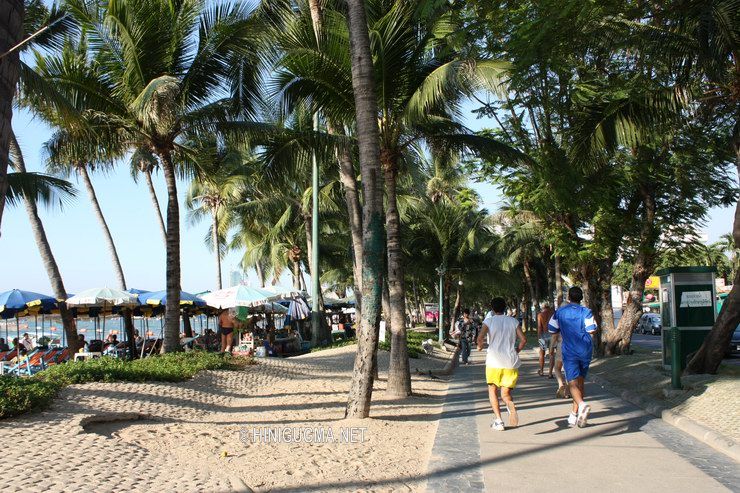 The thin stretch of coarse sand did not appear as dirty, as on previous visits. During the day, some sun worshippers come here for a tan. The Jet Skis here are world famous for their inflated prices and extortion of tourist's cash with fake damage compensation demands, read our own Jet Ski Scam report on this matter!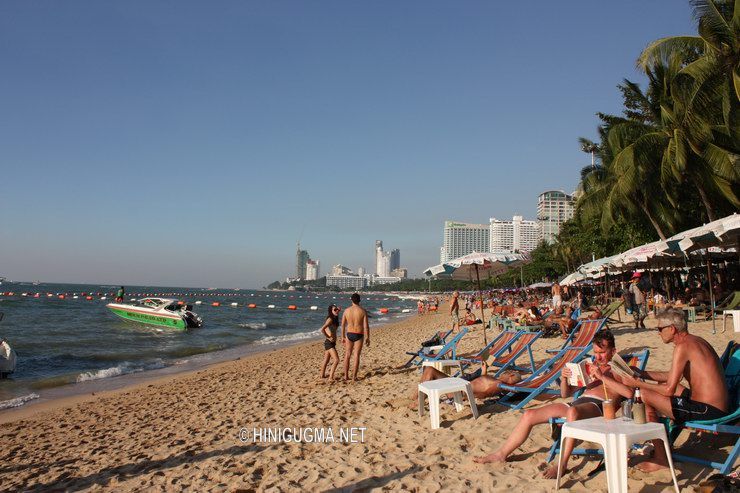 Powerboats with oversized twin outboard engines, ferry new tourists to outlying islands, like in the old days. The few swimmers, that do not have health concerns about the water contamination, are now restricted to cordoned off sections of the water. But hardly anyone braves the floods here. I don't blame them at all! Occasionally, some Arabs or Indian tourists can be seen swimming, but the warm water has lost it's appeal to most guests.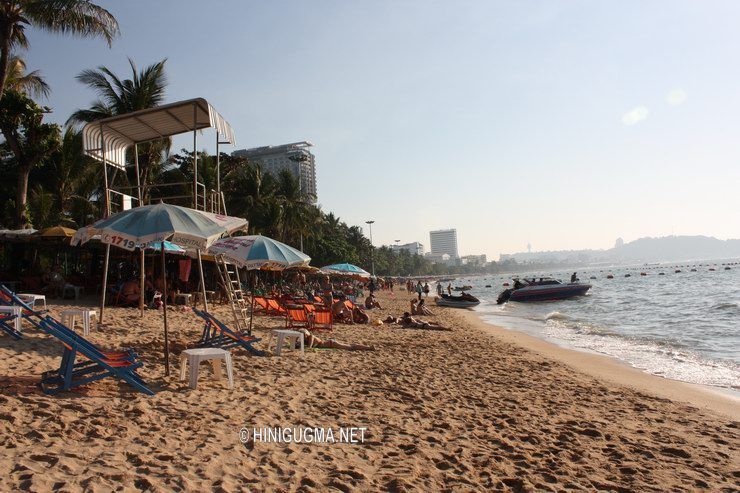 The former beach and nightlife GI R&R resort of Pattaya, is now one of Thailand's foremost cash generators for international tourism. The thousands of hotel beds offered, are fighting hard for occupancy rates. The sleazy red-light districts attract probably more touristic interest, than the mediocre beach itself. Hence Pattaya's public image remains low in the western world and lots of rather violent crimes, discourage many families to come. Police here has since long seem to have left the "to serve & protect" standpoint, as is accused frequently with corruption and extortion too. That they turn a blind eye to openly visible underage prostitution, child pornography and other side effects from society here, is known and documented well by others. At times, imported law enforcement commandos from the capital Bangkok, do raid large discotheques, entire whore house avenues or run so called sting operations. But their success is always very temporary and therefore limited. Whole loads of night club visitors were forced to give urine samples to check for substance abuse in the most recent past and road accidents with fatalities or serious injuries outscore the counts of much larger cities by far. Local transport appears to be a big scam in itself. Inner city bus lines were forced out of business and their passengers were bullied by the omnipresent blue "bahtbus" society. Except for a few fixed routes, they charge as much as 150 Baht for 2 or 3 km. That is for rides in the back of a pick-up truck! Extortion and scams follow the visitor here at a close pace. This is maybe on reason that the hotels have a hard time to fill their rooms outside the peak season.

Several international hotel chains run objects here. While some have built their guests a new place to stay, others have resorted to a quick-cash operation and refurbished an older beach road tourist hotel. One of those is the Hard Rock Hotel (shown below), that tries hard to hawk the well-known brand amongst the newcomers with bigger budgets.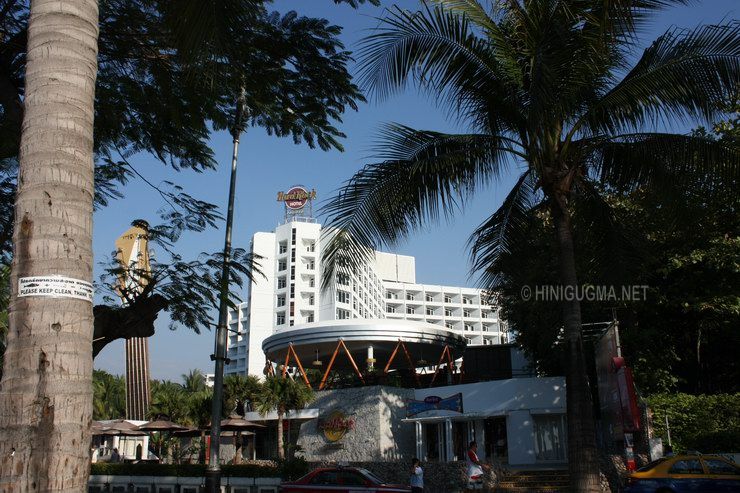 Cafes, restaurants and gourmet temples all want their piece of the potential profits here, while only a few accomplish their goals and satisfy their customers well – others opt for a quick buck and rake in whatever they can.
Discos have cheap or free drinks for single ladies to lure the abundance of girls for the night into their halls, but male guests pay way above average for their drinks. GoGo Bars and Beer Bars with "hostesses" are offering sex and drinks citywide and often open until late. Our own sleep in a very remote part of town (North Pattaya) was disturbed until 4 AM by some ultra-loud Karaoke Bar nightly.
Part 3: Jomtien or Chomtien Beach (South of Pattaya)

The only real part of Pattaya, where we considered the beach clean enough for our baby, was several km south of Pattaya at Jomtien. Here the red light and sleaze seemed to be less dominant, we enjoyed time spent here very well. Plenty of others liked it here too and the beach appeared fairly full. If ever we have to stay in Pattaya again, it sure will be clear away from the city. At least up on Pratamnak hill on the way to Jomtien.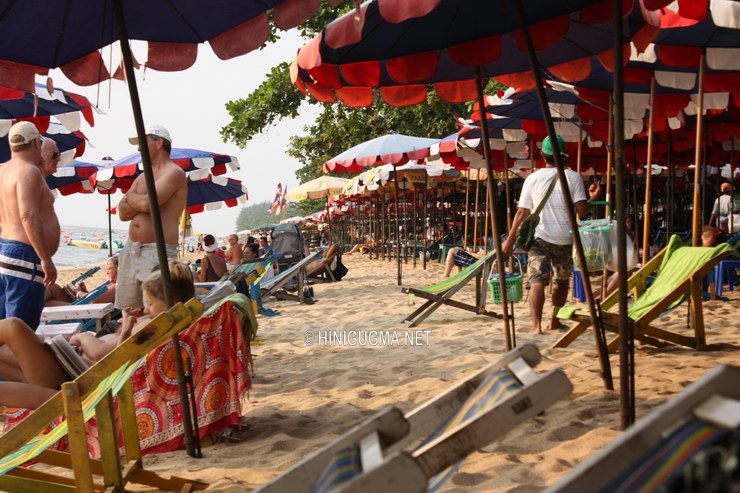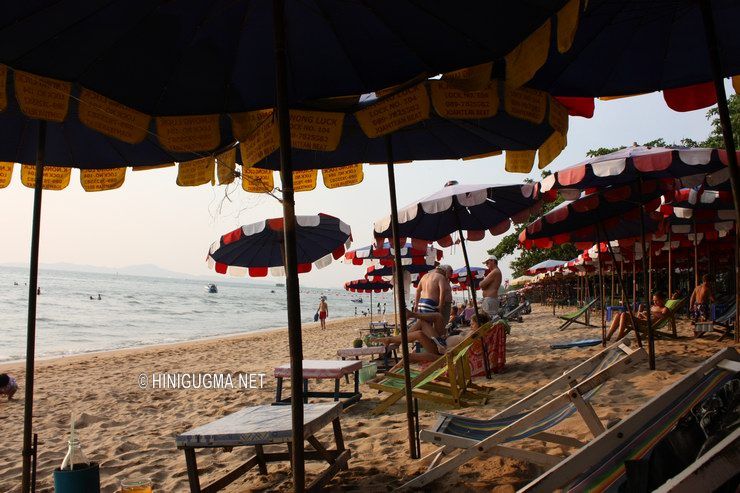 The sand here is also fairly coarse, but that was actually better for our youngster. He found other kids to play with, anytime we needed a break. We did not have a boring minute here. Chairs were 30 Baht per day and drink prices were reasonable as well. The ocean's water appeared clean and free of any plastic trash and oil slicks.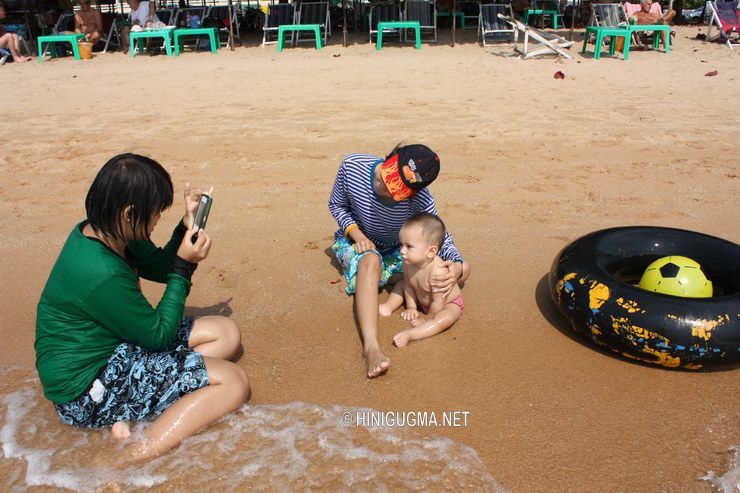 Nothing real nice, if compared to the much prettier island beaches of Koh Chang or Samui for example. But surely good enough for a picnic at some beach as well as some chillout and fun in the sand.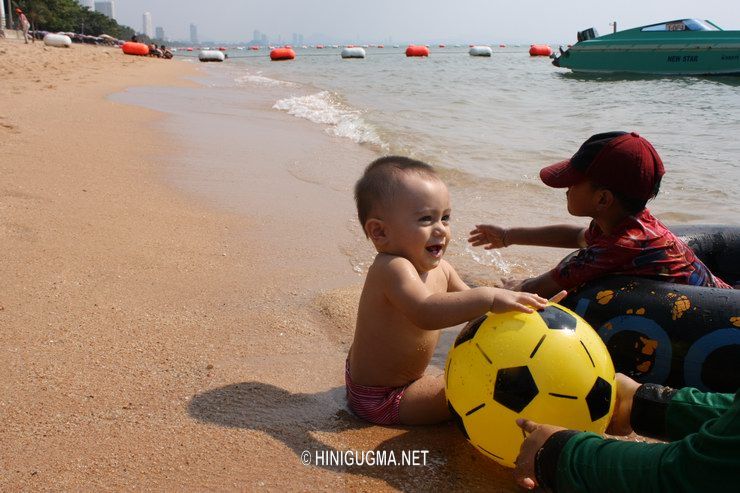 As an essence, we would like to state – that unless you are a single traveler, looking for a hired female or male company, Pattaya can not be a serious holiday choice or destination for anyone. Pattaya's public image as Asia's biggest whorehouse, is a very true statement by some. A few man-made attractions around (zip-lines or wooden temples) do not change my opinion. Public transport is extremely substandard and mafia-style in terms of exaggerated fares. Send Pattaya's politicians to Penang or Georgetown for a learning experience about these issues.
Location of your accommodation does make a big difference here, a wrong choice and there goes your nightly sleep. If you want to party wild, Pattaya may be a place to hang around. But if you want to spend a holiday by the sea, there are hundreds of much  better options alone in Thailand. A positive aspect for some is the above average availability and selection of ethnic foods from all over the globe, but we like Thai food and that is being sold here in remote areas only. Folks that fancy African Couscous, Arab Shaowarma or Russian dishes can really dig in here. Good Pizzas, Schnitzels and Steaks are also to be had everywhere.