© Frank P. Schneidewind
Golf brought me some of the most amazing moments in Thailand, but two courses were outstanding beyond belief. One was at Don Muang (AFB), right smack between the runways and the other one was hugging the finest shoreline on the coast of mainland Siam in Narathiwat. We visit the Chulabhorn GC here with you!

This feature is a little bit dedicated to my own and wilder past
, and also a young USMC friend by the name of Trevor. It dates back prior to the mishap, which partly revoked my personal mobility. Melona and me traveled frequently in the southernmost part of Thailand. The civil war zone there, came along with the international media's need for on-site reports and photographs. We were happy to supply and our interviews/reports plus pictures made it into numerous publications (via news agencies). They were our bread and butter then, so to speak.

Each of those trips was well planned and safe enough for us, they brought much more than just doing some work in an area, the tourists probably had never heard of. Narathiwat province became our home for weeks at a time and it always has been a beautiful part of Asia. This area was a part of the former independent Pattani Kingdom since the middle ages, until they were annexed by Siam (Thailand) in 1771.
A massive military deployment in 2004, lead to an escalation of the civil unrest. The military needed to remain on site, in order to suppress militant Muslim or Islamic groups. These insurgents target teachers, Buddhist monks and everything, that resembles Thai authority or government. Hardly a week goes by without ambushes, bombs, killings and gruesome slaughter of innocent civilians. The body count exceeds 4.000 today and there is no end of this dramatic scenario in sight. IEDs also pose an ever present danger in the cities and their markets. Local media widely ignores this conflict, other than rebroadcasting some agency news and victim numbers. The military itself here, is in the cross-hairs of snipers, if on patrol. Teachers have the need to be guarded commuting to their schools and peaceful monks face an alarming threat by IEDs during their early morning walks for alms. Our presence on this trip came to an end and we were invited for a round of golf by an officer, whom we befriended here a long time ago. Convoys, returning from the field, were out in force, as we neared their camp.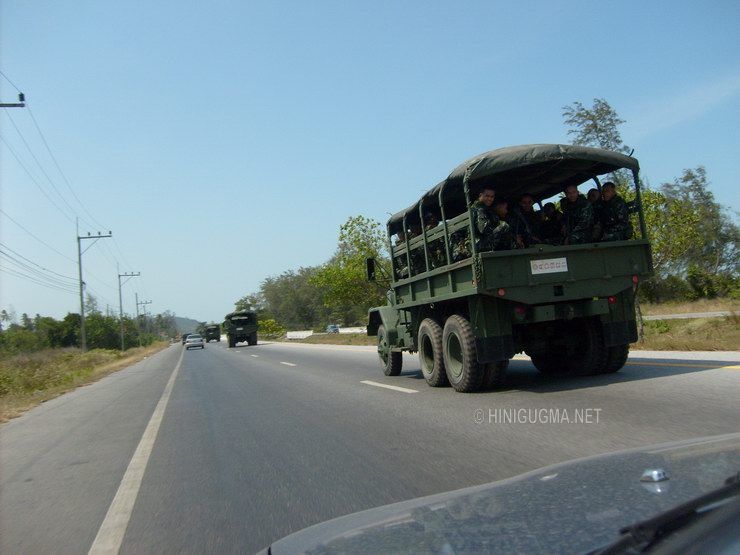 Some of their gear displayed, was probably previously being used in long forgotten wars in Asia (Vietnam?). The Thai Marines here do an exceptional job, protecting citizens, schools and Buddhist temples from the Muslim insurgents in this region. Thousands of innocent people have lost their lifes in the ongoing struggle, ever since the former Minister President Thaksin Shinawatra (now a fugitive and convicted felon) escalated the situation here back in 2004. News report several times weekly, if not daily, about new ambushes, beheadings and bombings. Many young Marines died too, ambushes and IEDs, bombs and grenades took their toll on them. They are mostly a part of the forces, which were originally stationed in Chantaburi, 1.200 km to the northeast from here. They also provide the security for Narathiwat's airport. Their Camp Chulabhorn (name of a Thai princess), is located between the ocean (Gulf of Thailand) and the airport perimeter.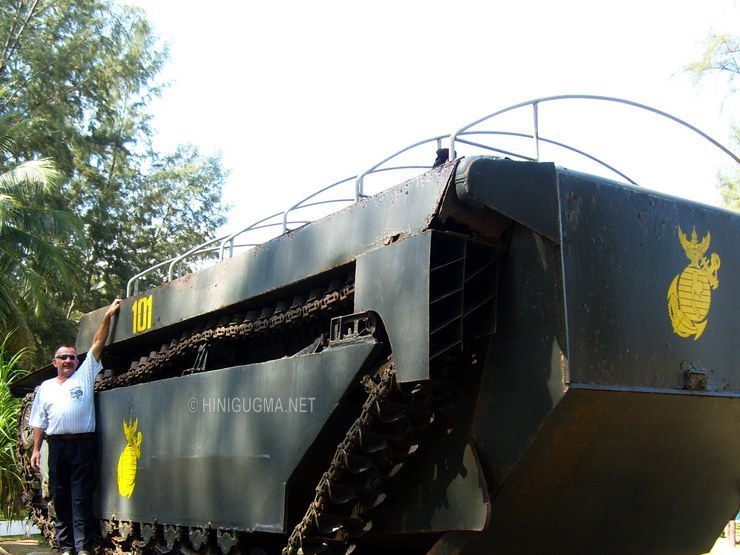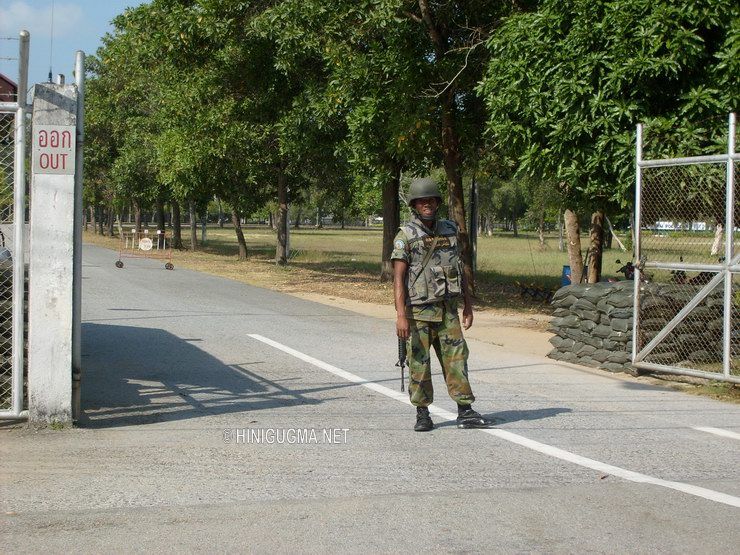 The staggered and multiple perimeters of guard placements, are meant to protect the Camp Chulabhorn from ambushes and this is probably a normality in all regions globally, with heightened alert levels (in any conflict zone). My own ugly face was a familiar sight to them. I exchanged a few quick words with the friendly dudes here. We are no threat to any smiling person and guys in uniform just look a bit rougher. It is a part of their job after all and the presence of personal body armor in this heat, told a grim story by itself.

I feel a bit sorry for these dudes, having to keep guard in scorching heat and sometimes horrific rainstorms to guard their area, but it has reasons too.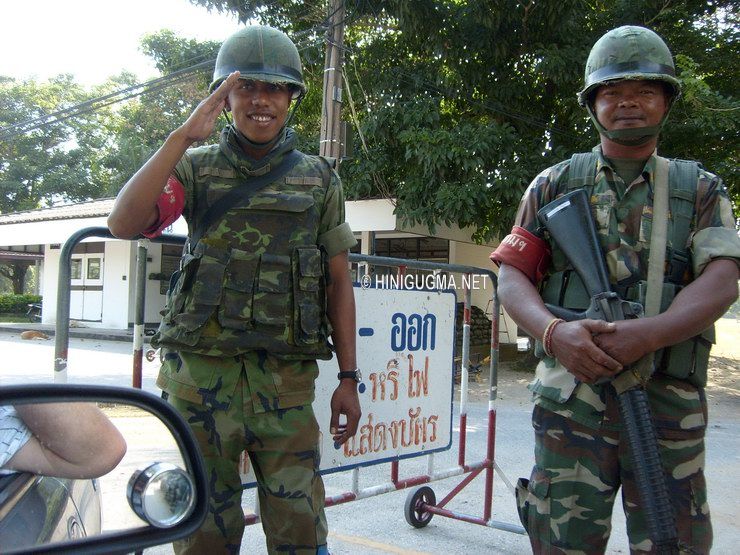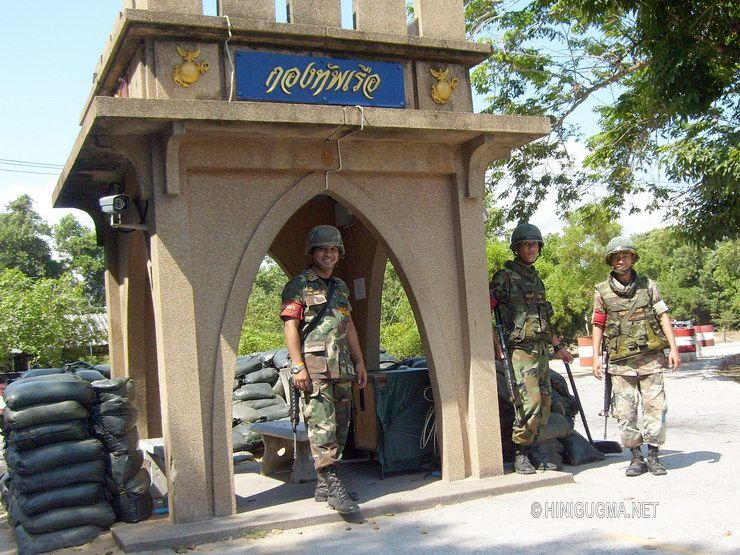 The IDs were checked and verified a few times, the scheduled tee-off left plenty of time for us. We proceeded well into this camp and had our car inspected and tagged as we continued. The round of golf with our friend, was a very welcomed break from our usual tasks in this neck of the woods.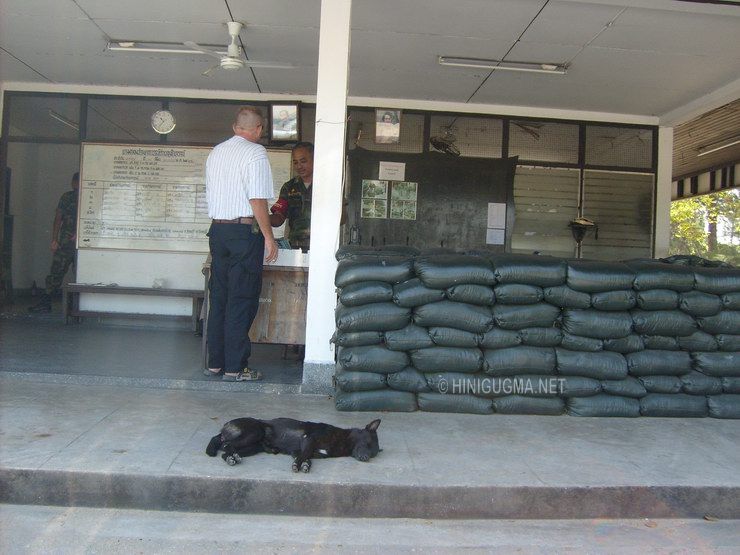 We wasted our time on their marvelous stretch of beach, until it was time to proceed to the golf course on the camp. Displayed here is the tag, which classified our personal car as an admitted vehicle. The tag was to be clamped visibly inside the visible windshield area.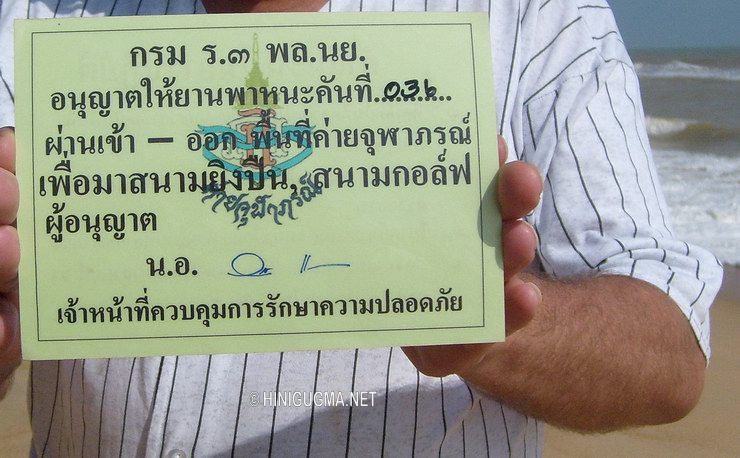 The golf course itself was tucked away inside the camp on the southern side.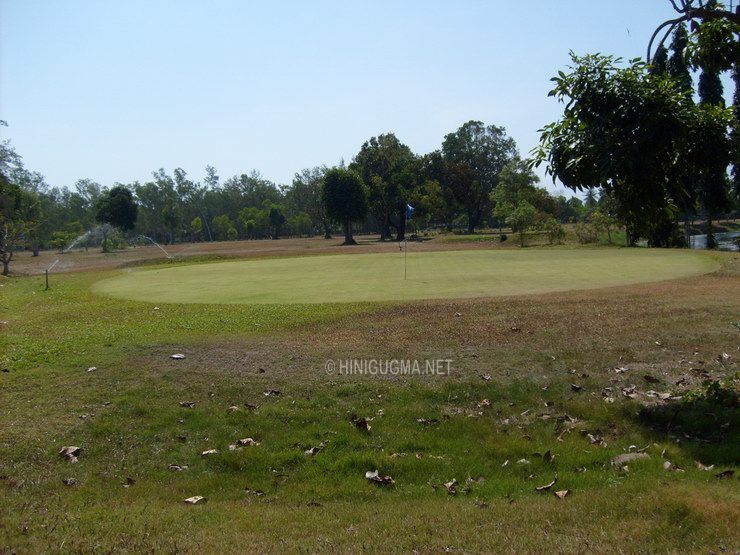 A real surprise waited at the basic clubhouse, where I was to meet my golfing buddy. He paid 240 Baht green fee and I slipped to the counter behind him to pay my share. Cheap golf game, so I thought by myself. He gave me a funny look and asked what I wanted to do there, while he waved four score cards at me. The 240 Baht were not only covering his and my green fee, but also two more for some of his friends, who wanted to complete our foursome for this round! 60 Baht per person? I thought that was a joke, but he pulled me around the clubhouse and pointed at a weathered sign out there: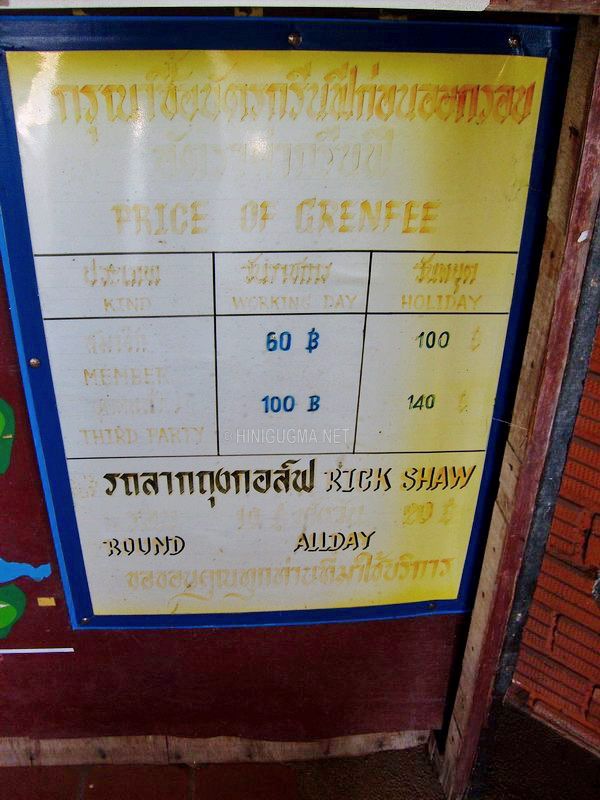 There is stand, faded – but legible. 60 Baht (under 2 $) on regular days, 100 Baht (approx. 3 $), on public holidays. Non-members were charged 40 Baht more, but nobody worried here checking memberships. We were the only golfers visible and quickly dressed for the occasion. The clubhouse staff posed for a last picture, before Melona had to surrender our camera at the clubhouse.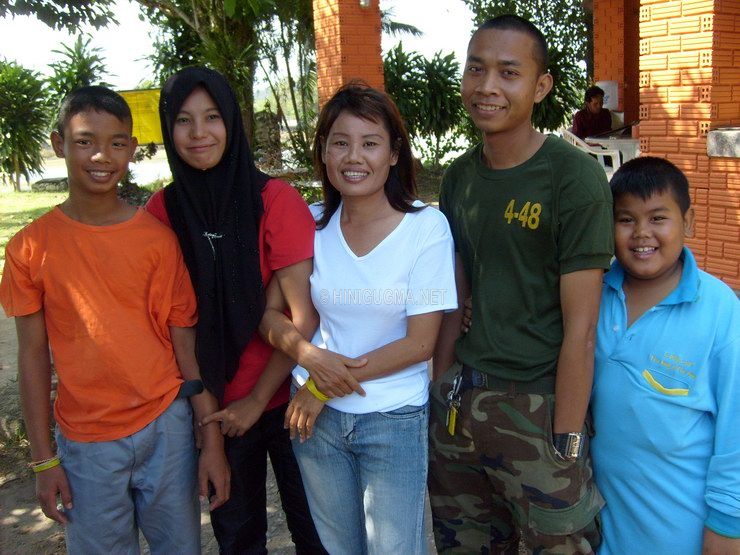 The two officers, which came along, were superior in rank to my friend, but undetectable for me. Because everyone was wearing a poloshirt and golf-shorts. We were now just all casual golfers for the round and had a ton of fun. Melona (she doesn't golf yet), was allowed to troll along with my caddy. She didn't mind at all and did joke around with the female caddy a lot. Probably commenting on my less than perfect game.
This round included the roughest of roughs imaginable and tricky greens as well, a few splashed balls needed to cool off also. The borrowed clubs were decent, but I did not exactly have had a chance to beat the others. Their birdies were admired much, my own best holes were par. Does anyone now, if there is a name for four over par? Had that on three occasions!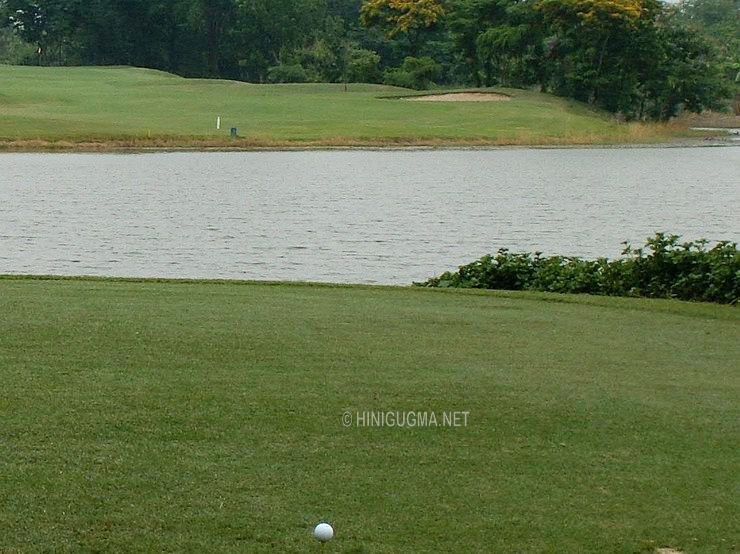 Above picture shows one of the final holes, close to the clubhouse again, where a huge spider was waiting for careless insects on a well-weathered sign. These shots were done, while we took a shower afterwards. We concluded this day with a dinner in the camp. It was a great day out golfing and I ended up with a gross score, that I better not broadcast to you.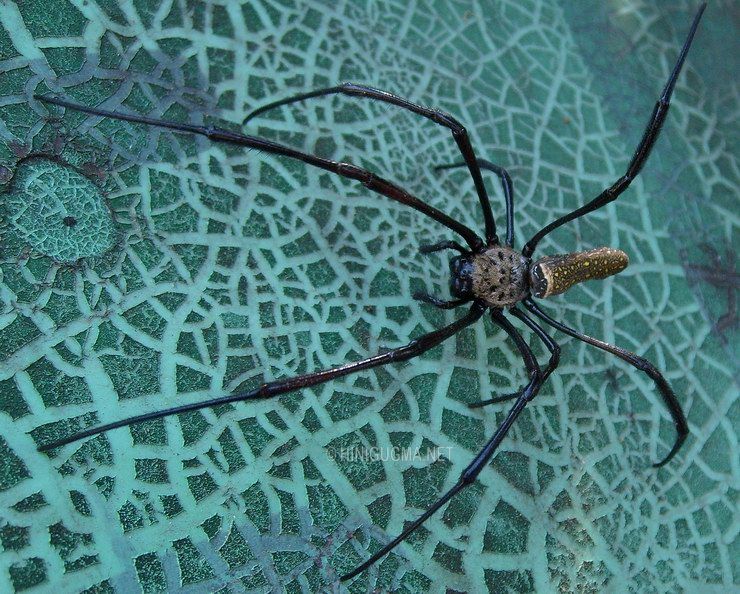 Most larger military installations in the free world have a golf course for recreational purposes. I must admit, that these were always somewhat of very interesting to me in the past. Some of them are truly spectacular, like the one smack in between the operating runways at Don Muang Airport. Most are not accessible by the public, but I really felt privileged to play those. They are usually well kept, but without the truly manicured lawns, as at the much pricier private or public courses have.