© Frank P. Schneidewind
Elephants used to roam all over the country and they were out in abundance in Thailand. Today the kingdom has a few elephant concentrations left, usually where tourists go and spent their holiday budgets. Elephants sure do not chose the sites but their operators and handlers. Elephant rides is a show being promoted by all sorts of tourist information outlets and the nationwide touting agencies. Some of these elephant centers do actually appear to me, like they were beneficial to these gentle giants. Others though appeared to me just like another created "activity" for tourist only. In my years in the kingdom, I have actually witnessed so called elephant camps, where animals didn't seem to be taken care of well (judging by their scars, limps and general appearances) and others, where the elephants seem to me like they were taken care of very well (predominantly north or east of Bangkok).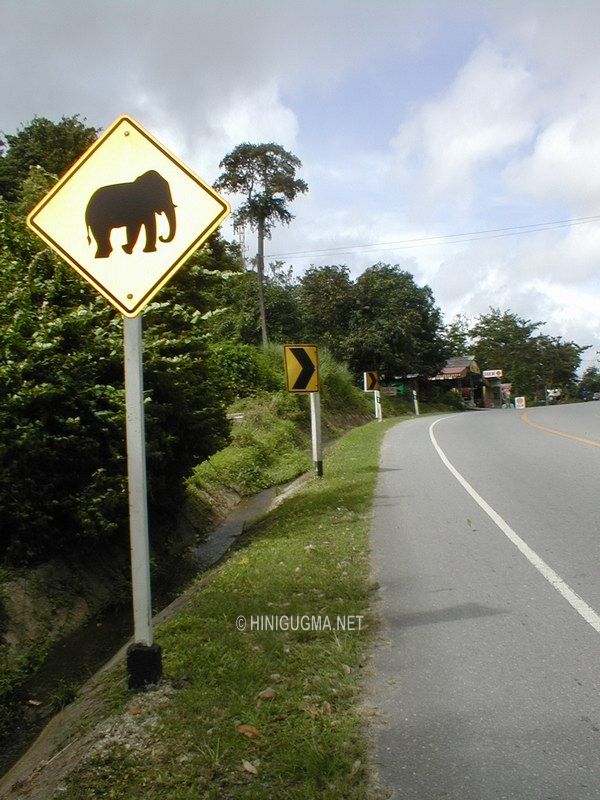 Although the signage on Phuket's roads, implies that the pachyderms are taken care of, it is one of the few places I've been to, where those elephant camps have their animals to cross public roads with regular traffic. On top of that observation, it was also the only place in Thailand, where the elephants were being saddled with heavy strap-on seats, despite visible sores on the upper part of their front legs. Handlers were constantly pulling their elephants around by the ears, but not in a gentle way. Also it appeared to me that the animals weren't fully grown yet, but I am not a biologist or vet that may judge those things.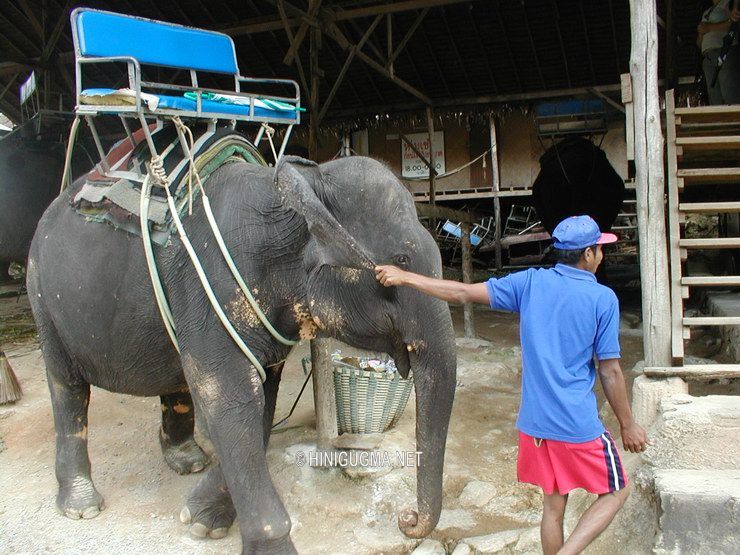 While elephants elsewhere were always found to munch on a vegetable and leaf mix. The ones on the rich tourist island of Phuket, were fed just a low nutrition bland local diet of fresh cut palm leafs, cut on-site or near (hardly any rainforest left there).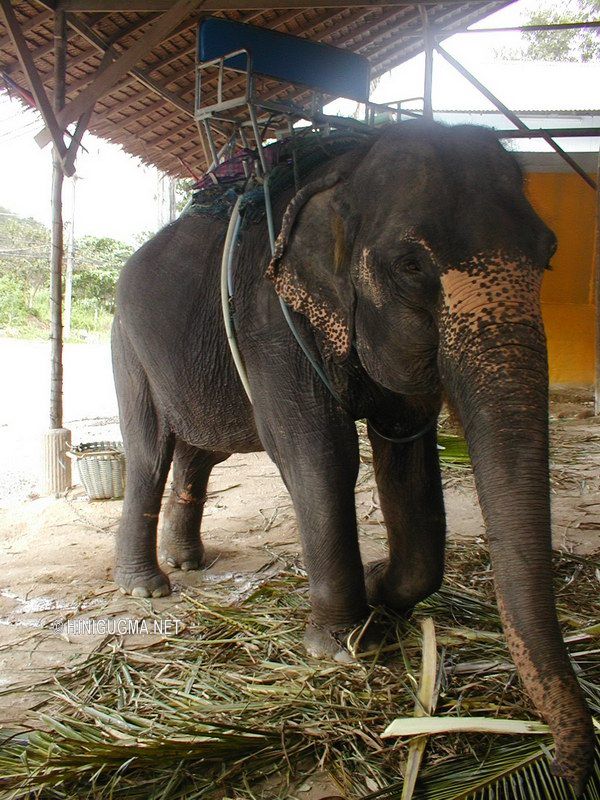 As with a lot of tourist geared operations on Phuket, I had plenty of reasons to find things objectionable there. And that was not the wild pricing for short trips on the pachyderms!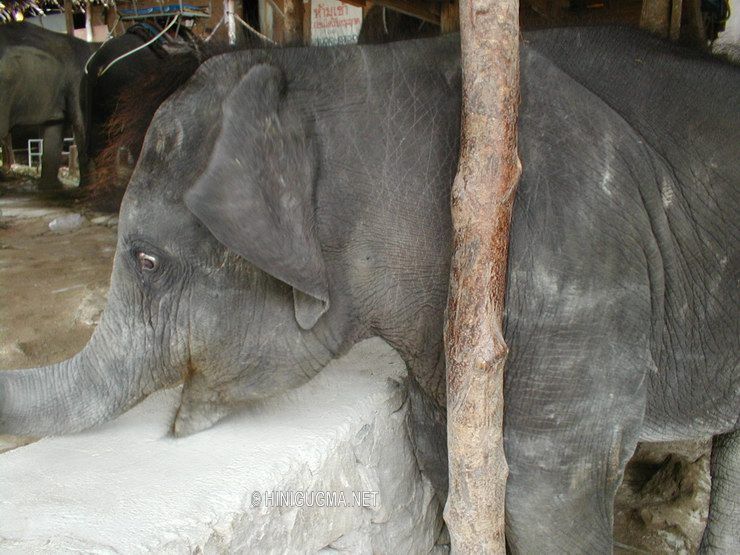 A young calf was acting erratically and staring bewildered away from humans. It banged the head later against a huge stack of unused iron seats that were previously used for other adult animals to generate touristic revenue. A staff member yelled at the calf and pulled it away by the ear to a location not accessible for me, they got nervous now with me taking pictures of things they rather like to hide.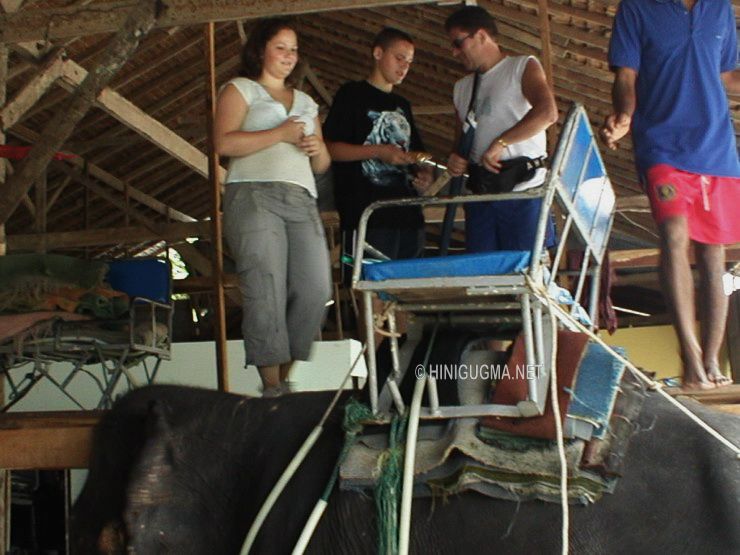 Riders then showed up and forked over their fees before boarding their animals.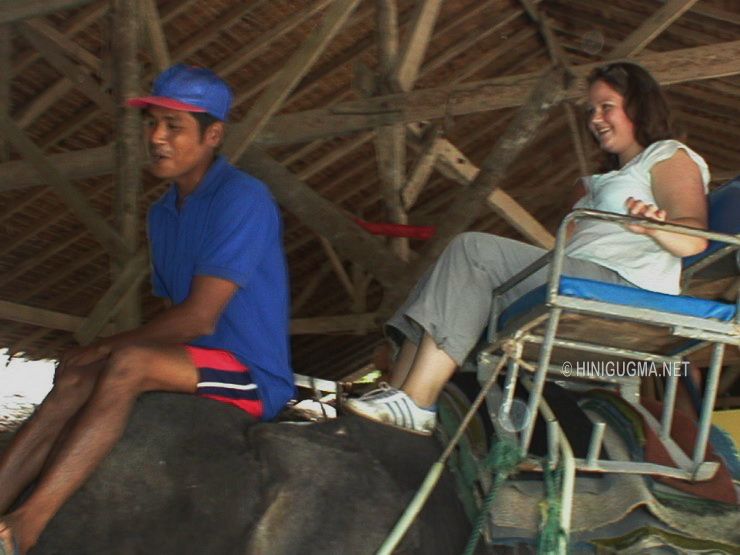 The experience will surely be unique for them and the dude previously roughing up animals here was now the guy on stage. Well not on stage, but on the neck. He was all smiles now, his pockets stuffed with cash.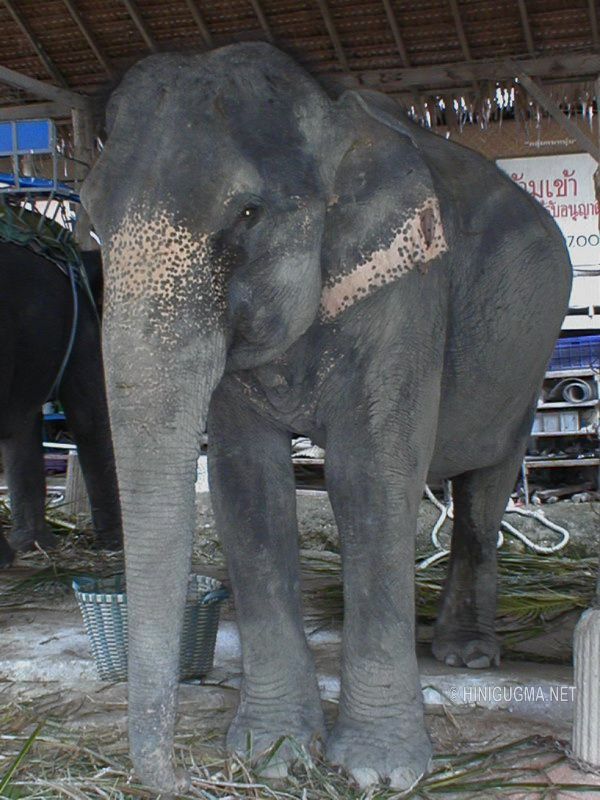 These creatures are huge and majestic, yet extremely gentle and co-operative to the herder's demands. Occasionally there were human lifes at stake, when these giants freak out. Tourist's fatalities on Phuket island were reported in the past. I begin to blame that on unqualified and uneducated cash hungry animal handlers and not on the elephants. The longer we spent time with the grey giants, the more Melona and me liked them. Feeding them and toying with them became a sideline on many trips to follow.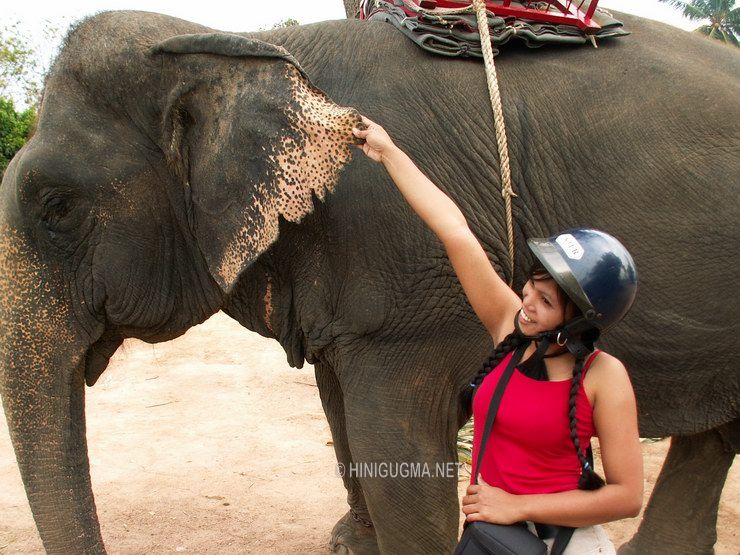 One day, we were biking along the southern outskirts of Pattaya (towards Sattahip), we stumbled on a small group of elephants, being readied to go on their tourist treks. It was time for us for a short break and the elephant handler in charge welcomed us to hang around. Melona seized that opportunity to toy with the giant bull, he appeared very peacefully minded and that encouraged Melona to overcame her initial fear of those creatures. In her former home (Philippines), there are no native elephants. She checked his leathery ears and listened well to the mahout's instructions, while I shared a cigarette with him nearby and took these pictures.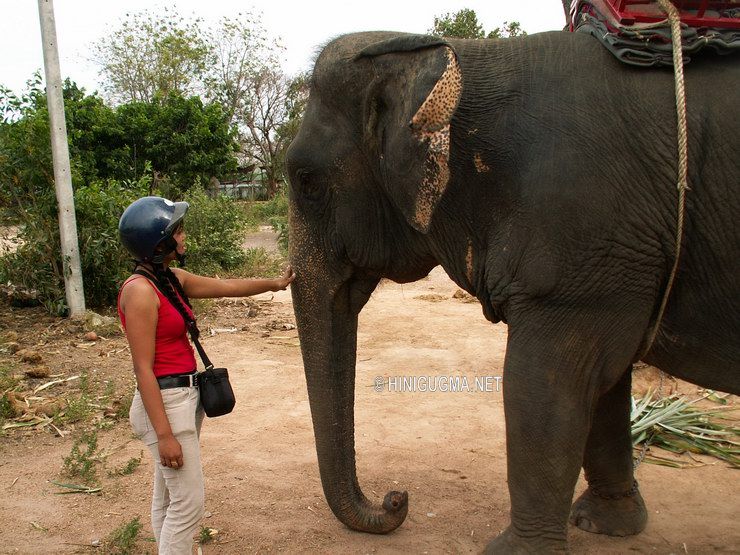 Melona developed quickly an affection for the giant and the bull didn't mind her touches and actions at all. This intensive encounter was not planned at all, like so many of our unique experiences "on the road in Thailand". Just a lucky coincidence and a friendly elephant trek operator. It became a true highlight of the day, when the mahout instructed Melona do do some minor tricks with the animal, they all seemed to have a ton of fun.
Lifting his tail triggered a response and the bull raised a leg to help her climb aboard. She found black bristles at his tail-end and wondered if they were inserted or natural.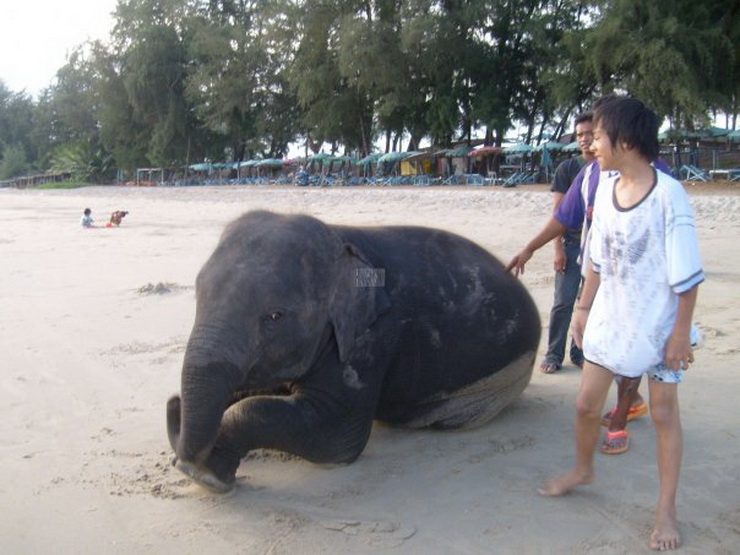 Another occasion brought us to the beaches of Rayong. Here on the "Eastern Seaboard" the beaches are wide and a lot less crowded. Some have an exceptionally good quality of sand and the existing infrastructure meets basic requirements. I do personally object the close proximity of Thailand's heavy and chemical industry here, their hotspot is "Map Tha Phut" and located a few stone-throws from here. We accompanied our friend Ruedi Thaler and his family and dragged our nice Jane-Kim along with us. It was a fun filled day on the beach and a baby elephant was brought here for his daily beach excercise by his handler. A much welcomed break for Ruedi's two boys and our girl.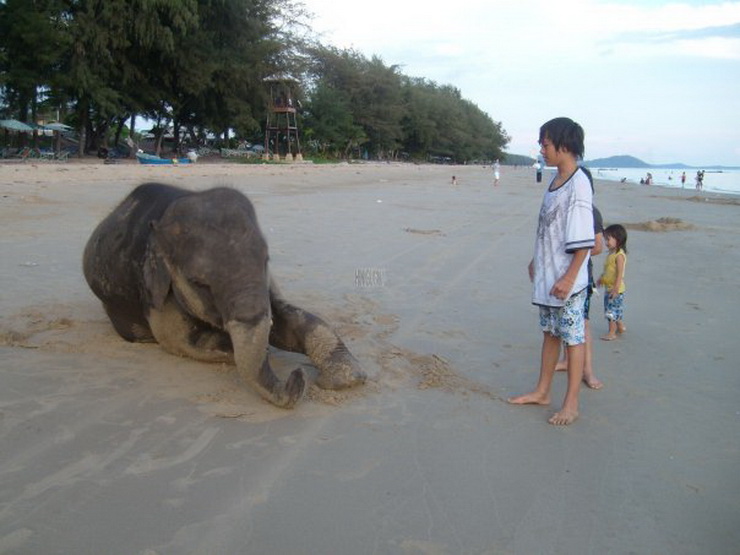 Initial contact was "eyes only" because even the baby elephant had an impressive weight and muscle-mass. The calf was extremely playful and seemed to enjoy his time on the beach as well. Ruedi's big boy quickly was brave enough to touch and interact with the animal. The umbrellas in the backdrop gave shade to beach-dwellers and guests of the snackerias there.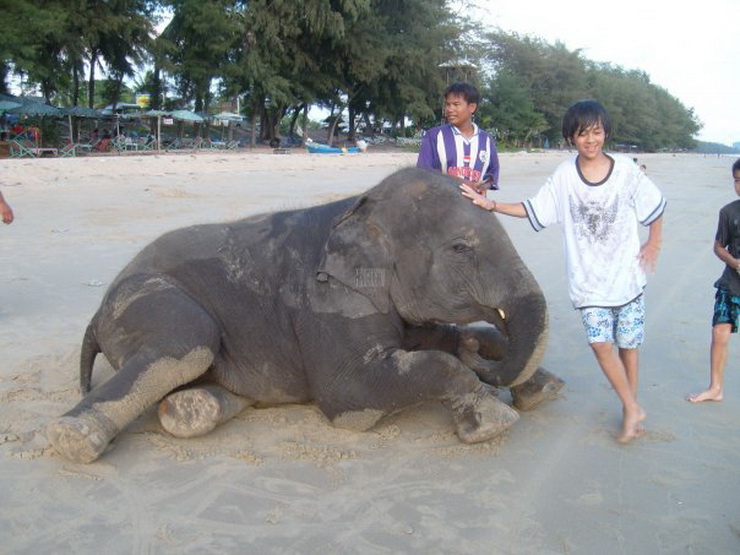 The handler (in the striped shirt) encouraged the kids on site to ride the calf and even Ruedi's younger boy went for a joyride along with a Thai kid. He will have stories to tell when he returns to his native Switzerland.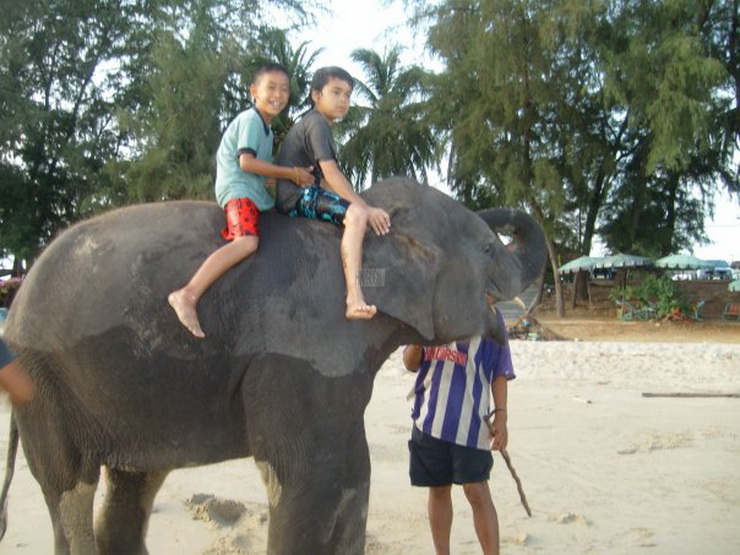 The unexpected elephant encounter lasted well over an hour and the pachyderm baby loved to cool off in the shallow waters in between playful actions in the soft sand.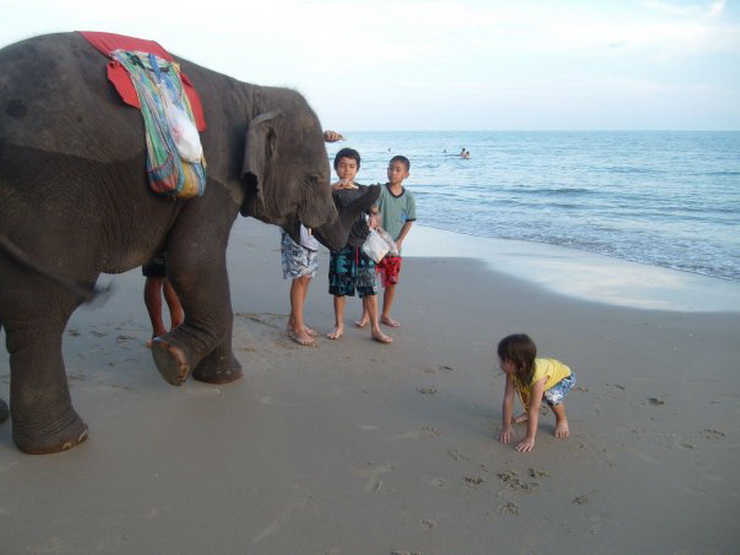 Jane-Kim (yellow shirt) tried to copy the elephants moves and that alone was funny to witness, she wasn't brave enough yet to accept invitations for a ride, but she sure was fascinated by the animal.

The calf stormed trumpeting into the cooling waters occasionally, only to wait for the kids to follow, we all had a great day out on the "Eastern Seaboard" and were happy about this wonderful experience.

Many more elephant interactions dot our time and trips in the kingdom, if you're interested in more elephant pictures and stories, please let us know!