© Frank P. Schneidewind

The recent past has been very hectic for us with a relocation to a remote island for ourselves. Koh Chang is our new home and after well over a decade of Bangkok, we did decide that it was about time to flee the hustle of the huge city. We gained a roomier place to live and will face higher costs for food and other items. Island prices are known to be inflated a bit, but Koh Chang really did it within reason unlike Phuket or Samui.

However, our first trip back took us to our favorite shopping area – and we hat a long wish-list to browse for. Wall-plugs, faucets, tools and personal gear for us three were to be had here at fractions of the island prices and well worth the traveling expenses.
Our good friends Klaus and Shella left the island in their roomy SUV and gave us a ride to the outskirts of Bangkok, from where we took a taxi. They were going back to beautiful Penang in Malaysia, where they establish an alternative residence for them.
It was a Saturday night and the timing couldn't have been more perfect for us as the real "Thieves Market" was about to start in a short while. It starts every Saturday evening around sunset time and runs until midday on Sundays. Our previous report covers the night part of it, so here we start at 6 A.M. on Sunday morning to give you an update.
No less than four huge backpacks were brought empty and a merciful ATM supplied the much needed cash for the task. We shopped until after midnight like tourists on steroids and accomplished about 50% of the items on our shopping list. The heavy plumbing things went straight in my shouldered backpack, accompanied by needed tools, whilst our rollered biggies held the bulkier items. It was a hellish task, but we were quite successful. We checked into some cheap 300 Baht hotel with porn feeds onto the TV and free condoms provided. They gave us wild looks, when we occupied the room with our baby in tow.
We were so exhausted and slept a bit immediately. This would not have been a place of choice for us, but the close proximity to the action gave us the chance to be there again with the first rays of sunlight. The 300 Baht really didn't dent our budget too much, as we saved multiples of that with every load we added to our limited cargo space. Faucets, tools and acrylic sealant weigh too much for a fun stroll, but brave Melona carried Teddy in his carrier as there is no way to survive here with a stroller or such.
A morning coffee taken at a roadside table, gave us the energy to dive in for the remaining things. I made an oath to check into some nice, clean, real hotel after the market to compensate for the stress. The monks were strolling barefeet in groups according to their custom and religion. The were raking in handouts from early morning shoppers and stallholders alike. You'll never see them there, if you not make it to the site prior to 7 A.M.!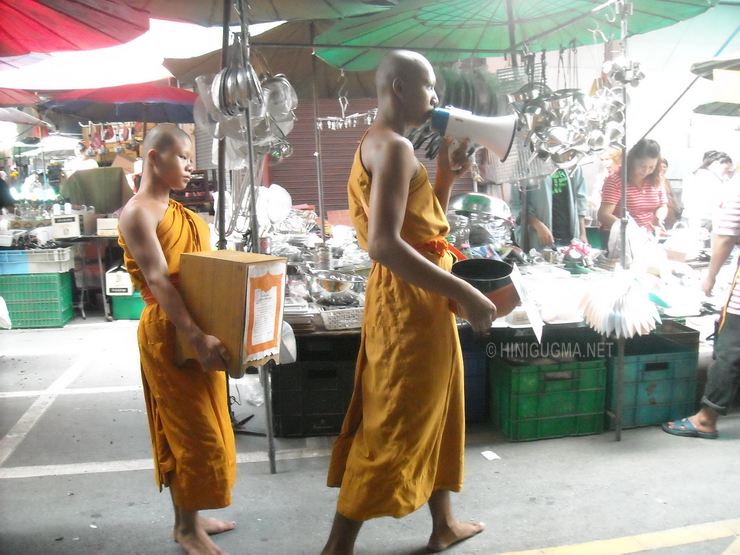 There were so many groups of monks in their robes, the Thieves Market was theirs after dawn. Their chants sounded so familiar to us, but may appear most exotic to first time visitors or tourists. We noticed they were stopping a short while for an extra chant, if a giver was generous enough.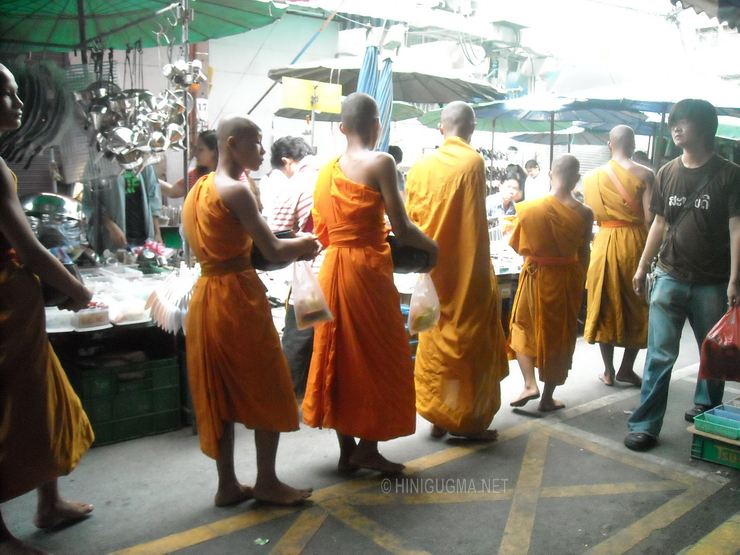 This time we weren't looking for antiques or such, but we snapped away some scenes for you to give you impressions. Nothing has changed since 2009, when I wrote the first report on this spectacle.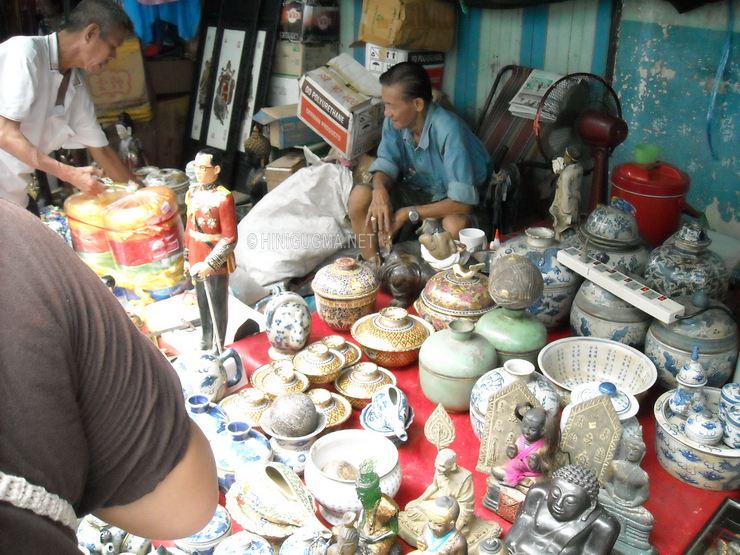 Hordes of people roamed as well as the morning progressed. The dealers were wedged away in the hallways and on the pavement.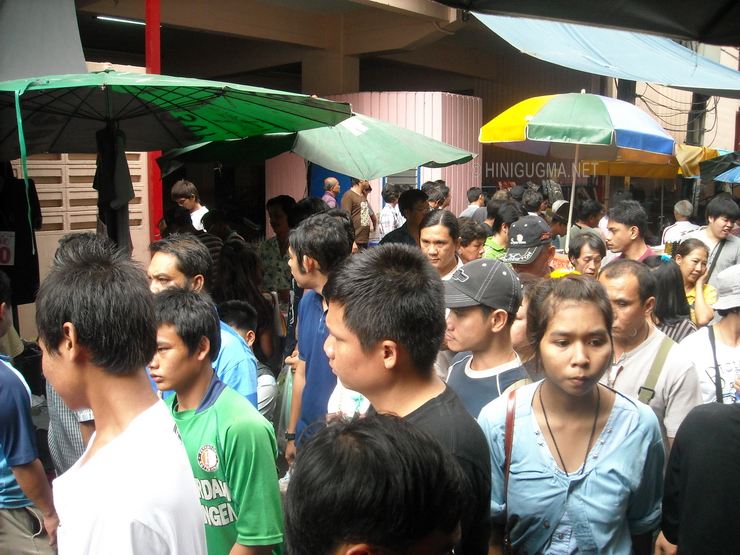 Teddy behaved (rare occasion!) in Mommy's baby-carrier out front, constantly checking if I keep the pace. Melonas backpack filled up gradually as well and we run out of storage space, what a dilemma – so many great deals!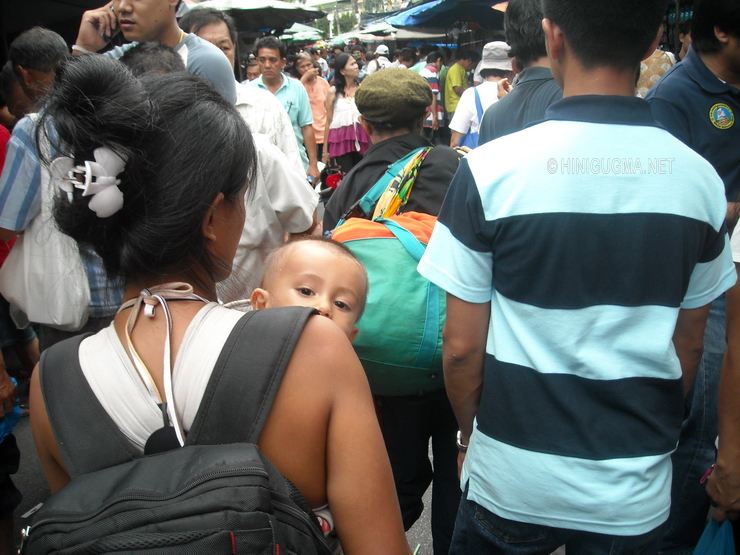 Some eateries were hidden under market umbrellas. But we didn't feel like sampling Chinese snacks – those come with the risk to have the need to find a toilet quick, and there are hardly any to be found here.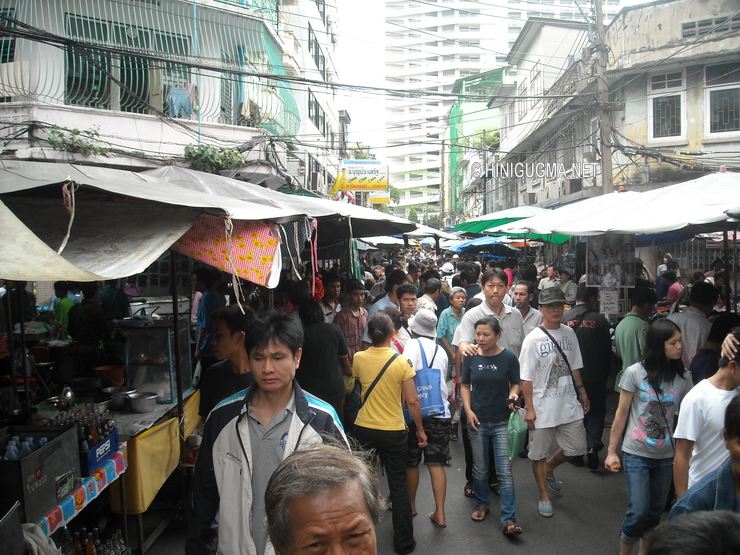 Novelty items were out in abundance as usual, copied trademarks are a normality in Thailand. Mark Zuckerberg (Facebook's owner) may have gotten himself a pair of flip-flops with his brand, would he ever have made it here.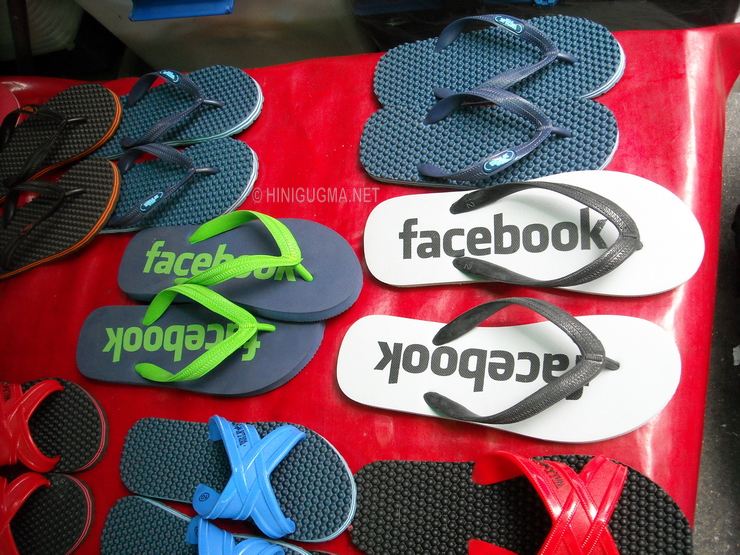 Shorts, house pants, boxers and other garments for a fraction of a US-$. All brand new and even with the GAP or Puma labels attached inside.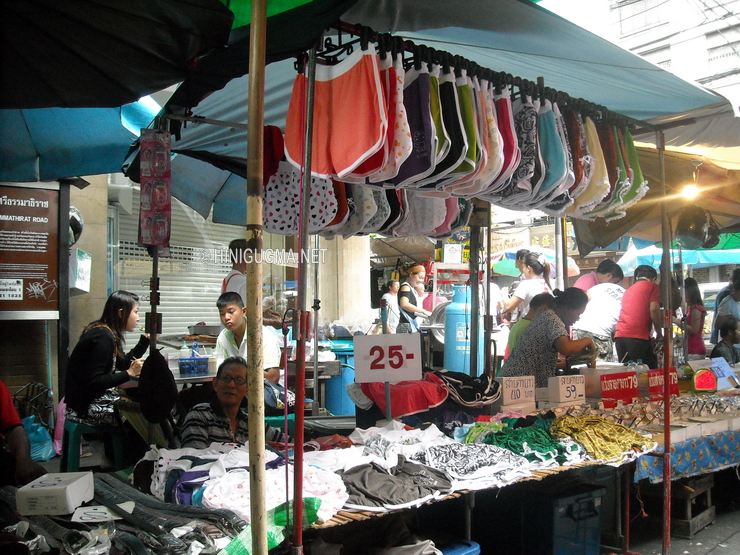 My department looked like this, no room for a circular saw – but a replacement for my broken down sander will help me next week to clear coat some of my furnitures back on the island.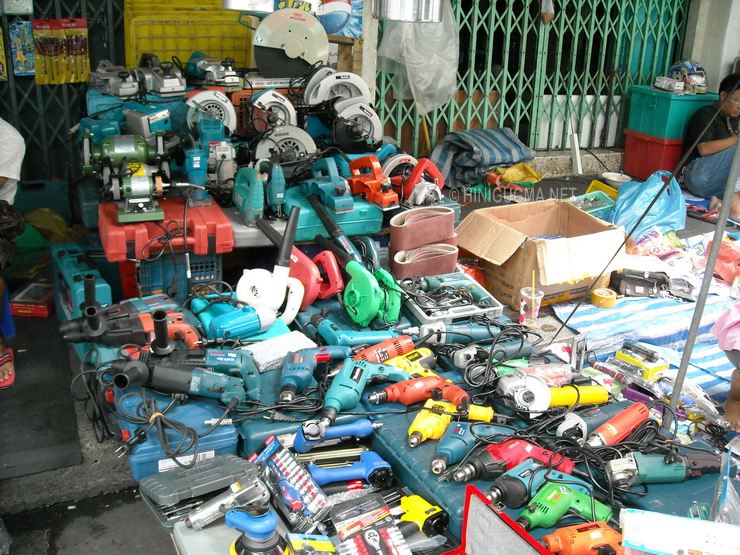 These practical joke items sell well with Thai people! Energy Savings Plugs with capacities up to Millions of Watts
, only the very uneducated believe this crap. Scams are also very frequent here, as the scamsters are generally left unharmed by the local cops.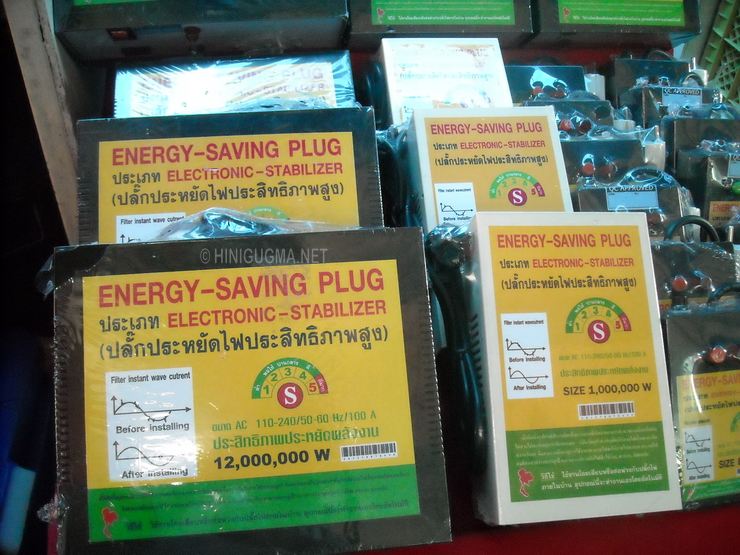 We were now facing a situation with countless plastic bags dangling from the handles of our roller equipped backpacks and could barely make it back to the main road. Fresh squeezed vitamin boosts were very welcome for a few coins.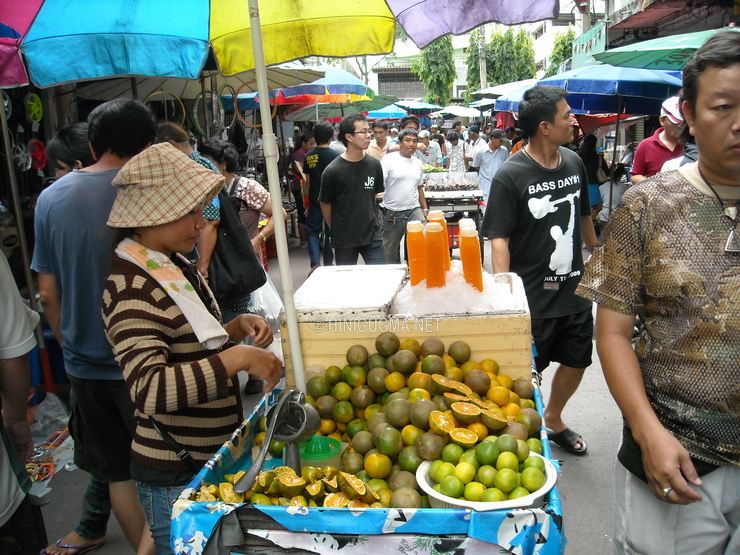 We noticed the market changes a bit towards a less hard core Thieves Market on Sunday, gone are the cellular phones, digital cameras and laptops. Out came more snacks and fruit vendors with their delicious loads. Very tempting indeed!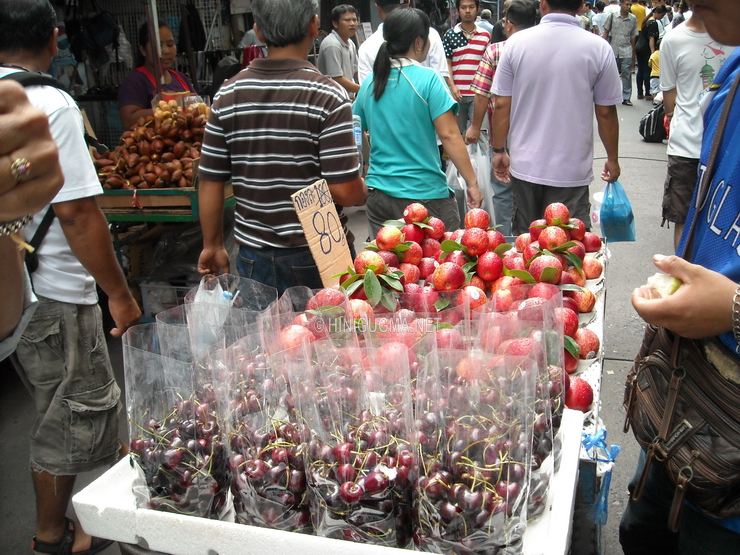 We rewarded ourselves after this ordeal with a nice hotel room near Sathorn Road, where we had some meeting to attend on the following morning. Smart repackaging of bought goods enabled us to fill the four original backpacks to the brim. We have saved a fortune versus shopping the same items onour island or in a nearby town.

This is the real "Thieves Market", where contraband and stolen goods change hands in the night and in broad daylight. Don't be mislead by some tourist brochures that point you to another location (tourist trap). Bus line number 8 takes you from Victory Monument (BTS) to Worachak Road. That is within a stone-throw of the market. The market covers several blocks and has no clear borders, but it stretches for miles and several blocks. On the flanks are Phayabaan Klang Hospital or Klong Thom Center. Ask for either one if you come by taxi.