© Frank P. Schneidewind
A yearly event at Hua Hin, the charming royal seaside resort on the western gulf-coast was drawing plenty of Jazz music lovers to town. The tenth repetition of this festival is now scheduled for the weekend of August 26th and 27th 2011. Since that is starting in a day from now, you guessed it right if you said that below pictures are from our own archives from an earlier festival visit!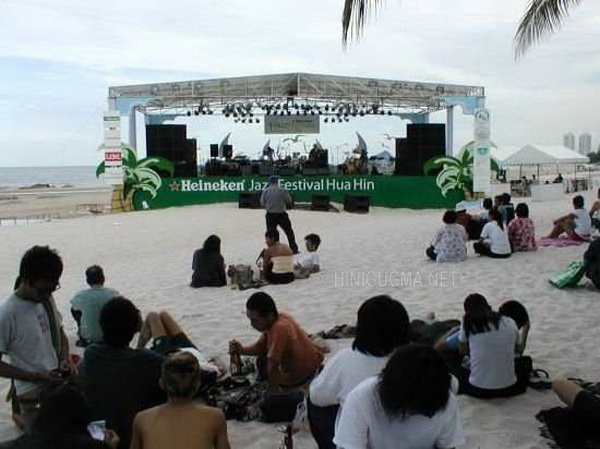 A Dutch beer company sponsored this event visibly before. New Thai laws prohibit this, as beer companies aren't allowed anymore to finance festivals for adults of this kind. Sounds stupid to you? Yeah, the Thai government loves to tell their people what they may do and what not. Selling of alcohol to minors is indeed an objectionable practice, but since every other Ma-and-Pop store in the boonies (Isaan, right!) sells hard-core moonshine booze with a 40% alcohol content to buyers in school uniforms – I personally would o.k. beer consumption at a Jazz-Festival, where the audience is mature and surely past their school uniform days. I beg Dutch readers to pardon me, if I express my dislike for that beer-excuse with a green corporate identity. But I sure liked their comfy beach chairs and the sexy sales ladies around Hua Hin.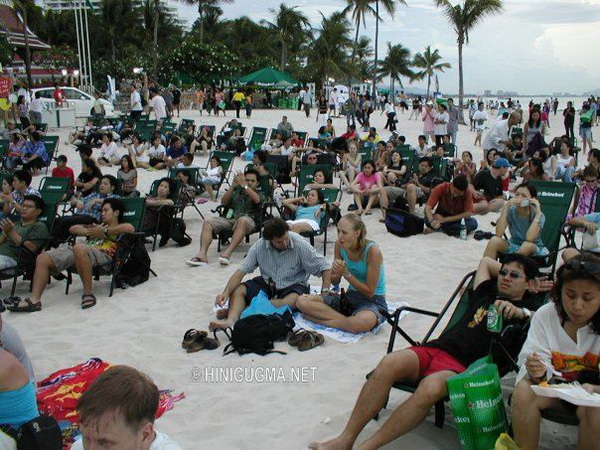 Parts of the beach and parts of the town were converted into stages and beer tents, the most fun was to be had on the beach, where a neat breeze helped to cope with the heat.

The parking lot by the beach promenade was converted to an open air catering area, this picture was taken before any activity was scheduled, just prior to the event's start.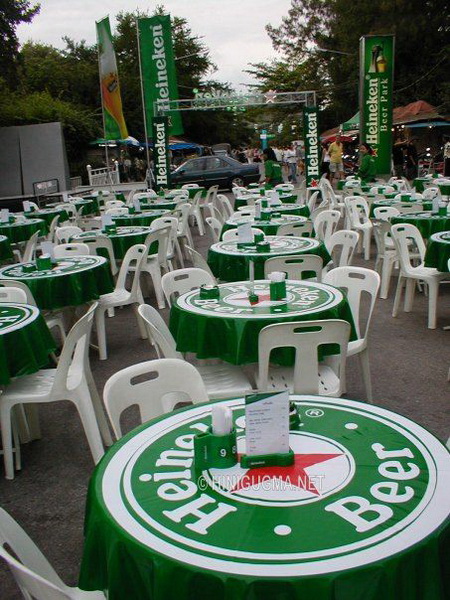 A short while later, things got busy and music lovers prepared for Thailand's biggest Jazz event. It was some sort of countdown and we were happy to be present. Due to heavy sponsoring, all upcoming concerts were free to visit on any stage town-side or beach-side. And there was a lot of them, all kinds of Jazz was offered and musicians came from far to participate in Hua Hin.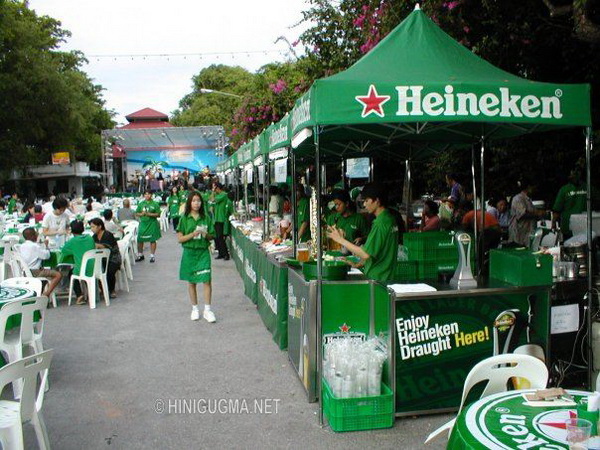 Things have deteriorated quite a bit with the financial sponsor plug pulled and the festival activity shrank. From four or five different stages down to two in 2010 and now in 2011, they have only one left on the beach (Centara area).
TAT is not to blame in this case, although their time and date-coordination lacks the standard professionalism. Websites keep broadcasting a June 2011 event that never took place, because of some election-clash in event-timing. Wrong dates are still on the web 2 month after the false June date!
About the quality of entertainers I can't say much nor do I claim any expertise in the Jazz scenario. Expect some local entertainers and a few selected internationals. The massive amount of known names in the scene like in the past has faded much due to the lack of funding. I am sure it's worth your while if you're in the area, but a dedicated Jazz fan probably wouldn't travel far for this mini-event.
To give you an idea of what it was like in the good ol' days, here are some impressions of past events:
Lets start with the female presenters, the beer dudes paid hundreds of them to be omnipresent anywhere in the early years.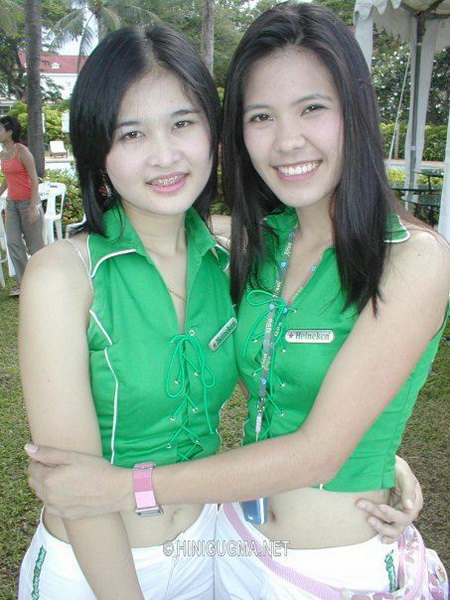 The army of green clad beauties were hired marketing students from Bangkok, shuttled in for this event through a promotion agency. The chicks gave the festival a nice touch, even if you're just a straight dude and Jazz wasn't exactly your cup of tea.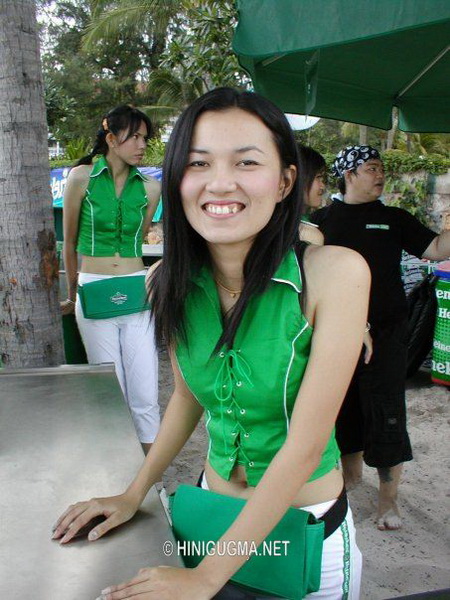 Beauty without the raunchy dresses and chrome pole palaces, Hua Hin was partying two days and nights. Night pics turned out bad, because of a faulty camera (or my level of long drinks
consumed).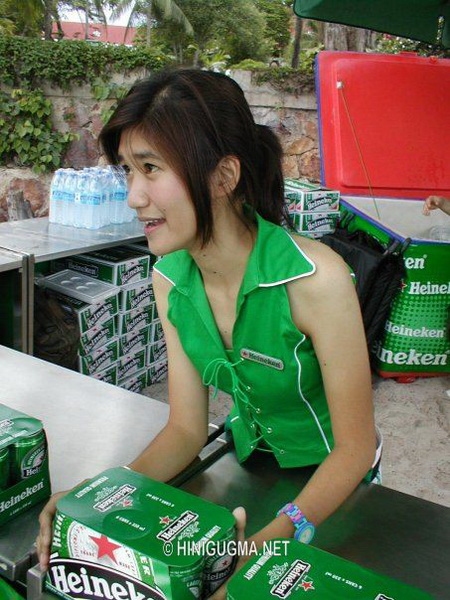 Melona usually does all the picture work, but she chilled in the sand at the beach stage with some female band members (local performers), while I run bezerk with the cam through Hua Hin town, shooting the green beauties by the score.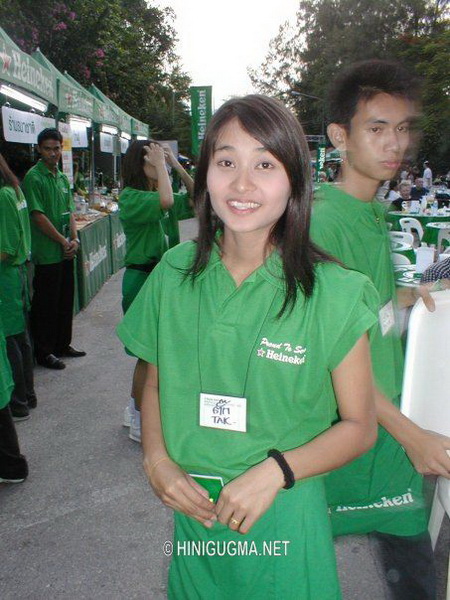 They almost never objected to have their portraits taken and smiled generously for me. And you kept the camera ready for shooting at all times, because one hardly made ten steps, before the next one popped up in front of the lens.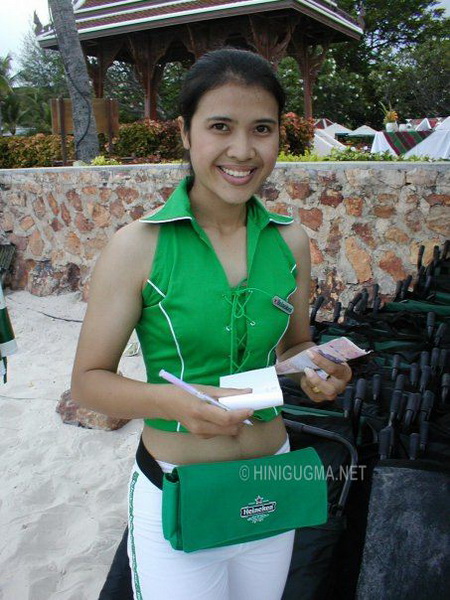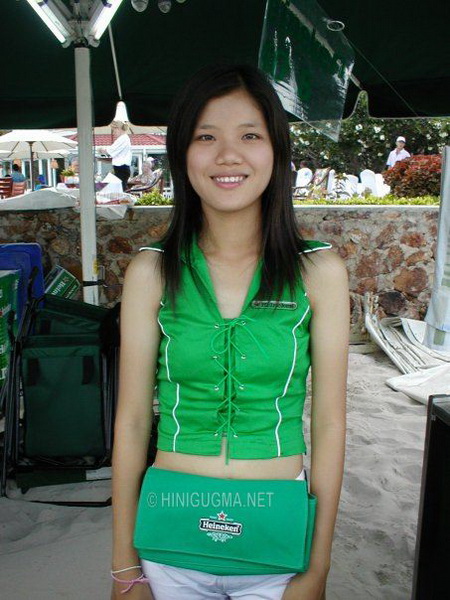 The only male staff on-site kept jugs filled and girls busy serving the thirsty crowds. Note the sleek saxophone, doubling as a beer spout!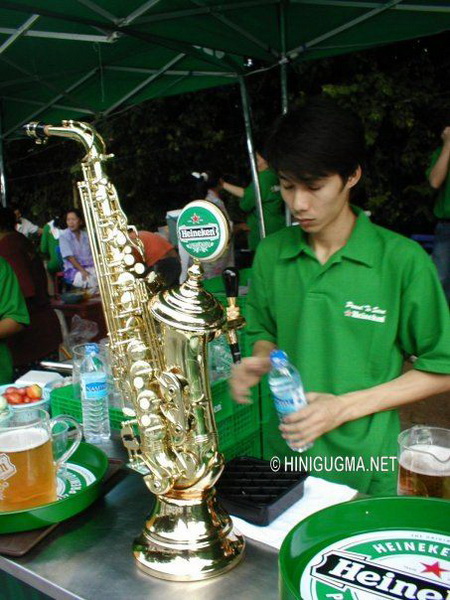 When this event had a multitude of stages, it was a citywide event. The future will show if the organizers can rekindle the spirit from the years past. I have my doubts, but maybe they can pull it off again!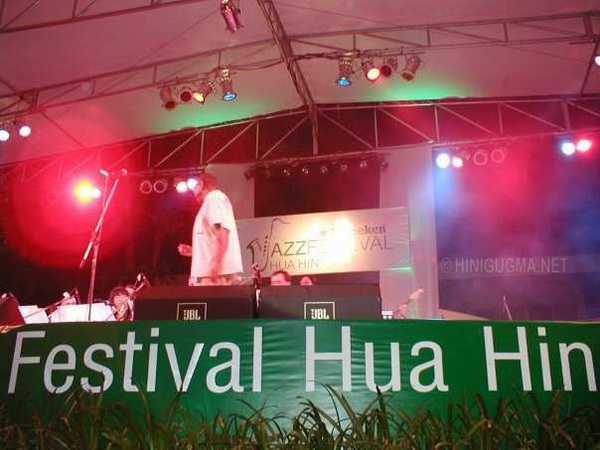 This year will only have a very limited number of performers. It is still a free of charge event, geared to bring some activity to this sleepy resort town in off season.
Spectator turnout will tell, although I personally will not trust TAT's reports later. They are much too famous for their self-shoulder-padding and boasting.
The Hua Hin Jazz Festival of 2011 expected Lineup
26 August 2011
16:30 – 18:00 University Band
18:00 – 19:00 Opening Ceremony
19:00 – 19:50 Kina Grannis
20:00 – 20:50 Orange Pekoe
21:00 – 21:50 Jirapan Ansvananda and Blue Sapphire
22:00 – 22:50 Maew Jirasak Panphum
23:00 – 24:00 Infinity
27 August 2011
16:30 – 18:00 University Band
18:00 – 18:40 Ganesha
18:50 – 20:00 P.O.P.
20:00 – 21:30 Ford & Friends
21:40 – 22:20 Koh Mr.Saxman
22:30 – 23:10 Norman Browns
23:20 – 24:00 Fourplay
Enjoy it, if Jazz is your thing. I personally am happy to have witnessed this event during it's peak period and would probably be disappointed, considering the efforts and cost to get there now. Make sure to stop by, if you're in the area – because Hua Hin is always worth a trip. My friend Rene Banagudos and his band (rock music of the finest variety) can now be watched nightly in the Hilton at Hua Hin. That highly talented band from the Philippines rocked Koh Chang's Sabay Bar before and they are missed much by their fans. Make sure to look them up and say "Hello" from Frank and Melona, you surely won't regret the stop-over there!
And if hotel beds in Hua Hin outscore your budget, just camp out near the surf, like hundreds of Jazz festival guests before: