© Frank P. Schneidewind
Life is never without adventures, be an opportunist when you see chances.
Other adventure seekers sometimes run out of luck, when their available time expires or tasks accomplished were too burdensome to handle. A European industrialist had the idea to scout out a Rallye route, leading a trek of exclusive automotive oldtimer cars from Singapore through Malaysia, Cambodia, Laos and China over ancient trade roads back to Europe. He bought a brandnew Chrysler Voyager for the scout trip and started his task in Singapore, where the vehicle was shipped to. Only 5 Star accommodations were on his agenda, as the projected Rallye was targeting the adventurous super-rich and their 4-wheeled toys.
To make a long story short, that person did neither prepare his vehicle properly, nor did he have the necessary skills to drive off-road in less than "Autobahn conditions". The car was hopelessly damaged underneath and left at a top-of-the-line resort in Luang Prabang, Laos, where his patience got outgunned by the Voyager's voyaging performances. He needed a person with mechanical skills, driving capabilities and good negotiating skills, as the Voyager already has overstayed it's legal existence in Laos. The customs forms clearly demanded a re-export out of Laos of said vehicle sometime in the past. An impounding procedure loomed and a total loss for the owner seemed unavoidable. The car was not roadworthy anymore and the undercarriage was seriously torn. A tow-truck back to Thailand would have cost him an arm and a leg (L.P. is far north in Laos) and would not have prevented Laos border authorities to impound the illegal vehicle on sight of the documentations!
The global manager of his industrial group happened to be a golfing buddy of mine at that time in Bangkok. During a game break at the watering holes at Pinehurst G & CC, I mentioned to him, that my last car in the States was a Chrysler Voyager too and that I did put 70.000 miles on it, zooming around in Northamerica. My various dirt bike trips across Laos, the Philippines and Cambodia were in those days the talk of dirt biker's magazines and internet fora. In Thailand, I had sold my own car and relied on a sturdy touring bike for all my transportation needs and purposes. My golfing buddy linked the stranded Voyager's owner and me at a golf game, to which I was invited. Not knowing that was the first and last generosity shown of that man.
A week later, I flew with a companion one-way to Luang Prabang, Laos. 500 $ worth of Thai Baht in my pocket plus a few Laotian Kip, the local currency up there. Expenses were to be paid and the pick-up hotel was pre-arranged. I carried a lot of spares and replacement parts, which were estimated by the owner to get the car back in a drivable condition. Most of my baggage allowance was chewed up here, but hell – I'm an easy guy with little demands on a fashionable personal outfit.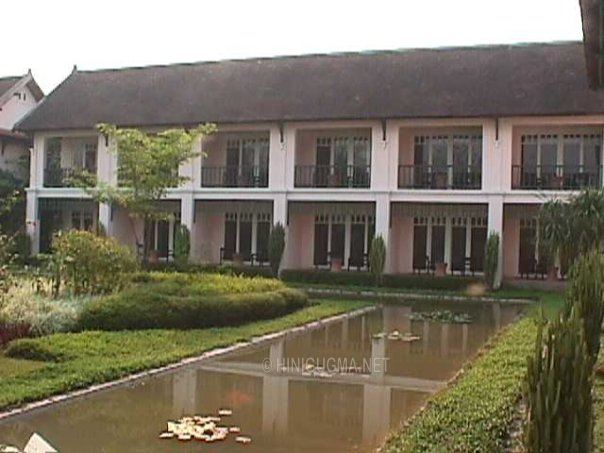 The accommodation was spectacular for this extremely poor and underdeveloped region, the terrace restaurant had a river-view of the Mekong. I had visited this UNESCO world heritage site before, so any sight-seeing was done on an earlier trip.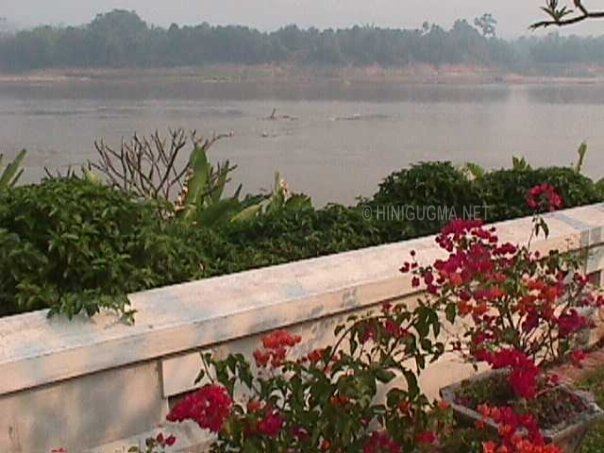 The staff was briefed to assist in the task ahead, but other than watching the stranded Voyager, there was nothing to do for them.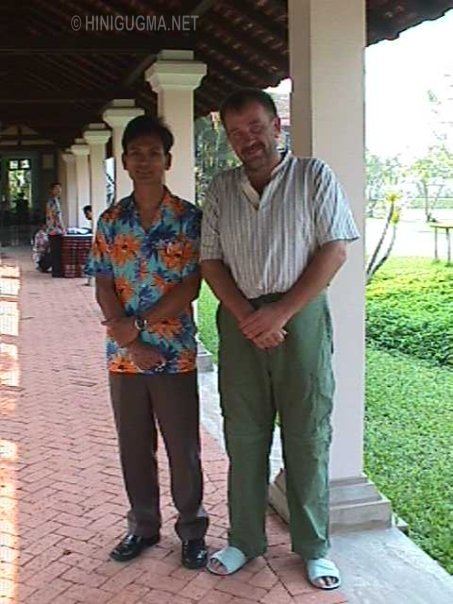 The food was excellent, we gladly accepted the free breakfast – but for meals we looked elsewhere at a small fraction of the prices asked here.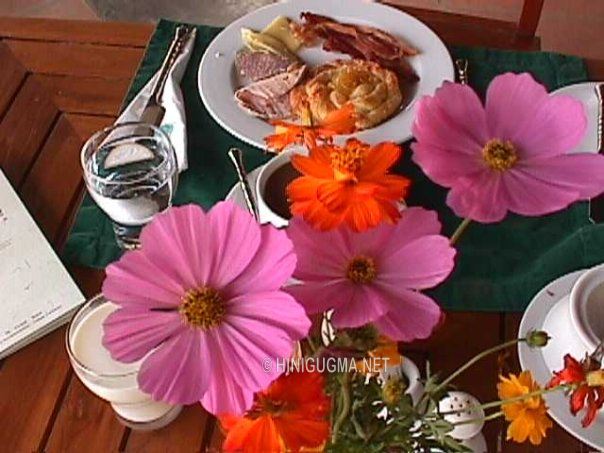 The first task was to find a workshop with a suitable work area to remove the damaged panels and torn aggregates underneath. Some of the brought pieces covered most of the old damage, so the vehicle was in an almost drivable condition. The power-steering was out of alignment with a half broken bracket, but that damage and several other minor ones had previously escaped detection by the owner! No chance at all to get replacement parts here, so a great deal of improvisation by myself became involved. Not really an easy task, but the work was finally accomplished within a couple of days with a few made up brackets and a skilled mechanic at the garage with his very basic and ancient tool assortment.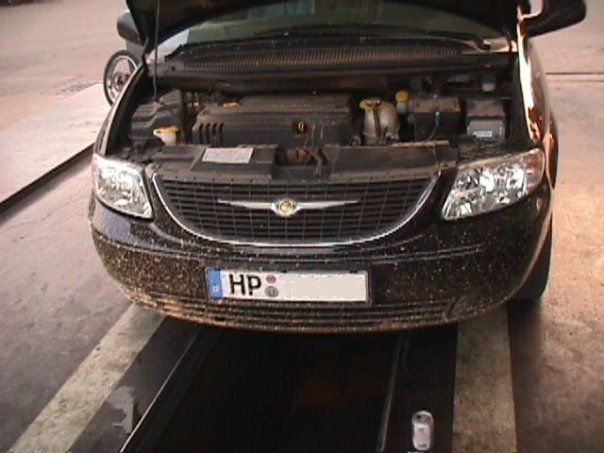 The Grand Voyager of the 3rd generation had front wheel drive only and an extra long wheel-base, an extremely poor choice for a vehicle on dirt roads or bad roads. My own Voyager then was then the short wheel-based version without a huge amount of extras and add-ons, but it had seen Alaska, the Yukon, the Northwest Territories and everything in between the Arctic Ocean and the Gulf of Mexico, troublefree! This one was decked out to the maximum level.
Nothing really beats a 4WD, as I had zoomed across the Philippines (1952 Willys Jeep M38A1) in previous years or the Chevy K 5 Blazer that I conquered really rough terrain with before.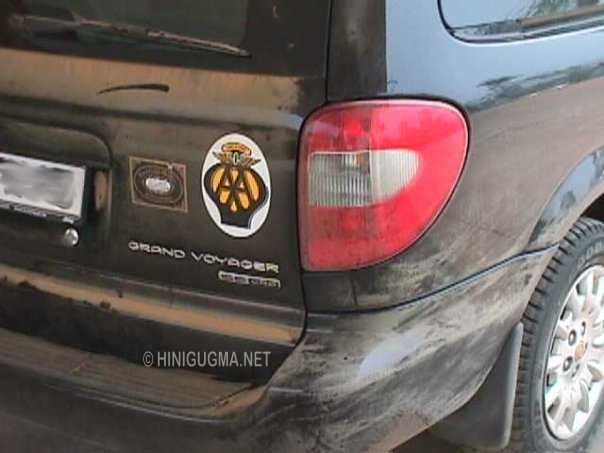 This DeLuxe set of wheels was deemed travel ready with a lot of hope involved, when we set off to our destination in Bangkok. Over 1.000 km had to be covered. Not counting wide detours to avoid landslides (blocked roads) and police roadblocks in Laos. Police activity with an expired car paper to show, would only cause avoidable bribes and time consuming hold-ups.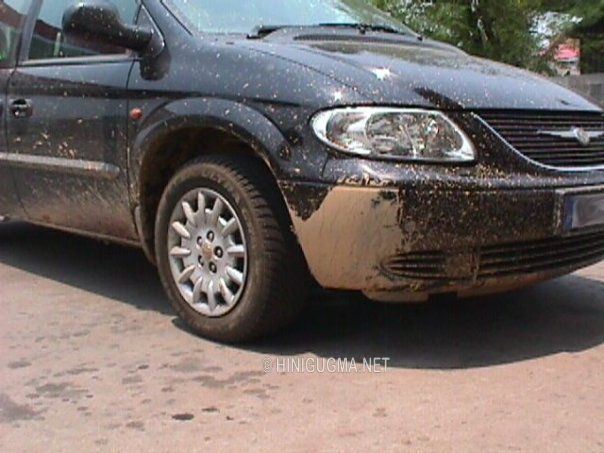 The road was in a sorry shape and bridges used by heavy trucks, were still made from wood! Every vehicle on the dirt road leading due south, caused a big dust cloud.

We often encountered brush fires near the road, at times we were forced to pace our way with very limited visibility, due to smoke and haze in the air! My handheld GPS showed that some passes peaked out above 1000 m above sea level.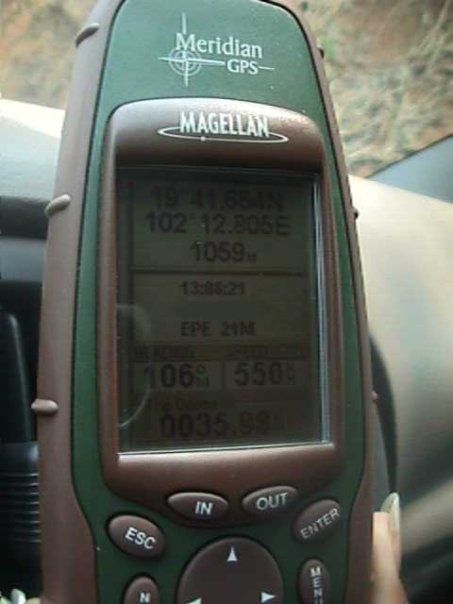 What was left of the blacktop was often not wide enough to drive on, extremely bumpy and constant failures of the power assisted steering made it really awkward to handle the large vehicle.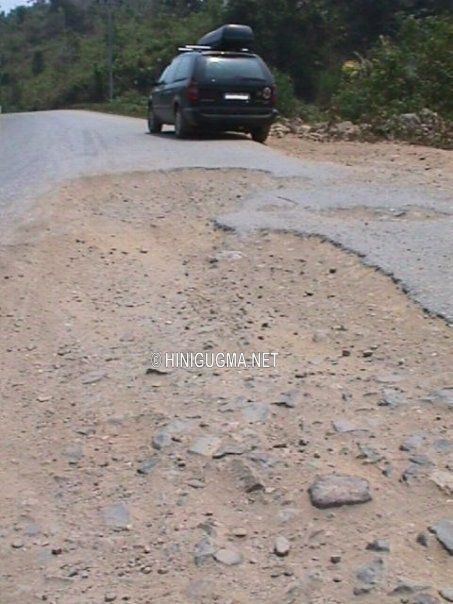 Some extreme potholes were showing poles to aid driving after a rain, but most of the trip was dry and dusty. We muscled our way further south with all backup belts torn by now in the misaligned pulleys of the power steering system. Even a female nylon sock, usually a great temporary V-belt, was eaten up after only a few Kilometers.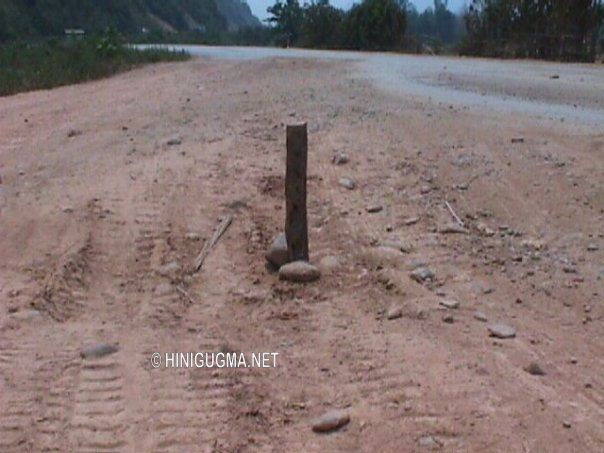 Some old potholes were still filled with much on the bottom, giving the car a healthy dirt look.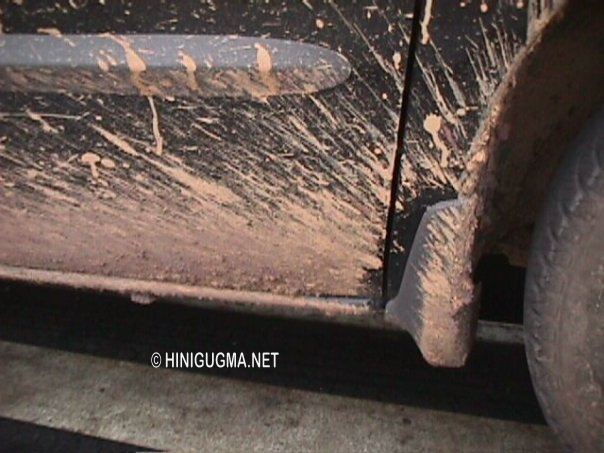 The never ending potholes often featured sharp edges, when they turned into asphalt again, slowing us quite significantly. The Voyager was heavy and tires can only take so much abuse.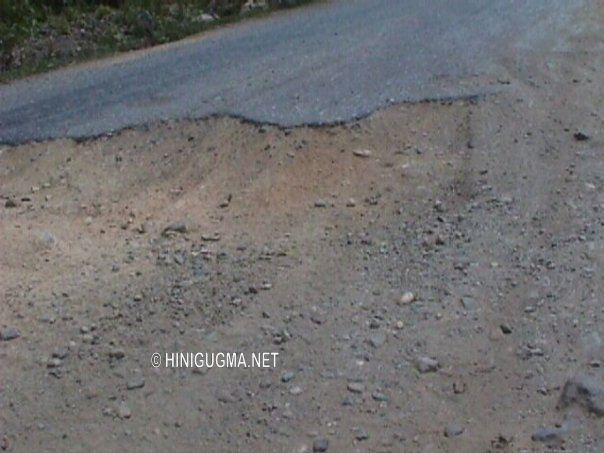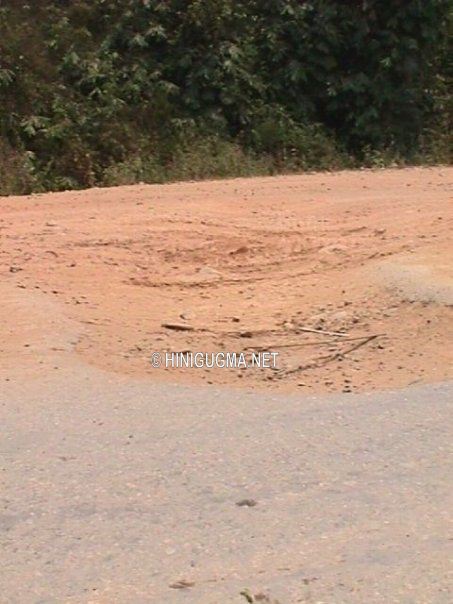 Air conditioning caused the car to overheat, so we caughed a bit at times – driving through the smoke. It's harmless, if compared to Chiang Mai or Mae Hong Son in Thailand in its intensity, but still a nuisance for human lungs.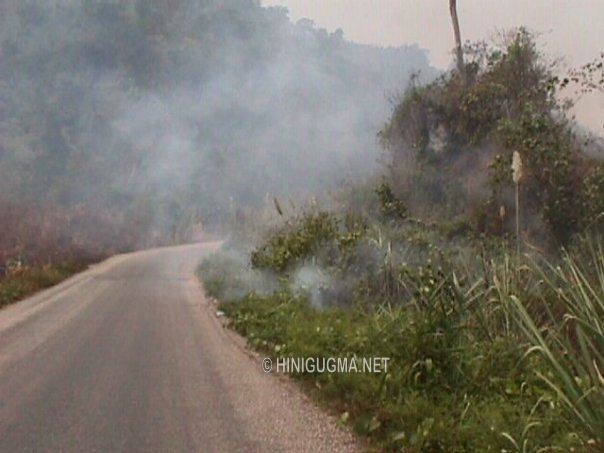 Entire herds of water buffaloes grazed near the fenceless road. These animals had to be taken into account now. Their massive bodies may not have guaranteed their survival in a collision, but our Voyager has had extremely bad critics on frontal crashes with solid objects and steering columns hitting the rear of the driver's seat on impact.
Sure didn't want to end up as human roadkill in that black hearse. Difficult to understand, why anyone on earth would want to drive a black colored vehicle in the heat of a tropical climate!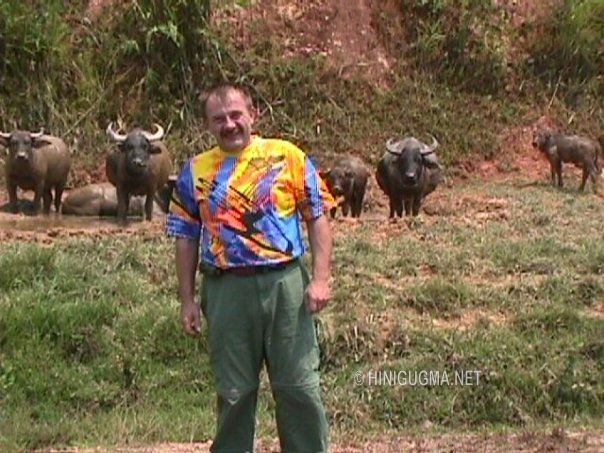 They were supposed to be friendly mannered, but their bulky 600 kg frames do indeed demand attention, as I have witnessed those horns in action before. That was when two young bulls in a herd almost killed each other a while back in Amnat Charoen.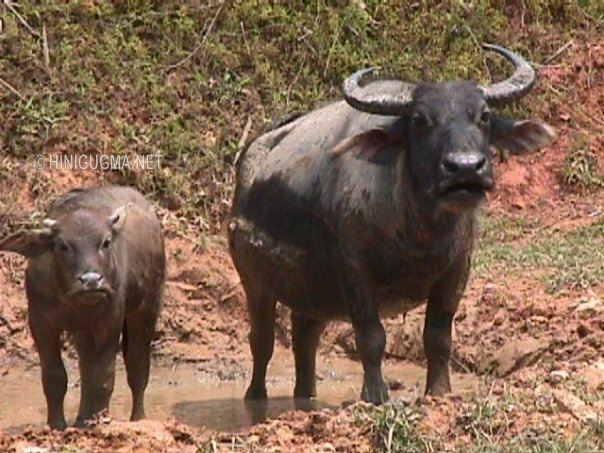 The previous rainy season must have triggered a lot of landslides in certain areas, as the fresh scars on the hills along the roadside proved.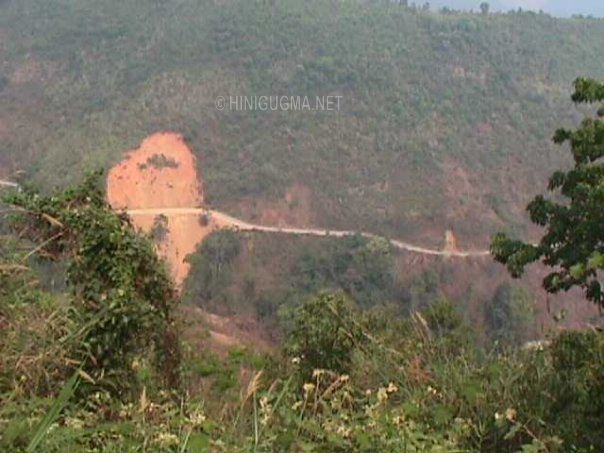 Falling rock is another danger here, with stones in the 50 kg bracket calling for extra caution along steep hillsides.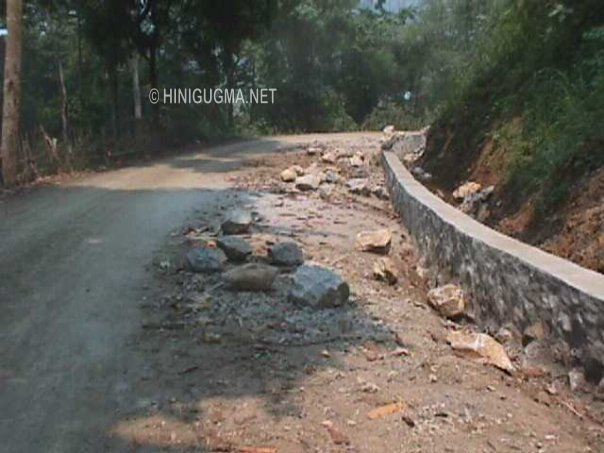 Heaps of dirt are supposed to warn you of washouts or missing foundations of the blacktop. A week earlier this spot swallowed an overcrowded Laotian overland bus with almost 100 people inside! None survived the plunge 120 m deep and the fire of the wreck, so we have been told at a rest stop and refueling point nearby.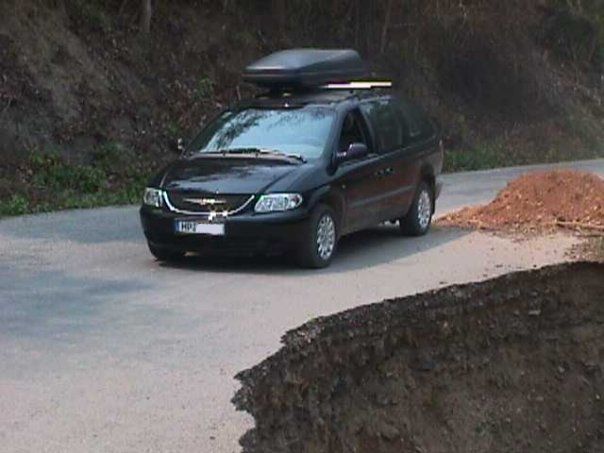 A larger detour was needed to accomplish, because we were warned of a combined military/police checkpoint ahead. This did cost us the rest of the day on non-asphalted trails and we gladly obeyed the gas station attendant's warning. I can't picture myself hardly in a Laotian jail, waiting for non-existing lawyers and a trial date for driving an illegal vehicle in this country.
The housing of the locals here looked rather basic, electricity may reach this neck of the woods in a decade from now. That is, if this country keeps raking in a large portion of their GDP in fees paid by airlines to overfly this country. These dwellings house entire families on 2×2 meters, with a flip-up front as a door. Imagine in your wildest fantasies what their jails here look like!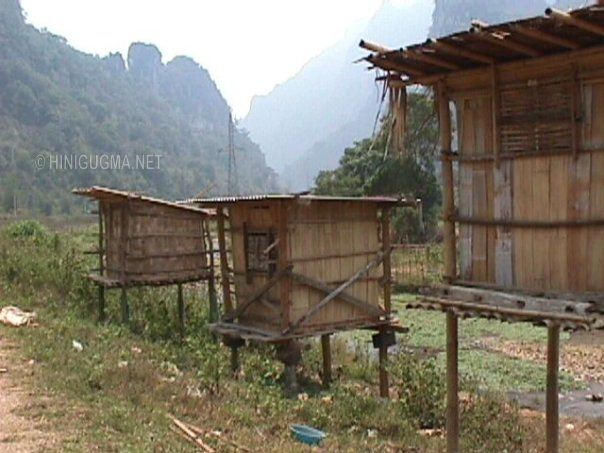 On the following day, we finally reached the outskirts of Vang Vieng, the Ganja capital of Laos. Cool looking mountain silhouettes were partly covered by the brush-fire generated haze. Here I had been before (on a dirt bike) and knew, that the rest of the journey was a piece of cake. No time to relax, to have a good meal or float down a chilly river in a rubber inner tube. Well, I can live without that with the border task coming up tomorrow early in the morning.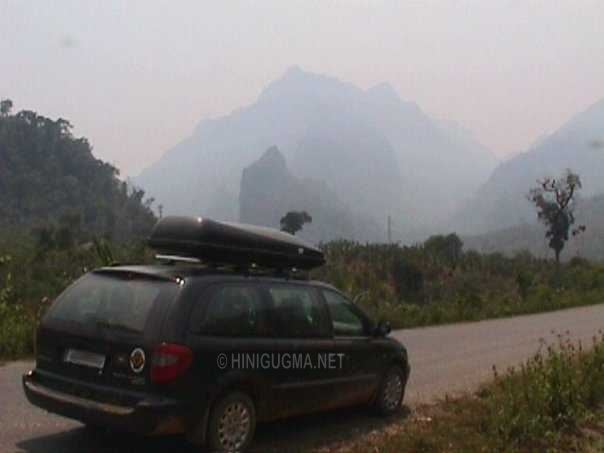 We made it to the capital Vientiane just after daylight ceded and prepared ourselves and the car for the showdown with officials. No chance to avoid these guys with our "hearse", but maybe a chance if Buddha smiles for us. My upper body hurted by now from the extremely hard steering with the failed power assistance and I needed a rest badly. Vientiane is, by the way a must-visit place in Asia, please see our report on this capital city here in SIAMPEDIA.

We wasted almost all day with Laotian border customs and negotiated a very hefty bribe request. They had a very valid reason to impound the car entirely, as the temporary permit to drive the car was legally expired. The overstay was several weeks and I argued my guts out. Over and over they wanted me to hand them the keys and clear personal belongings from the vehicle. The morning shift dude had the actual value of the car in his eyesight and would not settle for any less, than a few years of his paycheck. Gladly, the afternoon officer was senior and believed my offered story about an unexpected delay in spare parts delivery, garnished out with plenty of detail. I used every trick known to me and finally convinced the officer in charge after their shifts changed, to let us go after forking over a reasonable bribe to him, besides a bunch of stamp fees and other "minor bribes".

We checked into Udon Thani that night and celebrated our victorious car retrieval with a huge and tasty meal, importing the vehicle again to Thailand was just some quick paperwork. A Udon based garage fixed some further wiring and minor things, before we set off slowly to Korat (Nakhon Ratchasima), where we stopped again for a night before managing the steep declining road to Saraburi, which I surely wanted to drive in daylight again with the amounts of traffic and the malfunctioning steering system. I handed the millionaire industrialist's toy back in one piece to his local Thai staff and didn't even receive a "thank you" for my job. Needless to say that I was a bit disappointed, but he sure can reclaim any further toys from impound yards or write them simply off. He even had the guts to complain to my golfing buddy at a later occasion, that he didn't believe me in having paid any bribes to get the car out of Laos.
So sorry dude, no receipts or bills to testify that – but next time, find someone else to clean up your own messes!