© 2010 Frank P. Schneidewind

This trip together with my eldest boy Franky, dates back a while. It tells a bit about the hardship, which early travelers to Siem Reap had to endure. Things were already somewhat traveler-friendly there with real micro buses operating and tour dealers (I don't call them travel agents) beginning to tout Bangkok to Siem Reap bus trips for unbelievably low prices. Having been to Siem Reap a number of times previously, I though that this might be a great opportunity for Franky to add some adventures to his travel itinerary for his big Asia trip. The trip to the ancient Cambodian city was just 220 Baht per person. Only a fraction more, of what a trip to the border would have cost us with public buses. We started at 06:00 AM right from the backpacker ghetto at Khao Sarn Road, which made us spend the previous night there. In one of the dumps on the darker side roads. Khao Sarn's decent places were fully booked (as usual).

My big fellow dwarfed the plentitude of Cambodian beggar kids at the Aranyaprathet border market, where we had to change vehicles after a cramped 5 hour minivan ride. A short walk into Cambodia was required, the border town was Poipet. Poipet has been my point of entry several times before and has been titled bad names by me in publications. That city harbored plenty oh Thai and foreign criminals, which were on the run from Thai law or law enforcement agencies in their respective countries. Escaping across the border here, seems to be a piece of cake. For those with a loot to haul, the casinos offer amenities and entertainment outside Thailand's police grip.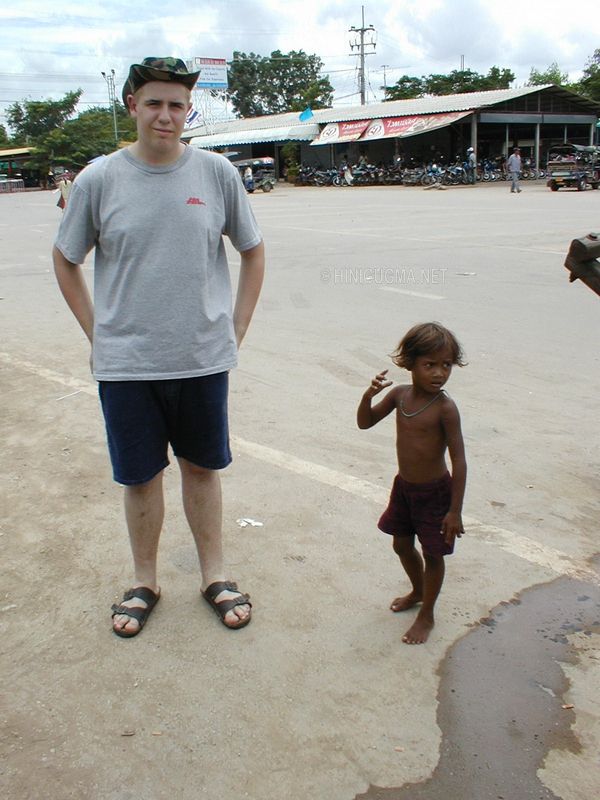 Shinawatra advertisement was dominating the roundabout, separating no man's land from the real Cambodian territory. Shinawatra's cell phone companies tried to dominate entire Southeast Asia in those days. He was a former Prime Minister of Thailand, but is now a convicted felon on the run.

The touts here are in general of the more aggressive type. Avoid at any cost to get your further transport here – you will get screwed! Hang on tight to your belongings as well!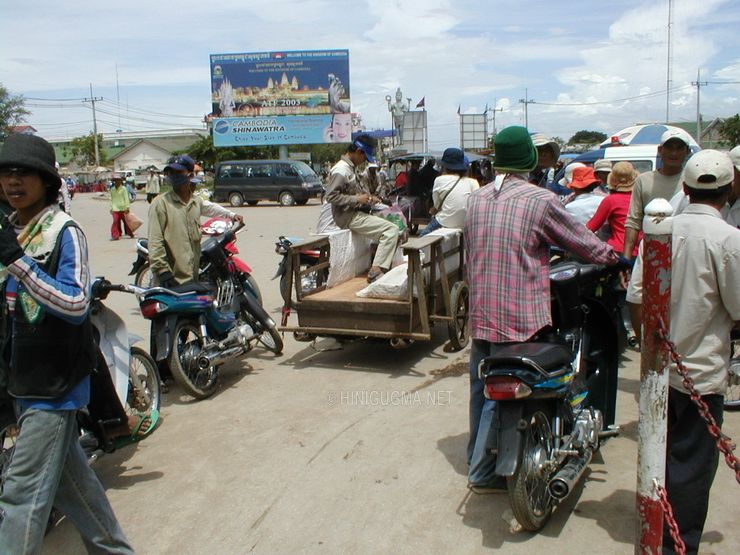 We had a ticket for onward transport, but what a jalopy of an outdated bus that was! The driver appeared sleepy from the start and kept yawning a lot.

No license plate equals no possible insurance, this vintage Korean model must have been shipped here with other trash, to allow some form of transportation.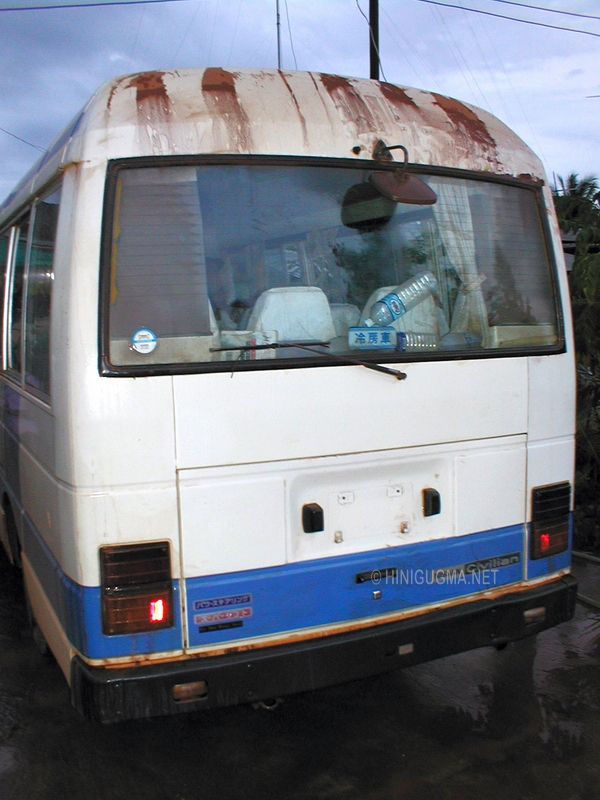 Anyhow, we had no choice and squeezed in with the crowd. There was no luggage compartment and no room to store the backpacks. One had to utilize the space under the seats and in between the floor mounts of the seats. My good old camera (a personal treasure), was thought to be safe in the overhead nets. My Canon T 90 had accompanied me through half the world and never did let me down. From frosty nights in the Yukon and Alaska to sand storms on the Arabian peninsula. It had plenty of lenses along, I should have been geared up well for decent snapshots of Angkor Wat. Never brought valuable equipment before into Cambodia and always had regretted, not to have taken the Canon on previous trips.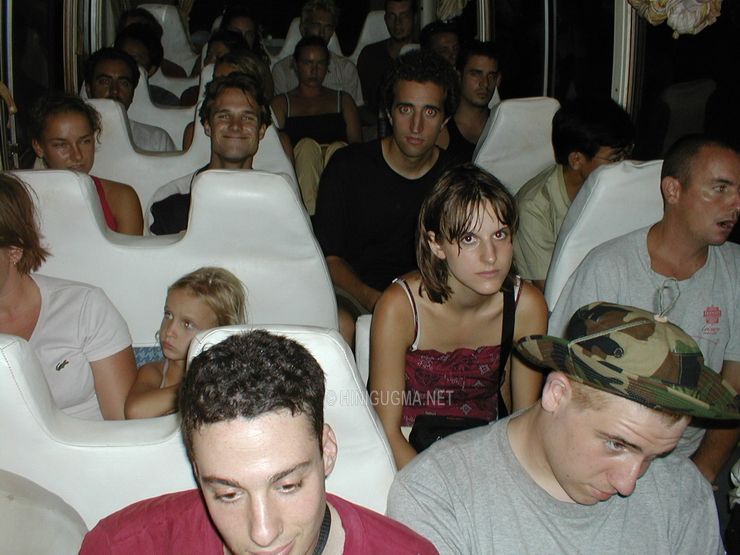 Zero suspension, smooth and worn out tires, billowing a fat black smoke trail, the interior was quite fitting. Folding seats took every inch of the aisle. Even the regular sized kids had their shoulders overlapping, as there was very limited space and absolutely no room to move. It was getting colder after sunset, the progress we did made was little. Too often the micro bus slid uncontrolled down swampy dirt roads or had to wait for bridge repairs. The 30 km or so to Sisophon already took 4 full hours. We were on the trail for 12 hours now, which seems like a joke for under 450 km total distance. But the worst was yet to come! A few more hills had to be crossed. With a zero traction vehicle, we faced a lot of sheer luck at first. Then the unthinkable happened, the bus rolled into the road side ditch, after a wild downhill slide on a mud track . Everyone and everything on board tumbled around wildly. We were all o.k., except for a couple of back seat dudes with broken bones. Bruises really don't count as a mishap in Cambodia. Half of the seats were torn loose and the sharp metal mounts did cut some folks here and there, but nothing really serious.

A truck towed the bus later back to the road, we were still in shock and gathered for a while outside. The driver/mechanic/stuntman attended the engine and a few creepy cranks later it coughed up again. We continued the journey at a much slower speed now.
As much as we had good luck, my camera didn't. The case appeared to have  received a large crack near the lens mount and the display showed funky default symbols!
We arrived that night in Siem Reap, after having dropped off the injured at the hospital. Here, the Khao Sarn scam ,became highly transparent as the bus pulled into some enclosed and fenced compound. We had no real option not to purchase accommodation here – we were sold to them as paying guests, therefore they subsidized the ticket cost to lure customers. Well, we didn't fall victim to the orchestrated scam, but we get to that later.
This picture was taken on the morning after, when we found our bus from last night, gutted of his engine and other useful parts. We were hungry again and figured, that we have had much luck on the previous night. Time for fresh baked baguettes now, the scent filled the air in town!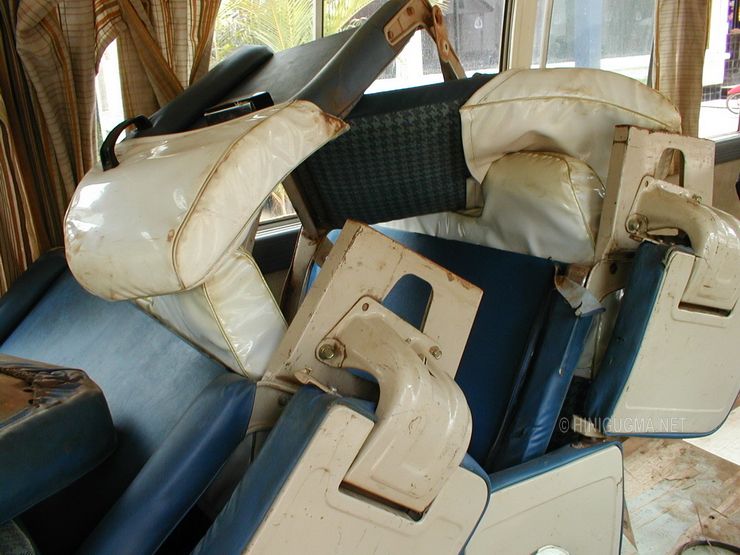 French style baguettes were plenty and cheap, they became our favorite breakfast item, for lunches we were ready to sample road side kitchens and in the evenings we ate a good local Lok Lak with Ambalmerik Krotchmai or whatever we fancied. But the breads followed us everywhere in Cambodia, so every day on this journey started well.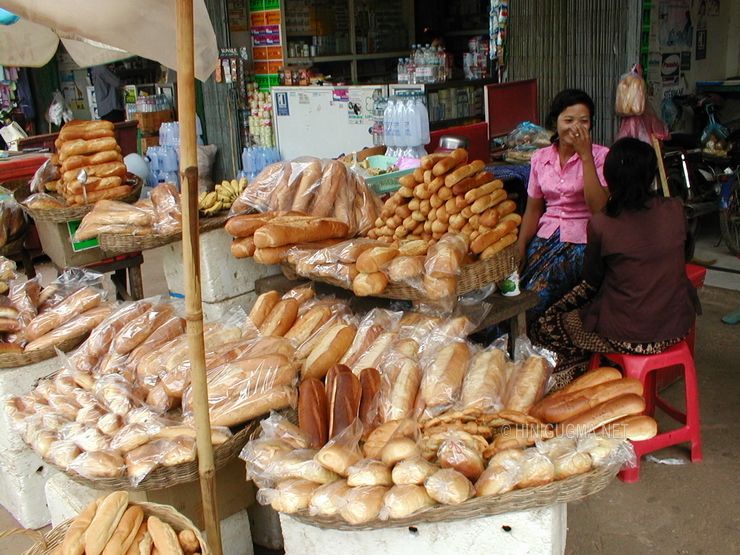 Lovers of foreign food sure had plenty to choose from, fairly reasonable were the prices and portions too. Happy pizza is a local specialty, they don't have your typical oregano topping – but substitute it with marihuana instead
.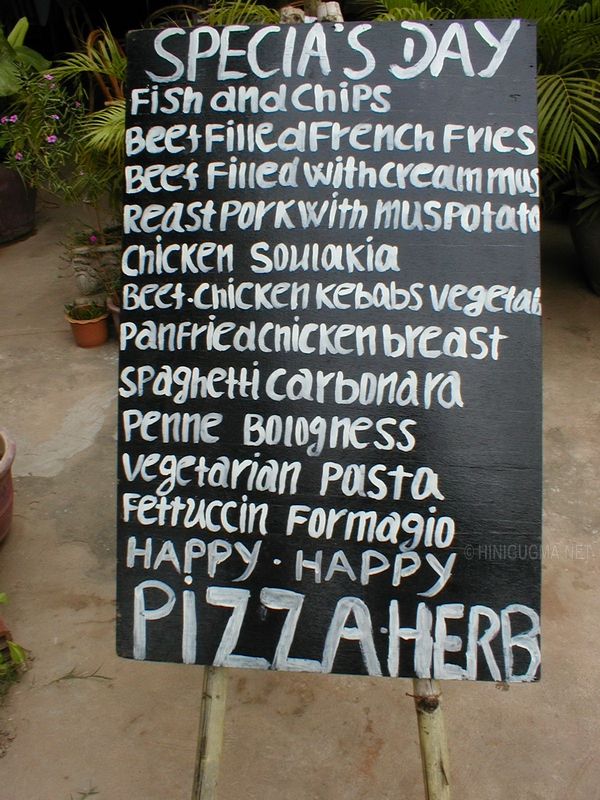 The Guesthouse, by the way, was named "Get Lucky" – and the deal we got here, wasn't bad at all. We just had to separate from the bus crowd on the arrival night and checked in way after the group. That netted us a hefty discount, as so called "Walk-ins" just pay the regular rate. Almost 50% cheaper, the money spent at their restaurant meanwhile for a late dinner, was a wise investment.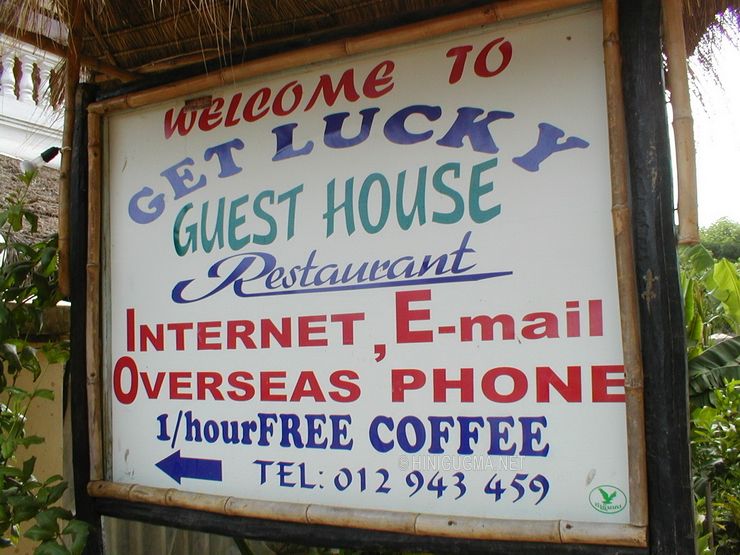 Restaurants in Siem Reap have sometimes really funny statements on their front door area.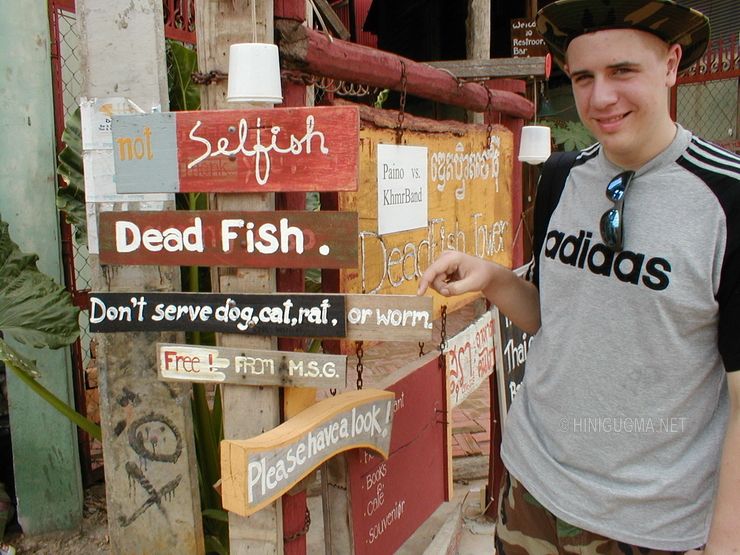 The visit to the temple compounds was planned not right after our arrival. We wanted to make sure to be fit and well rested. Tickets we bought in the afternoon before day 1 and we got a 3 day pass each. The afternoon purchase trick gained you a bonus evening with a splendid sunset from a hill, neighboring Angkor Wat. Sorry, our little digicam was in the charger back at the "Get Lucky" for tomorrows hardcore temple tour. In the early morning, we met our tuk-tuk driver in front of the guesthouse, he was chosen last night to ferry us around the temple compounds for the next days.

Our first trip took us past the famous Angkor Wat again, because we wanted to avoid hordes of other tourists at our sequence of destinations. They almost all head here first.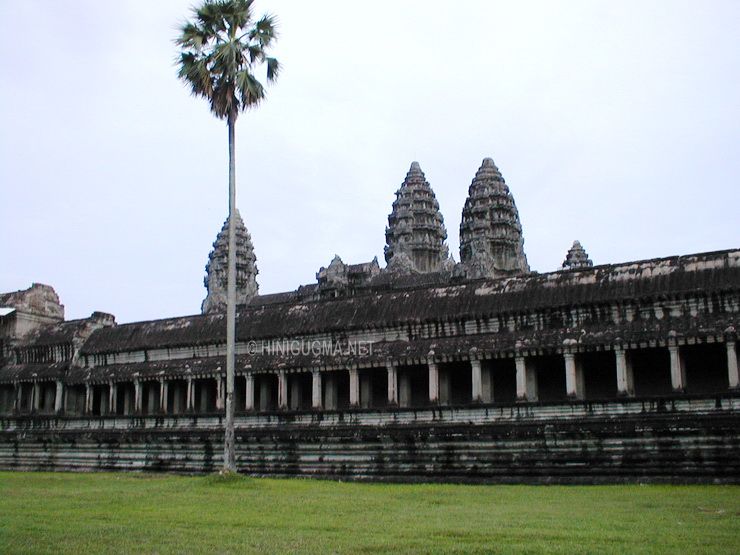 We went to the Bayon complex a bit further at first. Franky enjoyed the company of some student girls, there, which volunteered at the Bayon to guard it from pilfering visitors. I was trying to get over the loss of my beloved Canon T 90 and experimented with a mediocre digital model, but hey – when the motives are as mesmerizing as this here, even a cheap compact camera does neat snapshots.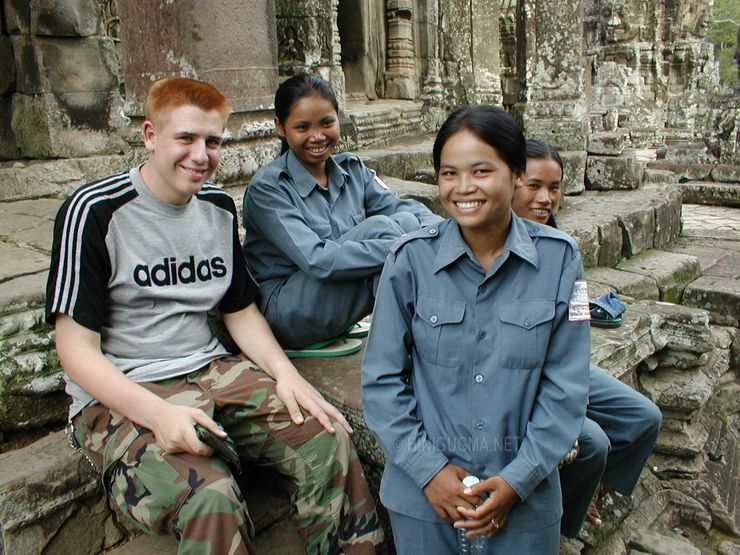 The stone faces of the Bayon have always been one of my favorite places in the region. Once inside, you'll have them staring and smiling at you, wherever you are standing. We will reduce number of the snapshot type pictures of the temples here, as the net is full of them and we can't really compete with the brilliant photography of many visitors to Angkor Wat, just google their image search.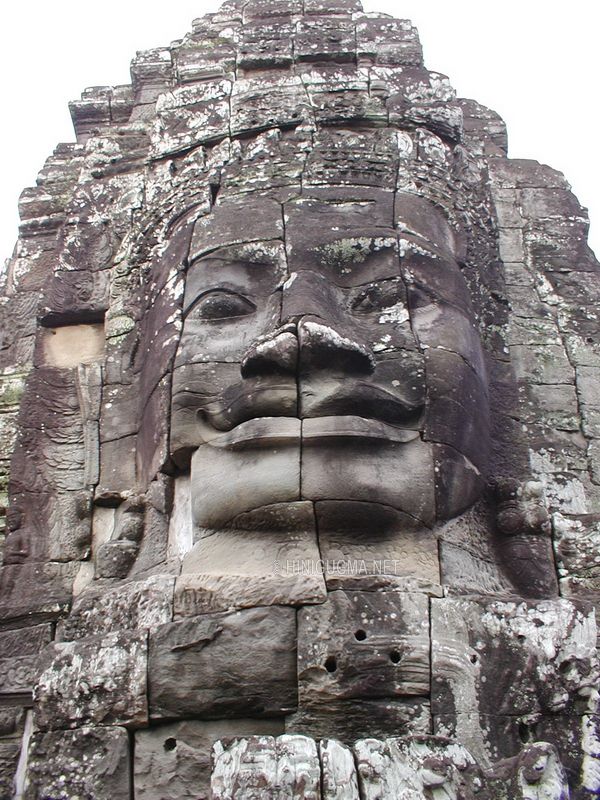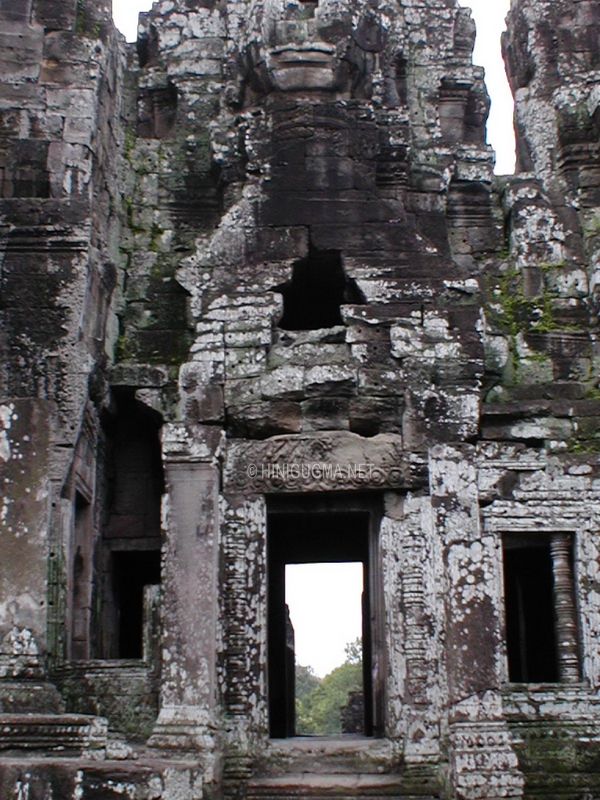 A lot of tiring temple visiting followed then, the mighty bayon, the terrace of the leper king, there were plenty of places we did visit, but Angkor Wat was supposed to be a special treat for my boy at night, almost full moon! In these days, it was absolutely impossible to enter the main temple at night. Mr. Ran was the head of security here, and an old friend from my former action packed life.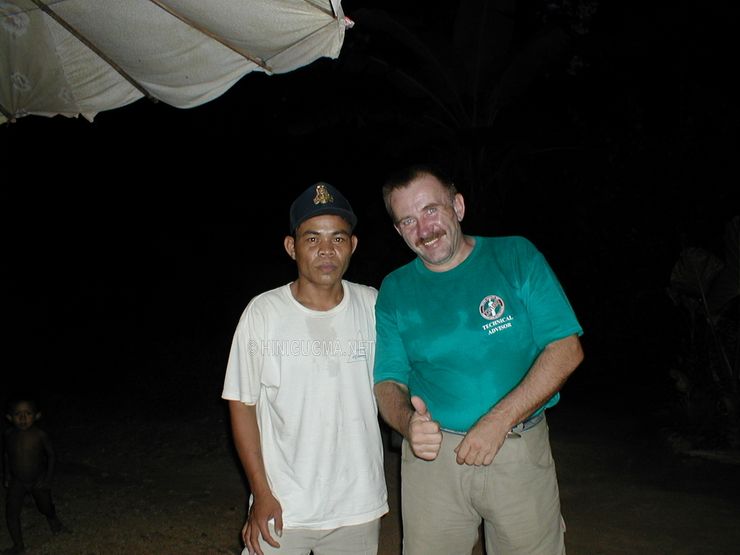 The only problem, preventing us from getting a real VIP treatment from Mr. Ran and a personal guided tour of the main temple in the moonshine, was the cloud cover. Rainy season wasn't over yet and the thick clouds overhead prevented any light to come through. We waited a few hours in the secluded area of the security headquarters, behind the actual temple. He had to do a special task on the following two nights at the remote Kbal Spean, also known as the River of 1000 Lingams. Thieves were to be hunted at night and every extra man counted. Mr. Ran was at one time known as Captain Ran of the RCAF Special Forces unit, and they surely wanted him there to supervise the action along with other security forces and RCAF units.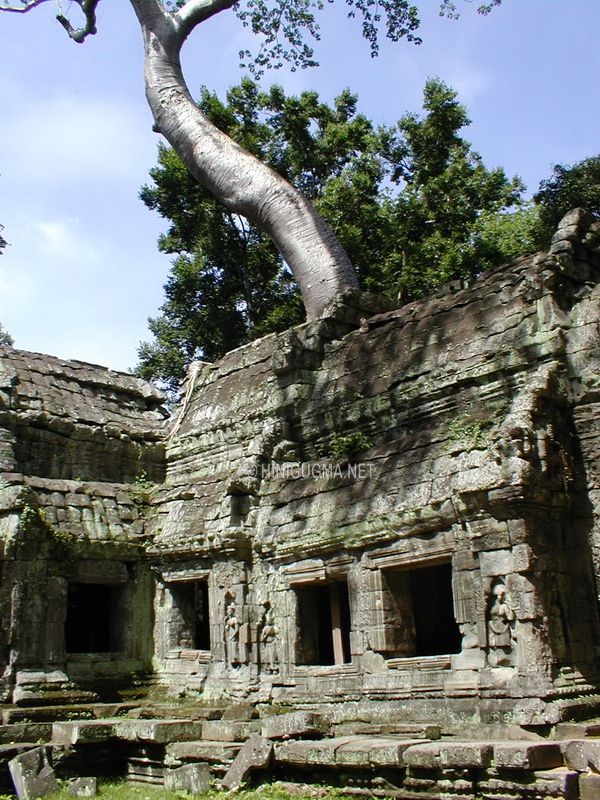 Kbal Spean would have made an interesting detour for Franky, but where bullets fly and thieves roam wasn't an area for family tripping. We made it to the famous Banteay Srey instead, the temple for women only. Banteay Srey is famous because of Angelina Jolie and her Tomb Raider blockbuster movie. Banteay Srey features not only temple ruins, but huge trees overgrowing the entire compound. Make sure to include a side trip here and do not let the whining of the TukTuk dudes discourage you from visiting there. You would have missed one of the best sights in Asia, if you skip Banteay Srey on your Agenda.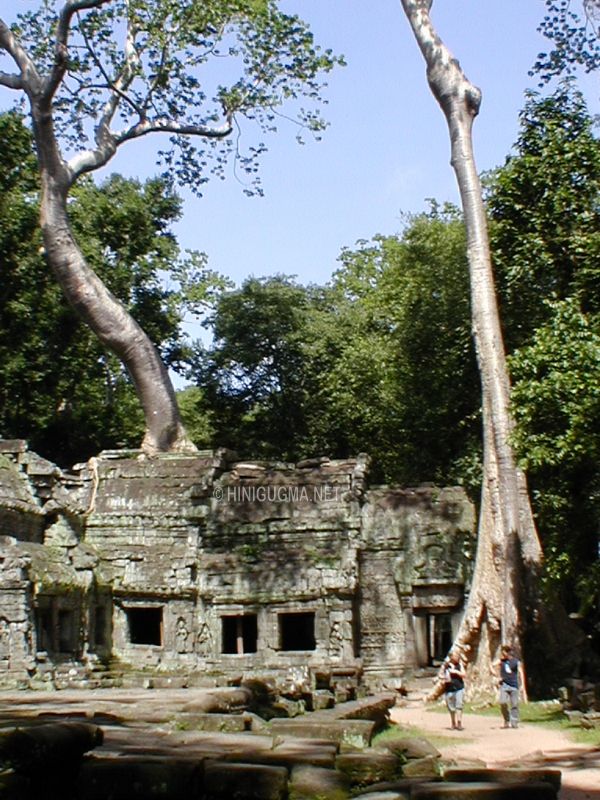 I felt an urge to play a little "Tomb Raider" myself and took Franky up into an area, normally not accessible by tourists. Archeologists were still studying the crumbled temple components for their possible resurrection.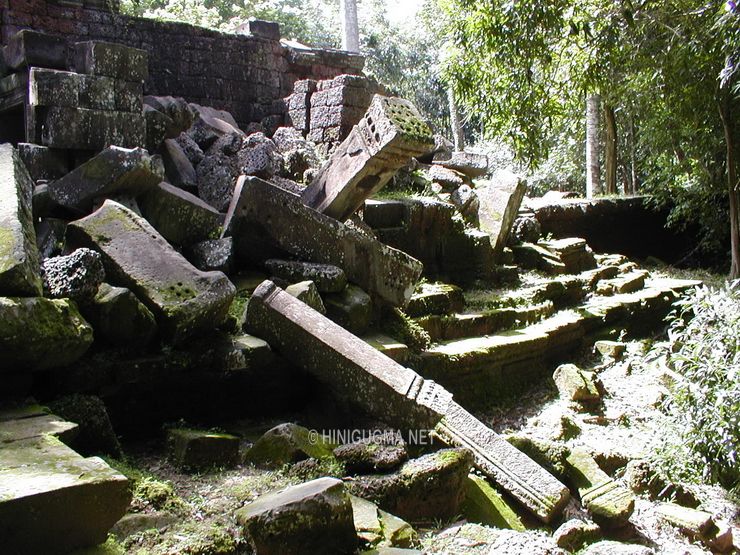 We went up the rubble and into the depths of Banteay Srey. It was another challenge for Franky, which he mastered very well. He sure made me damn proud before in the Huay Kha Kaeng and Burmese border jungles on this Asia trip of him before. For a teenager, he did extremely well in any type of condition or environment. Fully compatible with my style of explorations!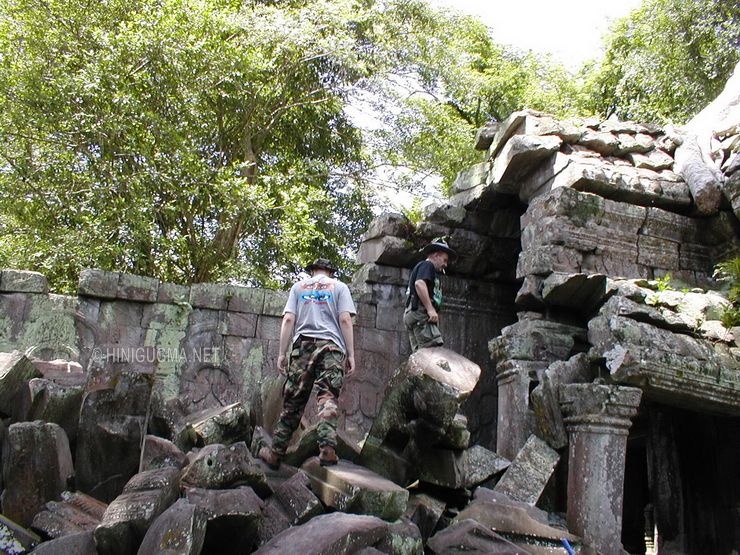 It definitely wasn't always easy for him, to be the eldest son of such a travel and trip freak like me. One day, his much younger half brother Teddy may add to some stories or travel and explore places together with Franky.

The late afternoon brought a number of heavy monsoon showers, which lasted into the night. Some young monks also liked the idea of having a roof overhead.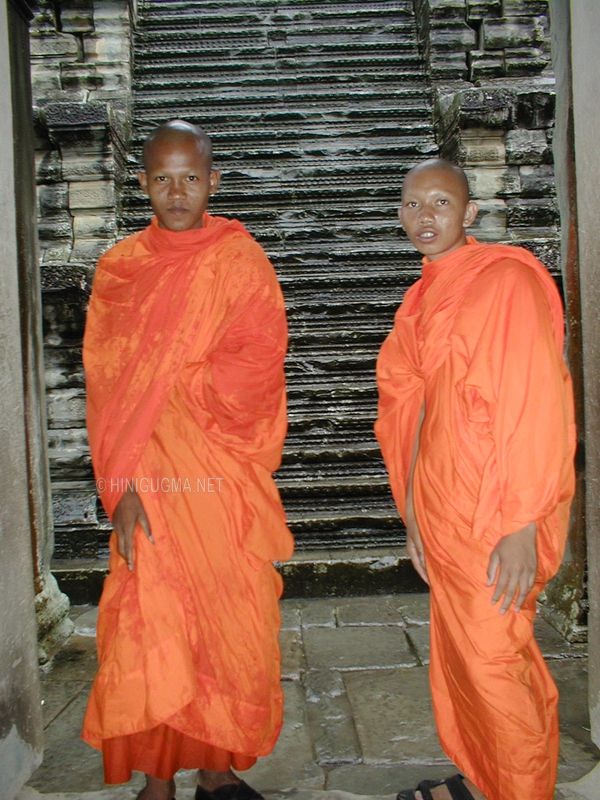 We sought refuge at the main Angkor Wat temple, as all tourists had fled the pouring rain. A great opportunity to stroll a bit around without any crowd. We witnessed how the water was collected in large pools. Not enough to swim in yet, but it made the ancient system transparent to us. Water was a precious commodity a thousand years ago, and the water supplies enabled this region's leading civilization to thrive here. The Khmer empire ruled Southeast Asia for many hundred years!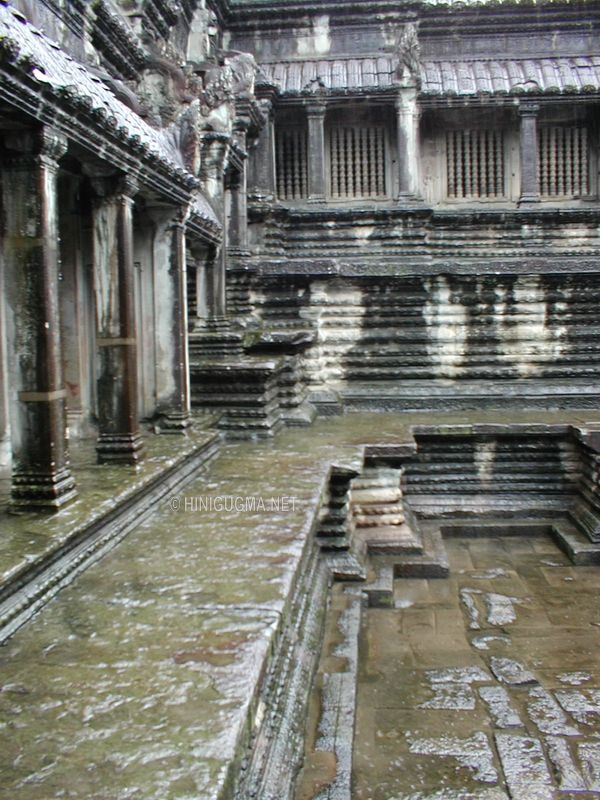 We headed back into the guesthouse and asked our TukTuk dude to pick us up for a leisure day to see Tonle Sap, the floating village there, the landmine clearance camp and maybe an Apsara show. Apsaras are the female temple fairies and their outfits influenced what is being known as "traditional Thai style", so are their dances, by the way
.

Our photo report commences on the day after that, as we did not have extra batteries for the cam with us. They had a day off at the charger. Make sure you bring enough batteries to juice up your equipment, when you get here one day.
The last day in Siem Reap was dedicated to Franky's needs. Mr. Ran liked my son and had promised him a special treat. The moonlit temple was out of the question, because of weather reasons. But Mr. Ran gave Franky a tour of the finest variety, personally!

The long tour for Franky showed him all important details. He began to understand what had happened here in those early years and what were the cornerstones of Angkorian Khmer Empire. Reliefs, stretching for miles explained all details well, and Mr. Ran did his best to explain everything in his excellent English.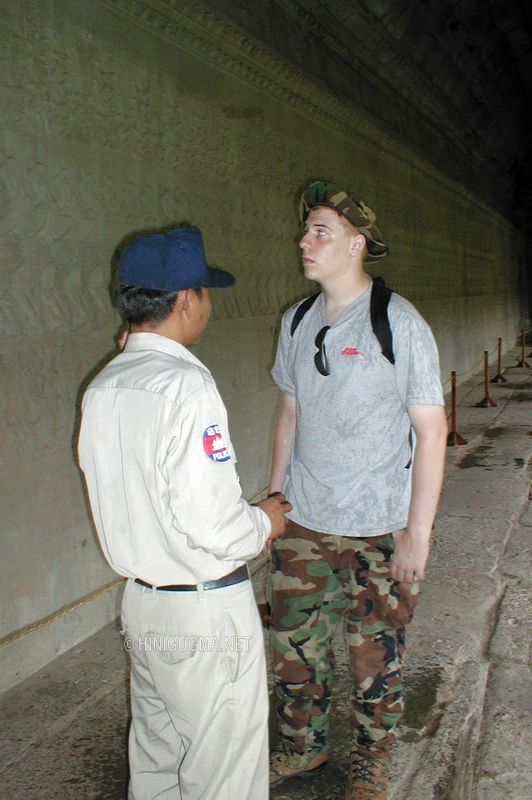 The final stop was at a sacred place, it can almost not be found it unguided tourists stroll around. We hardly met anyone during the whole tour. The place was so sacred, because this was where their chief warriors were sworn in, back in those days. Some eerie architectural gimmick or sensation mus have been the reason for this effect. If you hit your chest here with your flat hand, back to the wall, the resulting sound was enormous. It sure was heard far even inside the compound, but it was almost as if someone would beat a big drum in synchronicity to the claps on the chest. Awesome effect!.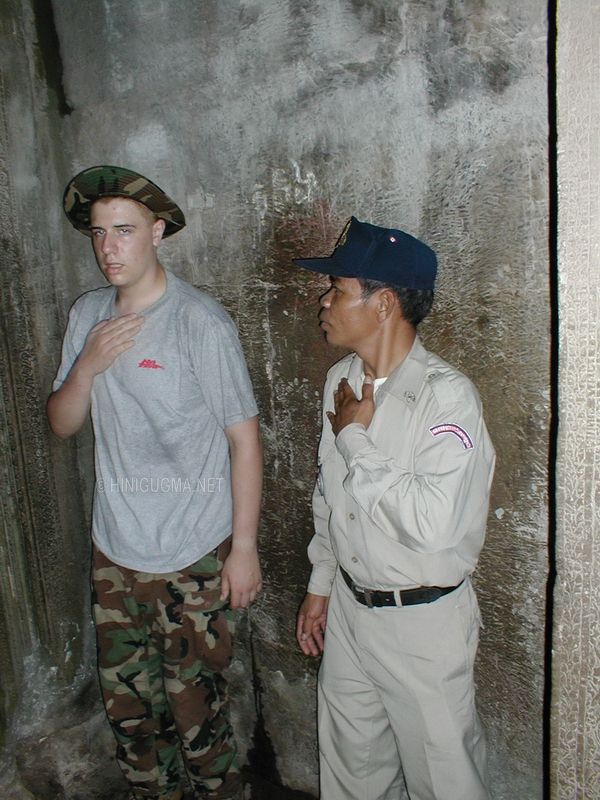 Final impressions included this one: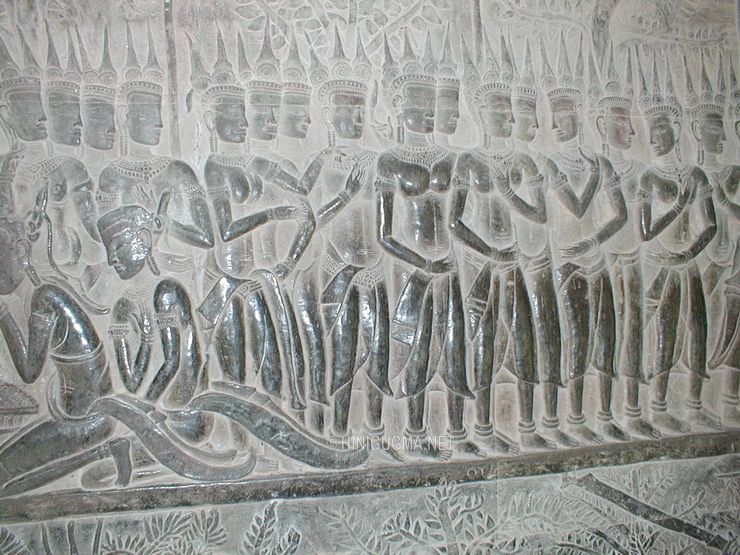 We had a great day, and this highlight of our trips together, is still very alive in my memories. Franky may return here, when he graduates from college. I hope he still wants me to zoom around with him some more.