© Frank P. Schneidewind
This trip was haunted a little bit, but my eldest boy was accompanying me, so I prepared it well – yet almost everything failed. One way or another my e-mails got lost or never found the receiving mail box. This time, there was no fancy military bike with those desirable plates available. My local contacts in Phnom Penh were on a training mission and not scheduled to return soon. A regular bike rental would do the job as well, but I had some requests. The Daelim motodup (motorbike taxi) specialty seat had to give way for an ordinary motorcycle seat. Well, we stayed somewhere near the Independence monument, at a guesthouse in some 5 $/night room. Phnom Penh did not attract Franky a lot, he wanted to get to the coast. So we did the 48 hour crash course for tourists, and I tried to include as many sights and places as possible. Mechanics fixed our rental bike meanwhile. Watch those extra-cargo seat platforms below, and make sure your bike doesn't have such fancy outfit. Unless you plan to go with 3, 4 or 5 people, they are as uncomfortable as can be!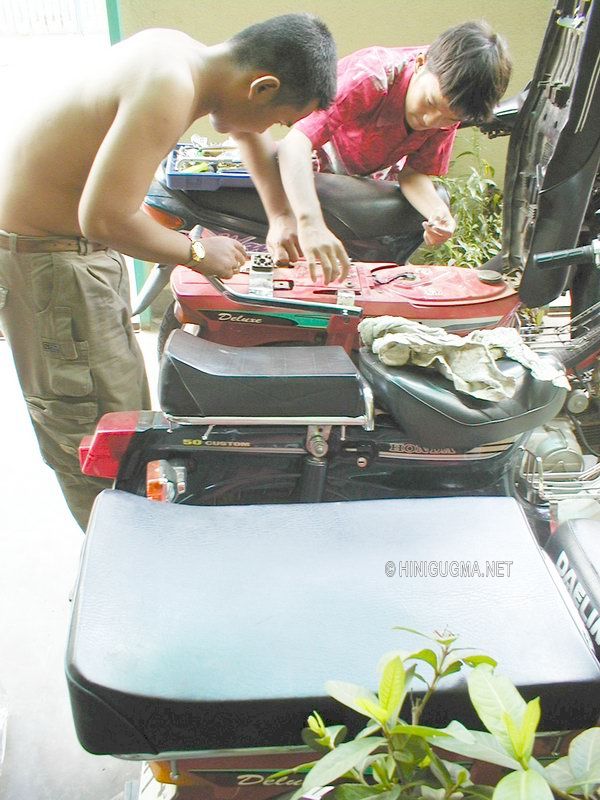 The chrome grip between the seats will try its best to give your butt some good kicks at potholes or on rough roads. Horrible for a grown-up, as you sit confined to a space, which is made for Asian sized people. That's quite a difference from my 5'11" frame (180+cm).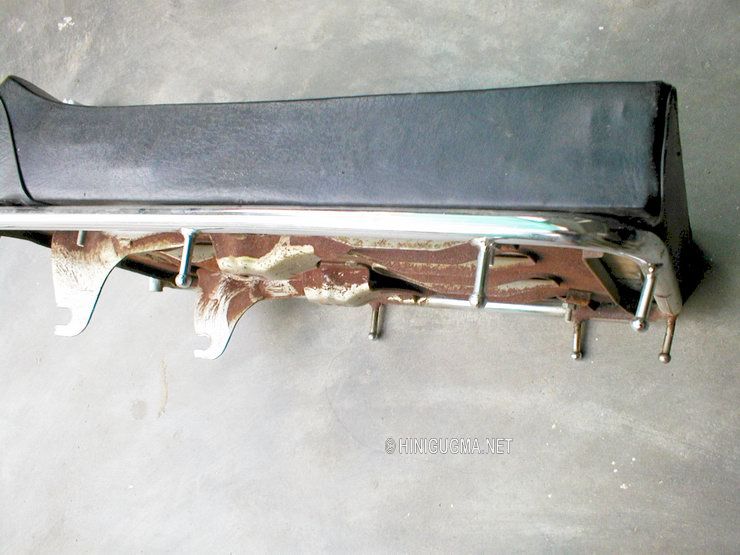 As work progressed, we planned this day in detail. Boeng Kak Lake's backpacker district for a possible sunset over the lake, then the famous bars and restaurants with a dinner along Sisowath Quay.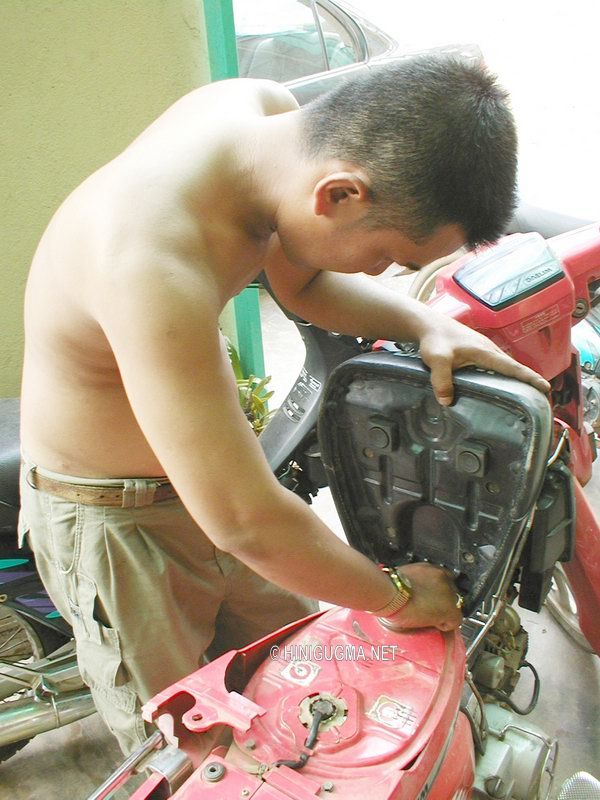 We made the backpackers hideout on the lake, but it was cloudy, so no sunset visible.
My question, if my boy figured those garlic fried spiders (from the preceding report) taste better with mustard or with ketchup, he gave me this look: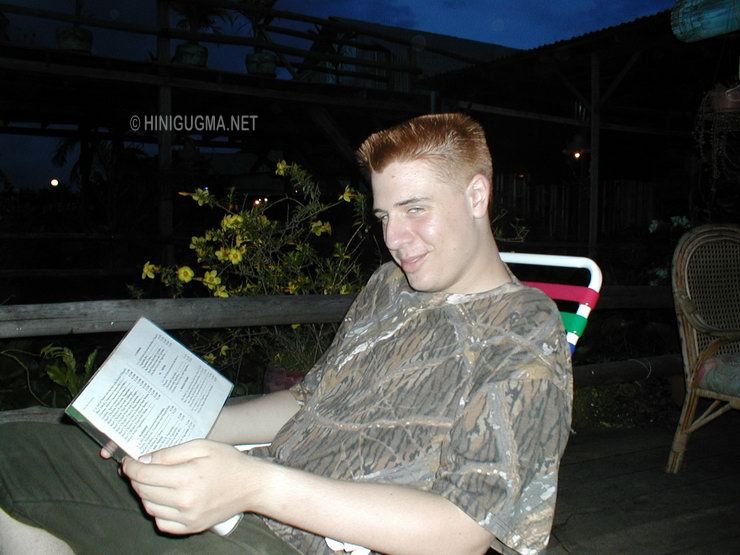 Sharky, the famous pool bar was on the way south again. So we looked around a bit, but didn't want to waste too much time. Snooker was also not our favorite thing. But their 24h convenient store Sharky Mart had imported ice cream in stock. We felt like we needed one and opted to eat one each on the spot.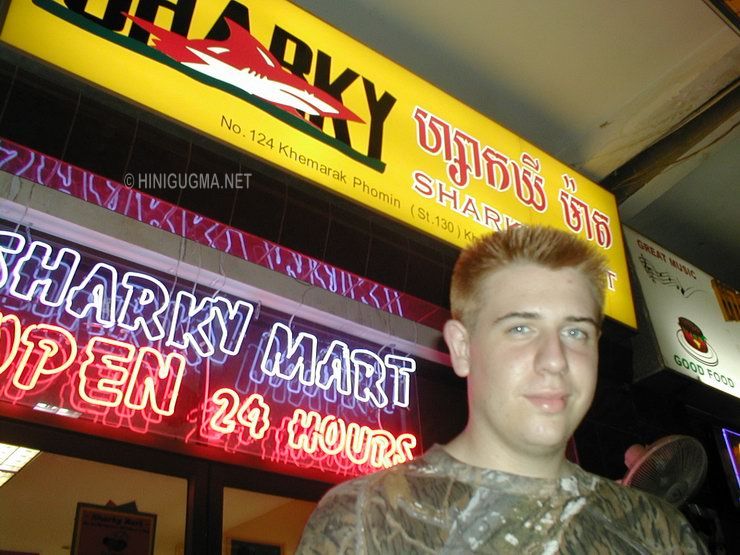 The next stops were along the river on Sisowath Quay. Happy Pizza or Wagon Wheel? Franky didn't like either, none had a view of the Bassac river.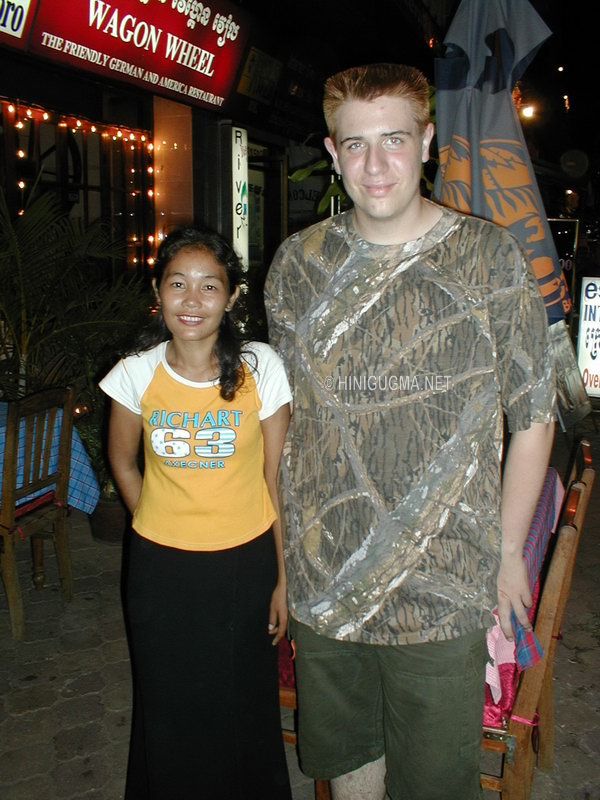 We ended up on the first floor of the FCC (Foreign Correspondents Club) and ate a late dinner. The view from up there is decent, as you can see the Bassac (or Tonle river) meeting the Mekhong from there well.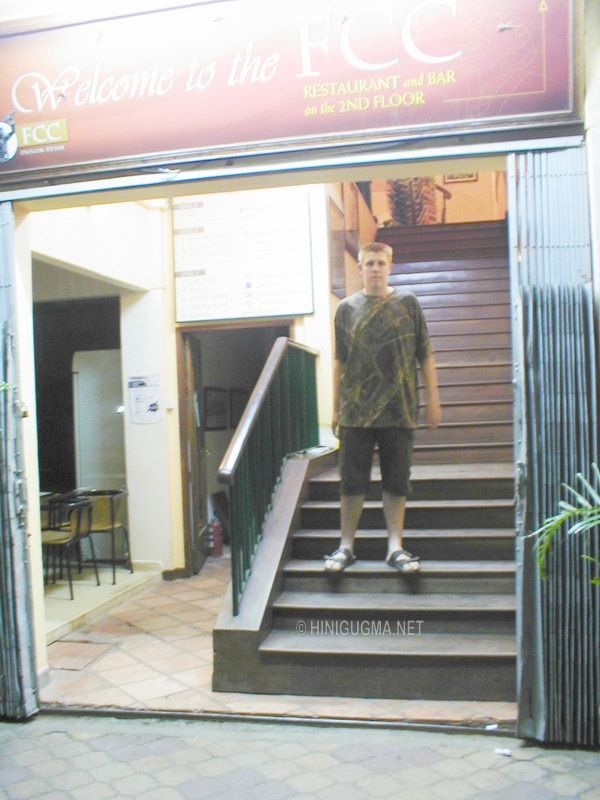 A full day of market shopping and S 21 were on our agenda for the next day. We started off in the early morning with a visit to the sculpture makers village in a remote southern part of town.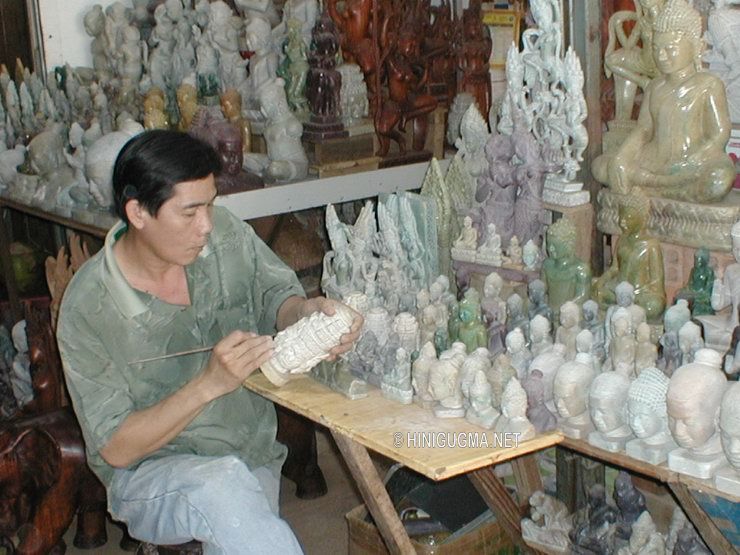 Then we spent some time at each of the 3 big markets, the Psar Thmei, the Olympic Market and finally the Russian Market.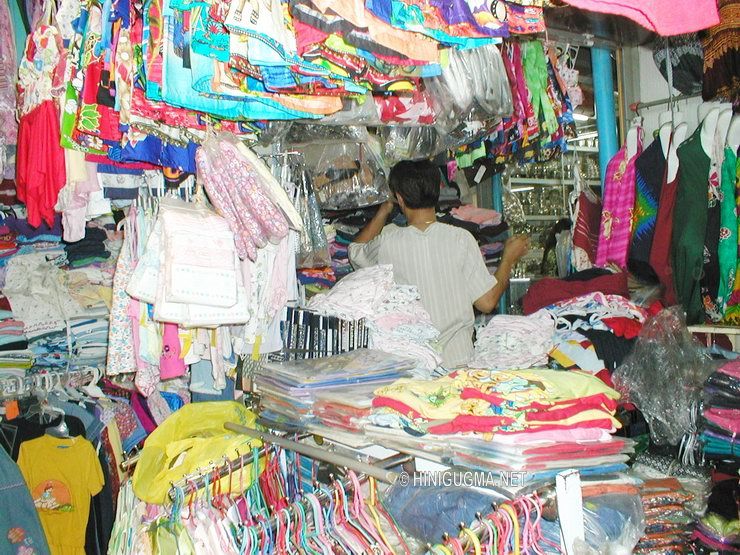 The Russian Market is not far from Toul Sleng, the famous S 21 concentration camp, along the way are typical Cambodian motorcycle repair shops, about 50 of them, side by side.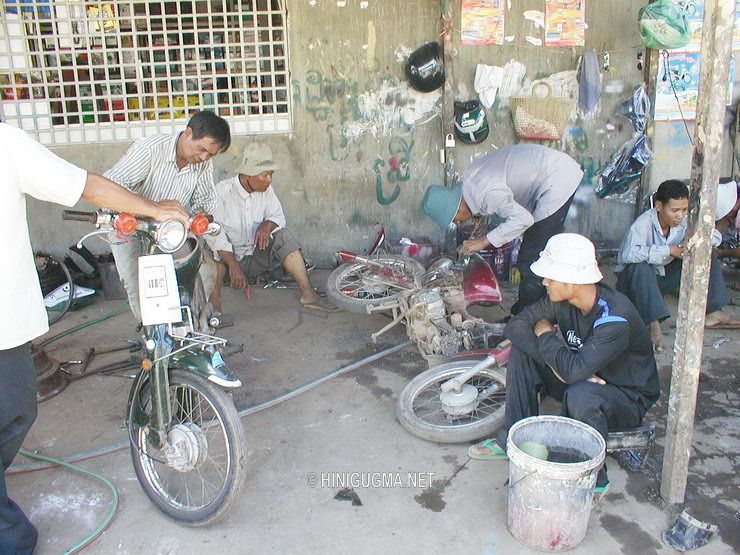 We finally got to the famous place, where many lost their lives at the hand of Khmer Rouge killers. It looks not so bad from the outside. The razor-wire and barbed wires on the former school's fence looked old.

Inside the compound, several school type buildings with three levels each do not tell of the horror scenarios, which happened mostly inside the former school rooms. It is a museum now and displays a lot of the gear, that the K.R. used on their prisoners here. Only few survivors were ever known to have lived through this.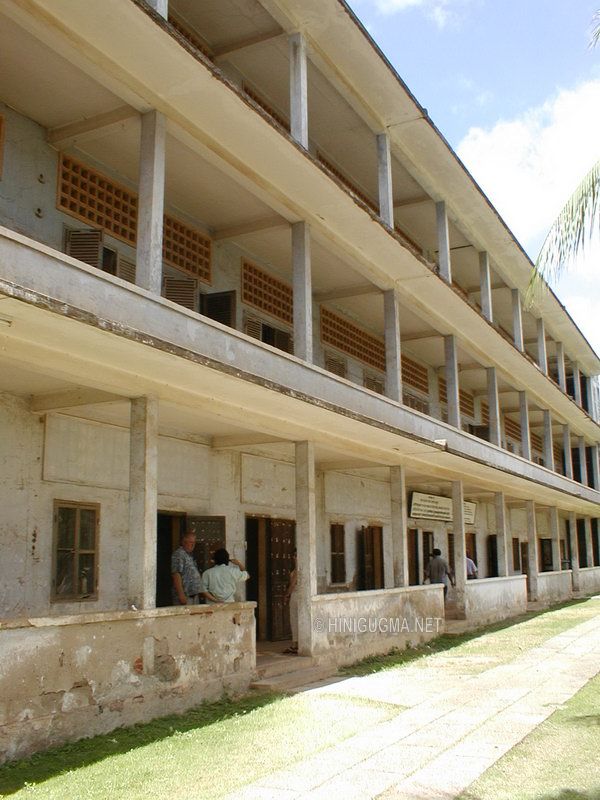 Franky had a lot of questions, and the little brochure we got at the entrance helped to answer. He was going to present some work for his own class, regarding Pol Pot and his killer crews, upon his return to school. This was a real on-hand experience for my son. To see the gallows, where many were killed and other tools, where torture was inflicted and inmates tied down to die.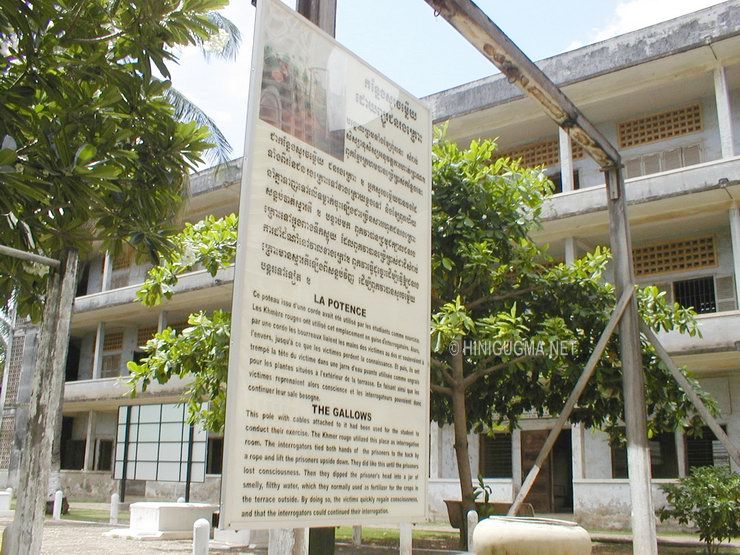 Some rooms displayed hundreds of black and white photographs of those that vanished within these walls. Franky was emotionally distressed and we called it a day after this. He lost any appetite and just wanted to rest. This always takes a toll on me as well, and I am sure glad that some gruesome evidence is no longer on display here. The one item I will never forget, is the huge skull map of Cambodia, which was made entirely out of human remains. They took it down after the Millennium some day and never put it back up again.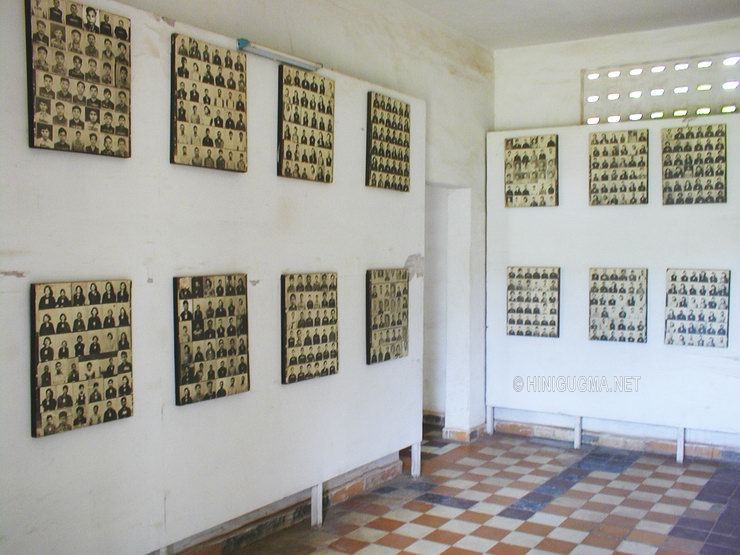 The next day was going to get us to Sihanoukville on the coast, where we will almost end our loop-journey around some parts of this great country. We went to bed early to catch the first bus, after we bought the tickets at the bus terminals counter.