© Frank P. Schneidewind
We took the G.S.T. bus again in Phnom Penh, in order to get to Sihanoukville quick. The sleepy town on the coast is connected to the capital by a well maintained and surfaced road. Snooky's old name was Kampong Som, but to honor their King, it was renamed a long time ago. Snooky or S'ville is, what others nickname the town also. It has Cambodia's only real harbor, container cargo into the country is coming in with large vessels. The harbor is located north of town, which used to leave the nice and sandy beaches in town and south of town for the locals and tourists. The beaches were all large and appeared natural, the fine sand attracted lots of folks up to maybe 2007. The largest of the beaches is being called Ochheuteal Beach. It occupies the southern end of town and runs for about 2 miles or 3 km. Just the northern tip had any developments, that area is also known as Serendipity Beach. The beach is easy accessible, from the Lions roundabout on the southern end of Ekkareach street, there is one road (going west) leading to the Serendipity Beach, with plenty of beach bars and such. The downhill road to the right of the large Golden Sands hotel on the bottom of the hill, will get you to the part of town, where we stayed at. Guesthouses here are plentiful and range from a few dollars per night to fancy accommodations. The closer you want to be to the Ochheuteal Beach, the more you generally have to pay.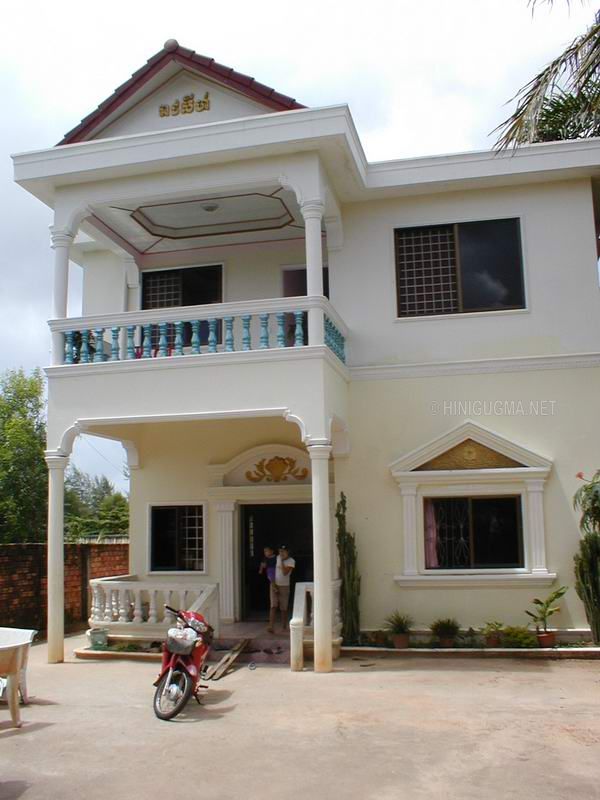 We ended up in above pictured small guesthouse, a newly built structure for a large family with two or three extra rooms on the upper floor to rent. 4 $ was the going price back then. This already reflected the surcharge, because of it's close proximity to the beach. One of the oldest guesthouses in town, the Mealy Chhenda on Weather Station Hill, was 4 km north in the other end of town and already charging more, since they were featured in the Lonely Planet. The Hill had cheap accommodations as well, starting range was about 2 $ in off-season for a decent bed with a fan and shared toilet. (before the onslaught of the GoGo-Bars and Pattaya-style male travelers)

We set off on a rented motorcycle and visited various locations in town. The police academy offered a monument, where we both could not resist to pose for a picture each: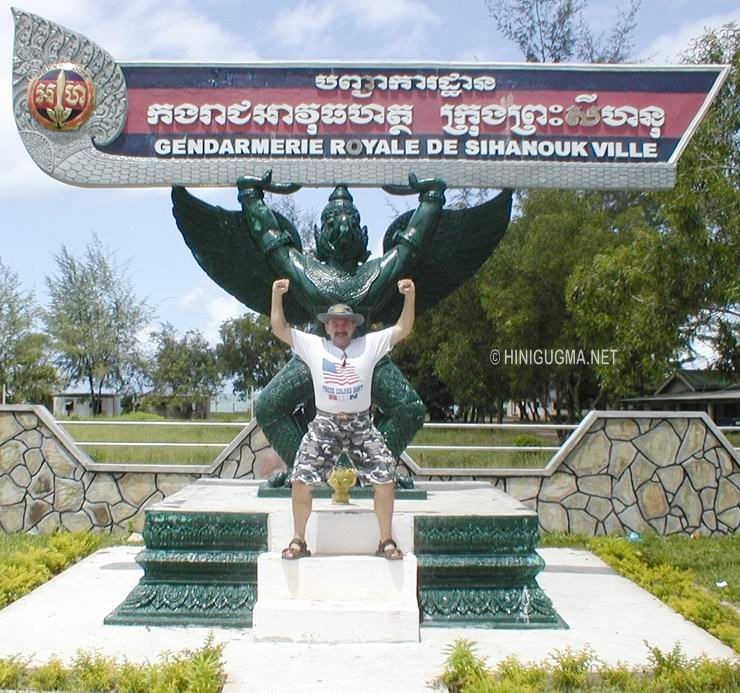 We then visited the really big beach and the small fishing community at it's southernmost tip. A wooden bridge for pedestrians and bikes, did cast a shadow in the midday heat. The local kids came quick to check on us intruders and lost their initial shyness, when Franky started to communicate with gestures with them. Later, I presented a proposal to Franky. I asked, whether he wanted to do some decent beach biking with me, and he was delighted to give it a try. A medical ear-condition at a very young age, prevented Franky from having had much experience with bicycles or mopeds back then, his balance was compromised a long time ago. So unlike other kids, he wasn't privileges to upgrade his 2-wheeled rolling and driving toys gradually in his early youth. The condition faded away with age, but he never got into 2-wheelers as a kid as a result of that.

We were about to try out, if he regained enough balance to operate a moped in easy conditions. Sihanoukville's beaches in those days, were the absolutely perfect terrain for this.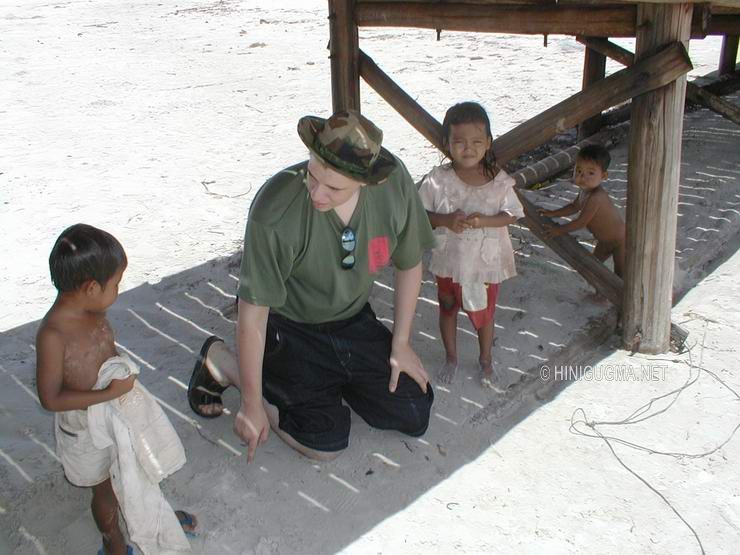 So we rented another standard type of moped and just went for a try-out. The 500 m road to this place was mastered accident free, which was really my only concern. Asphalt hurts and sand cushions any falls significantly. Franky was in good spirit and began quick to understand the technical issues about bike riding. Many hours of excessive beach biking were about to follow on this day!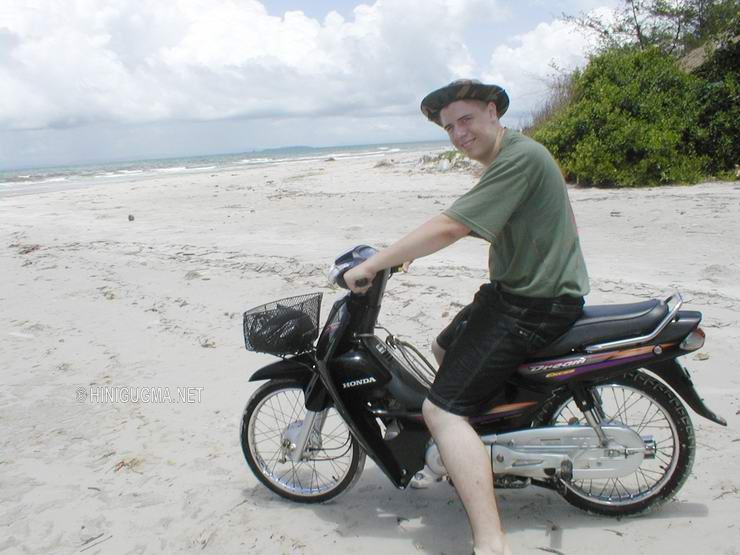 Miles and miles of an empty, natural beach. Can you imagine a more suitable playground for us? Beach biking, by the way is a favorite past-time of myself, anywhere on this planet.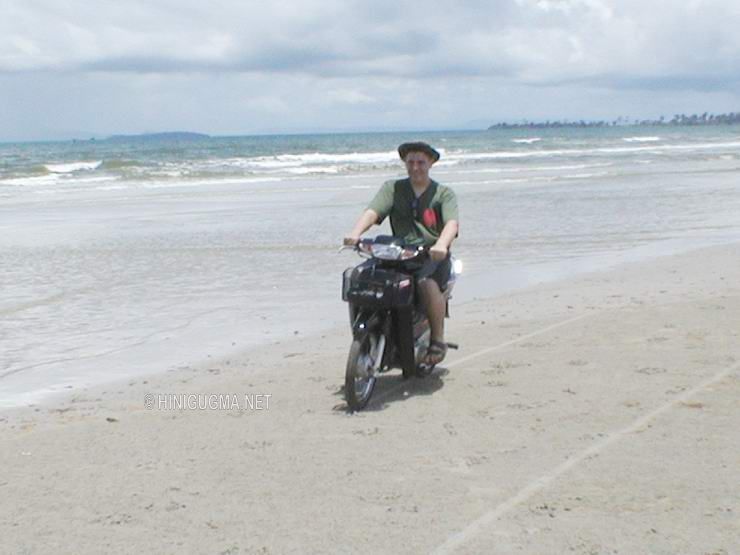 We did draw long lines into the sand. Backtracking to where we came from, if people became visible. We had the entire of this beach for us and enjoyed the day. Tanks were full of gasoline, and he never even asked for a break. Hours lapsed, before we decided to have a Coke to replenish the fluids inside us. He was now not only comfortable with all the switchable gears by now, but also with the proper application of both brakes.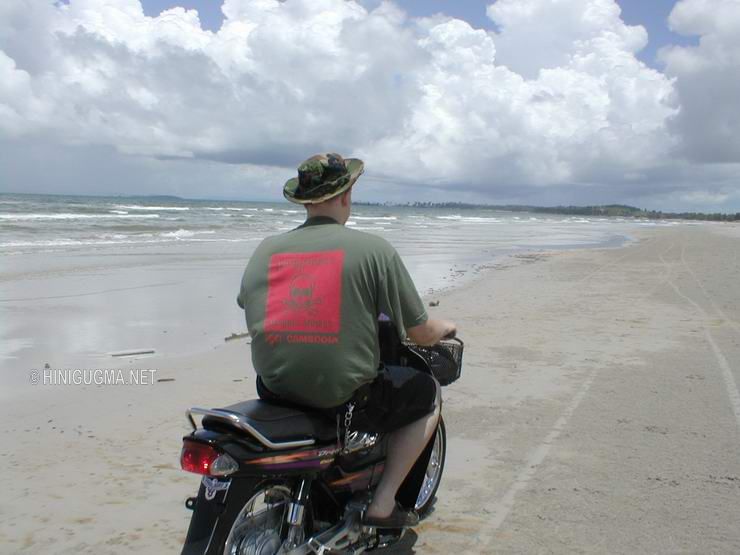 North to South, South to North, every crab and every piece of driftwood witnessed on this day Franky's big success on two wheels. The Honda was a safe bike for starters, it was dependable and powerful enough.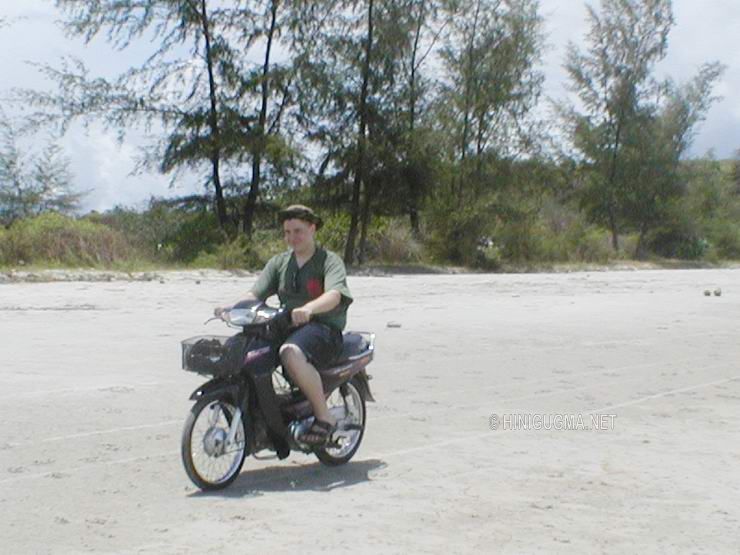 He quickly adapted all required skills to my full satisfaction and he became braver. Speeds driven increased significantly, and managing the bike around occasional rocks or coconut shells, became a piece of cake for him. Not once he kissed the soft sand.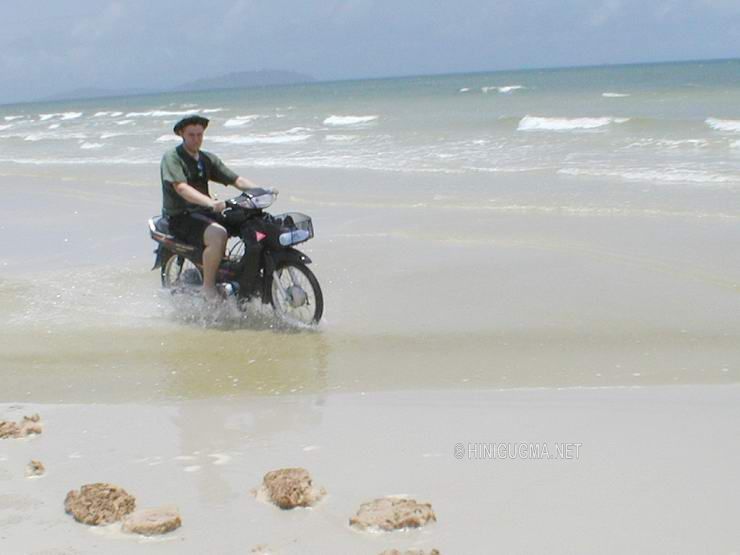 The waves offered him plenty of refreshing moments and he was aware of the potential danger. If he submerges the engine, a lengthy break would have to follow plus some maintenance to crank the bike up again. We actually both enjoyed this day a lot. The dark clouds on the horizon never came close enough to really bother us.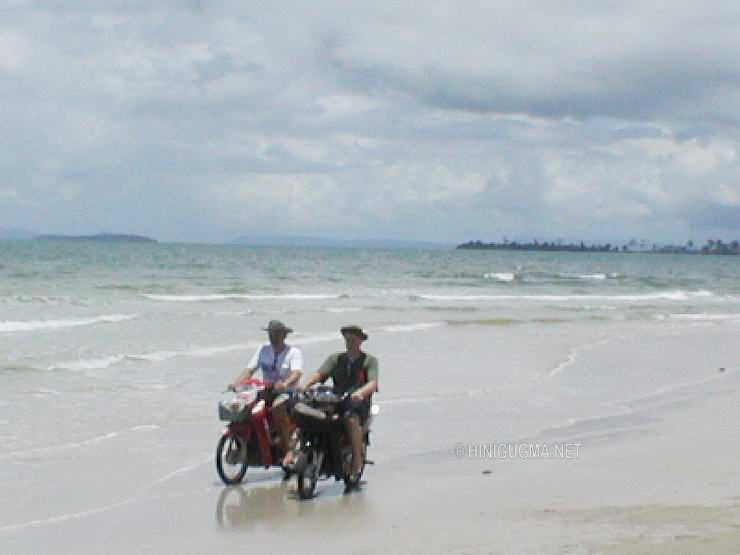 When evening came, it was time to fold activities here. Franky was totally exhausted, but one very happy biker.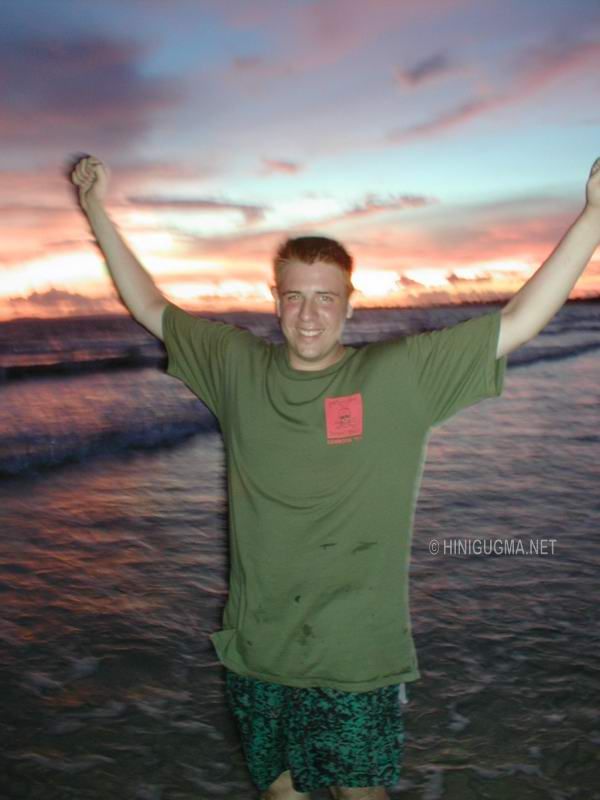 His skills were improving fast, as he already demonstrated before. In the Burmese border jungles around Huay Kha Kaeng National Park, he learned earlier on this Asia trip, how to safely operate a 4WD car on less than perfect grounds.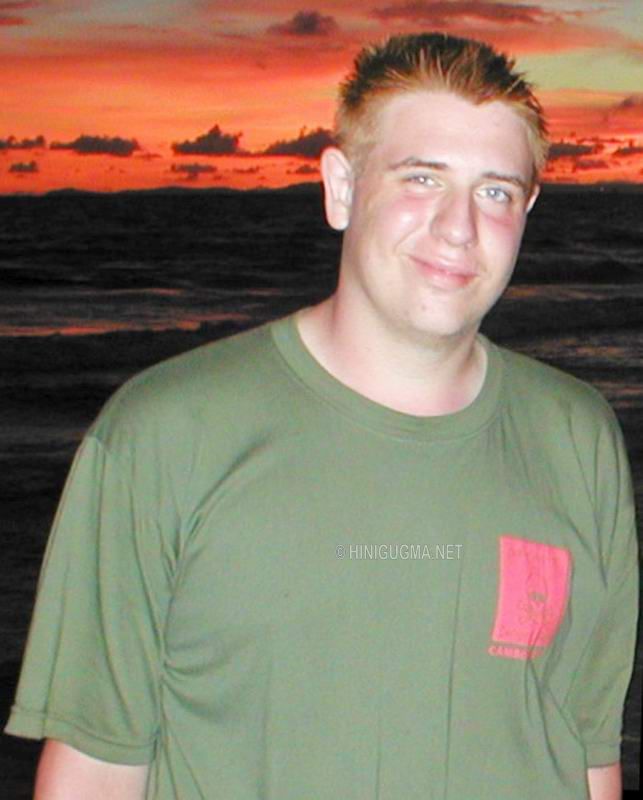 That called for a little celebration back at the guesthouse. Too bad, that we did not have much more time together. A few more weeks, and he would have been riding my big bike!
The ice he organized from a drink dealer, had one minor disadvantage – it came in one friggin' big piece!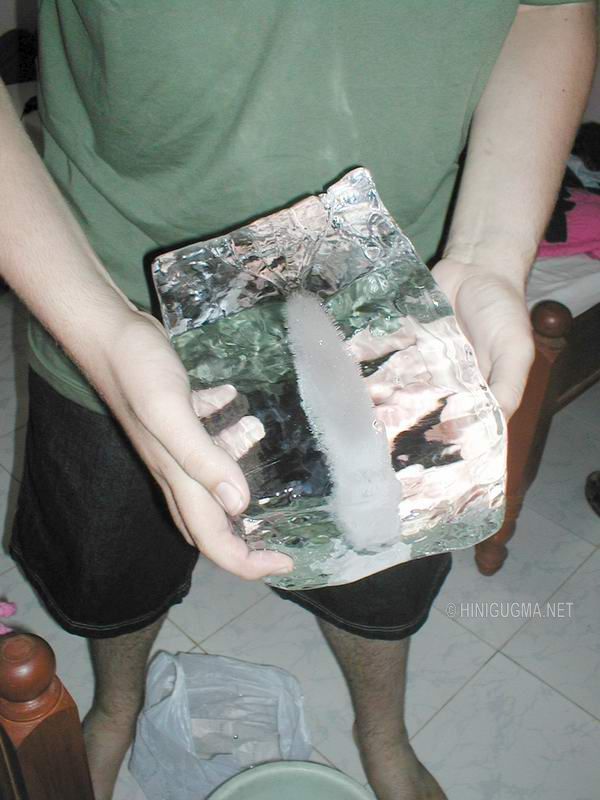 But with the help of borrowed kitchen tools, we overcame that obstacle as well.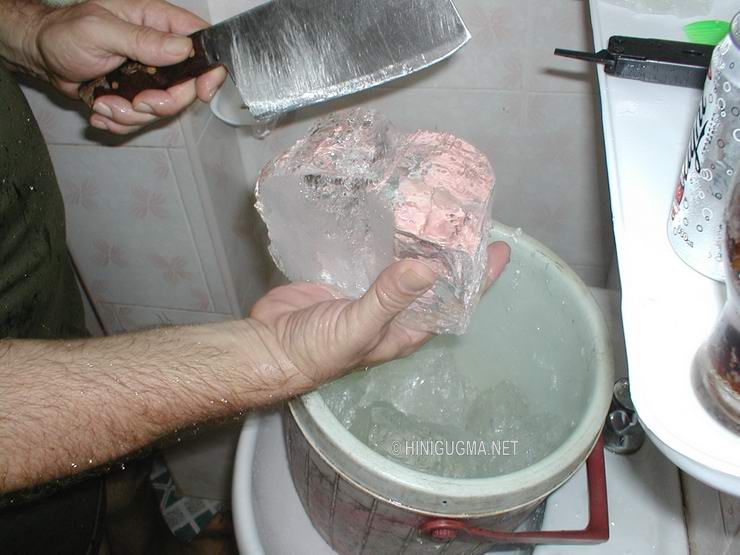 The following day was filled entirely with a very long road trip home. My tired biker boy didn't get enough sleep during the night, and used the chance in the minivan to Koh Kong. First it was all asphalt coated road and a smooth ride.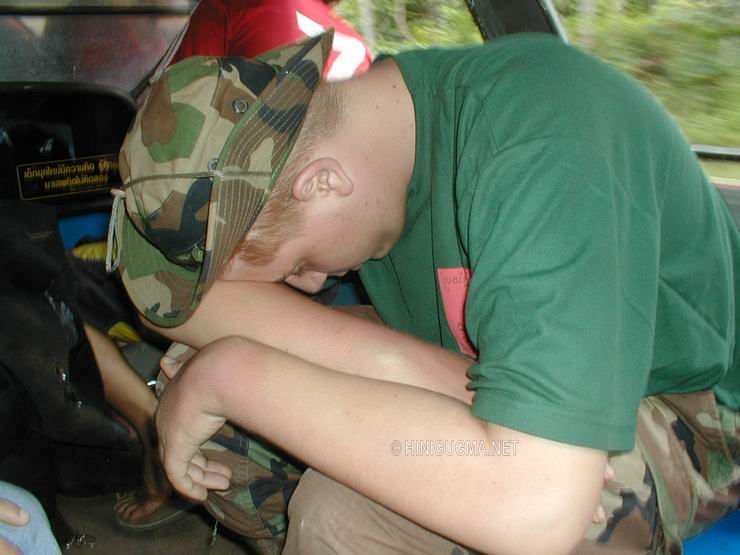 But his napping time was over shortly after, when we hit this road condition:
All the remaining way to Koh Kong, that road was a pothole filled mud track. Today it offers a smooth ride over bridges. Franky still witnessed the dirt road and all 4 ferries in between.

We had a 7:00 AM start in the morning, but barely arrived at the border in Koh Kong by nightfall. The night bus from Trat brought us back to Bangkok, where we arrived around 05:30 AM on the next day. It was a full 24 hours since we started, until we arrived at my home in Pathum Thani. But we didn't regret anything at all.
Franky had to continue with his studies soon, it was a great time with him, here in a rural part of Asia.