© Frank P. Schneidewind

Attention, dear readers!
The following report is not suitable for minors,
viewers discretion is advised
It contains some pictures, which viewers may find disturbing.
Please switch to any other of our reports without scrolling down, if you like animals, such as dogs.

The last road trip in mid December of 2010, was not without surprises. We were zooming around in Battambang province and scouted for some new sources of things we needed. The area bordering Thailand and Pailin province, was ours to explore once again. An older Toyota Camry was hired to take us around in this thinly populated area. Once a Khmer Rouge hideout, real civilization advances have not yet found their way here and things are like in the old days minus the gunfights, landmines, ambushes and kidnappings. This area has been longing for a lasting peace for a very long time. Khmer Rouge guerilleros are a thing of the past now and developments begin slowly. Nearly 30% of the villages here, are said to have electricity now. Presently the roads and bridges do see a lot of re-modeling and re-surfacing. Not all villages have access to clean drinking water, but nobody needs to starve anymore. The fields are green and agriculture is booming everywhere, where the earth allows for it. Corn and sugarcane plus rice accounts for most, of what grows here.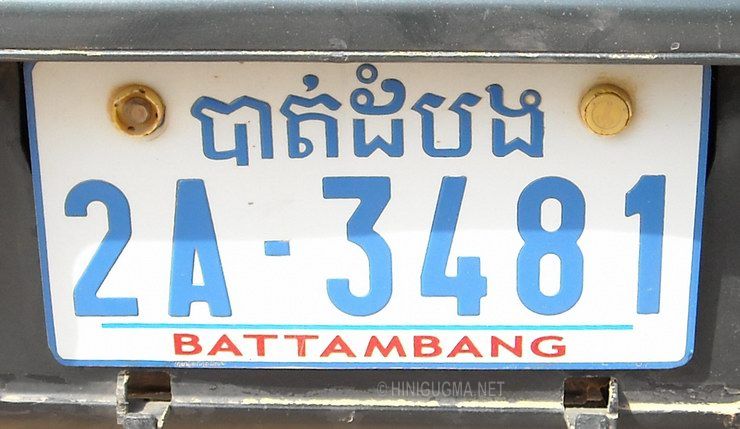 The border area here is one of the most densely mined areas on the planet, it is much better now than just 5 years ago. Guns and artillery are silent now and the folks here can return to their normal life. Occasional villages dot the countryside, while most traffic on the dirt roads between communities is taking place on mopeds. Cargo loads are still often transported by pushcarts or oxcarts. Two border crossings into Thailand have opened up, not too long ago. The northern one is at Baan Laem and leads to Battambang, where the southern crossing is for traffic from Baan Pakkad to Pailin at Phsar Prom. We choose to enter Cambodia via the northern border post, as Battambang was our primary objective at first.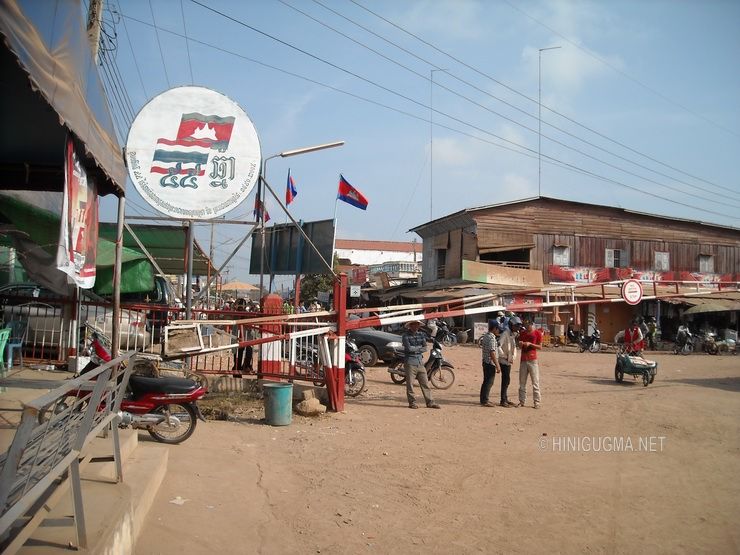 To find suitable transport for us, was a task more difficult, than anticipated. But we succeeded at last and hired us a set of wheels with two drivers. One drove within Battambang province and the other one took over at one of the police roadblocks closer to Pailin, he claimed to originate from there. We planned to cover the distance between Battambang and Pailin off the beaten path, but one no longer needs an off-road bike to do that (remember my ruby-shopping trip a while back with Stefan?). Cambodians, by the way, use the left side of the road, a version that I grew up with and was also used to from Northamerica. The car originated from the Bay Area in California, as some old service stickers on the windshield told us. Who knows how this one made it here, clear on the other side of the world. I personally wouldn't wonder, if somebody in Oakland or Berkeley missed this jalopy a decade or two ago.
This one had at least some plates, which allowed him to leave the police district. I very well remember those days, when vehicles of all sorts hardly had license plates. On mopeds, their Thai origin was always visible by some residue of the octagonal and round road tax sticker, the Thai government plasters on your ride. Stolen somewhere, smuggled here and off they went without papers, plates or anything. The rare cars back then had their steering wheel on either side, but this all seems to be a thing of the past now. A bureaucracy of sorts, has blossomed here in the boonies. The citizens today here proudly display their IDs, licenses and other documents with a plentitude of colorful stamps on them. It signals to them probably some return into normality. No longer you encounter roadblocks by dudes with AK 47s, demanding a road toll or passage fee, even the few bridges were free now.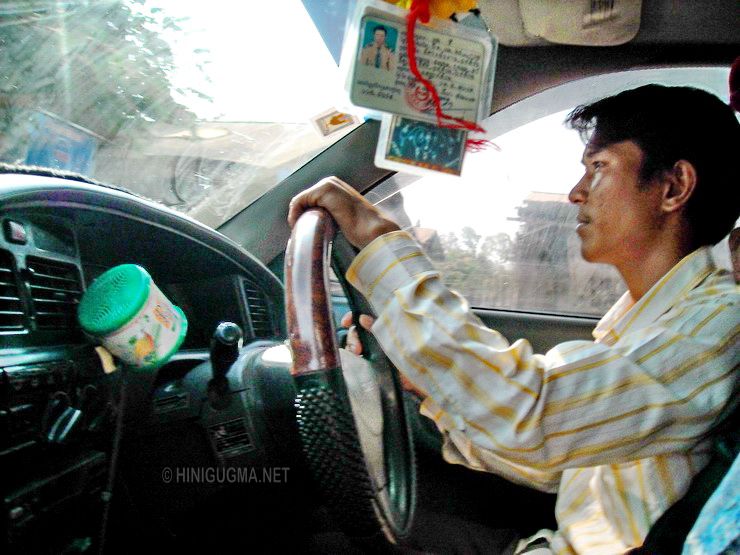 The Battambang roads were in a decent shape. But they gradually deteriorated, as we came closer to this province's border with neighboring Pailin.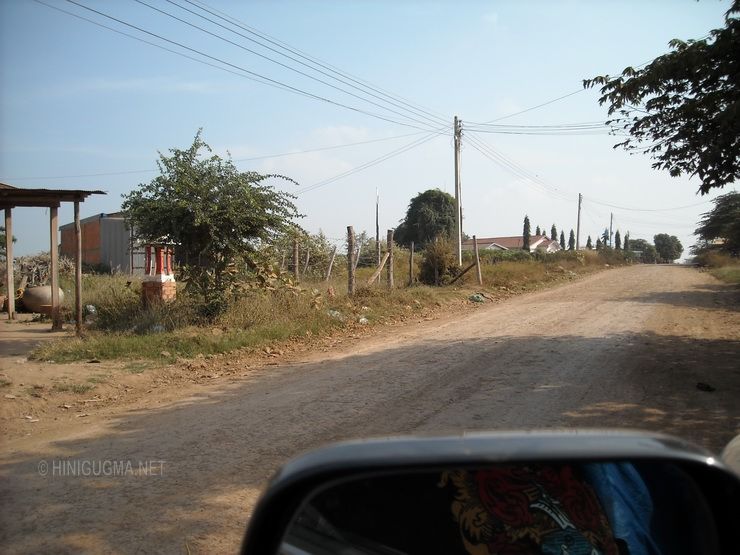 If bridges existed, they were one-lane only. They appeared fairly old and were often enough missing completely. Japanese, Korean and German road constructing equipment was seen operating in a variety of places along the way.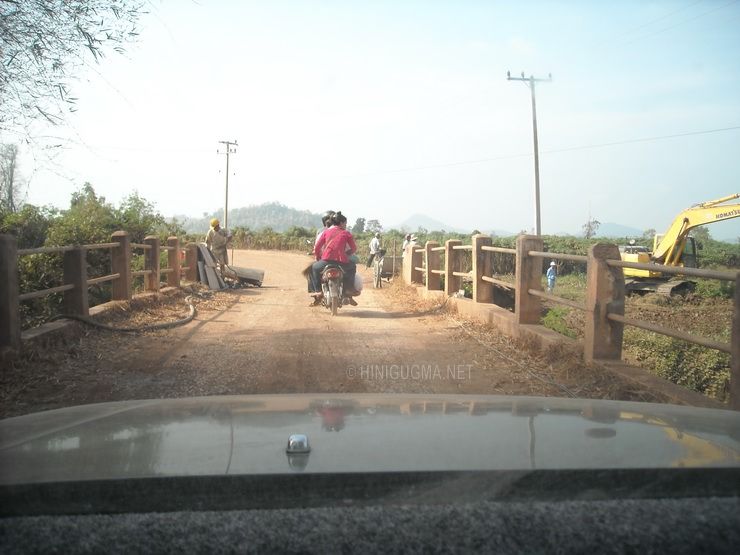 Once we reached the northern part of Pailin province, all road making efforts ceded and our dust trail grew longer from the loose dirt of the road surface. Cars and trucks do keep a long distance in between them, to avoid the dust trails from vehicles ahead.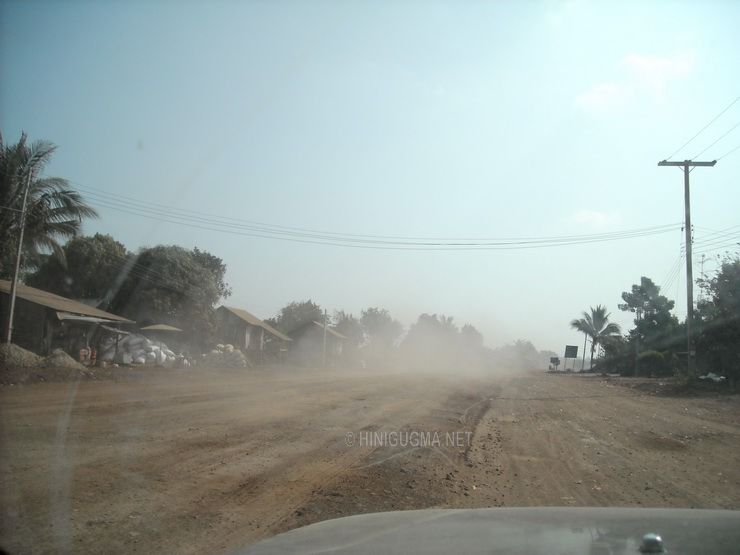 The houses were simply made along the way, wooden structures on concrete pillars, denote a possible flooding zone. Indeed, some dry riverbed nearby, may look totally different during the monsoon season.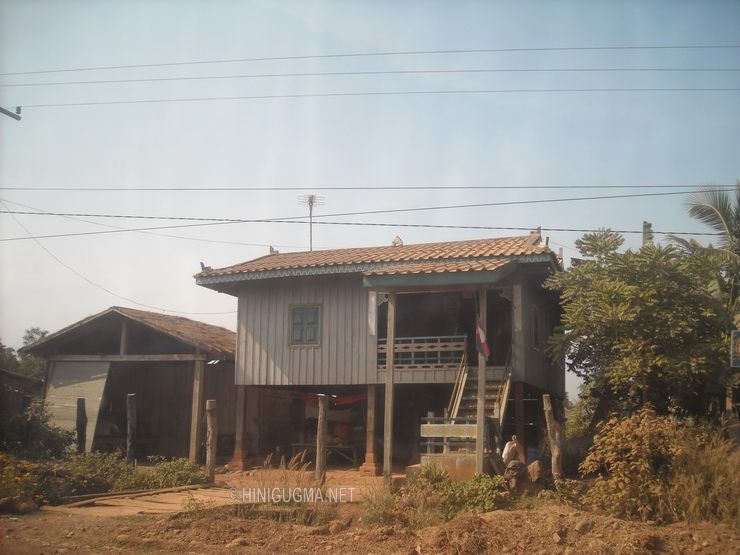 In some larger village en route, I requested a pit stop. We had to relieve ourselves due to the bumpy road condition, the drivers posed for me in front of our vehicle here: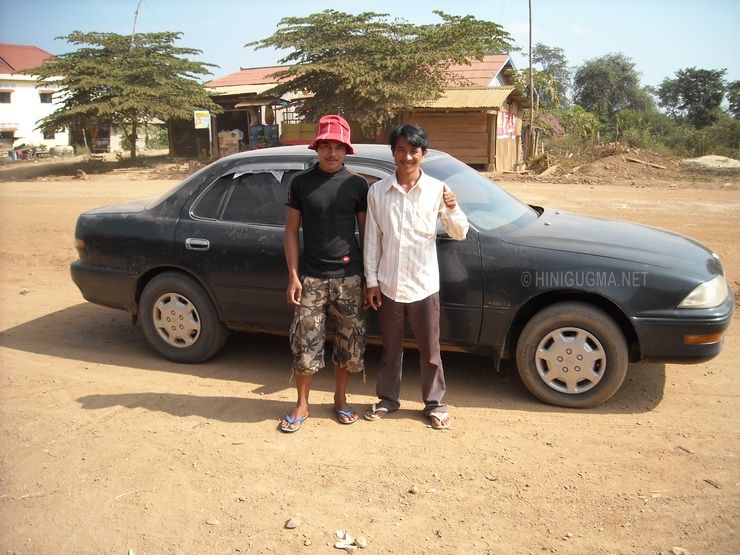 What looked like a regular roadside restaurant, was indeed one with the typical plastic furniture and several umbrellas to draw attention. We were allowed upon request to use their toilet facility out back.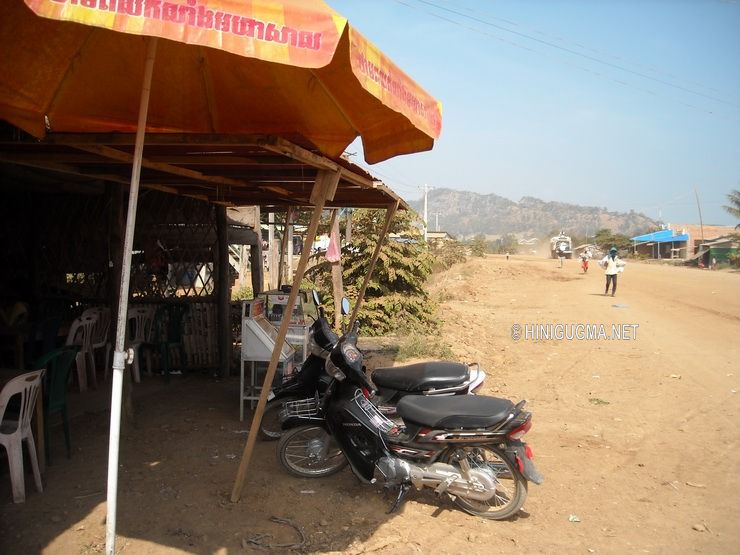 The restaurant here had their own in-house butcher shop behind the seating area. Chopping noises attracted my interest, when my bladder business was done. A row of crude tables were covered each with some plastic fabric, in the heat of the day, some stringent strange smell was barely noticeable. They were preparing for a day of business out front and preparing their meats here. The only thing that gave me a slight shock was the fact, that they were slaughtering dogs here!

Dog meat is nothing unusual in Asia. The poorer regions of Laos, Vietnam and Thailand and Cambodia are well known to serve dog meat. With Chinese and Korean folks topping even that, by eating any 4-legged protein, including cats, monkeys and rats.
I consider myself a dog friend and felt awkward. But for these poor folks here, their choices of any protein source is fairly limited. Pig and cattle farming hasn't caught up here yet and I have witnessed dishes in Cambodia, made out of snakes, scorpions or even huge spiders. Communism gave them mass murderers, kid soldiers, killing fields and concentration camps – but no food, infrastructure improvements or civilization advances. Only land mines, that will maim innocent citizens and kids for another hundred years.
Nothing gives me the right to vent my anger or ridicule these villagers. They survived 30 hard years of war, followed by civil unrest. It probably took odd measures to come this far for them. Not 30 years ago, their people died in large numbers due to malnutrition, if not by landmines (this is the most densely mined area in Southeast Asia) or at the hand of a Khmer Rouge (the freak communists, that killed two million of the population of seven million here). Walking back to the waiting car, there was another dog still alive on the road. I hesitated a moment and had to resist picking him up and take him somewhere safe. He appeared friendly, but may be the subject of tomorrow's menu here at this restaurant.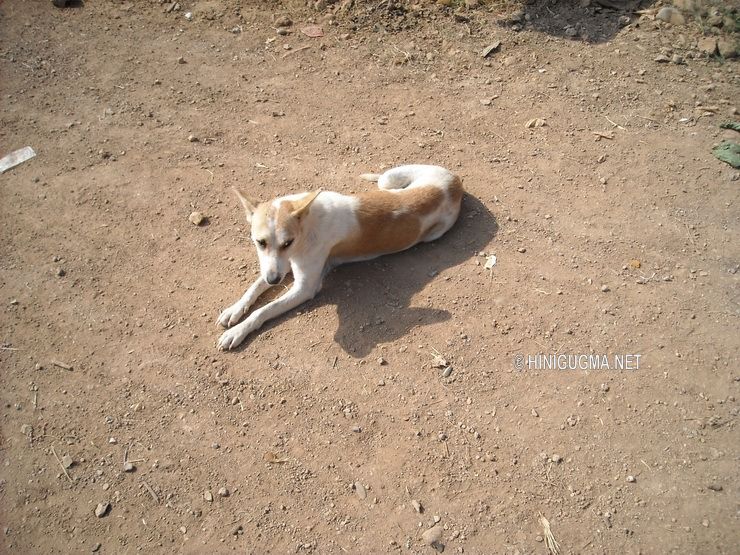 The road widened up and a few more villages were passed. The last leg of the journey was ahead now.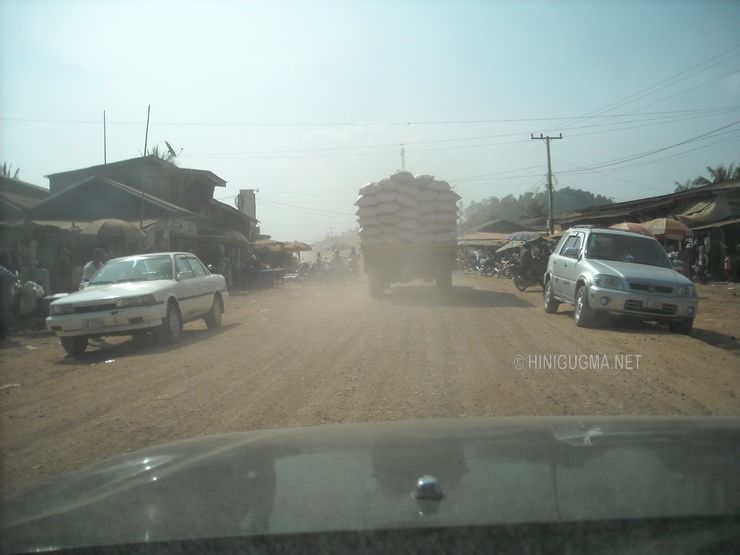 Under a blue December sky at temperatures exceeding 30° degrees (+86° Fahrenheit), the final 10 or 15 Kilometers were done on a single lane dirt track.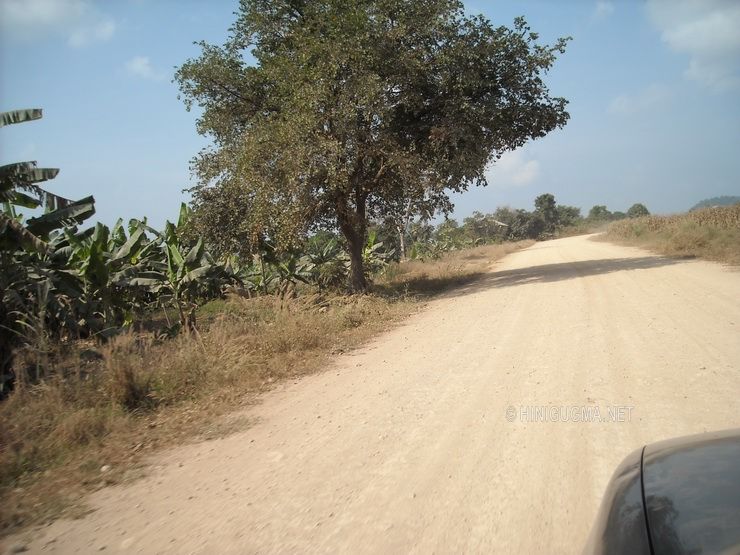 We arrived at our destination for the following 3 days in Pailin at the Psar Prom, where we were scheduled to meet with some more friends.