© Frank P. Schneidewind
This trip with my Austrian friends started more like a nightmare. The ordered chauffeur for a planned 6 AM departure at our starting point near Bangkok, did leave us waiting and overslept his alarm clock. So he told us, when he finally showed up two hours late! 6 friends were about to disembark on an eventful trip to Cambodia, 5 of them have never seen the place before, I acted as the organizer and guide.

We made it to Had Lek, the southernmost border crossing point from Trat in Thailand to Koh Kong in Cambodia. Our arrival there was in the afternoon, around 2 PM. Surrounded by touts, we kept our luggage together on one cart. Four guys guarding our belongings and I went with one guy ahead to organize our late trip to Phnom Penh. Six big guys do not fit into one shared taxi. So we had to scout for a minivan or two regular cars. Two styrofoam coolers contained crushed ice and drinks in cans. One for Chang beer and one for Coca-Cola. Harry was a beer addict and was constantly seen gulping another can down. This lasted into the trip, until the trays of Chang were finished, long before the ice had a chance to melt.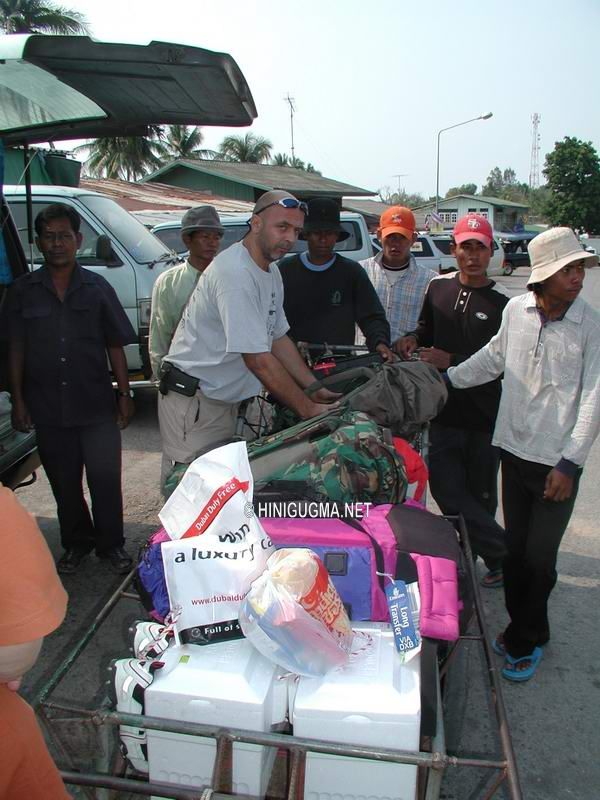 The border crossing took a while, as most in our group did not come prepared with a visa for Cambodia. Only Nicy and myself hat bought the visa beforehand at the Bangkok embassy for 20 $ a piece. The rip off fee here was 1.200 Baht, a common procedure to extort money from tourists at the borders. Twice the amount and a waste of at least 20 minutes per person. Our luggage remained on the pushcart meanwhile. Harry was beer-happy and Günther and Georg kept him silent. The processing of the visa took at least another 90 minutes, before we ventured on into Cambodia. Günther and Georg are the employers of Harry in real life, Martin was an old friend of them and Nicy (Hole-in-one) another former employee and friend. Nicy was the only one I really knew well from countless trips in Asia, Europe, the USA and Mexico together.
The next task was a bit tricky, as we had to find two cars for our projected transport to Phnom Penh. We had a few hours of daylight left and surely did not want to get stuck in the sleazy brothel town Koh Kong, which was about 5 km south from the border. Touts at the border made it impossible to talk directly with any drivers. That would have equaled a hefty surcharge (tout-commission). So we resorted to hire a pickup truck with small benches (songtheauw in Thailand) for the short ride away from the tout hot-spot and went to Koh Kong City in order to locate a possible tout-free taxi to transport us at the regular rate. In tout matters, any type of evasive action is the preferential treatment!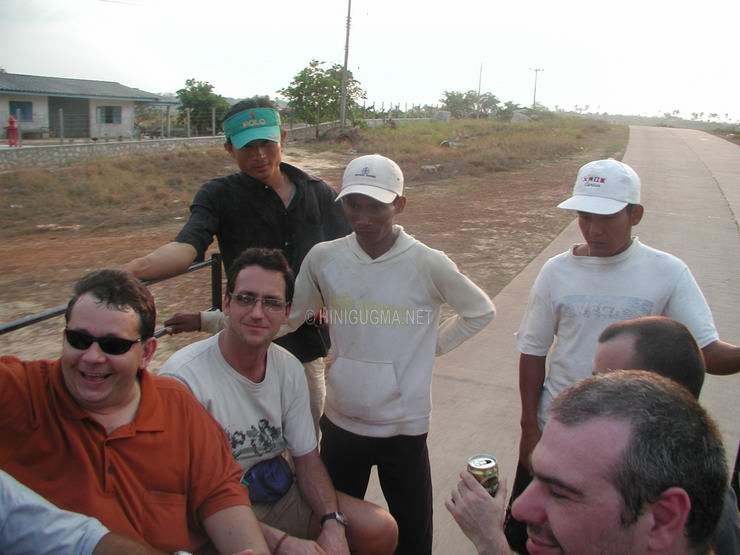 The taxi hiring was indeed a smooth process, as we spotted some taxis waiting on the roadside before hitting town, just after crossing the toll bridge. Two cars that wanted to return to Phnom Penh today for a combined 50 $, a great deal if compared to the border fees. At the border one taxi was offered for 50 $ and a minivan for 90 $.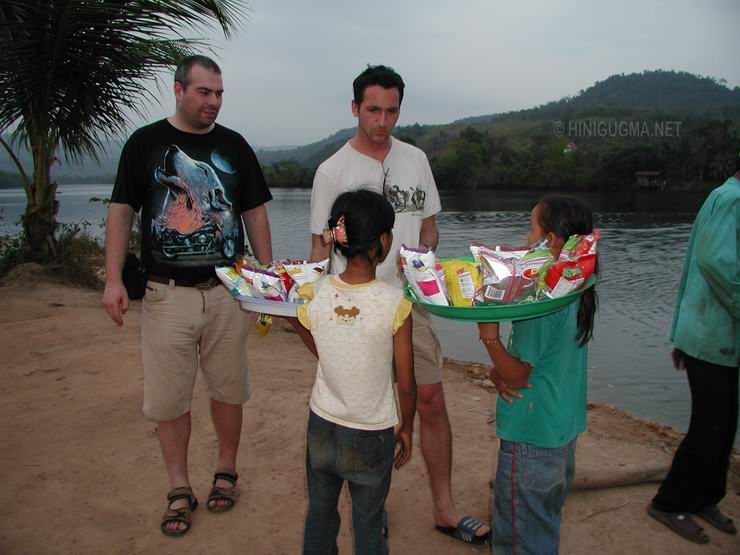 The drive took a long time as not all bridges were in place. Ferry crossings gave us time to stretch our legs as the daylight hours came to an end. Above pic shows Nicy and Martin, dealing with some kid selling snacks at a river bank.

Below you see intoxicated Harry, clinging to Georg to avoid falling into the dirt with on of his last cans of Chang.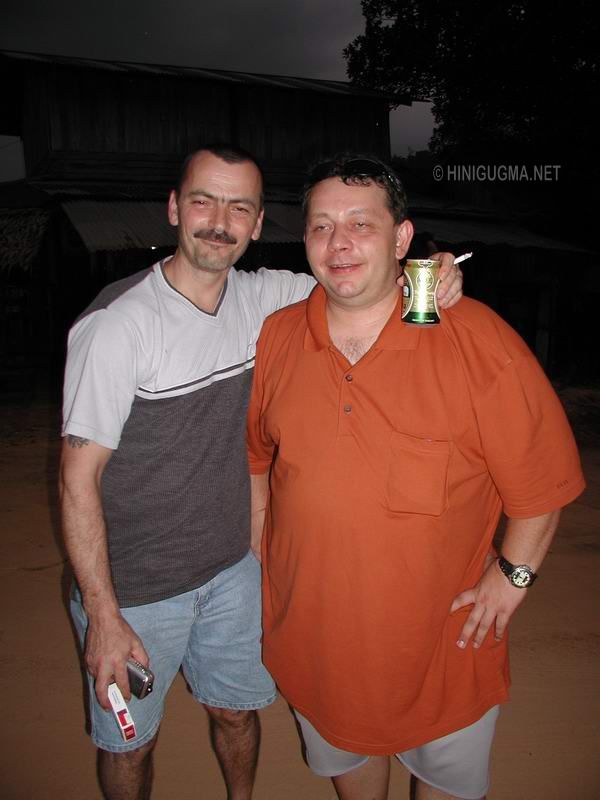 We made it and arrived at the Angkor Int'l Hotel around 9 PM, a bit exhausted from the long trip. We got a good nights sleep, because we all planned to start into the real journey on two wheels each on the following day, very early in the morning. After a quick breakfast, we took motodups (motorcycle taxis) for 2.000 Riel each (0.50 $) to Lucky! Lucky!, one of the leading dirt bike rental places in town.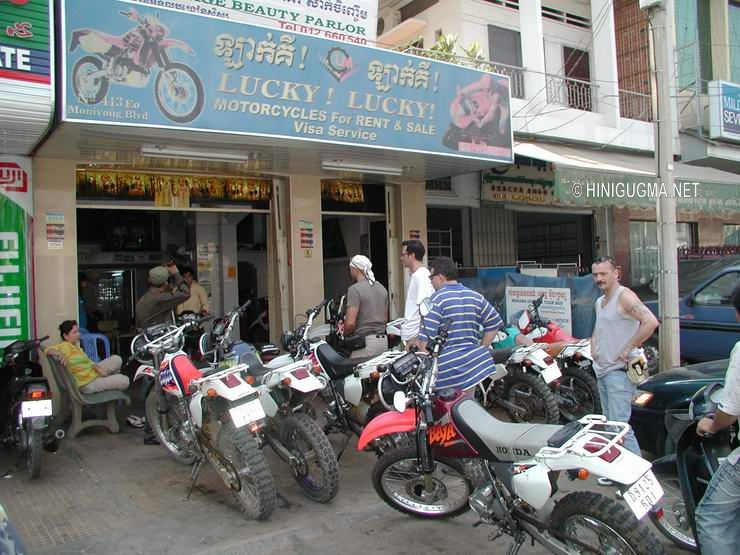 We all ended up with two wheels for the next few days and did some exploration of the outlying areas around Phnom Penh, returning nightly for our beds, a shower and some minor fun in the city.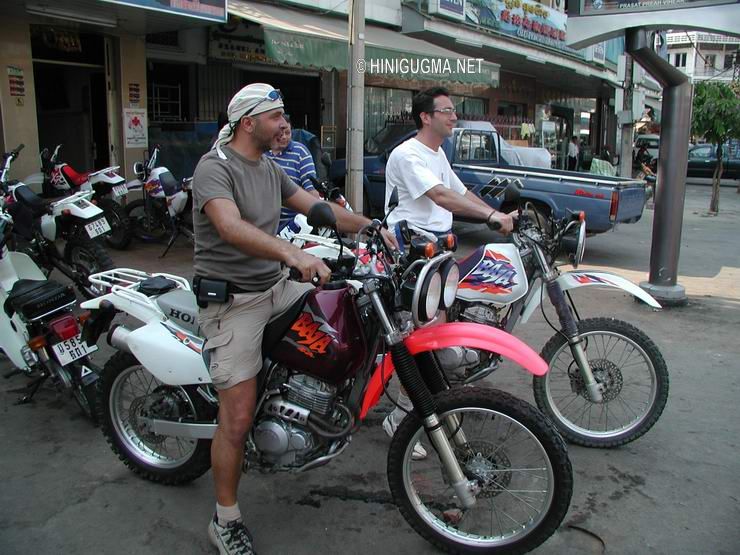 Our first cruise did lead us to Wat Phnom, the temple with the huge clock on the lawn, that gave the city its name. From here, we followed over the Japanese Friendship Bridge across the Tonle Sap River and explored the wastelands to the Northeast between the Mekong River and the Tonle Sap excessively.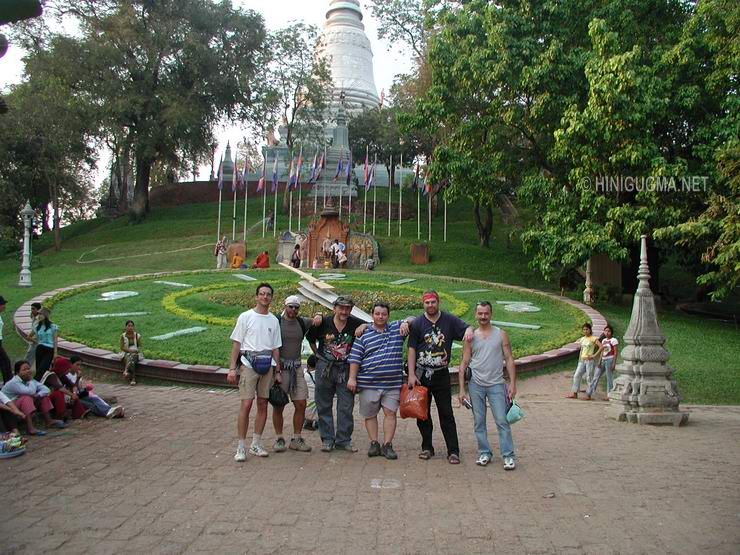 From left to right: Martin, Günther, myself, Georg, Nicy and Harry. Each one rode a dirt bike on this day. We made a stop at some fairytale resort in the middle of nowhere, where by coincidence, a true VIP wedding reception of Cambodian movie stars took place. Everybody was dressed in a rather festive outfit, but they did not consider the foreign bikers under-dressed for the occasion and invited us to partake.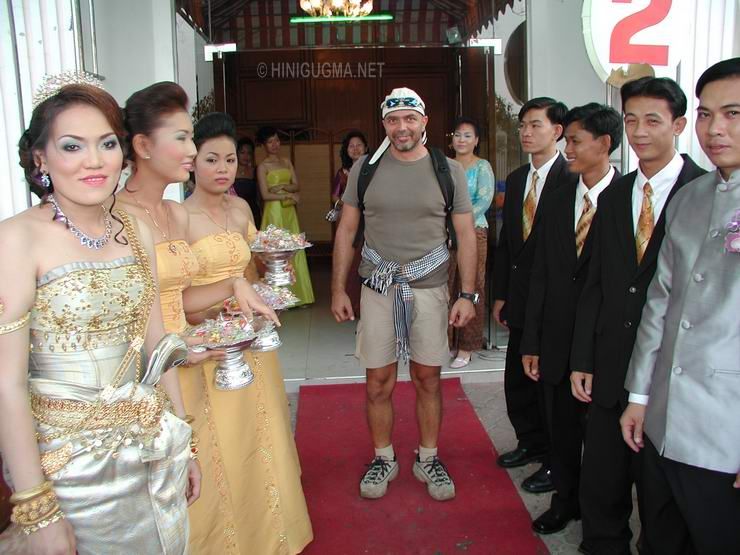 Nicy's butt was mega sore from the dirt bikes saddle, he and Harry traded down on the third day to a small motorbike, Asian style. Looked kinds cool, the huge 120 kg frame of Nicy on a small bike. But that is nothing, compared to our trail rides way back in Arizona and New Mexico, when he followed our Appaloosa equipped gang (full sized horses) on a donkey's back!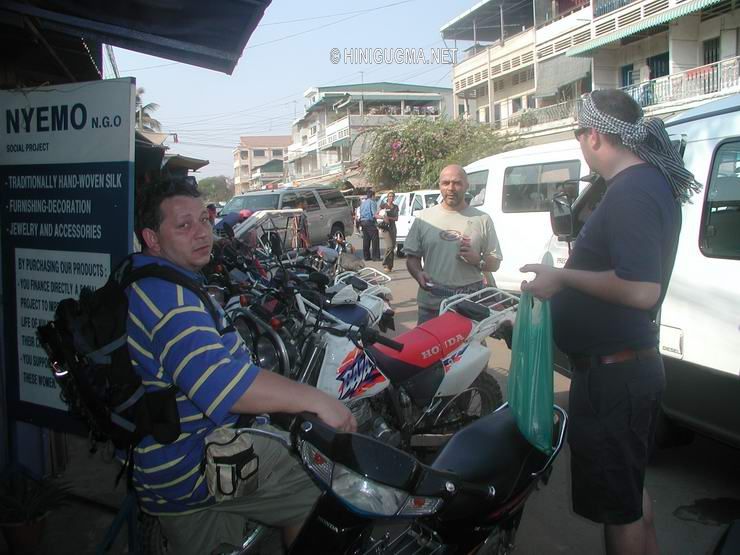 We explored our hearts out in all possible directions, went down the Mekong towards Vietnam, to the Killing fields at Ek Cheung and a lot of other places. Everything went smooth and we shared the fun of exploring history loaded territories.

The police back then had to be briefed on certain travel plans, because the military zones with their live fire exercises had to be avoided and also areas of congested traffic outside of town. Phnom Penh was cool, but once outside city limits (especially to the south, near Vietnam) things could get a bit iffy.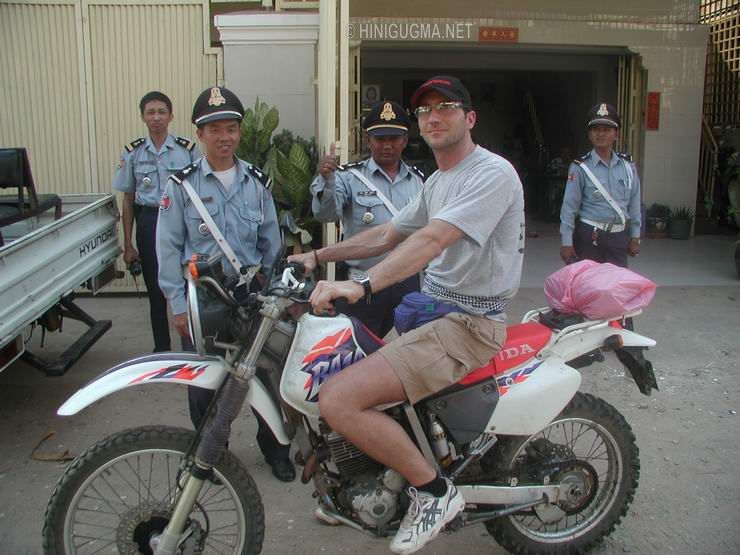 Nicy and Harry still trailed with their mini mopeds, which were chosen by all of in the next destination in a couple of days (Sihanoukville).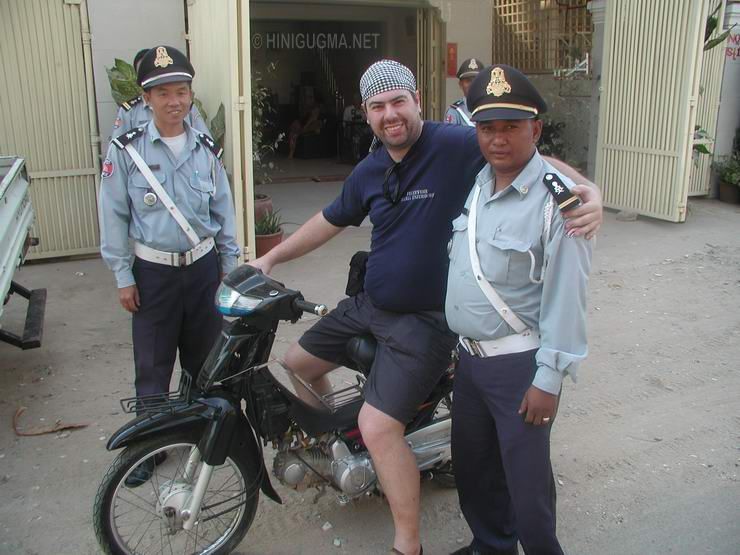 The infamous concentration camp S 21 was a last stop on our agenda in the capital. Our final meal at the Foreign Correspondents Club on the evening before our departure to the coast, was also the good bye for our friend Martin, who had to attend urgent family matters back home in Vienna.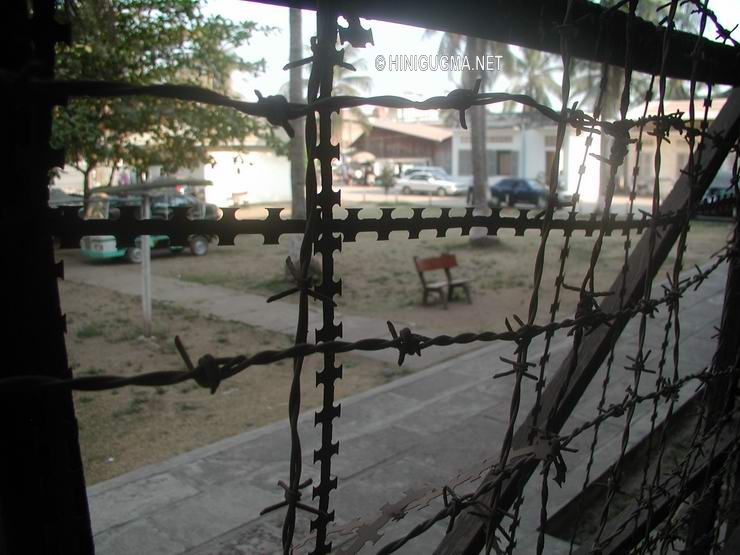 So us 5 road warriors left descended on the coastal town of Sihanoukville for the last leg of this journey. The GST bus ferried us the 200+ km in 3 hours time. Too bad we didn't have a camera on hand, when the hired tuktuk started overloaded with us and all luggage on board at the Angkor Int'l hotel with a full blown wheelie. The ride was uneventful and really cheap (3 $). We camped out in style for the remaining nights at a posh hotel near the lion's roundabout. The Golden Sands offered our crew great amenities, luxurious rooms, a pool and a breakfast buffet.

The setting here was a real contrast to what we experienced outside the gated compound and even at our previous residence in the capital.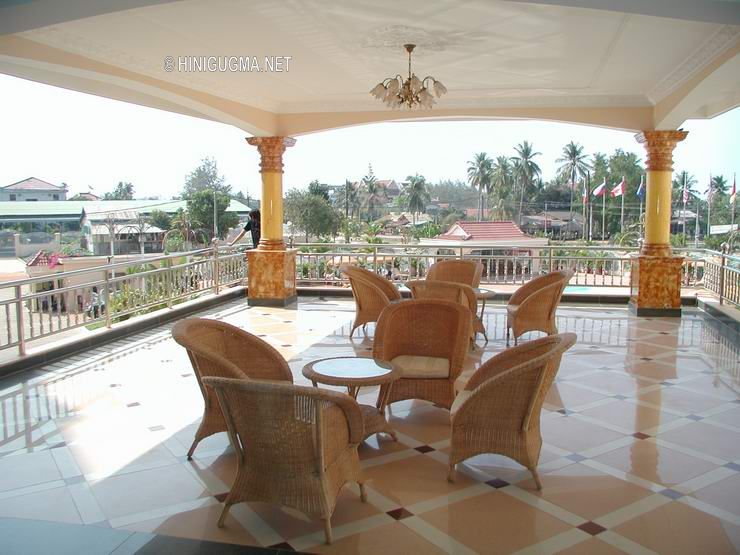 We geared up for more off roading and beach biking at the Golden Sands, five little bikes were rented quick. I admit, that I chose to wear long sleeves, because of the merciless sun.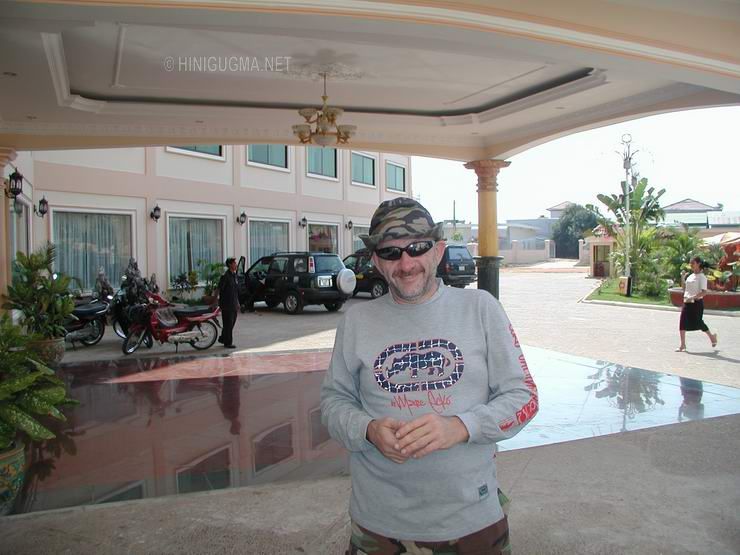 Back then, Occaheuteal Beach at our doorstep showed almost no developments, except for a handful of huts to the northernmost section, selling beer, booze and snacks. A great, empty and fine sand beach was ours to cover. 3 to 4 miles of it. Interested readers can check the pictures in another report, this is exactly the same beach, where I tought my oldest boy how to operate a motorcycle.

The hill between Occaheuteal and Otres beach to the south did have a dirt track back then, which is constantly being upgraded since. The only business on the entire Otres beach, was this young lady's "resort".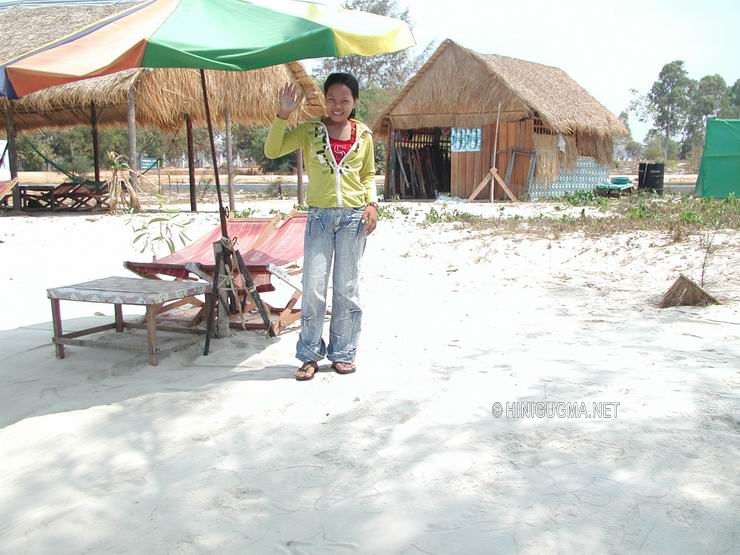 Nicy fell in love with the hammock by the surf, after the little lady had replaced the tie-downs for him. Our Austrian heavyweight did break the original set-up and crash landed on his butt.
The subsequent set-up was sturdier by far and even survived Nicy's snoring by the surf.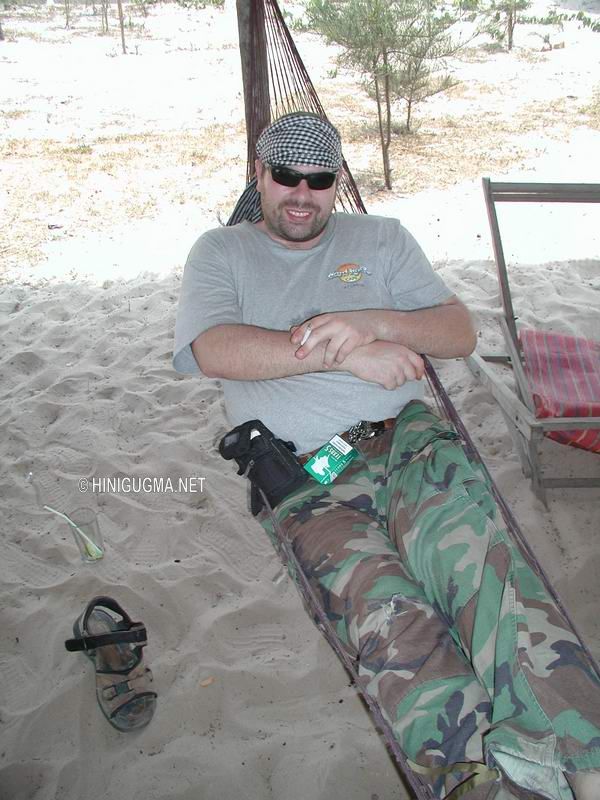 Sreypel, most Cambodian girls are called Srey…(something) as I found out earlier. Offered a huge, juicy pineapple fruit for one $. We shared it and loved the great taste. Sreypel was the little girl's older sister and she came helping the young sister to serve us.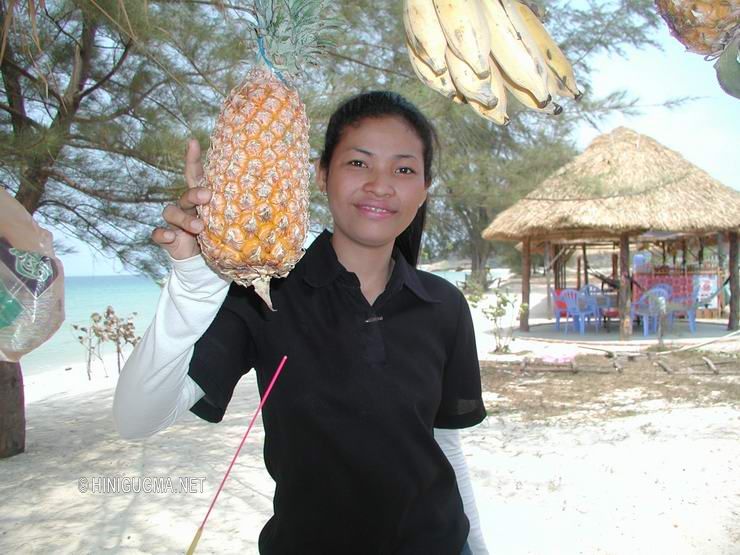 Harry found out, that Angkor Beer is easier to obtain here than Chang and gulped a six-pack in 30 minutes. He skipped a real breakfast and mentioned he liked a liquid one now.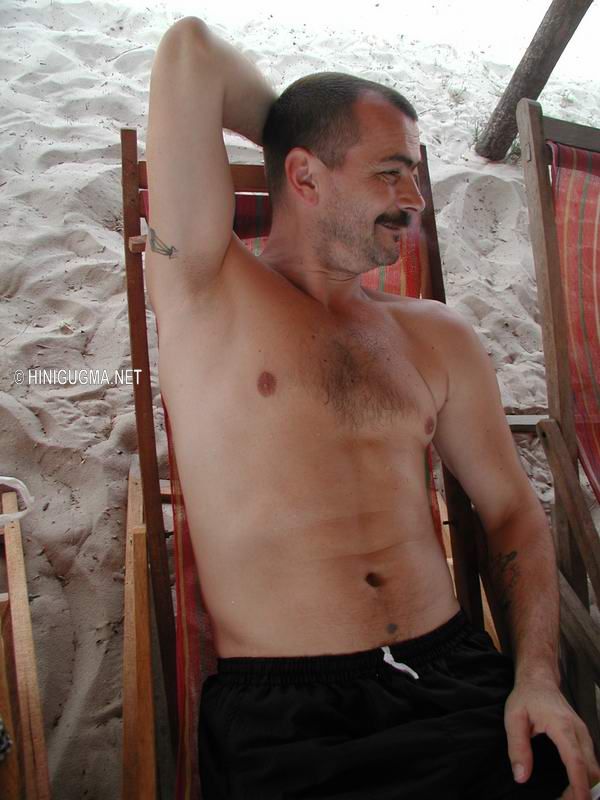 Harry retired in the afternoon, but us guys decided to let him sleep 'n snore right there. We had more to explore and picked him up a few hours later. The farmers in the back country here keep pet animals in an objectionable fashion, as the picture below shows.

We had an important task to execute on the following day. Visiting some de-miners (minesweepers) in a remote area near Ream Naval Base in Ream National Park in the morning.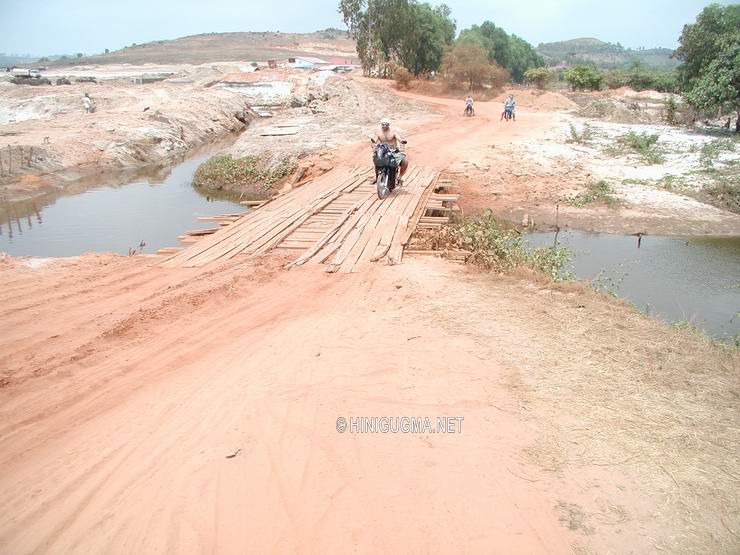 And returning to Sihanoukville that afternoon to deliver some goods to the amputee's hospital there.

We have hauled some surgical supplies, which were donated by a friend, who is a surgeon in Germany. Scalpels and cat-gut plus antibiotics and other supplies. These are hard to come by in this neck of the woods, where demand for this material is huge..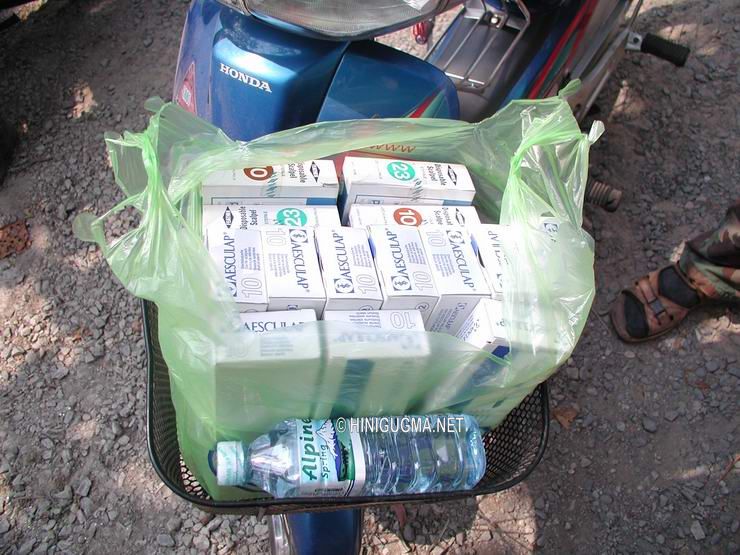 Three bikeloads were dropped with the surgeon on duty there.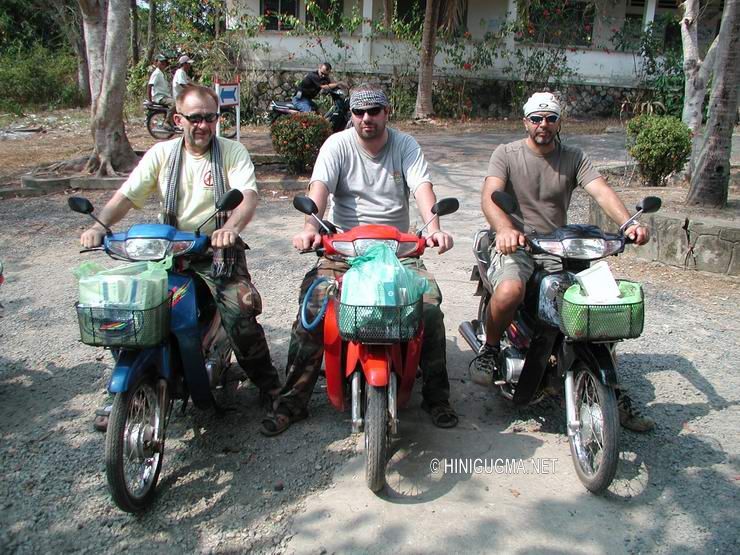 He was surprised and very appreciated the German surgeon's donation, that we hauled to him.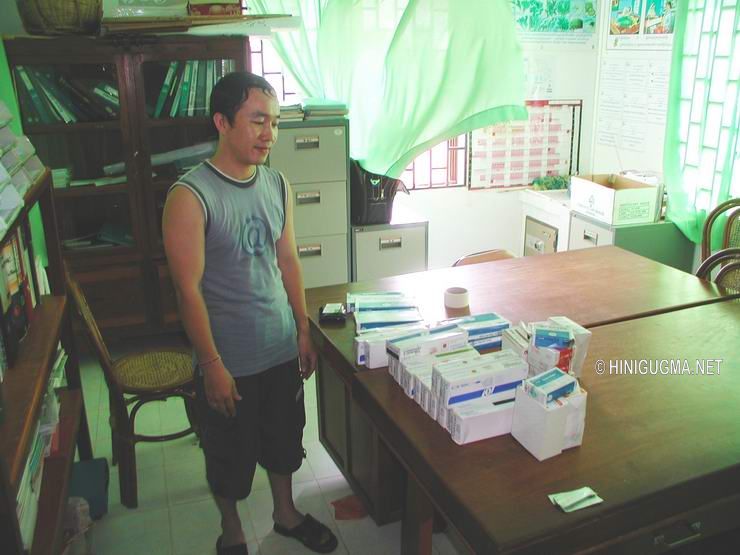 I knew too well, how badly modern sterile equipment is needed for their daily tasks here. Many landmine-victims here owe their limited mobility and sometimes life to the surgeons here, with very limited funding, resources and such. Make sure to visit them, when in Sihanoukville. They are within the hospital compound on Ekkareach Street between the roundabout and the 90° turn to the north on your right hand side.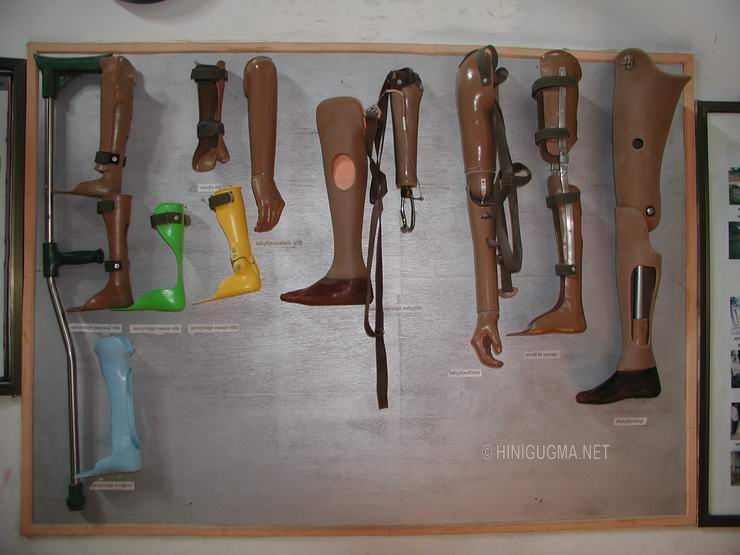 The very next day saw our departure from Cambodia. We took the bullet-boat at lunchtime to Koh Kong. One departure daily was the rule and surely, we occupied the boats top. Sitting in a stinking diesel fume-filled cabin on vinyl seating with limited breathing opportunities wasn't our cup of tea and singalong Cambodian karaoke entertainment did not tickle our fancy either.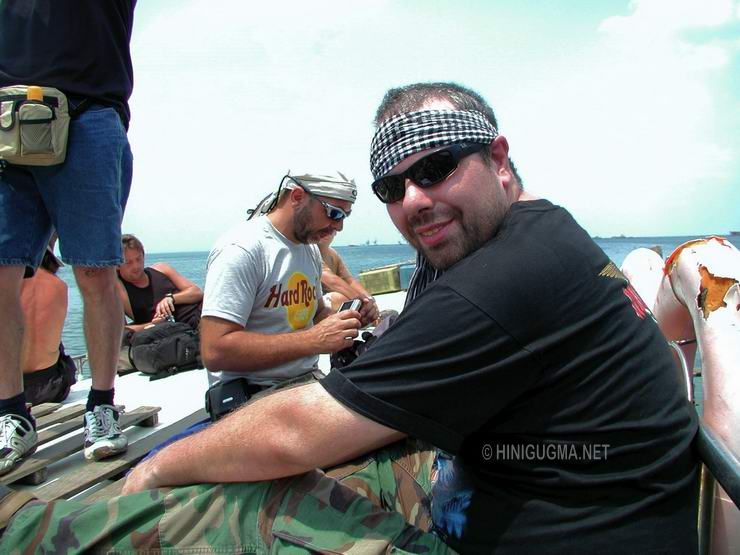 The "Wild Guys" episode one came to an end and may have a sequel with a more sober or restrained Harry. He was a bit too wild to handle at times and his unusual fuel consumption (he considers beer his sole fuel!) made things a little awkward at times for others. Nicy had always been a great travel companion and Günther was a really cool fellow. Too bad, that he spends most of his time on his yacht in the Mediterranean Sea, while Georg is tied up at their business, managing headquarters. Martin blended in well and helped effectively, keeping Harry out of trouble. I am quite sure that they returned with a heap of new impressions. Cambodia offers so much to see.