© Frank P. Schneidewind
The Koh Chang archipelago, also known as the "Nice Weather Island" – has become our new home for a while. The total number of islands here varies in number between 52 and 54, depending on which publication you refer to. Michael, the owner of the Top Resort, is known for his excellent knowledge of the island's opportunities. Early October is still considered "Rainy Season" in the tourist trade here, but matter-of-factly, the chances to get a sunburn are often higher then the chance to get soaked by rain.

As our group of friends was willing to take a chance, even if the sky didn't look promising, we headed out to populate an uninhabited island off the coast of Koh Chang. The tiny island of Koh Yuak was our selected destination for some decent snorkeling with a beach BBQ. We selected this speed-boat in Kai Bae: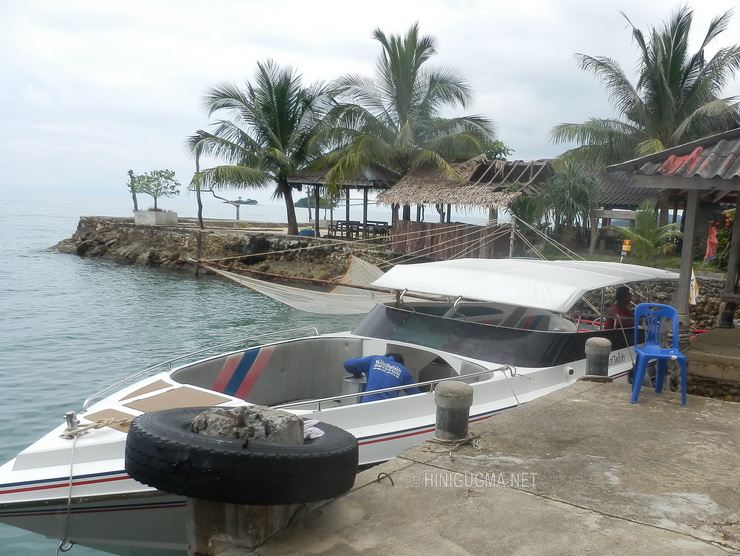 The drinks, food, grill and blankets had to be brought over, but with several athletic fellows in our group that was a manageable task to do. The giant ice-box contained cases of beer, cokes and champagne for the ladies.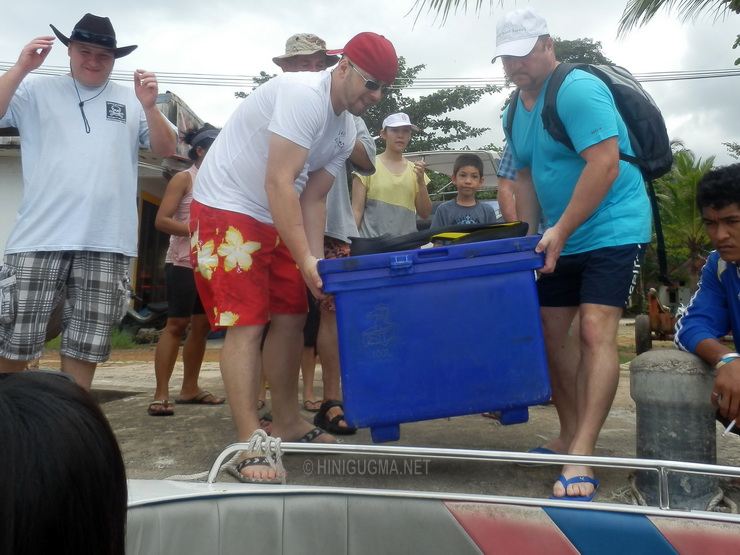 The entire party crew was soon aboard, and we ventured off to Koh Yuak. The orange cooler contained the sausages, meats and salads to feed hungry snorkelers.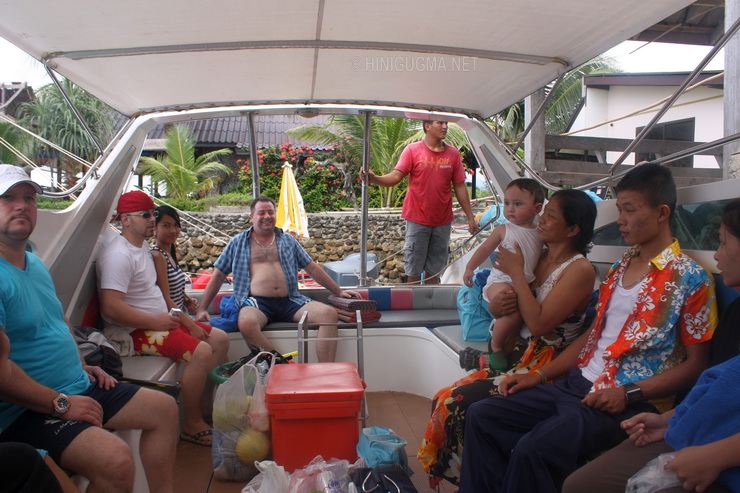 Michael and his youngest daughter Alisa enjoyed the breezes, as our twin engine outboard (2 x 200 hp) propelled us in no time out on the calm waters of the Gulf.

The sea was exceptionally smooth, which made the ride much more enjoyable. We carried toddlers, school kids and adults of all ages. Several entire families joined the fun day out at the outlying island.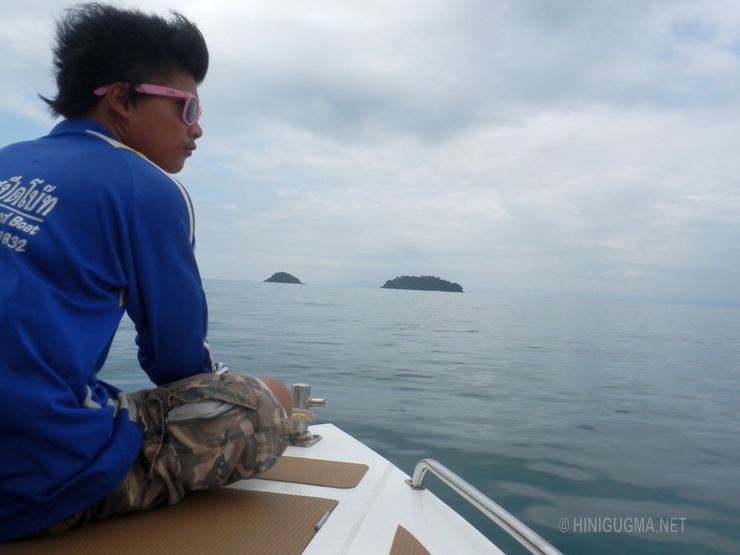 The closer we came to Koh Yuak, the more the sky brightened up and even streaks of blue sky became visible. The natural beach there is visible in above picture, the rest of this island is lined by rocks. It may be 100 m wide and 40 m across, covered with very dense rain forest.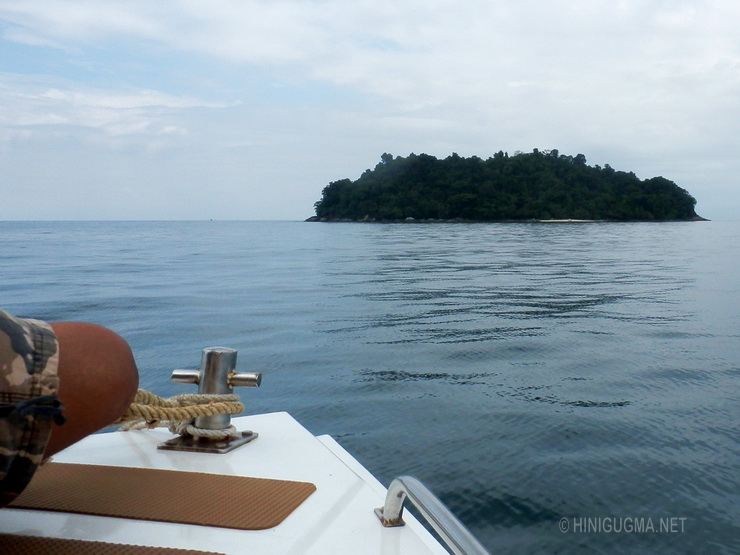 Deboarding was a piece of cake, as the skillful skipper navigated through the corals without a scrape to the hull. He dropped us off so close to the shore, that you only needed a short hop on dry, coral covered sand.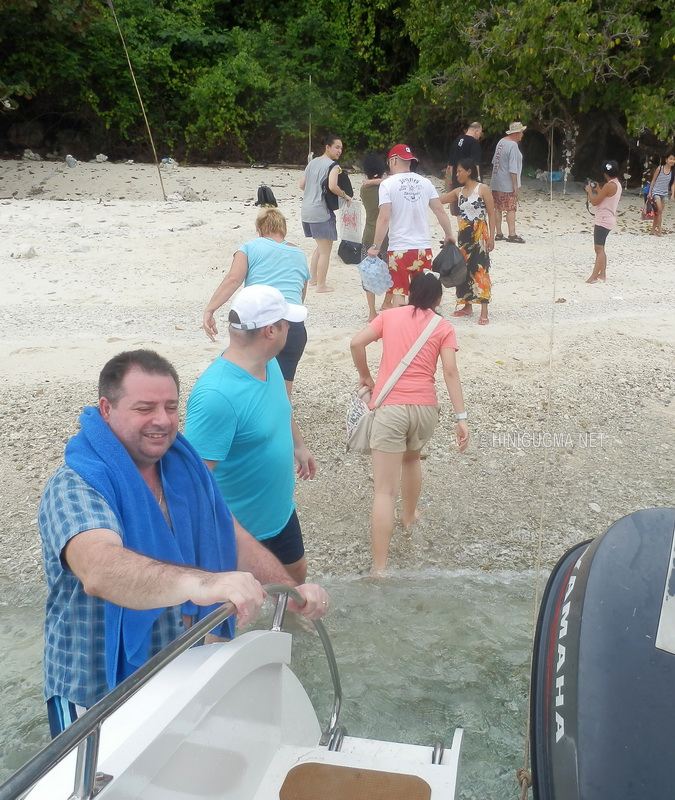 The natural beach didn't appear really clean at first glimpse, as plenty of dry leaves dotted the fine sand between the rocks. Plenty of hermit crabs were put to safe zones and trash bags were hung up in a few areas. We definitively wanted to leave nothing behind, but footsteps here – when we depart. The paradise was free of any trash and we also wanted to keep it that way!
Next came the snorkeling, snorkels, masks and fins were provided by the boat crew, we had vests for the young ones and those that wanted to circumnavigate the island. Everybody had much fun, the warm and clear waters plus plenty of reef fish everywhere, guaranteed a day out in nature, filled with impressions and new experiences for the rookies.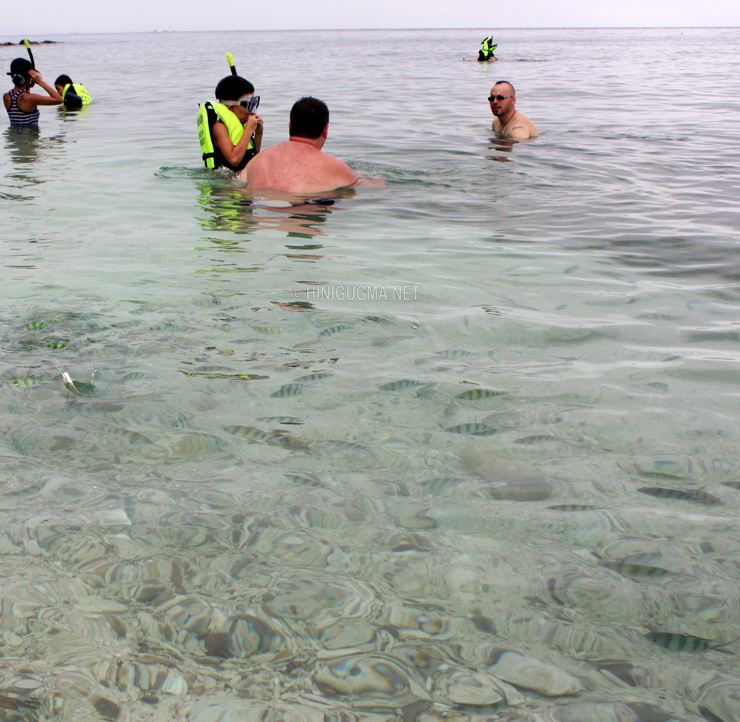 The youngest members of our team were watching the fish so close to the shore with astonishment. One could sense their eagerness to plunge in with the others. The ladies took turns babysitting, so everyone was able to partake in the fun.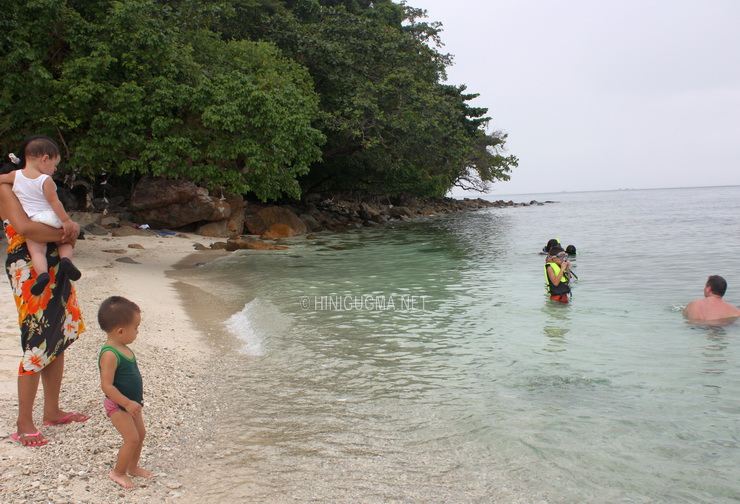 The fish out here aren't shy at all, humans rarely come here. The teenage girls must have felt like in the middle of an aquarium.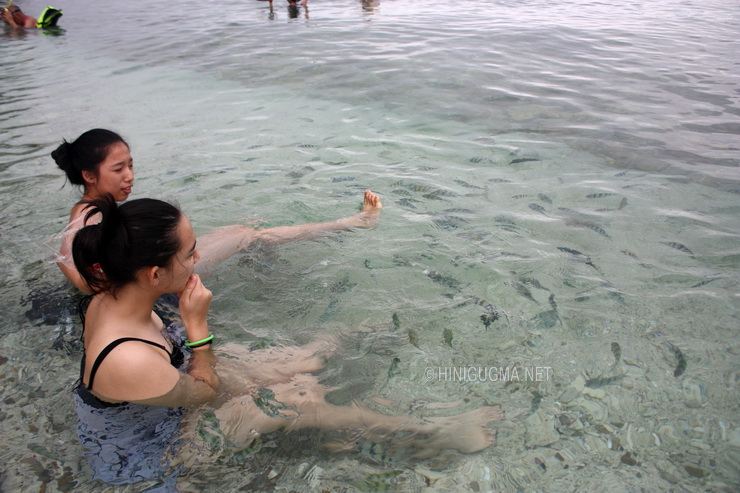 Previous visitors had strung pieces of reef rock to lines and hung them up in the trees here. These natural wind chimes added to the tropical flavor here.

The snorkeling was interrupted for snacks, whenever anyone felt like it. A large charcoal fired BBQ was to provide lunch and dinners later.

The thick forest behind seemed impenetrable, but provided shade at it's fringe for the needy. Even under a cloudy sky, one can quickly catch a sunburn here.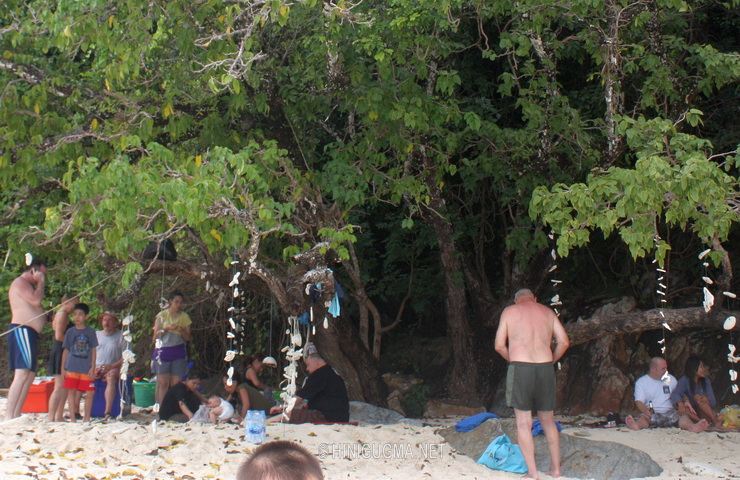 Jörg and Claudia used this last day of their dream holidays to the full extend. Their well tanned European skin tells you more about "Nice-Weather-Island", than any brochures would promise you for a stay here in the Rainy Season. They know much better now and we were happy to have them along!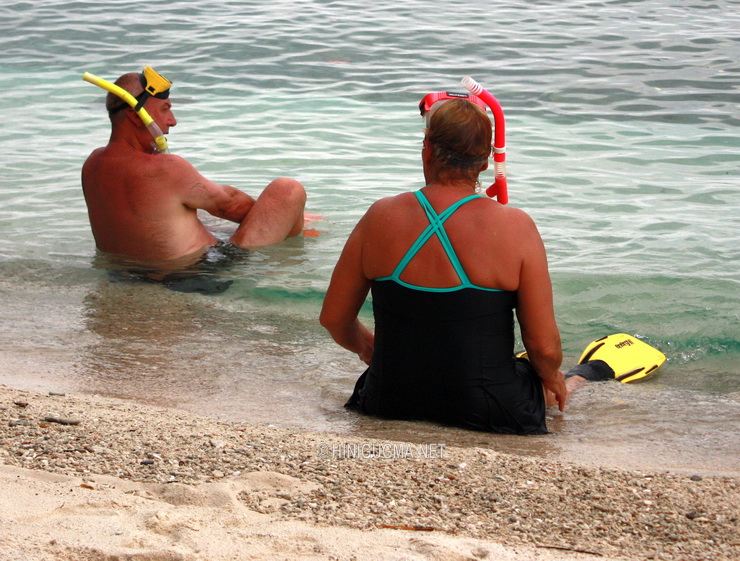 The wife and son of a well known German restaurant owner from Bangkok enjoyed a break from the smells and sounds of the metropole, too bad that they soon need to return to attend their Old German Beerhouse in Sukhumvit Soi 11 – and to protect their assets from a possible flooding there.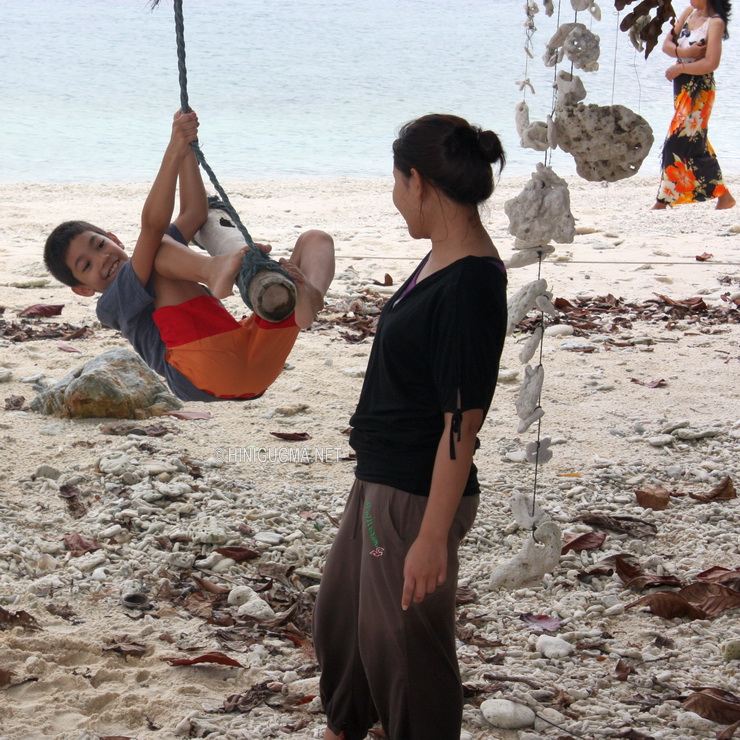 Bratwurst is almost a must at German themed BBQ parties, but we had chicken wings and legs plus a great assortment of fresh baked bread as well. The Foodland Koh Chang store in White Sand Beach proved again to handle all catering tasks extremely well!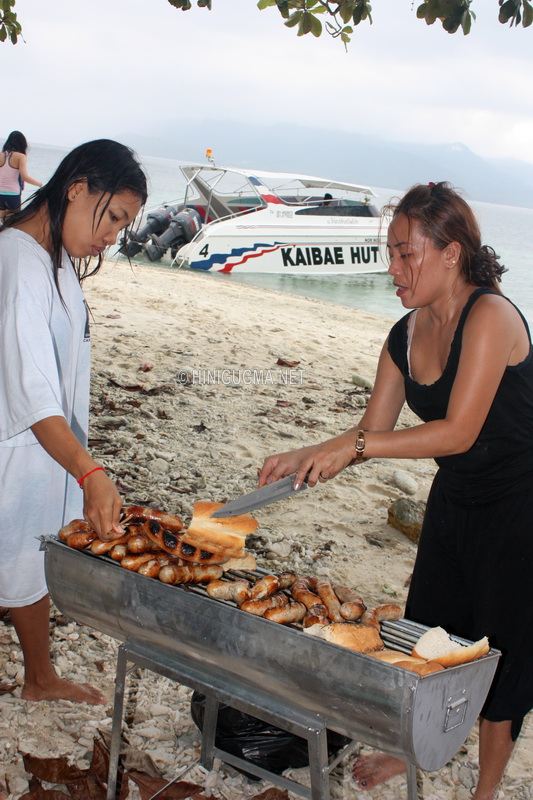 Next to Bratwurst, German beer is a must-have for the adults as well. Icecold Warsteiner's and original Paulaner, Erdinger Weißbier and Weihenstephaner, are not exclusives to Oktoberfest in Munich! We had our very own Oktoberfest here in paradise with water temperatures matching air temperatures at 28° C!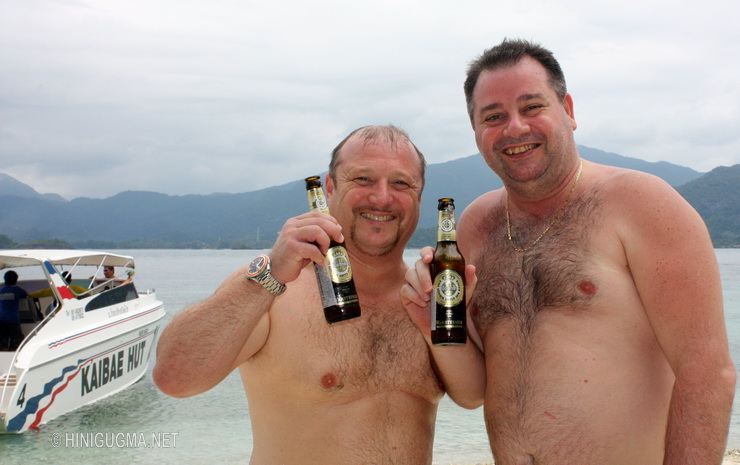 The sun broke through in full force occasionally, but we were lucky and mostly shielded by clouds. Some of which brought a bit of water from above, but warm monsoon rains here are not really a nuisance as in colder climates.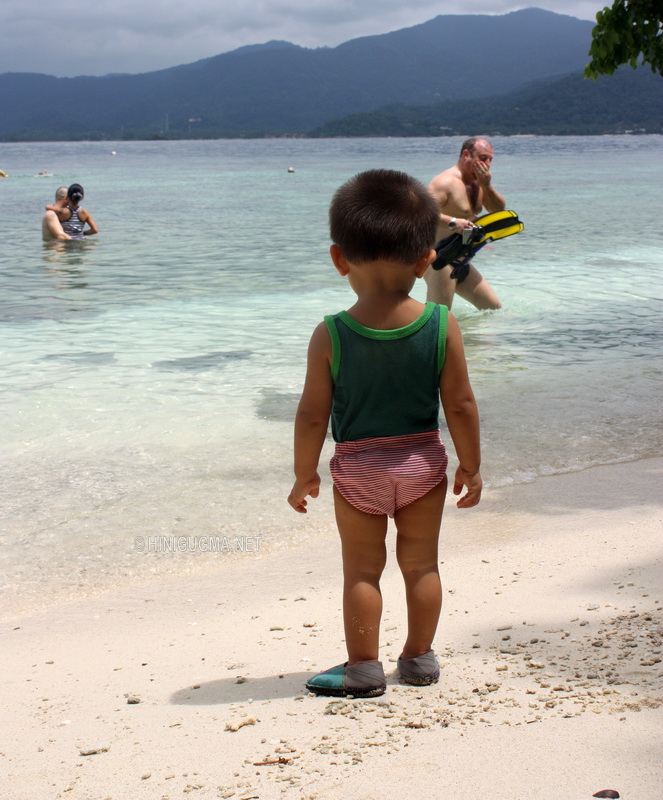 The waters around the Koh Chang archipelago are of almost unequaled quality and cleanliness in the Gulf of Thailand. It's color is a soft turquoise and the visibility underwater is outstanding. You compare yourself to the "other" tourist areas. We want to remain unbiased, since we did chose to live here after 12 years of traveling extensively.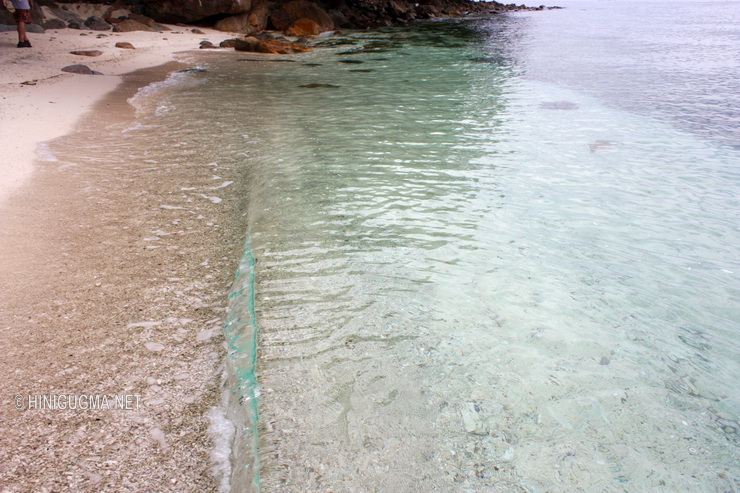 Jörg was keen on finding and spotting all kinds of shells, crabs and aquatic sea life forms.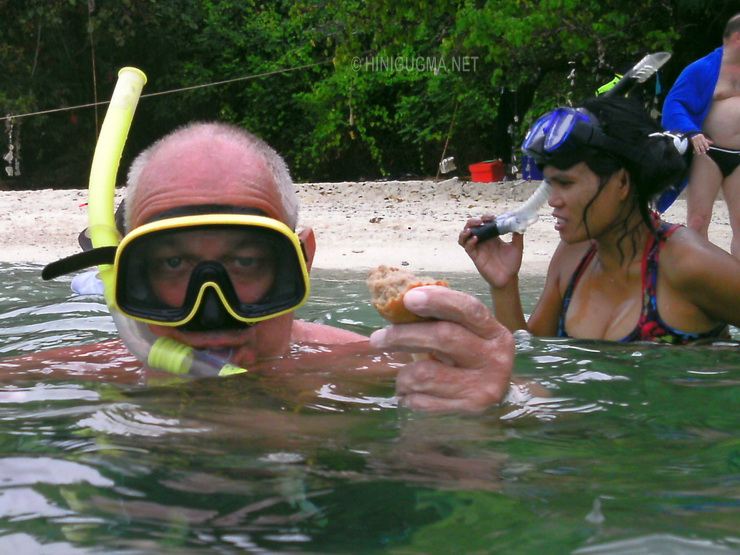 Ordinary bread makes a great food for the coral fish, and they all were eager to get some:

In places, the density of reef fish was really overwhelming and virtually covered the feeding person entirely.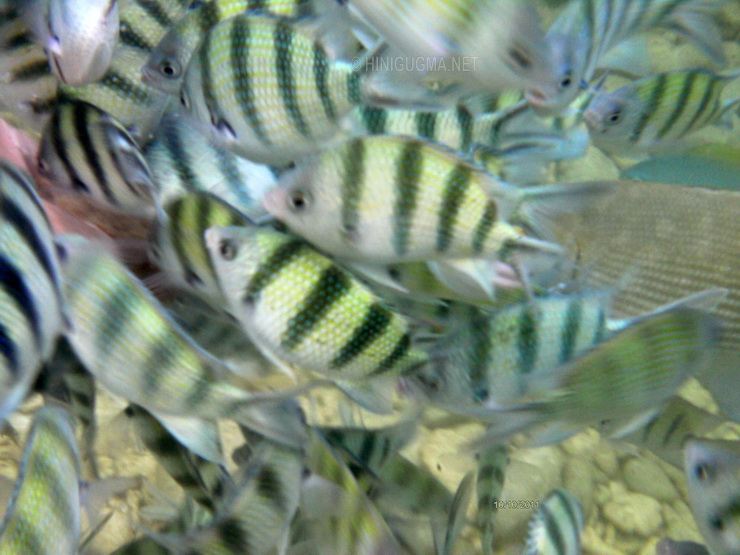 The boat boys enjoyed spear fishing further out, where it was deeper and caught some sizable marine delicacies for their own homes. Elen shows here one of the squids, these dudes caught bare handed under the boat.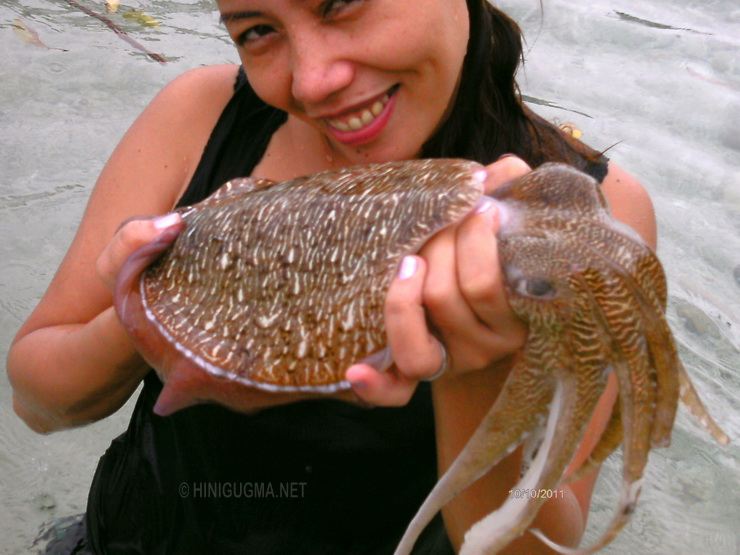 We will continue bringing you destination reports from all Southeast Asian destinations, although we may have a little overhang on Koh Chang now, after our relocation here. Stay tuned for more insider reports, photographs and travel reports. Interested folks are invited to join our "Koh Chang Ticker", a free service on facebook's platform to inform about ongoing events, current weather and other archipelago related issues, updated several times daily!