© Frank P. Schneidewind
We had recently chosen to travel to the airport from the city by Airport Link, an elevated rail system connecting Phayathai Station with the airport Suvarnabhumi on the eastern outskirts of Bangkok. Nobody can really tell, why the track doesn't connect to a major transport hub in the city. It's city-side terminal at Phayathai Station barely touches (connects) with the Skytrain BTS. There are 2 types of trains operating in schedules until midnight, one does only stop at the terminal stations city- and airport side (travel time 15 minutes) and is called Express Line. The other one stops enroute at 6 stations and is called City Line (travel time 30 minutes). Both stop at a station under the airport's main terminal building (shown below).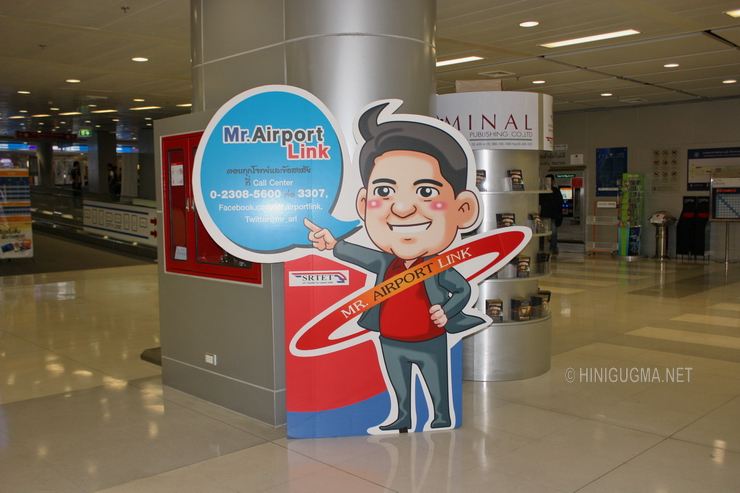 The ride costs a whopping 150 Baht per person on the Express Line and 45 Baht on the slower train called City Line (full length journey). Considering the need for an additional BTS or Taxi ride to the station, even a single passenger almost drives cheaper by metered taxi from the touristic quarters around Sukhumvit, Asoke or Silom and Sathorn roads! The massive station buildings are huge halls with very little ventilation. In order to reach them, you've got to climb up many steps or wait for a very slow and very small single lift. To use this train to connect with your flight or coming from one is a nightmare with luggage hauled along.
Luggage trolleys were nowhere to be found or seen!
For the most time, the security sherrifs were the only humans in this humongous hall around noon. A bit scary for single travelers maybe. These pictures show the Rajaprarop station, which is the next one from the terminus at Phayathai towards the airport. All stations look uniform and identical along the way, and you did guess it right – we did select the low budget option City Line. Boarding a future train from Rajaprarop to the airport.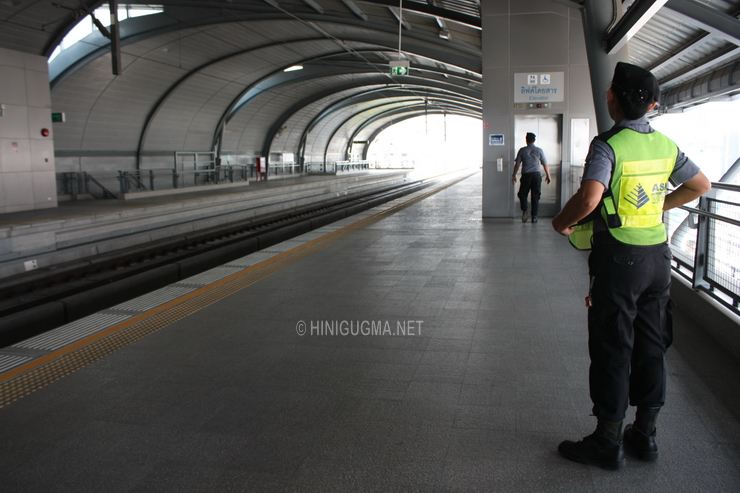 Meanwhile the opposite track hinted a sign of life with a City Line train approaching. But no one boarded it or exited here, we felt like staffers in a movie, watching a bad episode of a future flic.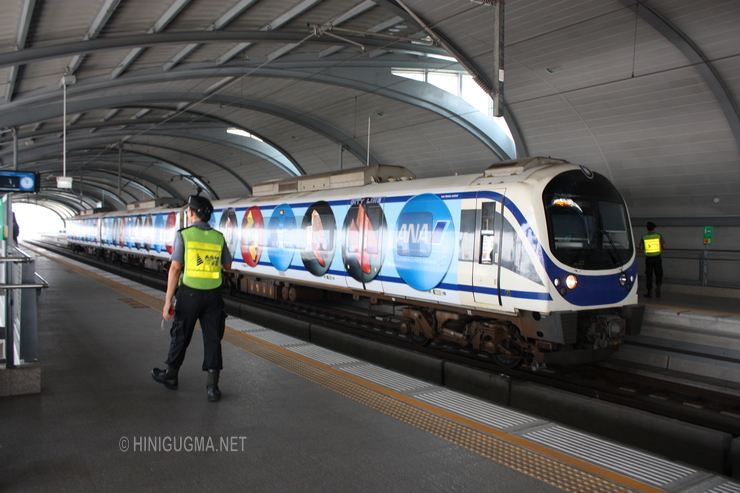 Our train arrived a short while later, it looked identical to the one we observed earlier on the opposite track. Announcements by some hidden PA system warn of approaching trains and the sherrifs watch eagerly that nobody steps on the yellow line on the ground or slurps a Coke. Snacks and drinks are strictly prohibited up here.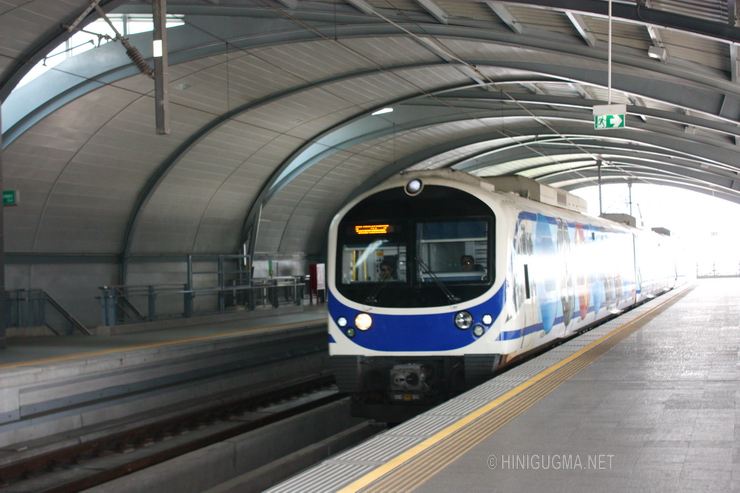 Teddy fell asleep in his stroller, boredom had overcome his agility in this heat. Later we found out that the gap between the train and the platform is huge and called for luggage on rolls and strollers to be hauled. Made by the German precision engineers at Siemens, they could have done a much better job here. Multi-inch gaps were a thing of the past with these guided missiles on tracks, but then again – we are in Thailand, where construction companies are known to skim materials and reduce measurements of structures to enhance profits!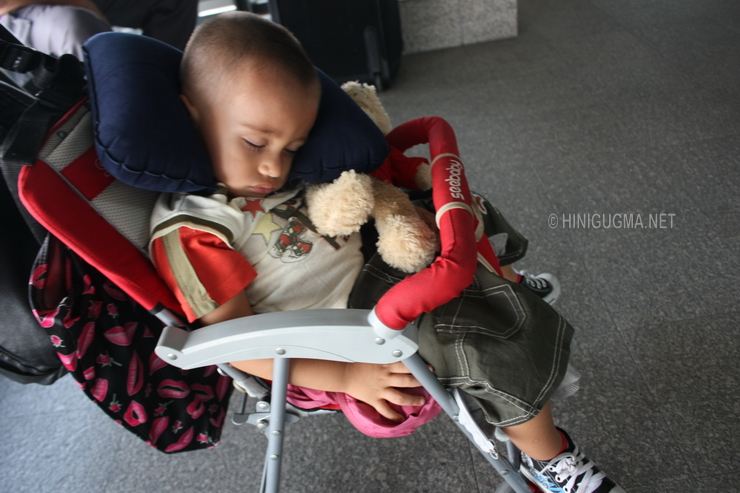 Much to our surprise, the inside was not as empty as anticipated. A looming shift change at the airport brought in plenty of commuters and probably also a few travelers. No room for luggage, just your ordinary BTS style wagon with a few moulded seats on the sides. With air conditioning levels set at inhumane low temperatures, we literally froze all the way to our destination. Everything was squeaky clean!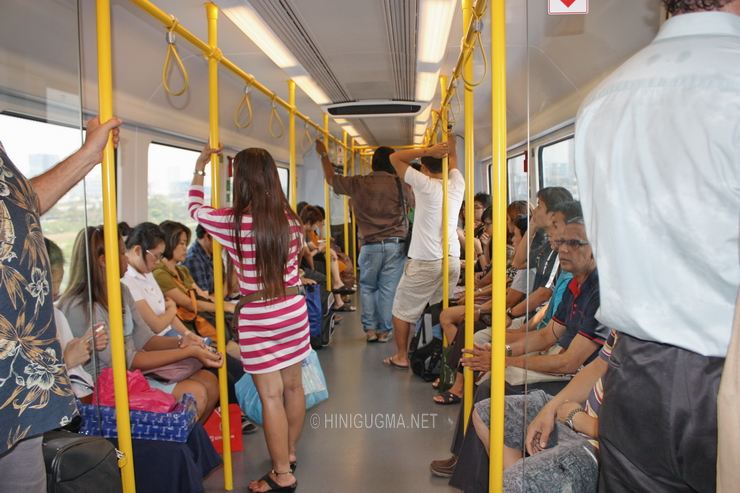 Clearly visible signs over the doors informed about the progress along the route. Verbal announcements were done bilingual in Thai and English.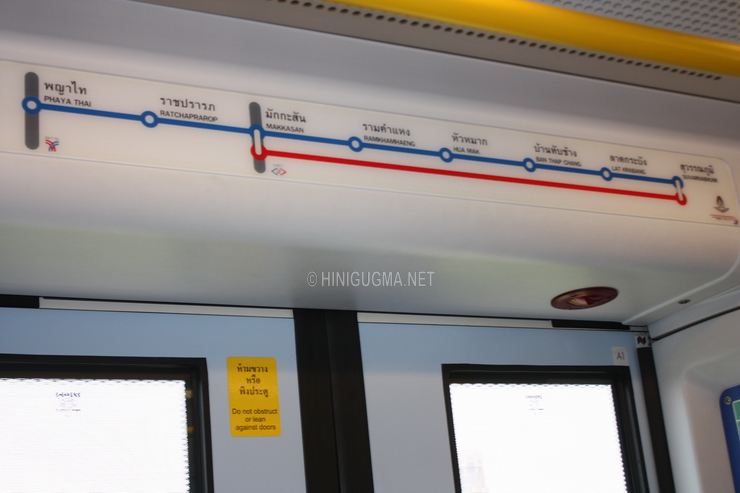 The final station within the airport is set up differently. But normal surrounding temperatures from now on made us feel more comfortable.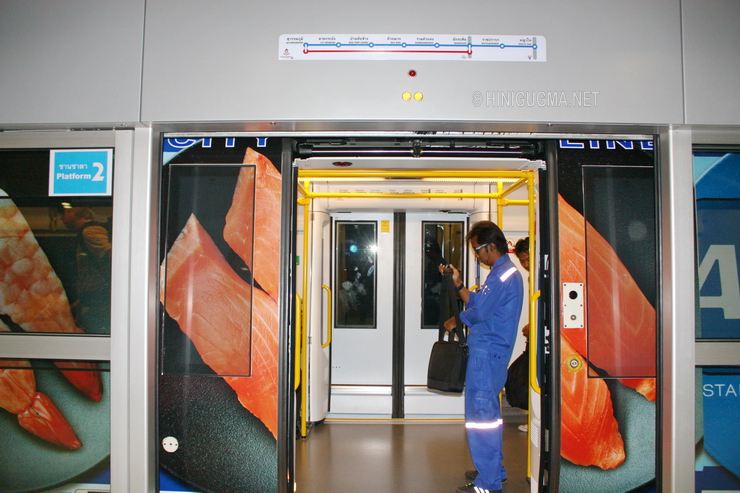 The vast hallways appear vacated after the train has left this station.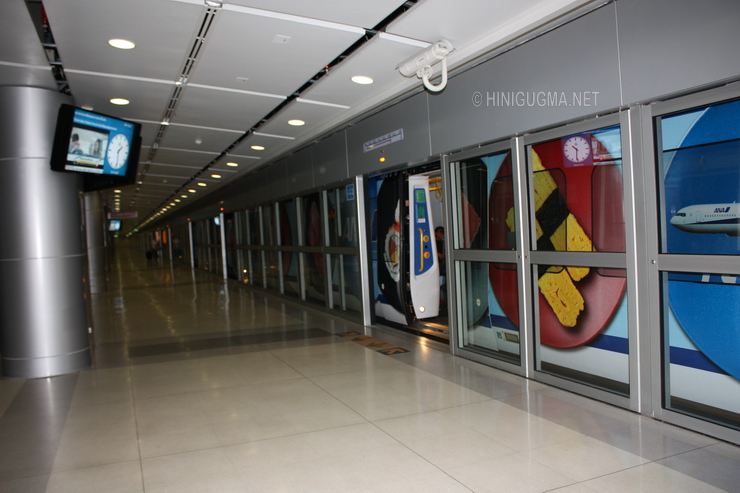 The Express Line has a slightly different appearance and is operating less frequently. It probably wants to compare itself to those smart Rail-to-Airport links as the cities of Kuala Lumpur and Hong Kong have for several years now. The big difference is, that their lines connect to major transport hubs smack in the middle of said cities and not to some secondary station facility in the middle of nowhere. All these rail links charge hefty for their usage, but they make sense to me in KL although we will take the much cheaper bus alternative there next week.
Below you can see the Express Line train as it zoomed by us, waiting for it's cheaper brother on the same track.