© Frank P. Schneidewind
Right off the banks of the Tonle Sap or Bassaic River, just steps away from the shore is the Cambodian capital's new attraction, the night market. It features a load of authentic Khmer food stalls and a number ofsnack- and sweets dealers, intermingled with the obvious array of beer- and soft drink vendors. Quite a clean place, unlike some night market counterparts in neighboring Thailand. The surface is plastered and every night all dealers must pack up their wares. Daily cleaning crews then scrub the place tidy and leave no hints of the market during the days.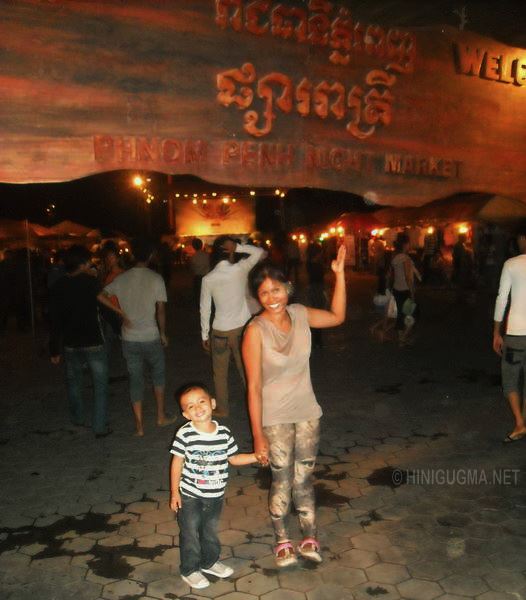 There are hundreds of motorcycles parked on the southern flank, as this spot attracts mostly the local crowds. Foreign visitors are rarely spotted and the relatively new market hasn't received much mentioning in those printed forms of the backpacker's bibles a.k.a. Guidebooks to Phnom Penh. Come here if you're hunting for garments at real bargain prices. As skyrocketing minimum wages and cost of living make Thailand constantly less attractive for the garment industry of this Planet. We found the place where the likes of GAP, Old Navy, Columbia and other outfitters manufacture their goods. Around Phnom Penh garment factories are mushrooming in unbelievable amounts and the factory workers are super happy about the opportunities there. Thousands work in this industry around the clock in shifts and demand is escalating further. Me having witnessed the last war actions that tore this country up since their break away from French oppression as a colony (50's to late 90's!), I am so happy for the friendly Khmer people that they have now encountered an era of peace, prosperity and stability!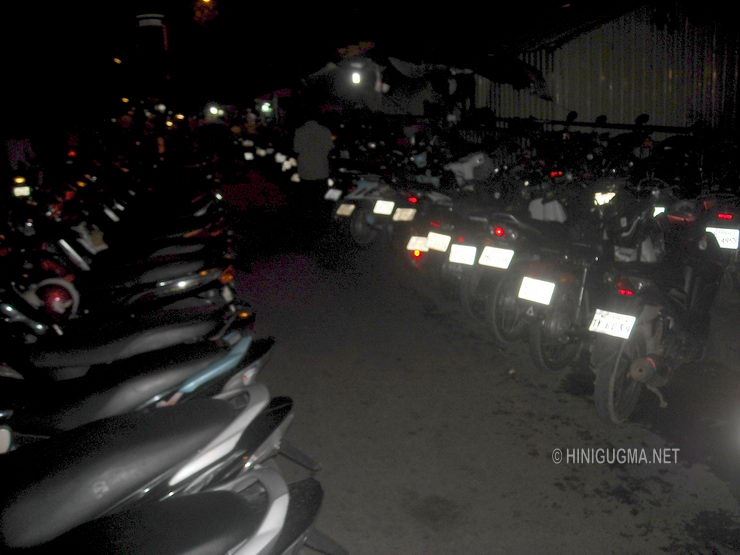 Here you can indulge in free live entertainment nightly. Insiders know that this civilization was the cradle of progress for all Southeast Asia during the last Millennium. Thais do not believe these facts, but see for yourself and make up your mind. Thai art and folklore is almost entirely based on this cultural mother lode, that brought awesome grace to every detail. The performances here are by students and scholars of the various Phnom Penh Universities. To us watching they were simply mind blowing and we watched for the duration of the shows. 😀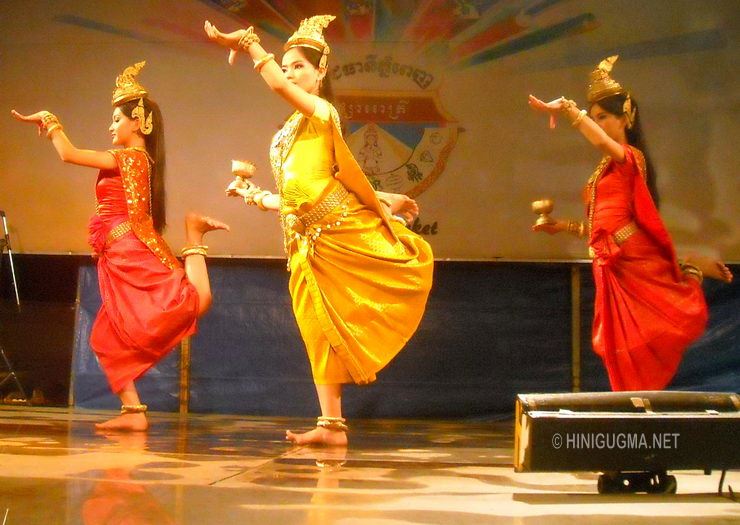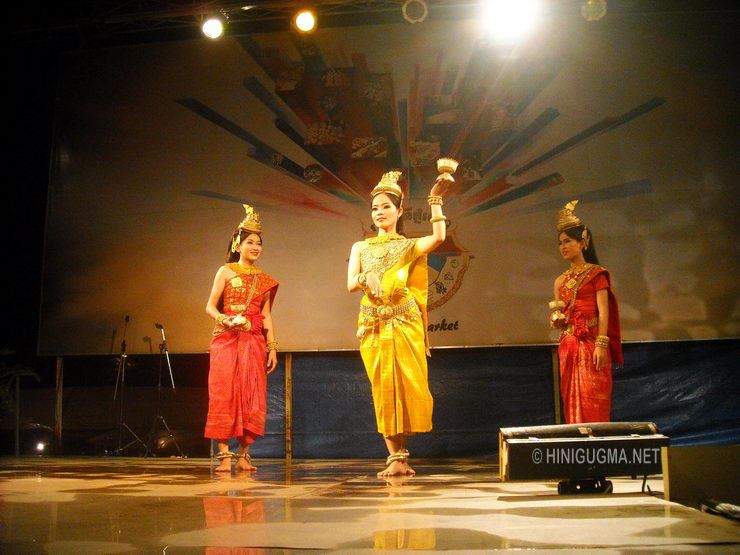 The vendors here have massive amounts of merchandise on their tables and offer their goods under tarps during the rainy season. The place is well lit up and you can presently shop without the elbow rubbing of other market shoppers in tiny walkways.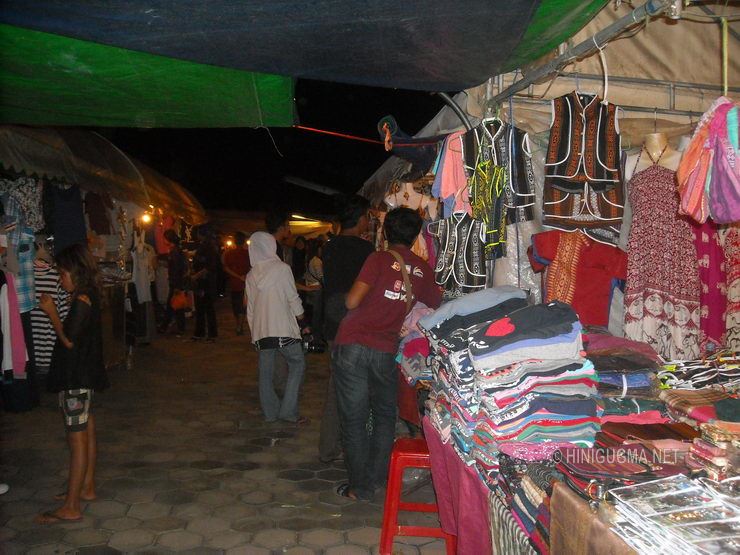 Culinary delights are to be had in abundance, plenty of snack stalls and fruit vendors satisfy the visitors needs for a little bit of local currency. All of Cambodia is quite inexpensive, if you know your ways around.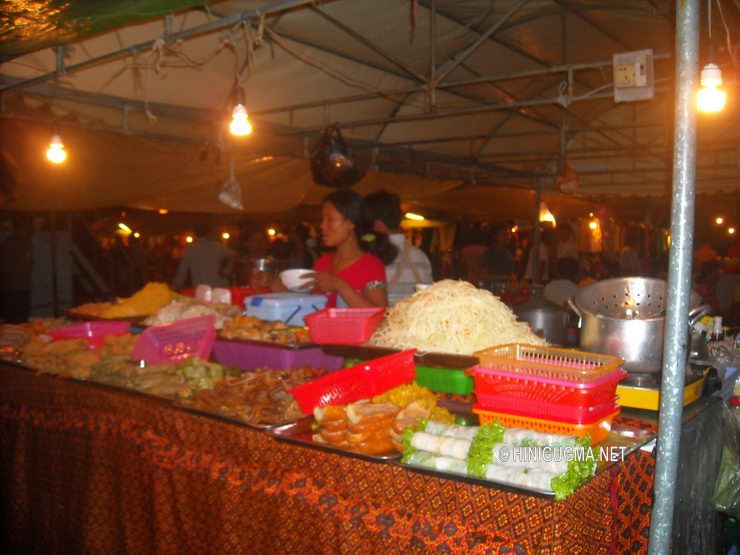 The diners relax on mats on the floor, but plastic style furniture is provided for the elderly and foreign guests here. It all appears pleasantly clean at the Night Market.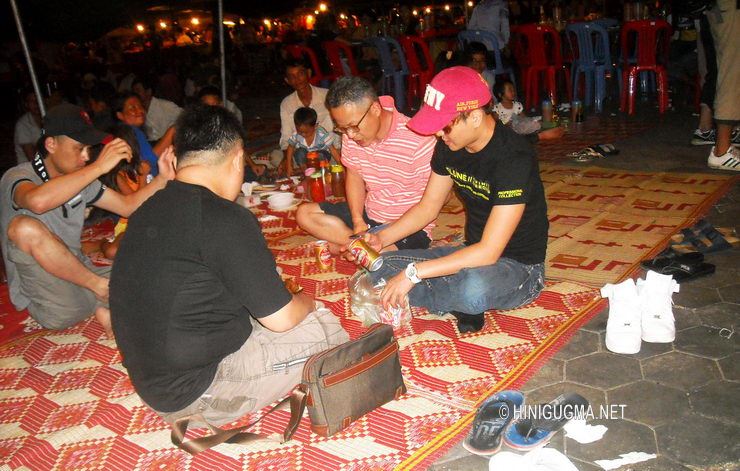 The dishes will be served on the mats or seating areas. You can point to picture menus, if Khmer language ain't a part of your communication skills. Ice cold beers are under 1 $ and the meals cost according to the ingredients between 50 cents and maybe 2 $ for a whole set with freshly steamed rice. Authentic Khmer Cuisine at rock bottom price levels in a chilled out atmosphere.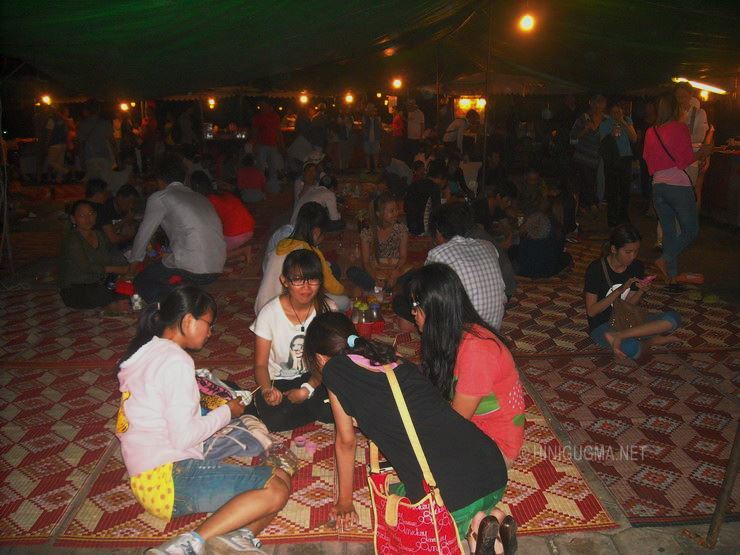 Local fruits can make a great desert. Here is a good opportunity to sample the variety of the season. Selection does not meet Thai levels yet, but they are improving year by year here.



Fresh squeezed sugarcane juice is a genuine Cambodian staple, you should give it a try. It really doesn't taste bad and is as organic, as can be. Some stalls sell cotton candy balls or cookies. The cookies do taste o.k. – but often are a bit sweet for my taste buds and belly.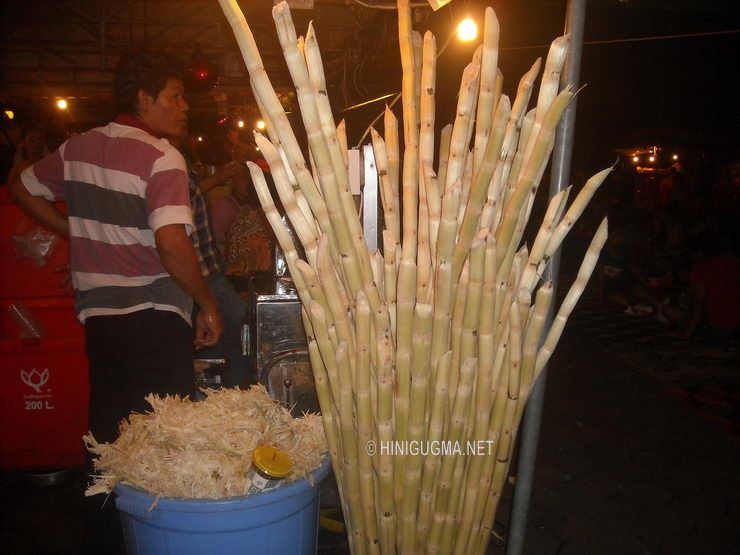 The hawkers here have a growing number of stalls with consumer electronic goods, such as phones and other gadgets too. Beware of Samtung or Nokkia phones, they are usually cheaply made Chinese copies of the real ones!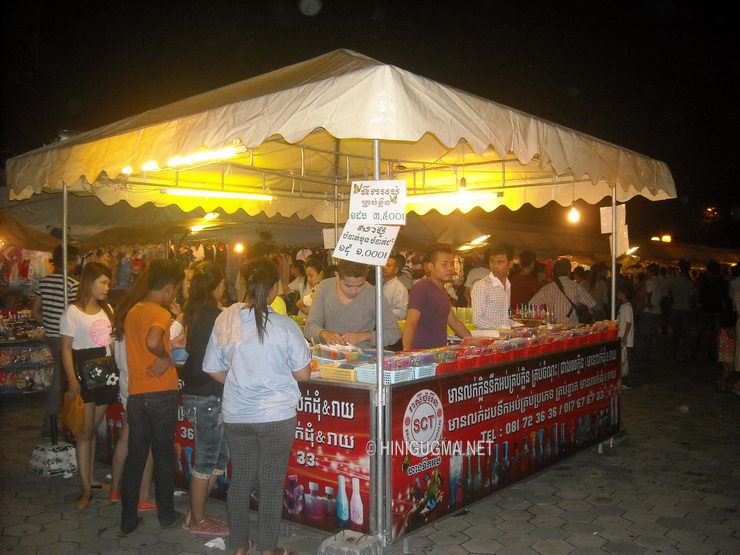 We sure will return to this great market and participate in some heavy duty bargain shopping. No other place known to me in Southeast Asia can compare to great value and quality of the goods offered here.