© Frank P. Schneidewind

The tickets for the economical slow boat are being sold at the pier in Ranong town. Here you can buy your passage to either Koh Phayam or the smaller Koh Chang in the Andaman Sea for 150 Baht a person. But it sure won't be long until overpowered speed boats shuttle tourist masses in herds in a nick of time to those laid back islands.

The islands are a perfect retreat for a few days or an entire holiday at present, but for sure they will have not too long to wait until the full-moon-party-type of crowd starts to destroy the tranquility on those marvellous beaches and the islands will be "koh samuied" in one way or another.
While some will call it "progress", Thailand will soon find out, that quite a percentage of it's international arrivals do not really treasure a McDonalds branch open 24 hours only steps from the beach as in Ao Nang, Krabi province and other "amenities", brought by mass-tourism.
Enough of this now, our readers want to know, what's so special about Koh Phayam and what used to make it one of the authors prime destinations for a family-beach retreat within the Kingdom. Known previously only for it's crop of high quality cashew nuts, Koh Phayam was discovered by the backpacker crowd, that escaped the former paradises of Phuket and Koh Samui about a little over a decade ago. Rather conservative locals and the lack of big dollar spenders on giant resorts preserved Koh Phayams originality a little bit longer than other tropical islands. Today, you can still witness pristine, unspoiled beaches and drive there on your moped on single lane paved pathways, too narrow to accommodate pickup trucks! Car traffic will nowhere to be seen. The number of paved ways is very limited throughout the island. Cashew trees and their plantations everywhere inland and rolling hills that seperate the bigger beaches. Resorts are plentiful on most beaches, their accommodations range from rather basic straw huts on the beach to wooden or solidly built bungalows adjacent to these beaches.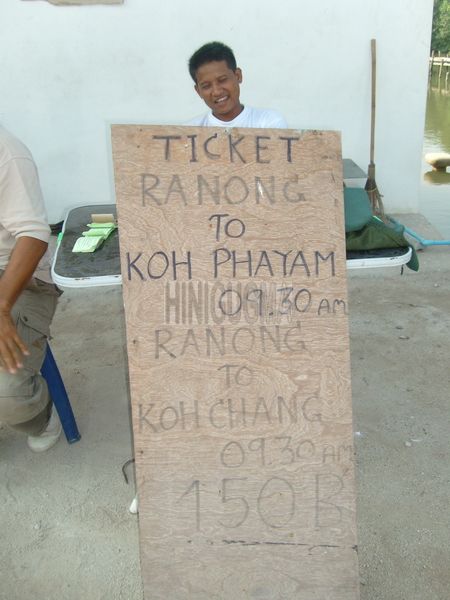 The boat is equipped with a number of seats, life vests are visible on board. It departs on schedule and picks up a slow cruising speed.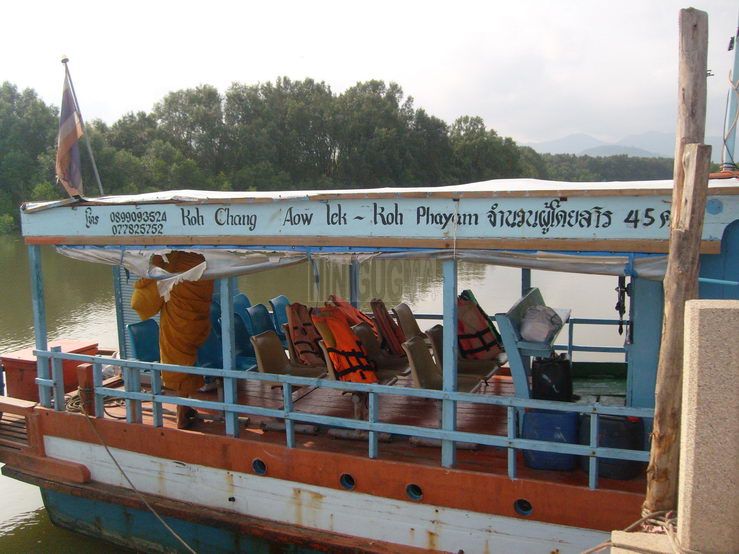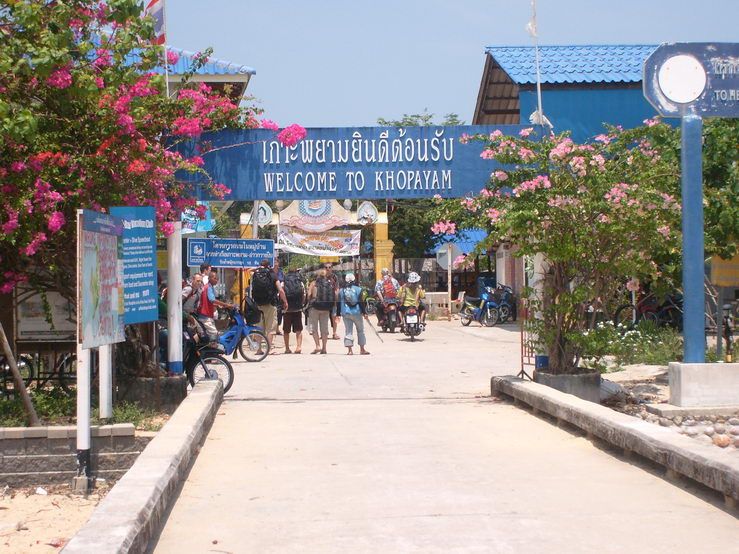 A short while later, you deboard at a nice concrete pier on the eastern (landward) side of the island. Here are some shops, restaurants and snackerias. Two moped hire stations are right past the welcome-sign, they also have moped taxis for those without driving skills or the desire to drive here – we surely took this cool opportunity and booked a rental moped for the duration of our planned stay. Moped taxis are not necessarily our cup of tea!
We did set right off to the western beaches and crossed the island for this purpose on the bikes, checking out the variety of bungalows to find one that meets our demands. The selection is quite outstanding, as every decent stretch of beach has a good number of well suited holiday homes for rent. Nice beaches are already to be found on the landward side where you arrive in the northern and southern sections of this island. To those resorts here, you can walk from the pier.
Beaches are placed on Koh Phayam like symbols on a clockface. If you project a clock onto a map of it, you may find:
The snorkler's paradise Aow Kwang Peep at 12 o'clock, Aow Pai at 1 o'clock, the huge Aow Hin Khao at 2 o'clock and south of that near your arrival pier the flat and quiet Aow Mae Mai. Aow is a Thai word and means simply: beach, by the way. Aow Mook and Aow Kho-Kiew are at 4 and 5 o'clock and separated by the rocky island of Kho Kham, which can be reached on foot in low tide. The main touristic beaches with most resorts follow on the eastern shoreline, with the majestic Aow Yai or Long beach at the 7 to 8 o'clock position and the Aow Kwai with it's gorgeous sunset bay at the 10 to 11 o'clock spot. The later is divided by some rocks in two distinctive sections and huge as well. A beach overload for a relative small island, but visitors can pick their favorite one and visit others on occasion to collect even more impressions of this tropical jewel in the Andaman Sea.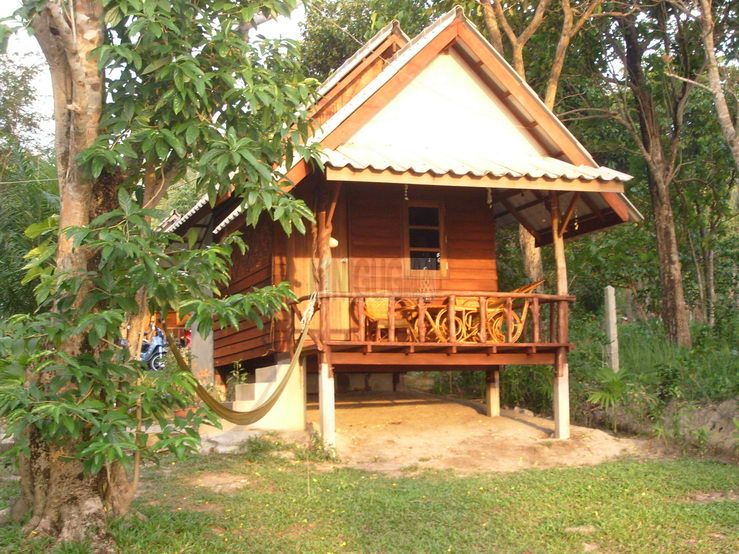 Beach biking is a must for us, we also want to avoid the maze of often muddy plantation paths in the cashew jungles. Those are harder to navigate and negotiate on two wheels with two people, than a wet beach.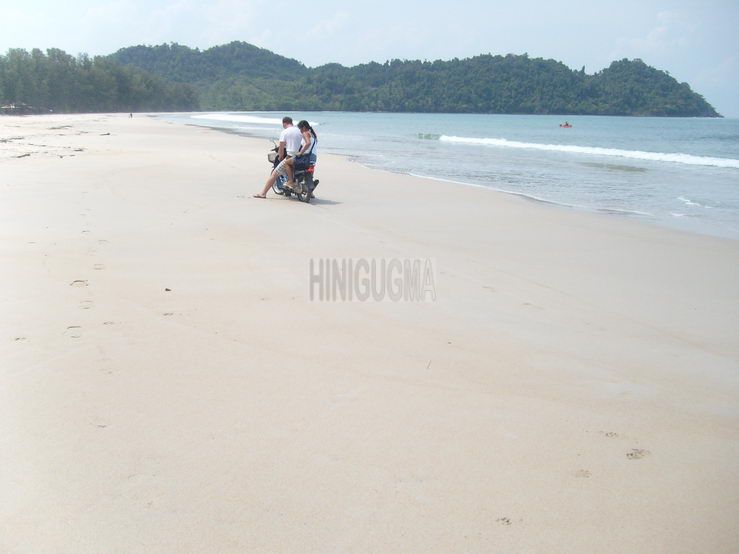 The beaches are perfect, occasional restaurants and no nasty sales people hawking anything you may not need. There is also no ocean of beach chairs in crazy numbers, but you may lay your blanket or beach mat anywhere you fancy 🙂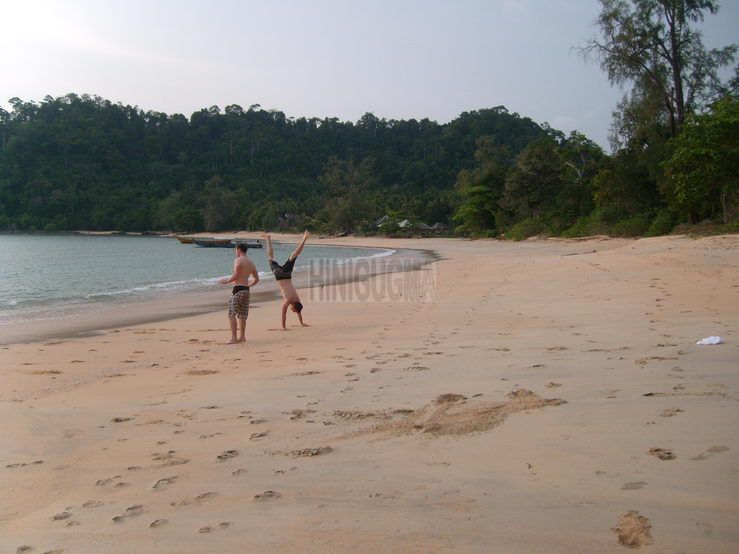 The beaches west are several km long and had a playful weak surf during our time there, the waters were clean with no sign of jellyfish! They were also free of nasty sandflies. Nothing appeared dirty here, the beaches were natural and didn't need any upkeep as it appeared.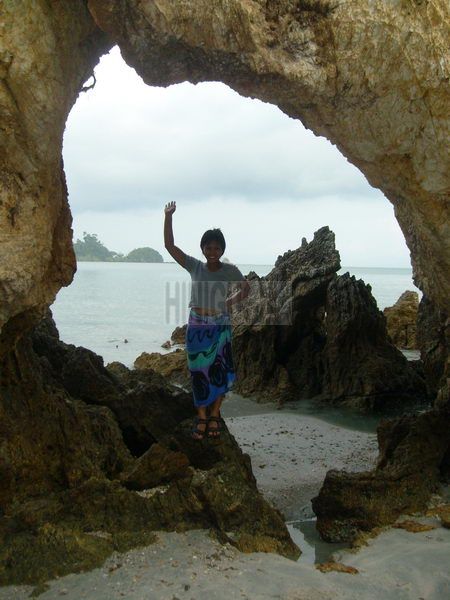 The beaches were sometimes flanked by rocks, these had funny forms at low tide. We also found shelter here during our beachcomber trips when showers came in occasionally from the Burmese islands further west. These pics were taken in Aow Kwai Bay in the west during low tide.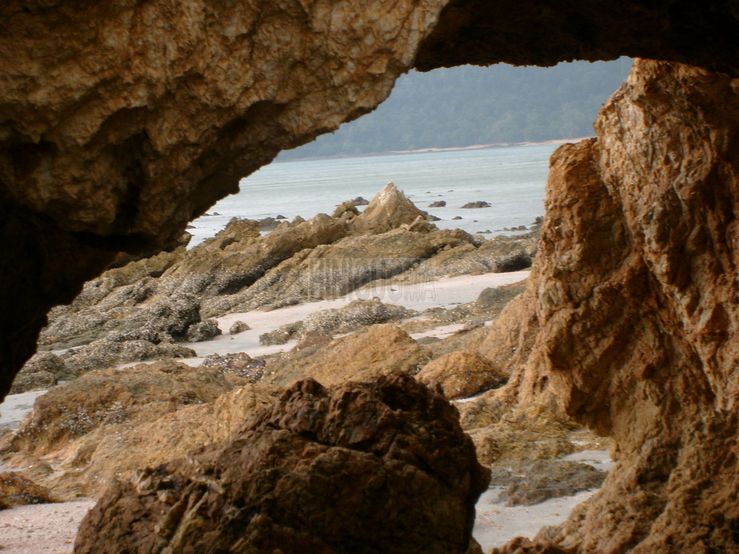 Each shower was short and soon gave way to better weather:
To our regular readers, these pictures look familiar as we use that motive as our avatar: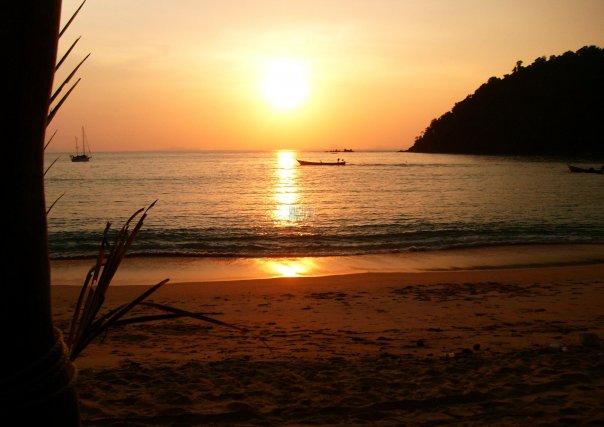 …and this one for SIAMPEDIA's logo: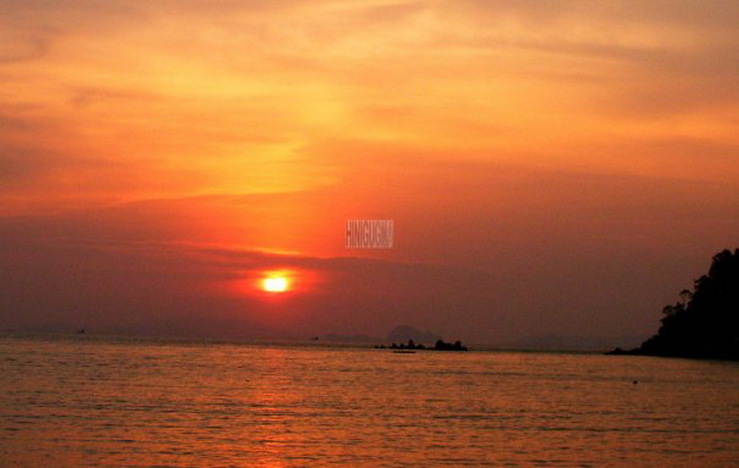 It is very picturesque on Koh Phayam and the western beaches offer fabulous sunsets almost nightly. The cashew tree farming we found attractive enough to dedicate an own feature for this. On the island is no 7Eleven or larger store, everything is being handled by established Ma & Pa type of stores, dotted all across the island. The foundation for larger aircon-resorts has been laid a while ago, they will draw a different crowd and noisier generators. The infrastructure will then not gradually grow, but jump, and attract more money for investments and resorts for a higher prices paying group of customers – the "Koh Samui"-phenomenon will start one day with roads being upgraded to accommodate cars and trucks, by then we will have escaped already and report from a left over paradise some place else 🙂
Visit Koh Phayam now, when a limited infrastructure and no connection for a power grid cable to the mainland's electrical power system still guarantees a certain tranquility and very reasonable prices. It may be too late to experience all this beauty in a few more years from now. Spa's and fancy amenities are unheard of as per yet, but the profits will linger one day and surely bring the crowds, which we flee from since ages.