© 2010 Frank P. Schneidewind
Pantai Tanjong Rhu is the Malaysian name for one of Langkawi's finest Beaches, Tanjong means cape and it is located on the northernmost tip of Langkawi, facing the southernmost Thai islands. Rhu means sea pine or casuarina. So the sea-pine-cape is, what your SIAMPEDIA Team tries to describe here, as it is one of the few beaches on our All-time personal Top-10 list in Southeast Asia.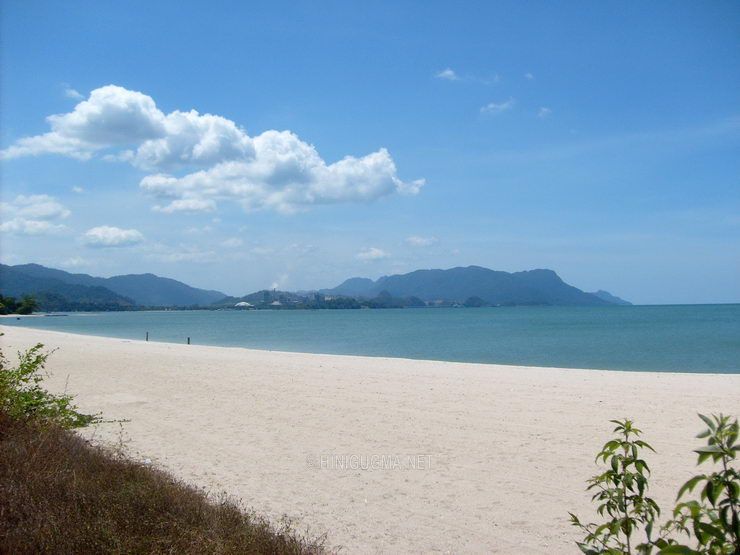 There are only a few developments at Tanjong Rhu, a single De-Luxe beachresort, one or two souvenir stalls and a couple of restaurants near the tip of the cape. Other than this, it offers plenty of natural beach and a reasonably low number of visitors. Unlike Pantai Cenang, the developed beach on Langkawi in the west of the island. Tanjung Rho offers that type of cleanliness and tranquility, that we like so much and can hardly find further north.

A long, fine sand beach in inviting colors stretches here for many kilometers. Three islets in ocean kayak distance are a part of the 100 islands that belong to Langkawi. The Sultanate of Kedah's territorial waters border the Thai Province of Satun, one can see Tarutao island on the northern horizon. Koh Tarutao is already in Thailand. Chartered boats can cover the distance in season, but the lack of immigration facilities may make cross-ocean travel for adventurous tourists a risky venture.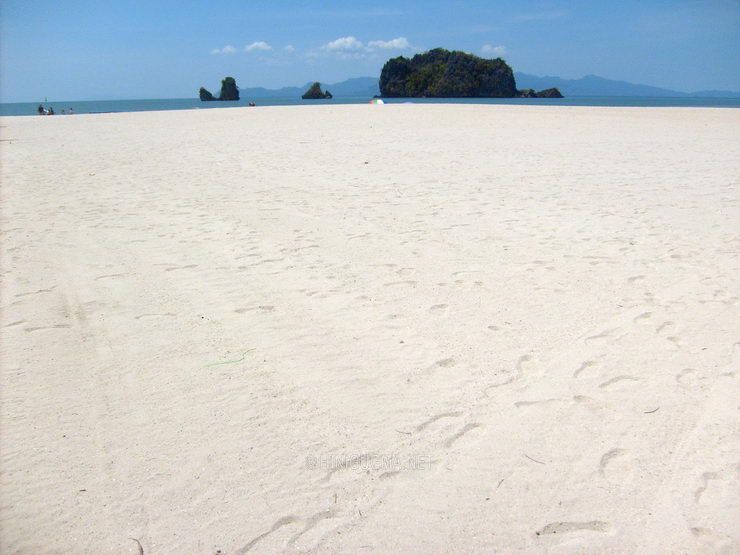 Snorkeling is rewarding in these waters, as there are several coral reefs within easy reach. Taxiboats ferry tourists to the islets or other great snorkel sites. Mighty casuarinas (sea pine trees) give their shadow near the tip of the cape and at stretches along the beach. Beach umbrellas are very few, do not expect a serviced touristic beach in Tanjung Rhu. Other than the in area in front of the 5-star resort, a visitor here brings his beach mat and accessories along. Somehow this appears to us, like the endless beaches of Phuket or Samui, way before the onslaught of mass tourism. For us it is like traveling back in time here.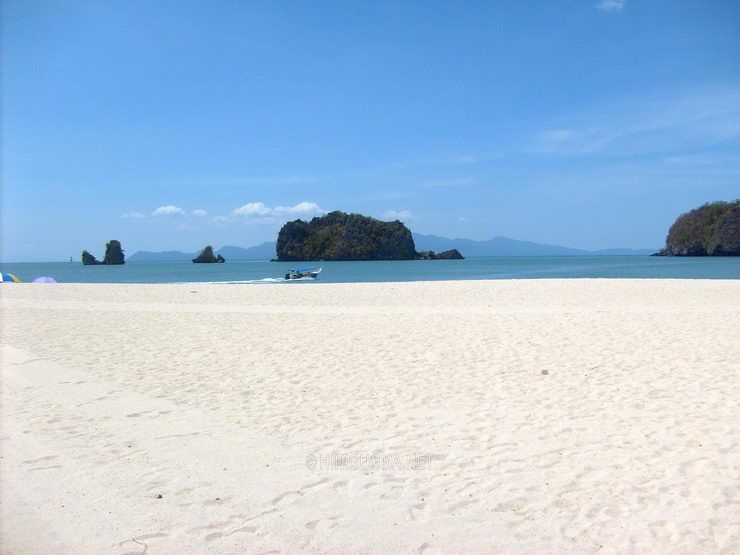 Strong negotiating skills are required to deal with the Taxiboats here. It used to be easy and relatively cheap up to 5 years ago, but then the boat owners learned about the dream profits of their counterparts in Krabi, Phang Nga and on Phuket and prices escalated rapidly. Langkawi, being a duty free island in it's entirety was a heaven for tourists. It still is, as Alcohol and Tobacco are nowhere cheaper in Southeast Asia, food is reasonable and tourist's services and accommodations slowly creep up to Thailand's levels. Kuah town is home to dozens of duty free shops with a world class selection!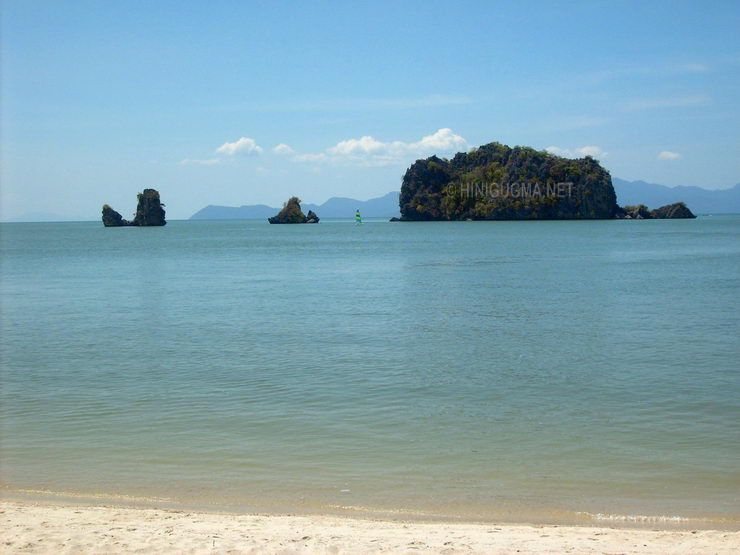 The water is clean here and colors change, according to the sun from a deep turquoise to various shades of blue or green. Sales people bothering guests are unheard of here. Small developments in terms of ATV rentals or banana boat rides surfaced over the recent past, but still do not appear as crowded as elsewhere.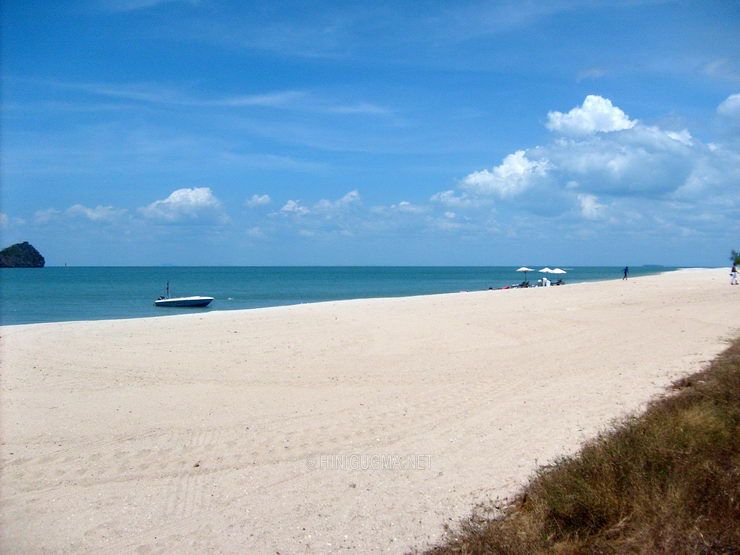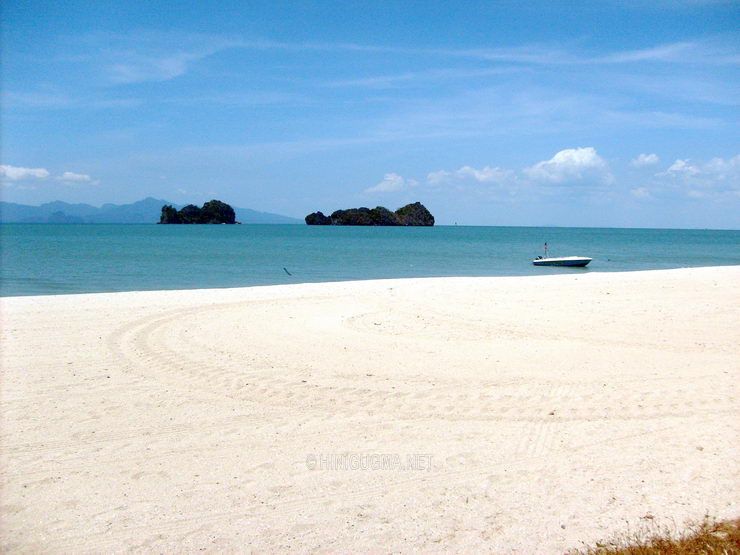 Langkawi can be reached by ferry from Satun's Pak Bara pier, once daily from Penang or by frequent ferry from the towns Kuala Perlis or Kuala Kedah on the mainland. There is an international airport on the western side and private vehicles are shipped across every other day by cargo-barge. Rental cars and scooters are offered in Kuah town (2 km from the jetty) or in Pantai Cenang. Rental cars can be picked up at the airport also.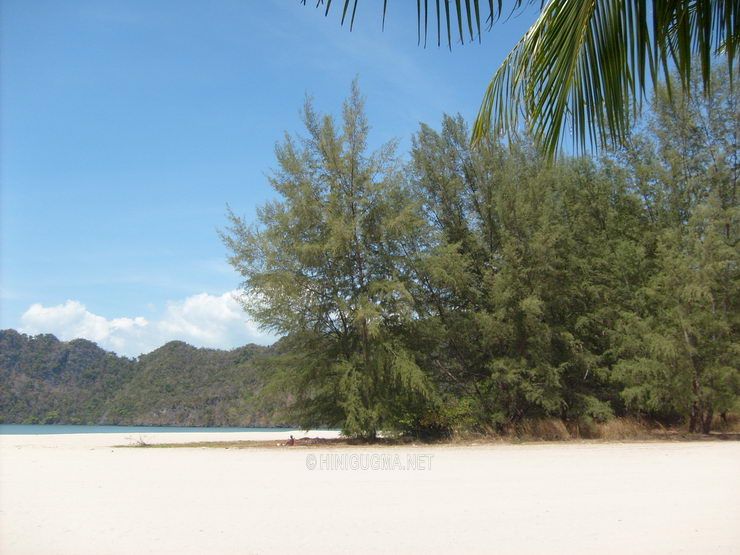 The spot at the northern end of the dead-end road from the Padang Lalang traffic roundabout is where most beach related businesses and restaurants are. Here it is also easy to find a shady spot to chill out. Total driving time with a rented moped or scooter from Kuah town is about 40 minutes, taxis need 30 minutes for the distance. Tanjung Rhu is equally far from Langkawi's airport in distance.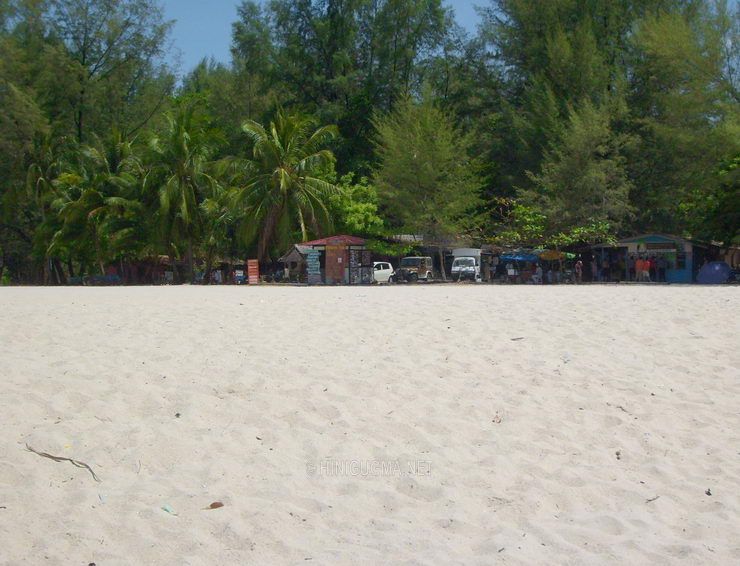 A small hut here has an agency dealing with boat charter requests of tourists. Smart,  budget minded folks deal directly with the boat owners and book their eagle feeding cruises or snorkel trips at the fisherman's pier a kilometer south of here at the small lagoon on the western side of the dead-end road. The famous Langkawi Geopark is also accessible from here, although you're at the northern end of it and a bit to the west. The Geopark is full of bizarre rock formations, limestone caves and home to many sea eagles, which are fed by the boat owners and tour guides during cruises.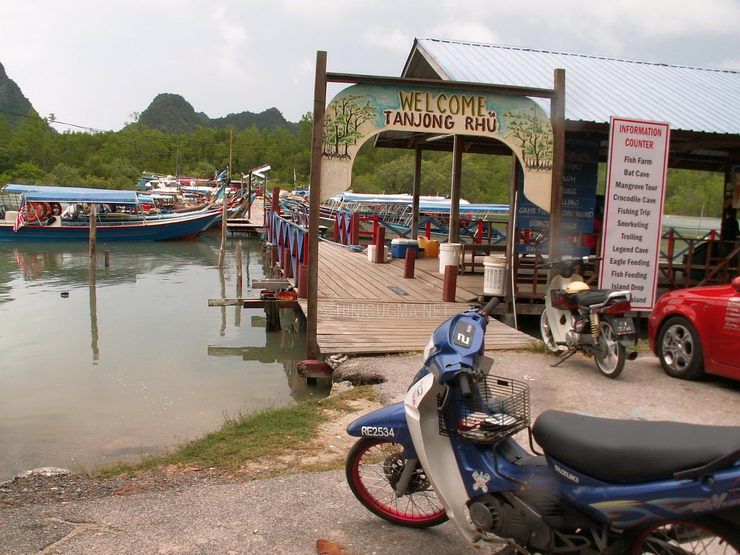 Tanjung Rhu offers no accommodation, but the one and only 140 room DeLuxe resort (250 US-$++ per night). Usually we stay at more modest Hotels in Kuah town or in Pantai Tengah or alternatively in Pantai Cenang. Take your pick of the plenty of options on rooms on Langkawi to suit your taste and budget, but make sure to witness this great location for some long lasting memories! We return here again, as developments are slow paced and the bulk of holiday seekers hasn't discovered this paradise yet.