© Frank P. Schneidewind
The start for this was in Siem Reap and the road to Phnom Penh (which is blacktopped today) invited for a more economical road travel to the capital. The ticket cost, if directly bought at the bus station, was 4$ per person. A pretty good deal, if compared to the boat, that provided the only reasonable connection for a long time. Boat tickets for foreigners exceeded the 20 $ hurt limit already. Guesthouses and hotels sold also tickets for the bus. As it is common practice in Cambodia, their own surcharge was always added. The bus looked alright at first glimpse, proposed travel time was supposed to be 4 1/2 hours. We looked forward to arrive for a late lunch in Phnom Penh and started at 9 o'clock in the morning.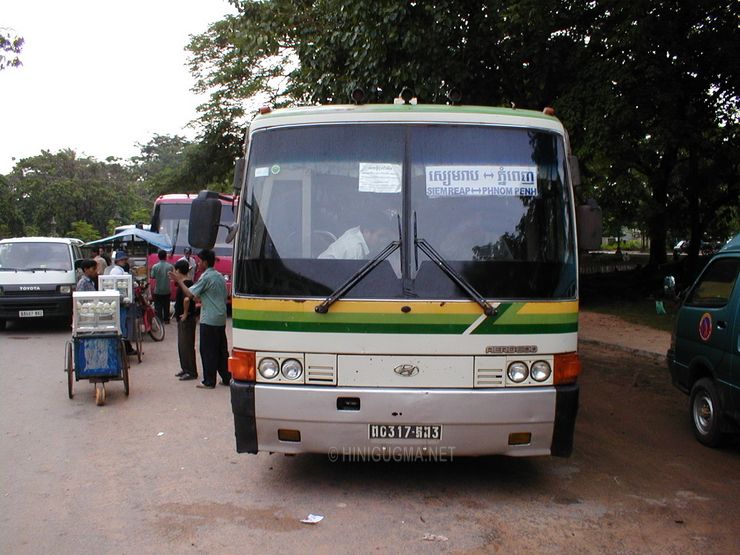 The bus was filled to capacity, almost only local travelers. Foreigners will be told for at least one or two more seasons, that there is no road to the capital or bus transport. Reason for that is the hefty commission, the boat owners offer for selling their overpriced (English imprinted) foreigner tickets. Since the boat's pier is an additional 5 km taxi or tuk-tuk ride from town, all these folks will also try to lure you on the boat. It will guarantee them another lucrative short trip. We're low budget travelers with a little bit of knowledge and rather try the cheap ride with the locals.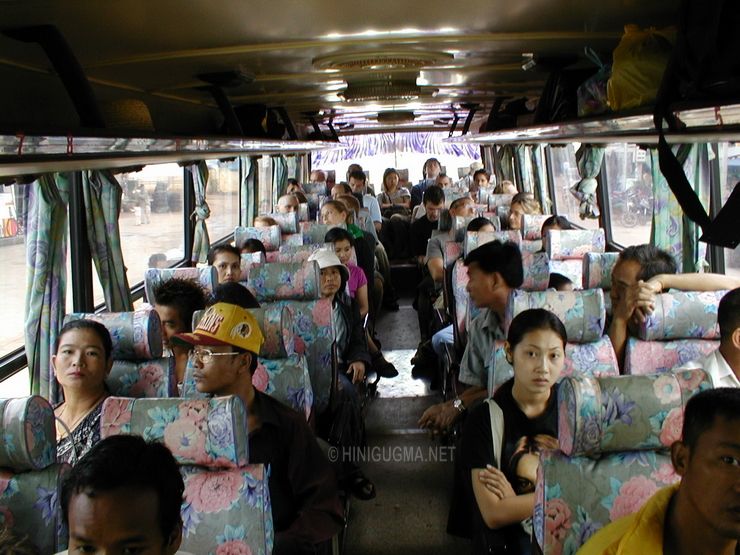 The untold story of the road condition was reflected by these wheels on that bus. It wouldn't be an easy ride, as we knew in advance, but we were eager to cover the distance to Phnom Penh City as cheap and efficient as possible.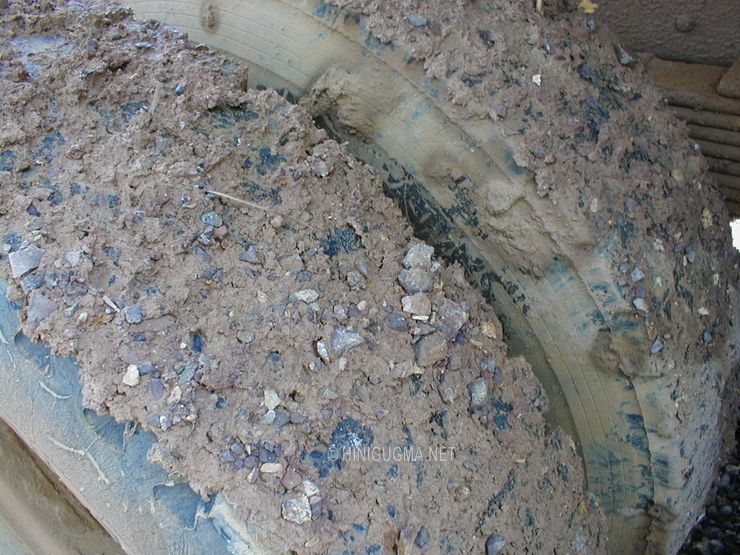 Wild East road feelings were on the agenda, once we left Siem Reap. Self-bookers at the bus stations have in general the benefit to choose a seat. Franky (my firstborn son) sat with me in the front, opposite the aisle from the driver. We had a great view through the large window ahead and also wanted to see a bit of whatever happened outside right in our front. The driver pointed out to us, that we were allowed to put the feet on the dashboard. We gladly did just that for added comfort, not knowing then this also prevented us from being jerked around on the rough road. The space available was surely measured for dwarf sized people, but with the dash room extension in legroom, we both were very pleased.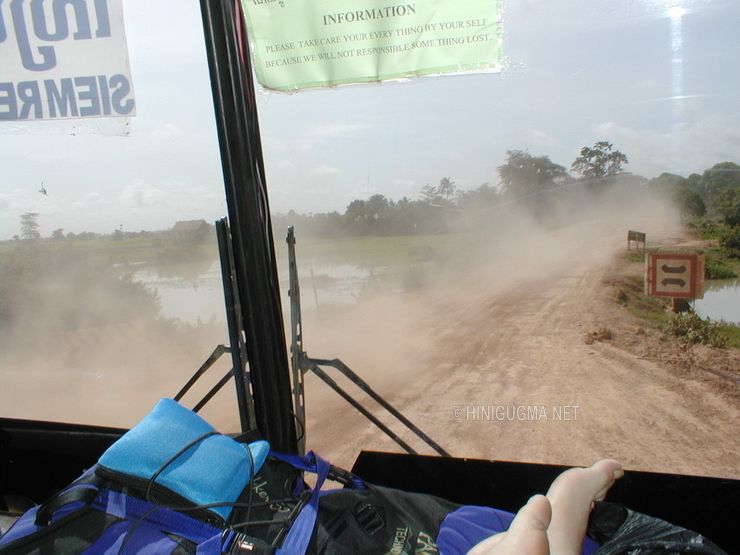 Some bridges were wooden artefacts and gave freaky noises, when we crossed them. The driver was alert and appeared rested. He also knew well, where his air powered horns were to be triggered. Their sound commanded more than just one motorbike or bicycle rider into the ditch. 2 busboys were on the vehicle, one was standing at the front door and the other one sitting on the floor in the aisle.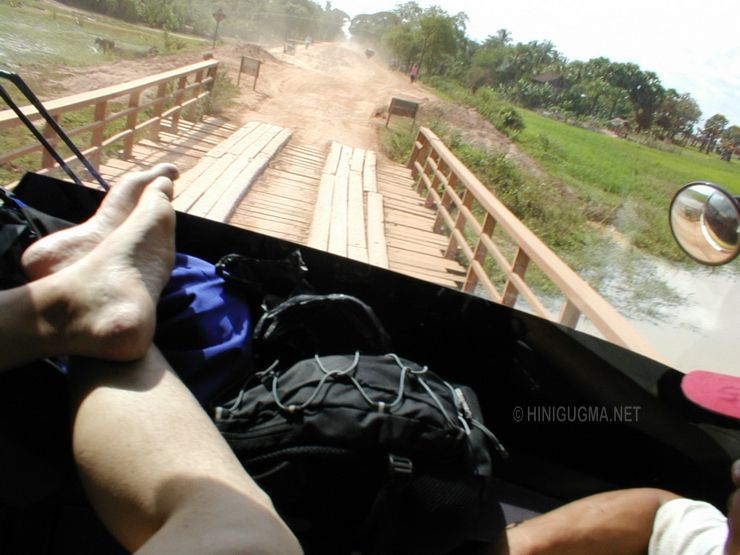 The second busboy was some sort of funny youngster. After the on-board entertainment was engaged, his eyeballs were stapled to the screen. Franky was quite relieved by that, because before he kept staring my boy in the face. His mouth never shut for a second and Franky took his profile picture for memories.

His hair was gray colored (spray paint?) in the middle, that must be fashionable in Khmer country. The drama in local language was horrible, but worse was the synthetic laughter from an unseen crowd source about every 20 seconds.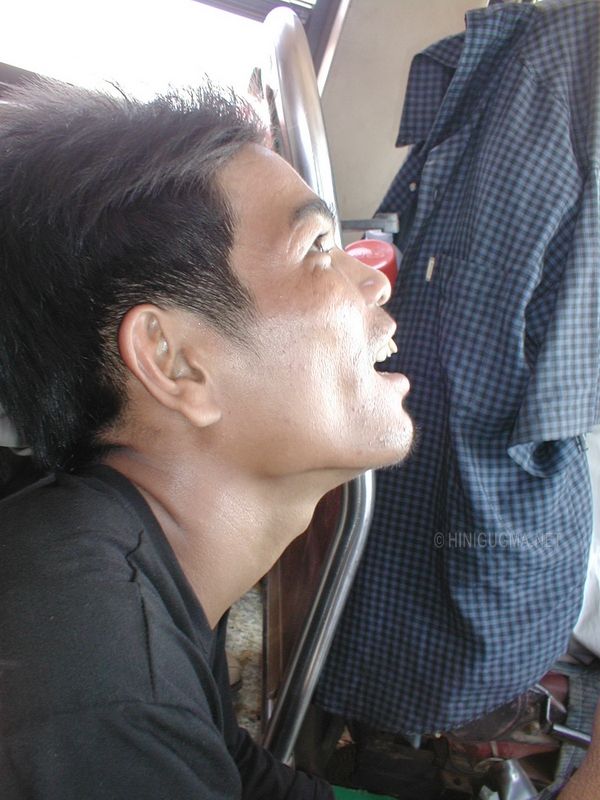 We watched another movie unfold in our very front. The red bus of another bus line was competing with our driver for something unknown to us. Both had about equal top speeds and the ongoing race really blocked both lanes for miles. A very old asphalt road with huge potholes (or bomb craters) was the race track. Upcoming motorcyclists had to leave the narrow tarmac for the race. Air horns from both buses demanded their attention from quite a distance, other traffic was almost unseen. The red bus seemed to have waited outside Siem Reap's city limits for this competition opportunity.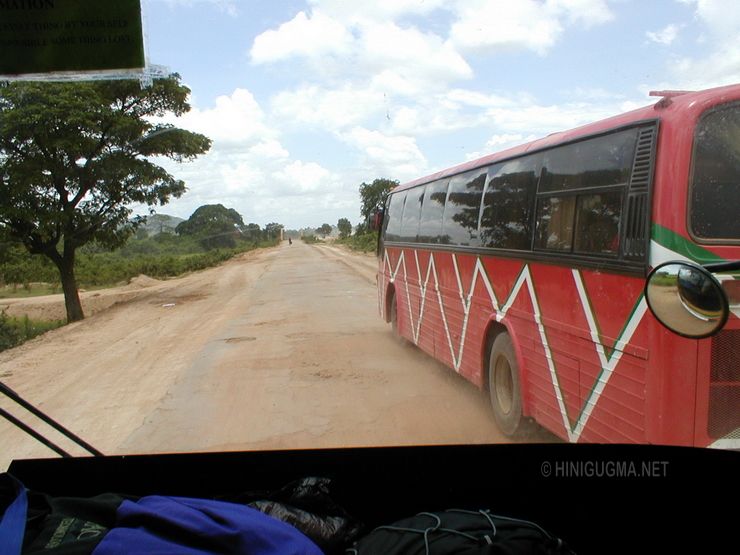 The road was in a nightmare like shape, for any sensible bus operator. But the red bus gained some distance, when he smashed reckless through a wooden barricade and used the soft shoulder. Our driver had missed the opportunity to trail and stayed on the pothole-ridden asphalt too long to come out as the champ. When he finally inched down from the blacktop-level to the soft shoulder, the dust cloud ahead told him – where his fierce and yet victorious rival was.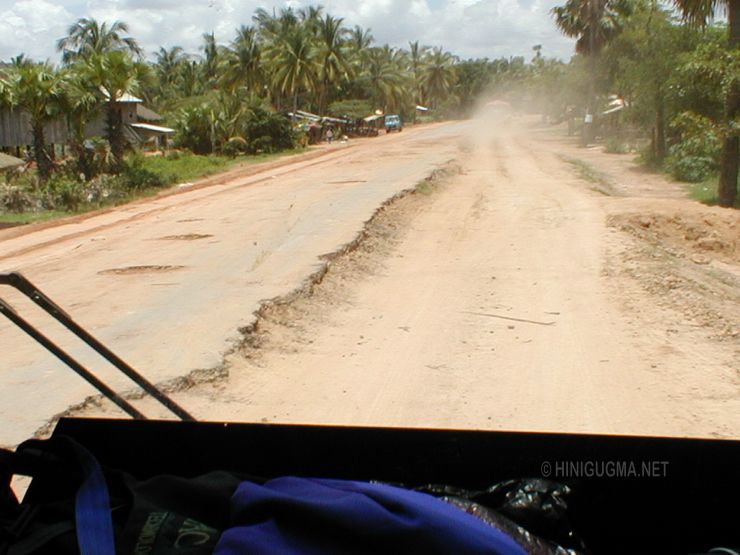 A pit stop was demanded by the passengers, a couple of hours into the journey. The driver probably saw this as a good chance to justify the lost race. A mud ditch had to be crossed for any toilet task of the passengers. Ankle deep mud on shoes or feet was the price for that, until a bus boy came up with some boards to walk on. For about a dozen passengers, that was too late. Needless to mention that sanitary installations in rural Cambodia set entirely new hygiene and safety standards. An old wooden box with a round hole on top serves as the throne. Scorpions and other unwanted critters wandered around the two outhouses in droves.

The road conditions improved gradually, at least for longer stretches. Water buffaloes were not too impressed by the air horns and slowly continued their task of crossing the road in front of the bus, hardly intimidated. Pretty dangerous obstacles are these animals for any road traffic, as their body mass exceeds a few 100 kilos.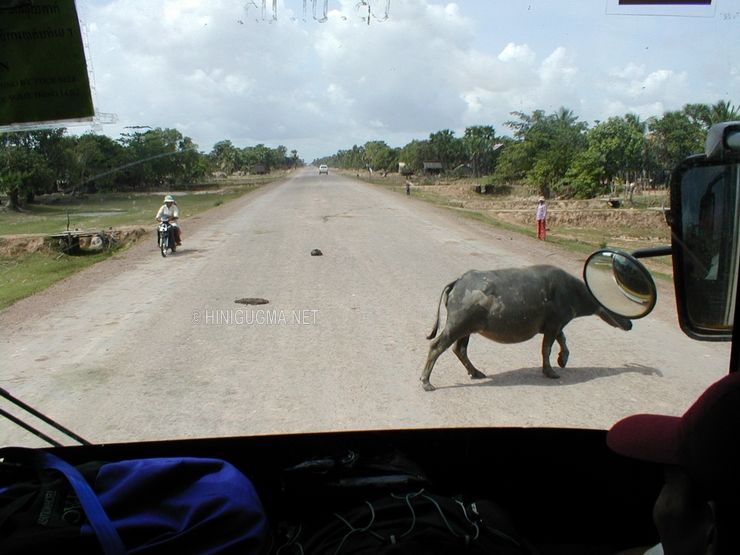 The next stop wasn't until we hit Skuol, a small town, but probably famous in the world for the ultimate therapy of arachnaphobia!

Arachnaphobia is the medical term for fear of spiders. In Skuol town, they love them to death. Ladies carry large trays full of fresh fried spiders to be sold as a snack to bus passengers. Various varieties of flavoring was offered and at least 10 salesladies were active here. The spider snacks were cheap and quite a few bought a bagful of garlic or pepper fried ones.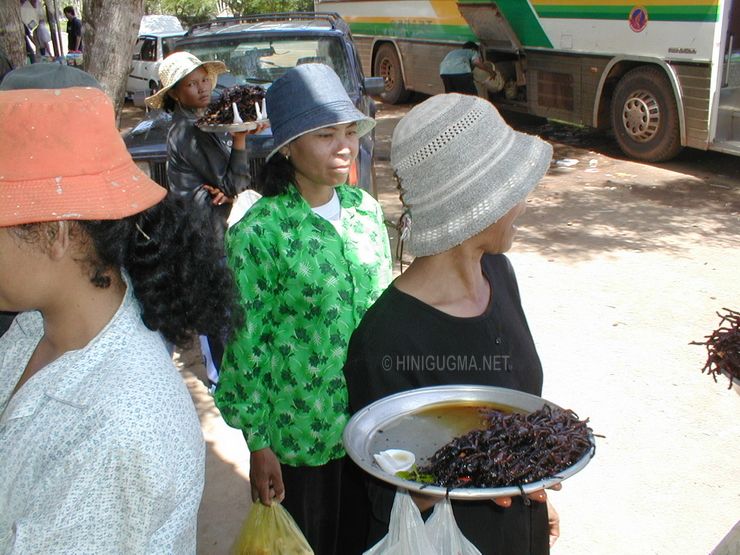 Don't think about your little house spiders in comparison. These critters were at least two or three bite sized. Really meaty, so to speak and Skuol's pride for sure.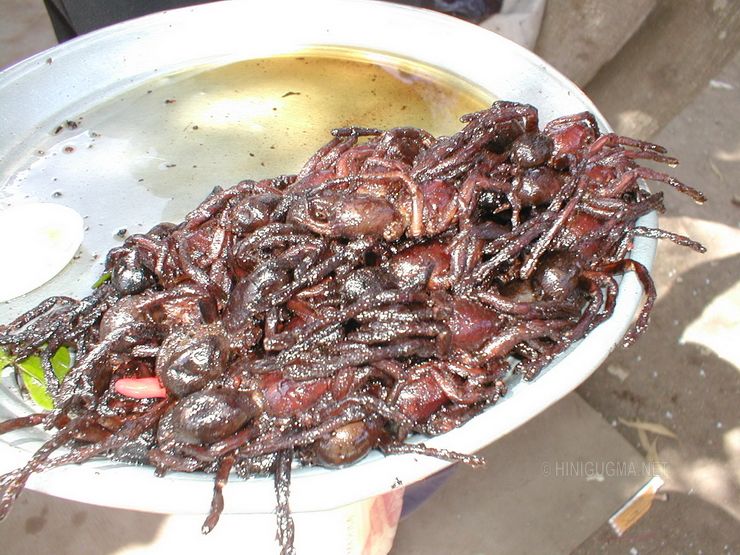 Fresh grilled or deep fried with garlic, they may have offered you a cheap meal with plenty of protein, but my own survival training dates back to the early 80's. This may be tasty for some, but for me and Franky that was a tad too freaky.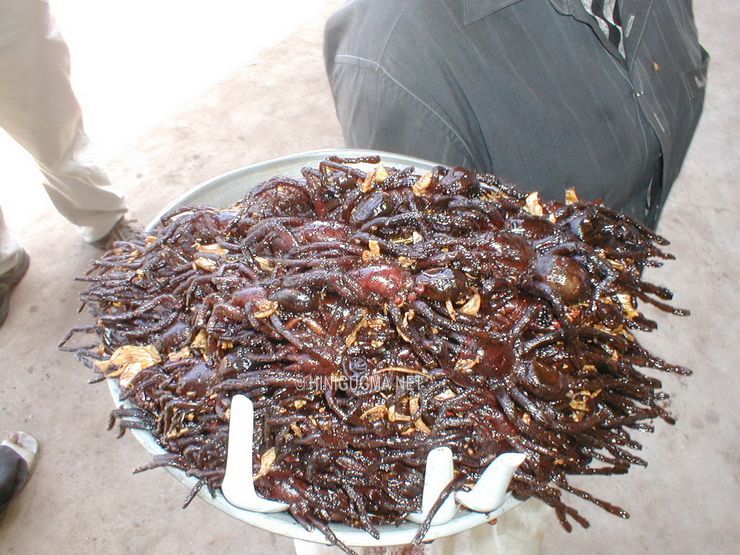 Franky was watching this in awe, his appetite was gone for now. I bet he checked around, if any of these eight legged delicacies jumped from the trays. None of us has arachnaphobia, but we sure didn't like them in XXL size, not even for a snack to satisfy an empy stomach!
.

The stop was the last one, before reaching Phnom Penh. Skuol is on some maps spelled in different ways, you can find it due north of the capital on the easterly Tonle Sap plains.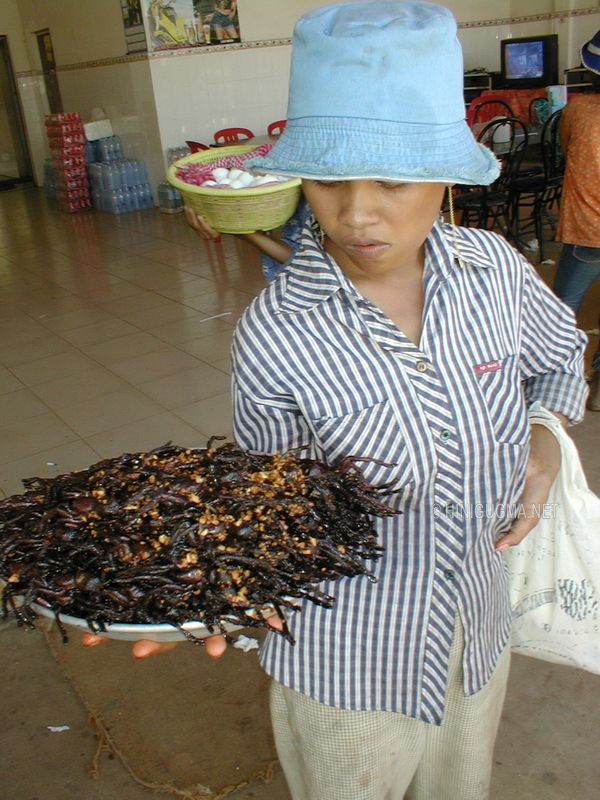 The rest of the trip was uneventful, except that we met the red bus again. He went fairly slow and was zigzagging, so we could not pass him. Road construction was in progress here, mighty earth movers were in action so close to Phnom Penh.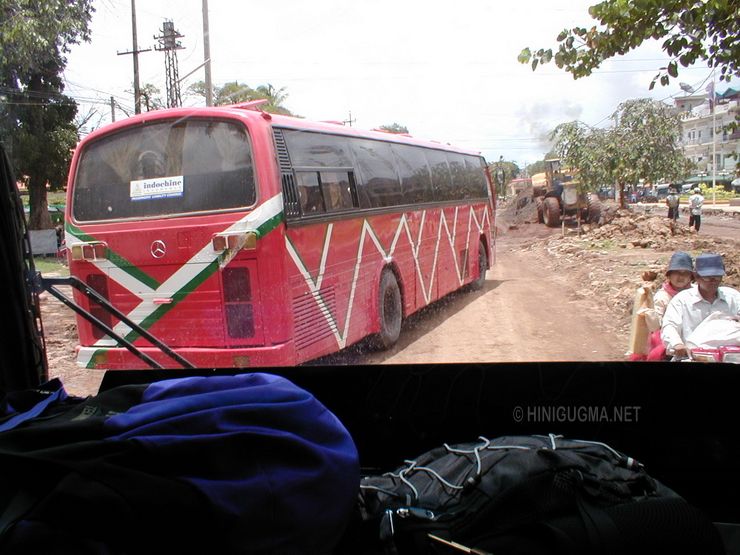 The final few kilometers left us as the winner of the race, as the red bus had a flat tire in the front. It is nothing important, but made our driver happy. He played whole melodies with his air horns for the rest of the trip, only 12 km to go. His opponent's misfortune sure made his day!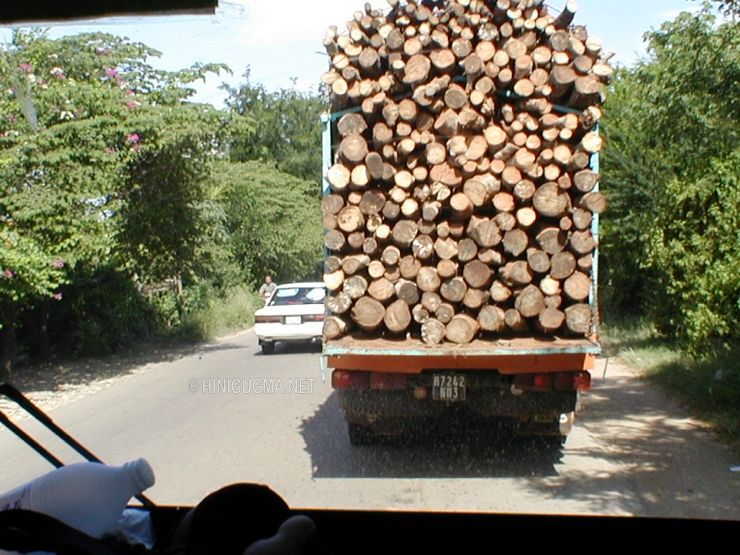 The touts at the final stop were almost jumping us, when we exited the bus first. Franky did put on his most grim look, and we both towered these little boys by at least a full foot. Some stared at us, but refrained from waving their city maps or posters of guesthouses in our face. They had to concentrate on the passengers after us. We knew what we wanted, but we had to wait for our SMS-confirmed pick-up from the guesthouse, we preferred to spend the next couple of nights in.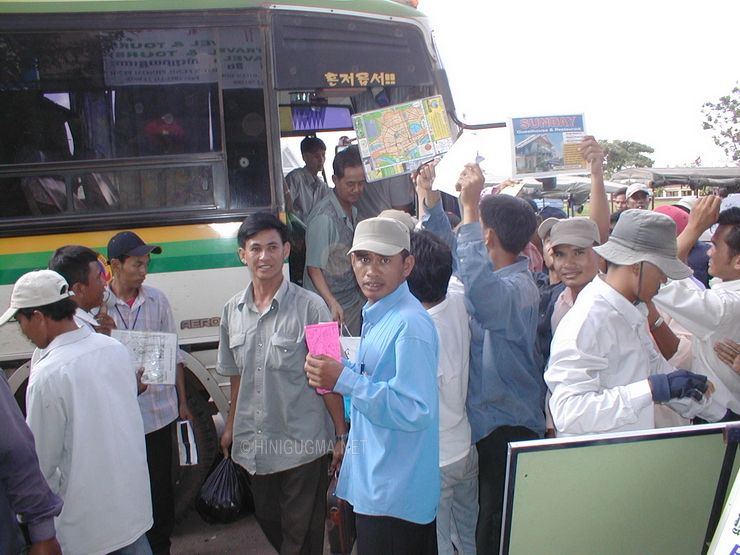 Always beware of tout scenarios, decisions should be made prior to arrival there. Their communication skills are sometimes tremendous, but all they really want is your money. "Help" being offered fills their pockets with commissions paid for your custom anywhere. Those relying on them for any assistance should prepare to get taken advantage of!